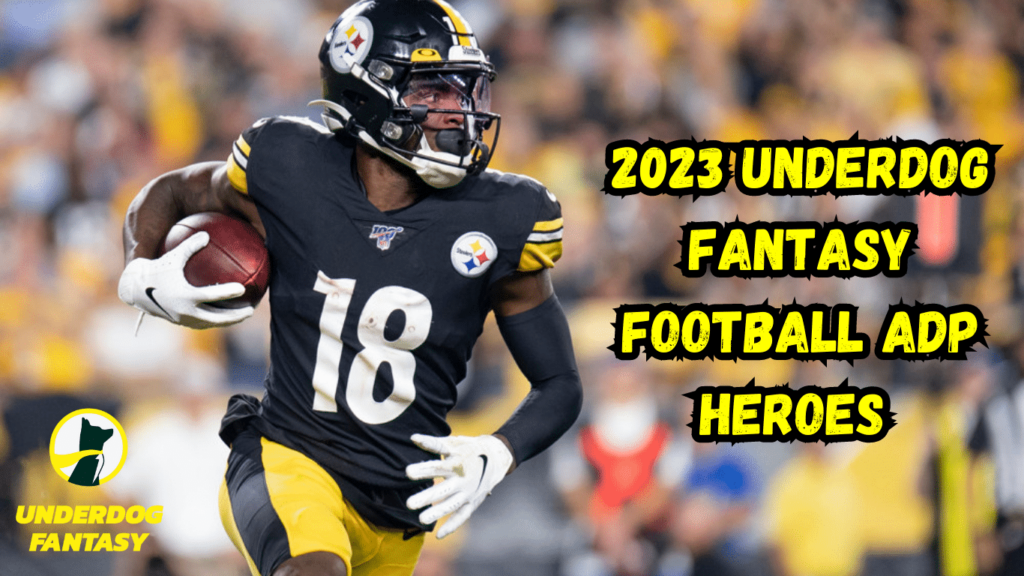 SGPN is here with the 2023 Underdog Fantasy Football ADP Heroes. Underdog ADP Heroes are players who are considered to be value picks or steals at their Average Draft Position or overall position ranking. There are tons of value opportunities at the top and back end of Best Ball drafts; there will undoubtedly be some surprising names available in the late rounds.
Be sure to check back next week for our ADP Villains, and key do not draft players. Justin Bruni and Andrew Raub will have podcasts furthering the Best Ball Heroes and Villains conversation; you can listen to those podcasts on Apple and Spotify. SGPN will be here all offseason with key fantasy updates for all fantasy football formats, especially Best Ball!
Our network also offers a signup bonus for the Underdog Fantasy App – sign up to start drafting today!
Underdog Fantasy code SGPN – 100% Deposit Match up to $100

MORE SGPN FANTASY FOOTBALL CONTENT
Follow SGPN Fantasy Football on Youtube
2023 Underdog Fantasy Football ADP Heroes
QB – Kirk Cousins – Minnesota Vikings
Underdog Ranking – QB13
Bruni Rankings – QB8
Kirk Cousins is going at a significant discount in Underdog Best Ball drafts. I've seen him go as late as rounds nine and ten in single QB formats. Superflex formats will have him shooting up boards to the early rounds, but he's a steal in both formats with his Underdog Ranking of QB13.
Cousins is in a pass-heavy offense, and while he isn't the most consistent player from a week-to-week standpoint, he's consistently finishing each year as a top passer in yards and total passing attempts. It certainly helps to have the NFL WR1 in Justin Jefferson as your top target. You can easily stack these players in Best Ball, as they have a nice separation of ADP values.
Kirk finished 2022 with a PFF Grade of 79.9, ranking him 9th in the NFL. Five of the QBs ranked ahead of him were either not full-time starters or healthy for each game in 2022. Cousins is my QB8 in my Underdog Best Ball rankings. I have him ahead of QBs like Justin Herbert (9) and Dak Prescott (10).
Kirk Cousins finished last season with 305 fantasy points on Underdog; of the 12 QBs ranked ahead of him, just five recorded more fantasy points. He finished with 307 fantasy points during the 2021 season; it's hard to imagine Cousins not exceeding or meeting these thresholds with his skillset combined with Kevin O'Connell's pass-heavy offense.
KIRK COUSINS FINDS JUSTIN JEFFERSON FOR THE VIKINGS TOUCHDOWN!! pic.twitter.com/PnZecYs7ZW

— Brian Y (@byysports) November 13, 2022
RB – Samaje Perine – Denver Broncos
Underdog Ranking – RB38
Bruni Ranking – RB31
Samaje Perine was a pleasant surprise for fantasy owners last season. While he wasn't a feature back, he did manage three top-ten RB finishes from weeks 11-13. Two of those weeks were top-five finishes as Perine filled in for an injured Joe Mixon.
Perine now enters a unique situation with the Denver Broncos, where he could see the majority of RB touches in 2023. The Broncos have Javonte Williams returning from injury, but his return timeline is up in the air, and even when he does return, the feeling is that he won't be a bell cow back. So it would appear the best scenario for Williams is a fifty-fifty or a sixty-forty split of the Broncos backfield.
Broncos Head Coach Sean Payton loves to run the ball. Payton's rushing offense was top five in the NFL for total rushing attempts in three of his last five seasons in New Orleans. The Broncos will run the ball a lot, so Perine will have a role even if they draft another RB or Williams is healthier than expected by Week 1.
Perine doesn't have a season with remarkable stats to back up drafting him with priority, but that's the beauty of the situation. He's drafted as RB38 with an ADP of 129.4. He's a top target for me when operating Zero or Hero RB strategies, but overall he's a tremendous late-round target. Don't pass him up!
???? SAMAJE PERINE IS STILL SCORING TOUCHDOWNS ???? pic.twitter.com/BHyfnJZehN

— NFL Fantasy Football (@NFLFantasy) December 11, 2022
RB – Chuba Hubbard –  Carolina Panthers
Underdog Ranking – RB64
Bruni Ranking – RB50
We're going to the depths of your Best Ball draft with this pick! Chuba Hubbard is coming off the board as RB64 with an ADP of 210.8. I've drafted quite a bit of Chuba, as he's my RB3 regarding RB best ball draft exposure.
The Carolina Panthers RB Coach, Duece Staley, has preached running, running, and running the ball this upcoming season. Staley wants to run the ball with multiple backs, so it wouldn't surprise me if they spent a round-three pick on a running back during the NFL Draft.
Hubbard will have a role in this backfield even if the Panthers draft another RB or add a veteran after the draft. Sometimes that's all I need in rounds 18-20. Just give me a guy I know will touch the ball.
The alternative is taking a shot on a rookie without a landing spot or an undrafted darling like Deon Jackson. My approach will lead me to take those rookies once they get on rosters with clearer outlooks, and I can start to diversify from there.
Hubbard will play behind Miles Sanders to start the season. While Sanders should have priority in terms of touches, he did peak last year in a high-scoring Eagles offense. Unfortunately, his production doesn't feel replicable with the lowly Panthers.
We could see Chuba steal this backfield or get the workload close to fifty-fifty faster than people may expect. He split most RB touches with D'onta Foreman after Christian McCaffrey was dealt to the San Francisco 49ers last season.
What a game for Christian McCaffrey against the Bucs!

• 17 carries
• 167 yards
• 1 TD
• 4 catches
• 37 yards

… sorry, my mistake. Those are the stats of D'Onta Foreman and Chuba Hubbard.

— Mike Kennedy (@MikeKennedyNFL) October 23, 2022
WR – Diontae Johnson – Pittsburgh Steelers
Underdog Ranking – WR39
Bruni Ranking – WR20
This is, bar none, the most disrespectful ranking of this offseason. Diontae Johnson is a fantastic receiver, and this ranking feels like a complete overreaction to him not scoring a touchdown last season. Johnson landed inside the top ten for most targets in the previous three seasons, and there is no signal of that not being the case going forward.
Kenny Pickett struggled as a rookie, but I expect him and the offensive line to take a step forward this season. I can easily see DJ clipping 150+ targets this upcoming season. The offense should be better, and he should pick up right where he left off last year as the top target in this offense.
There have been plenty of drafts where teammate George Pickens is selected ahead of Johnson as he ranks WR36. This feels like an overcalculation of half-point PPR scoring and a low year on touchdowns from Diontae. So keep it simple and slam Johnson the second you see him climbing up the draft board.
I'm willing to move him up 2-3 rounds if receivers are completely ravaged, but most likely, he'll land on your team in round six or seven. Although I've moved him up 19 spots in my personal rankings, that's just WR20, and he could still outplay that ADP.
Most receptions since 2020

Davante Adams – 338
Stefon Diggs – 338
Justin Jefferson – 324
Tyreek Hill – 317
Cooper Kupp – 312
Travis Kelce – 307
Diontae Johnson – 281
Keenan Allen – 272
Chris Godwin – 267
CeeDee Lamb – 260

— NFL Stats (@NFL_Stats) February 26, 2023
WR –  Brandin Cooks – Dallas Cowboys
Underdog Ranking – WR40
Bruni Ranking – WR30
Brandin Cooks is in a great situation to bounce back in 2023 with the Dallas Cowboys. Many expected Cooks to have a productive 2022 with the Houston Texans, but that certainly wasn't the case. Instead, we saw Cooks flash in 2021 with a bevy of quarterbacks. However, his numbers shifted down this past season, and there was an apparent disconnection between Cooks and the Houston Texans organization.
Cooks wanted out at last year's trade deadline, but no moves were made. Dallas gave up a fifth and sixth-round pick for Brandin Cooks this offseason. While that may not sound expensive, it should be enough to get your attention. Cooks will play a key role in what appears to be a more downfield passing offense.
Dalton Schultz and Ezekiel Elliott both played key roles in the Dallas offense last year and have since departed the team. They served vital roles as they combined for a total of 305 touches. The big issue was that they didn't provide reliable yards after catch or yards per touch. While Schultz averaged 10 Y/Tch, Elliott averaged just 3.8 Y/Tch.
Cooks will help amplify the offense with his legs and be used to move the ball after the catch and in space. I see Cooks and CeeDee Lamb as interchangeable receivers to work inside and outside; they will be a difficult duo to keep up with in the NFC, and both will benefit from the presence of the other. Defenses won't be able to overcommit to either receiver. I heavily favor Cooks over Michael Gallup, who feels closer to being a cut candidate than a locked-in starter.
Six of Cook's nine seasons in the NFL have produced 1000+ receiving yards, so while he didn't have a great 2022, he feels like a strong candidate for Comeback Player of the Year. If I miss out on Diontae Johnson, I feel really good about Brandin Cooks at this ADP and position ranking.
Brandin Cooks Stats. The fact some of y'all are disrespecting him is crazy!! pic.twitter.com/18fiqhdG51

— Raider Nation G (@RaiderNationG12) February 4, 2022
TE – Dalton Schultz – Houston Texans
Underdog Ranking – TE11
Bruni Ranking – TE8
So Underdog and I are close on this one, but I still feel like Schultz has that Hero-Ability vibe for the upcoming 2023 season. Schultz should fill into an offense that won't look to drive the ball downfield but rather set up safe play calling for an Heir Apparent rookie QB. The Houston Texans invested in a backup RB in Devin Singletary and another Dallas transplant in WR Noah Brown this offseason. The team also has Nico Collins and John Metchie returning at receiver.
Schultz looks like he should shine with the lineup configured the way it is today. Albeit, the Texans should draft a skilled position player to potentially challenge Schultz for touches but not take him out of top target consideration.
Schultz could very well lead or settle for the 2nd most targets in this offense. The Texans aren't going to blow the breaks off their opponents this season, but they should be able to slow opponents down with a simplified playbook for a potential rookie QB; Schultz fits that attack perfectly.
Schultz is more of a TE/Slot WR based on his build and skill set. He won't bully anyone trying to run block, but you can rely on his hands, release, and route running. Look for a fresh Texans QB to come in and target Schultz as the priority safety valve. I'm comfortable taking Schultz in rounds nine or ten, but I will easily pull him up to round 8 if my best ball draft decides to feast on TEs early.
Dalton Schultz stats amongst Tight Ends this season

-808 Receiving Yards (6th)
-78 Receptions (3rd)
-8 Receiving TDs (T-2nd)
-47.5 YPG (9th)

Schultz is going to get his ???? this season pic.twitter.com/0hfPYe5AD8

— (0-0) (20-62) (@DotPrescott) February 4, 2022
Don't forget to come back Next Week for our Villains Edition!
You can find the SGPN Best Ball Rankings Here
RELATED CONTENT