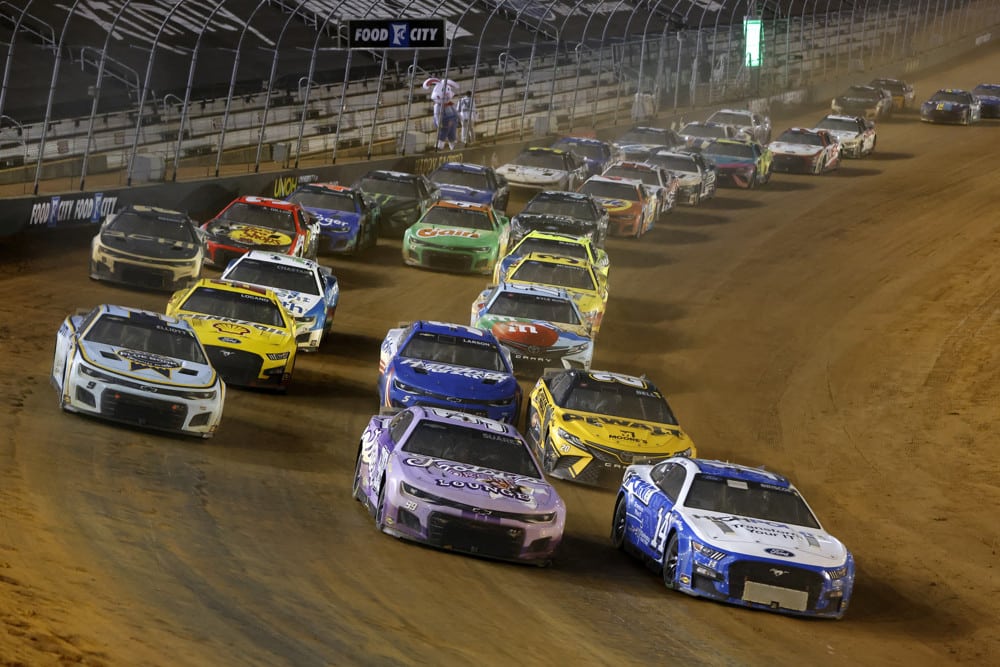 It's time to get dirty! The stars of the NASCAR Cup series take to the Last Great Colosseum of Bristol Motor Speedway, covered in 23,000 cubic yards of dirt and clay. This has become NASCAR's new Easter tradition, with the main event taking place Sunday night at 7:00 P.M E.T.
The format for the Bristol Dirt race is a little different. Instead of traditional single-car qualifying, drivers will be randomly drawn to fill four 15-lap heat races that will take place Saturday night. Passing points will be awarded in those races, 1 point for each position gained, 10 points for first place, 9 points for second place, and so on (no negative points awarded).
After the four heat races are complete, the lineup for the main event (the only race that will award true points for the season) will be set by who scored the most passing points, with the season's owner points standings breaking any ties. For more explanation, check out the NASCAR GAMBLING PODCAST Cup Series Pick show, where we break down the format.
Now it's time to dig into some of the best bets for the weekend! First, as always, I'll give my five favorite plays using a budget of $5,000. Then we will look at a few drivers to keep an eye on for DraftKings DFS plays.


Food City Dirt Race at Bristol Motor Speedway NASCAR Best Bets and DraftKings Picks
$1,500 – Daniel Suarez Top 10 Finish (+110 Barstool)
In the two races on Bristol Dirt so far, Daniel Suarez has impressed. In the first time out in 2021, Suarez led 58 laps and finished in fourth place. Last season Suarez again found his Trackhouse #99 Chevrolet in front of the field for 64 laps but had to settle for a 12th-place finish.
Daniel started the season off strong with three straight top-10 finishes. Luck, however, has not been in his favor in the races since. 22nd at Phoenix, 29th at Atlanta, 27th, and a $50,000 fine at COTA, followed up by a 23rd place finish last week at Richmond. Suarez knows he's in a good ride and showed that speed early in the season. Now we head to a track where he's had success in both visits. This is the perfect week for Suarez to turn things around.
$500 – Justin Haley Winner of Group E (+400 Caesars)
This group offers four drivers matched up against each other. The best finisher in the group wins the bet. The group consists of Austin Dillion (+170), Bubba Wallace (+245), Josh Berry (+245), and Justin Haley (+400).
Haley is the obvious value play in this situation. I'm not sure why he is the longest odds in this group. Haley is a driver with extensive dirt racing experience, something that cannot be said for the other three drivers in this group. By no means is that the end all be all. Joey Logano and Kyle Busch are the two winners of this race, and neither had vast experience on dirt. Haley finished 14th last season in his only start here on Bristol Dirt, beating both Dillion and Wallace.
Austin Dillion started the season hot and has since cooled off. His two finishes in this race aren't impressive at 21st and 31st. Bubba Wallace has also struggled here with finishes of 27th and 28th, respectively. Josh Berry has impressed big time while filling in for Chase Elliott in the Hendrick Motorsports #9 car, most notably finishing second last week.
However, Josh has not raced at Bristol dirt before and doesn't have much experience on dirt in general. He is the driver who gives me the most pause in this group, but at 4/1 odds, Haley is too good to pass up.
$1,500 – William Byron Top 10 Finish (-125 Barstool)
William Byron has arguably been the best driver in the Cup Series. Byron has won five stages in seven races, the most all-time in that span. Byron has led 385 laps and has been impressive on all styles of race tracks thus far. In 2021 Byron finished sixth, and last season ahead to settle for 19th. Byron's momentum cannot be ignored; week in and week out, he shows up with a hot rod. Spoiler alert; on the NASCAR GAMBLING PODCAST, Byron is also one of my picks to win this week (+1300 Caesars).
$500 – Kevin Harvick Top Finishing Ford (+1200 Barstool)
Kevin Harvick is one of my favorite drivers to bet on in the Cup Series. His consistency makes him reliable and helps him cash bets more than he doesn't. Harvick hasn't had the best of finishes in his two trips to Bristol Dirt, getting. Caught up in an early wreck last year and finished 34th. In 2021, Harvick scored a 15th-place finish.
When it comes to the other Ford drivers, Harvick is up against it. They are harder to trust. Besides Atlanta, where Harvick was caught up in an early crash, he hasn't finished worse than 13th in any of the other six races. I'm high on Chase Briscoe this week, and Joey Logano has performed well in both races at Bristol Dirt. There is just too much value on such a consistent driver, and with the issues Ford's have had in 2023, a solid top-10 finish by Harvick could easily cash this.
$1,000 – Chase Briscoe to Win (+1000 DraftKings)
Briscoe arguably had the best car last season in this race. He was running down Tyler Reddick toward the end of the race and just ran out of time. His ill-fated attempt at a slide job entering turn four on the last lap cost Reddick the win, dropping Briscoe from second to 22nd on the final tally.
Briscoe also led 59 laps in last year's event and is one of the most experienced dirt track racers in the field. After making that mistake last season, Briscoe will be looking to make up for it. Look for the Stewart Haas driver to have a fast car once again this year. This may be his best chance to grab a win and put himself in the playoffs. Briscoe will also be running the Truck Series race, giving him extra time on track.
DraftKings DFS Drivers to Watch
There are a lot of drivers at the top of the price board this week who will need to be played in different lineups. Larson, Reddick, Bell, Briscoe, Byron, Logano, and Busch all deserve a good hard look. So this week, I'm going to go down the board a little bit and look at some potential sleepers that can make all the difference for you as you fill out your DraftKings or fantasy lineups this week.
Ty Gibbs ($6,700)
Ty is an unconventional pick this week, and that's why I like it. The rookie driver has finished ninth in three consecutive races. We all know this kid is super talented, and he's probably not grabbing his first Cup Series win this weekend. However, I expect another solid run from the rookie driver. He has shown through filling in last year for Kurt Busch, and so far into his rookie campaign, he can deliver solid results. He'll allow you to squeeze in a few of those higher-priced drivers at this cheap price.
Jonathan Davenport ($6,600)
The one dirt track "ringer" in the field deserves a mention. Davenport is one of the best in the dirt late model scene. The 39-year-old from Blairsville, GA, is nicknamed "Superman." It would take an entire article or two to cover all of this man's accomplishments in the late model world. He's going to be making his first career NASCAR start this weekend. Davenport will be racing in both the Truck Series and Cup Series races.
After the disappointment many received from the "ringers" at the road courses, I think Davenport will be low-rostered. Even more, reason to like him; it's hard to predict exactly what Davenport's day will look like. With the truck series seat time, a solid ride in a Kaulig Racing car, and backing from his longtime Late Model sponsor Nutrien-Ag. Look for Davenport to be the differential play that just might put you over the hump.
RELATED CONTENT