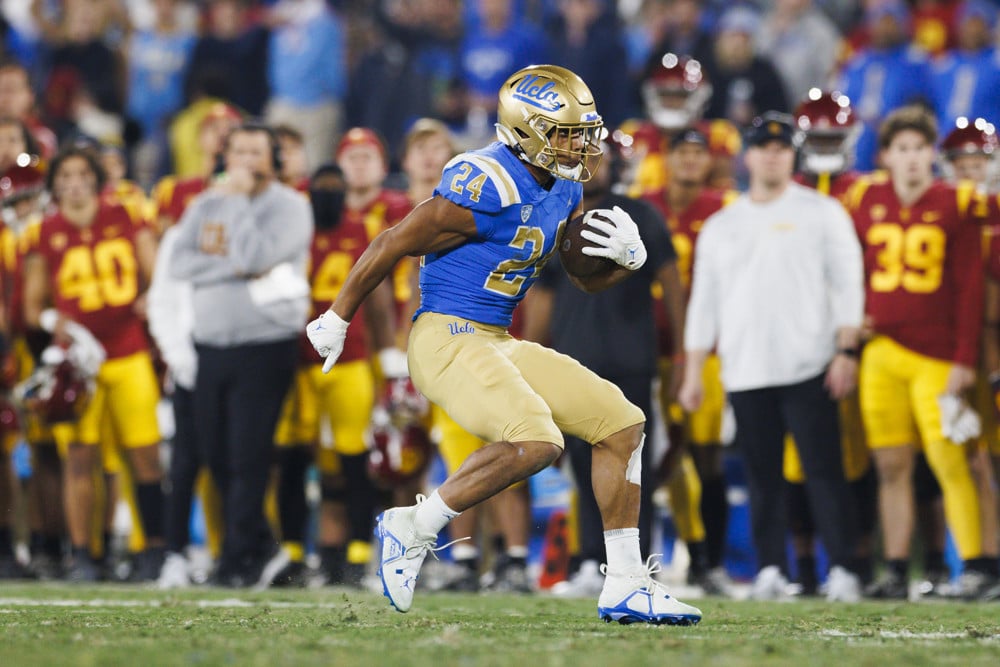 The 2023 fantasy football rookie running back class is one of the deepest in recent memory. There will be a ton of very talented players available in the draft mid-rounds and beyond that are sure to make an impact. In addition, it will reshape the fantasy football running back landscape as many backfields will be in for a shake-up.

Top 10 2023 Fantasy Football Rookie Running Back Rankings
The running back position is in dire need of this influx of talent, too, with many of the top players getting older. Each of these backs in my Top 10 2023 Fantasy Football Rookie Running Back Rankings has the talent to be a day two NFL draft pick and an impact fantasy football player. I will break down their prospect profile and fantasy outlook for the NFL level as we get closer to next month's draft.
MORE SGPN FANTASY FOOTBALL CONTENT
Follow SGPN Fantasy Football on Youtube
1. Bijan Robinson – Texas
There isn't going to be a lot of debate about the top spot in this 2023 rookie running back rankings. Bijan Robinson is a generational prospect who had over 1900 all-purpose yards in his final season at Texas. His 104 forced tackles missed were the most for any running back since the stat began being recorded in the early 2000s.
Just a reminder of how silly of a prospect Bijan Robinson is. pic.twitter.com/M5YlVGqaWg

— Jake Anderson (@JakeAndersonPGA) March 26, 2023
While Robinson isn't the same caliber athlete as Barkley, he tested above the 80th percentile in every category at the NFL Combine. Considering the last ten years, the only running backs that I thought were better prospects were Ezekiel Elliott and Saquon Barkley. There isn't a landing spot that would move him from the top spot in my dynasty fantasy football rankings, either. Robinson is as safe as it gets as the top selection in rookie drafts, and there isn't another player to consider.
2. Zach Charbonnet – UCLA
Zach Charbonnet isn't the second most talented running back in this class, but opportunity is king in fantasy football. Particularly for this position, the amount of touches a player gets is far more important than their efficiency. For this reason, Charbonnet standing "6-0" and 214 pounds give him an advantage and an ability to play a three-down role.
Furthermore, Charbonnet accumulated 1680 all-purpose yards in 2022, including 37 receptions for 321 yards. He is one of the most complete backs in this year's draft class and will likely hear his name called in the second round. Charbonnet is a four-year college player, too, who is developed enough to step into a significant role right away.
3. Jahmyr Gibbs – Alabama
Jahmyr Gibbs could hear his name called in the first round of the NFL Draft and is one of the most electric running backs in the 2023 draft class. He recently ran a 4.36 40-yard dash at the NFL Combine with a 91st-percentile speed score. He is also an outstanding pass catcher with 44 receptions for 444 yards as a junior at Alabama.
My concerns about Gibbs rest solely on his slighter frame at "5-9" and only 199 pounds. While I'm not worried about this affecting his efficiency numbers in the NFL, he isn't going to receive a high-volume role. As a result, it will be more important for him to land in a good offense rather than an open backfield. This would allow him to maximize his 15+ touch per game role.
4. Kendre Miller – TCU
Kendre Miller is another recent riser in my 2023 rookie running back rankings as one of the best pure rushers in this draft class. He isn't even 21 yet and ran for 1,399 rushing yards in his final season at TCU. Miller boasts solid agility and balance and could immediately step into early down work.
Kendre Miller, a thread. pic.twitter.com/40DEqgEOgM

— Nick Penticoff (@NickPenticoff) March 25, 2023
However, he hasn't done much as a receiver and is a poor pass blocker too. Considering this, Miller isn't likely to receive much third-down work early in his career. So while he is becoming a darling among fantasy analysts, what NFL scouts think of him remains to be seen. I expect him to receive day two draft capital, solidifying him as my RB4.
5. Devon Achane – Texas A&M
Devon Achane is a former track star and possibly the best athlete in the 2023 rookie running back class. He is certainly the fastest, with a 4.32 40-yard dash and 88th percentile speed score. This is evident on tape, too, as it is nearly impossible for college defenders to keep up with him in open space.
However, similar to many running backs in this class Achane is undersized at only "5-9" and 188 pounds. When watching the film, I thought I would criticize him for his ability to run in between the tackles. Players his size don't typically rush up the middle well, but Achane runs with surprising power and fights through initial contact. Like Gibbs, he doesn't receive a heavy workload but could excel as a PPR option in fantasy football.
6. Zach Evans – Mississippi
Many have criticized Zach Evans for transferring to Mississippi from TCU because of the presence of Kendre Miller. However, this isn't entirely true, as he appeared to take the lead role before suffering an injury midway through his sophomore season. As a result, Evans transferred to Mississippi, where he had over 1000 all-purpose yards and 12 touchdowns as a junior.
Overall, he is a dynamic athlete capable of breaking big plays when he gets into open space. His NFL frame makes him stand out in a smaller class as well, and Evans should be capable of taking on a large workload. Scouts will have their concerns about his injury history, though, and he isn't an experienced pass catcher, either.
7. Roschon Johnson – Texas
Roschon Johnson spent his career backing up Bijan Robinson at Texas, so he obviously didn't get a chance to be featured in college. Nonetheless, his nickname should be Mr. Dependable, as that is exactly what he is on the football field. Robinson is excellent in pass protection, has had only one career fumble, and is hard to tackle in short-yardage situations.
Roschon Johnson is a TANK 😳

Johnson is reportedly drawing "buzz" of potentially coming off the board in the second round of the Draft.

Johnson put up over 2,000 yards and 20 TD's across his career at Texas. pic.twitter.com/SCt6ixIB8B

— NFL Rookie Watch (@NFLRookieWatxh) March 26, 2023
Considering we were talking about how important opportunities were for a running back before, he could see the field plenty early on. Robinson isn't a great athlete and lacks top-line speed, which will cap his upside at the next level. This will likely leave him in a committee, but that is the case for most running backs in the league. He has RB2 upside and many traits that could get him on the field early in the NFL.
8. Tank Bigsby – Auburn
Tank Bigsby has fallen in the 2023 rookie rankings after being expected to be one of the top running backs selected last off-season. He never took the next step, though, after a monster first year, which wasn't all his fault, though. The offensive line was terrible for Auburn, and he was the focal point for a unit that didn't possess much talent.
Bigsby has an NFL frame ready to take on an early down role for an NFL team immediately. However, while he does have the pass-catching ability, pass-blocking isn't a strong suit of his, which could limit his role on third down. In addition, fumbling has been an issue in the past, which will undoubtedly affect his playing time at the next level if that continues.
9. Tyjae Spears – Tulane
Tyjae Spears has been one of the biggest rookie risers this off-season after a successful performance during Senior Bowl week. Some fantasy analysts have him even higher; however, I have a few concerns. Spears has the body of a pass-catching running back without the production profile of one.
He has only 46 career receptions, which isn't a low number. Given his prospect profile, though, this is an area Spears will need to improve to become fantasy relevant. Nonetheless, this is a player who finished with eight straight 100+ yard rushing performances to end the 2022 season. He has flex potential in fantasy leagues, but there aren't a lot of upsides.
10. Israel Abanikanda – Pittsburgh
Israel Abanikanda is coming off an outstanding final season at Pittsburg, where he accumulated 1,577 scrimmage yards. This is another player with the size and speed to make him an intriguing fantasy option. While he didn't test at the NFL Combine, Abanikanda has the athletic ability to be a home run threat at the NFL level.
There is an early down upside, but he isn't a great route runner or pass blocker, which will limit his availability on third down. Ultimately, the final spot in these rankings was very close between Abanikanda and Sean Tucker. Concerns about Tucker's mystery injury this off-season gave the nod to Abanikanda.
RELATED CONTENT