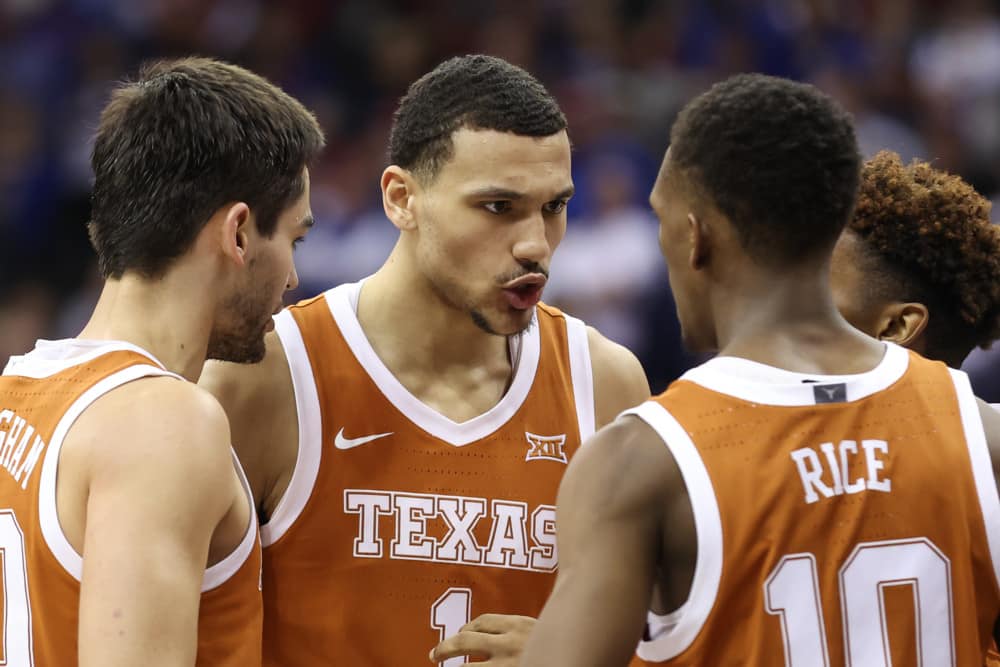 And then there were six. Nowell puts on another show but exits the stage to grand applause. UConn's Jackson flirts with a triple-double in a blowout of Gonzaga. On Sunday, the Elite Eight starts bright and early on the west coast. What's the play? Get as many shares of Miami/Texas as possible and as few Aztecs as possible—not much to think about, and something you can do quickly over coffee. Follow along to discover who the SGPN team has circled for Sunday's Elite Eight two-game slate.
Go here for free daily College Basketball picks!
Elite 8 DFS – Sunday, March 26
Top Tier:
Norchad Omier, F Miami $7,700
Three straight tournament games with 13 plus rebounds for Norchad Omier. He was facing a team with a banged-up forward. He was the tallest guy on the court for his school. Guesses that include Kalkbrenner, Kaluma, or the constant rotation of Aztecs would be wrong. It's Norchad Omier. Expecting another favorable, fast matchup and plenty of chances to match production for Omier.
If there is a word that Dylan Disu is playing, then pivot to him. Between Mahomes in the Super Bowl and now Nowell, I'm starting to think that injuries aren't what they used to be. Blow past the stop sign if the Longhorns do as well. If Disu goes, then we go to Disu.     
Mid Tier:
Ryan Nembhard, G Creighton $7,100
I'm looking to avoid this game at all costs for DFS purposes but absolutely cornered, given the magnitude of it. I cannot avoid it. San Diego State coach indicated that there would be more shuffling around. It feels like every Aztec is priced the same due to uncertainty and their style of play. Nembhard has to be the highest-variance player on the entire slate.
The range of outcomes is a complete no-show to 30 points and some counting stats. What I do know is that he will be on the court. He will have a tough matchup and have to earn every single stat he's credited for.
Nembhard didn't log a single minute after February 23rd last season, so he was not on the court to see virtually the same Aztecs team Creighton beat in the tournament last year. The sophomore will get his chance vs. four seniors and a junior now to show what he can do. He will get his minutes. 

Bargain:
Tyrese Hunter, G Texas $5,900
Dylan Disu is the third most expensive player on this slate. Granted, there are two games on, but Dylan Disu was in a boot against Xavier on the bench. Now, we just saw what Nowell did, for the third time, off of a foot injury in the prop game. The difference is that Disu left the game Friday and never returned.
The point is that Tyrese Hunter saw the uptick as an opportunity. It was Carr that led the Longhorns early. Longhorns ride the hot hand, which is precisely what Hunter can be. It may take time, but the bunches of scoring are possible. Hunter went 3/3 from deep vs. Xavier but played his highest-minute total of the season. Disu banged up, and Hunter should be the biggest beneficiary along with our 'other option Christian Bishop.
Other Options:
Lamont Butler, G San Diego State $5,800
Wooga Poplar, G Miami $5,200
Christian Bishop, F Texas $4,500
RELATED CONTENT