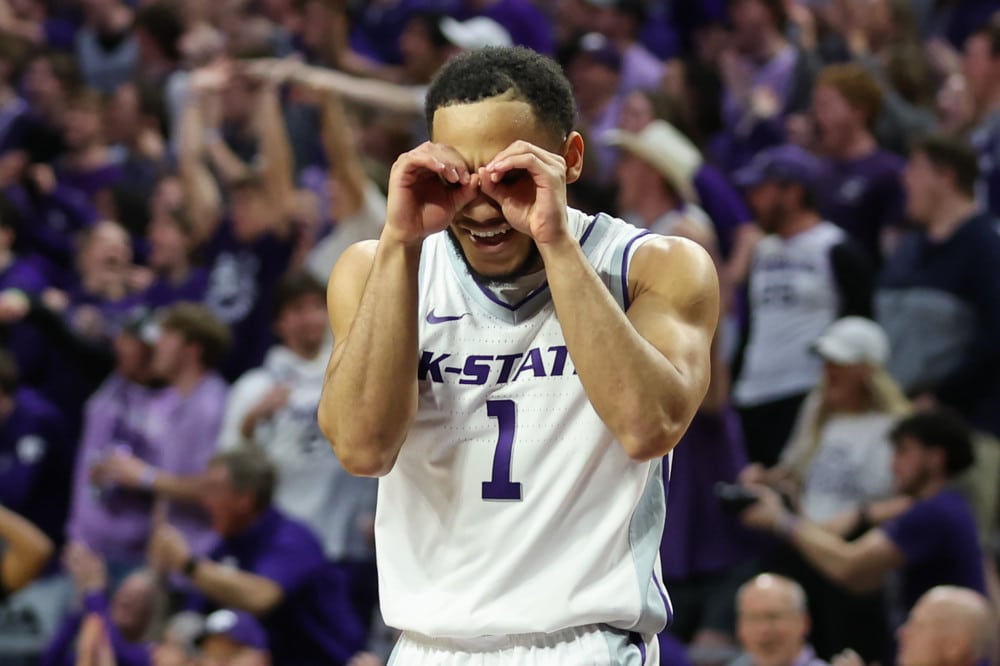 Just eight teams remain in the tournament, which changes the strategy in DFS quite a bit. There are only two games to choose from. Many lineups will look the same to an extent, which is fine. Don't alienate yourself by leaving off a big name for fear of too much ownership. The stars will be owned big, and they will perform.
Finding the players who will step up will be more challenging. It will take shooting luck and foul trouble to win any big tournament in DFS this late. Let's take a look at our candidates. Here are my Elite 8 DFS picks!
Go here for free daily College Basketball picks!
Elite 8 DFS – Saturday, March 25
Top Tier:
Markquis Nowell, G Kansas State $9,600
The storyline of the tournament. New York native in MSG. Assist record. Injured ankle. The return. In overtime wins with a theatric alley-oop. The story of Isiah Thomas after the game. Absolutely no way to fade him. He's a gamer. Everyone will have him. You cannot miss out on the upside. Sanogo has to guard Timme.
Timme will have to rebound against Sanogo. The Florida Atlantic guards will stand behind the three-point line on offense and allow Nowell to catch his breath. There is no way he is an actual game-time decision. He is playing, and he is playing with everything he possibly has. Nowell averages 21.3 points per game, but the storyline isn't even his ability to get buckets. Double-double incoming. In his words, 'watch this.' 
Mid Tier:
Andre Jackson Jr., G UCONN $6,800
This is right before the drop-off in options and is reflected in the price. There is a good chance that he can walk away with double-digit points, rebounds, or assists. He is involved everywhere on the floor for UConn. Outside chance of a triple-double? Sure, why not.
He's only had three double-doubles this season, but he rounds out as well as any. His points, rebounds, and assists line is 19.5 today. He has surpassed this line in seven of his last ten games and two of three tournament games. The only game he has not gone over 19.5 in the tournament was against the St. Marys defense, which Gonzaga is well behind. So expect some pace in this game!

Bargain:
Malachi Smith, G Gonzaga $4,300
It feels like Malachi Smith has been involved in the play every time the Bulldogs have needed a big play this season. That held true in the game vs. UCLA. Smith put up another game with double-digit points in the tournament. This will solely depend on the number of minutes he plays, and we have an uptick trend on our side. He played 24 minutes against UCLA and played well. Mark Few will be wise to lean on the junior guard again and hope to get some scoring from someone other than Timme.
Other Options:
Vladislav Goldin, F Florida Atlantic $5,600
Donovan Clingan, F UCONN $4,800
Cam Carter, G Kansas State $4,500
RELATED CONTENT