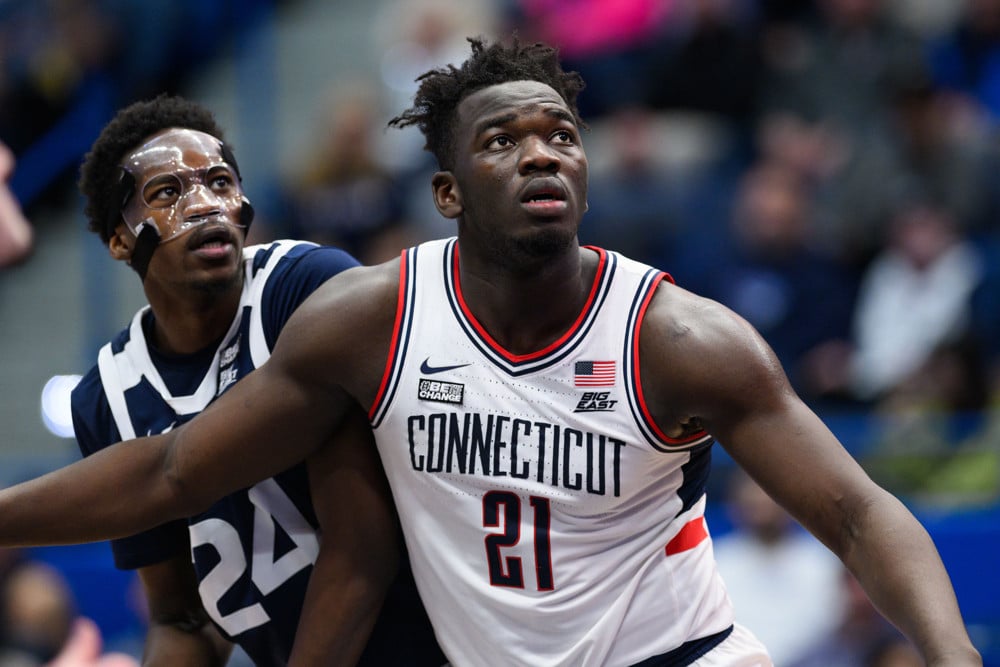 SGPN has got you covered with your College Basketball needs from picks, parlays, and DFS. The Sweet Sixteen is here, and in the interim was everyone's chance to breathe. Meanwhile, the locations of these games will be different than the first two rounds, and the players have been traveling. There were break-out stars all tournament long in the world of DFS; however, as the games get closer and even more meaningful, the veterans and leaders are expected to show out. Here is my Sweet Sixteen DFS picks!
Go here for free daily College Basketball picks!
Sweet Sixteen DFS – Thursday, March 23
Top Tier:
Adama Sanogo, F UCONN $7,800
Expected something dedicated to Jaquez, Norwell, or Timme, and you weren't off. But we're trying to build a lineup here, not talk about the best players from last weekend. It all lies within the price point and the rebounding upside for me. We know that Arkansas can be very streaky on offense, and we also know they don't have Trevon Brazile to compete with Sanogo down low. UConn wants to embrace the inside-out game and show their completeness.
Sanogo has gotten up 16.5 shots per game this tournament. Arkansas is 49th in two-point percentage defense. As mentioned, looking at the amount of opportunity Sanogo has had, and the edge in rebounding as a team should put Adama in line for a potential 20-point double-double. At this price point, it's a steal. 
Joey Hauser, F Michigan State $7,500
Hauser and Walker have combined for 45% of Michigan State's points so far this tournament, so I'm taking half of the tandem that can rebound for us too. This one was also relatively simple. Go with the go-to guys. Lean on the performers. Hauser has 30 fantasy points, on the button, in his last three games. Consistent, reliable, and at a reasonable price.
"I mean shit he's the money man. He's got ice in his veins"

Joey Hauser on Tyson Walker who closed out the game with three straight field goals, leading MSU to a win over Marquette: pic.twitter.com/yuEr13vfxB

— Marlee Wierda (@marleewierda) March 20, 2023
The best part of his game is that he can score in many ways. It's also worth noting that he is 12/13 from the free-throw line this tournament. He is following the theme of leaning on veteran players. The senior will leave it all out there. 

Mid Tier:
Tristen Newton, G UCONN $6,100
He is going back to the Huskies and the inside-out game that was mentioned for Sanogo. Sanogo will need someone to feed him. Newton has a triple-double under his belt this season and a very outside chance of putting up 14 or more rebounds and assists combined.
There's a lot of love for Jordan Hawkins at nearly the same price point. Hawkins can score more than Newton, like a lot more, but that's due to his outside shooting. Newton will be the distributor to the two primary scoring options and maybe throw in a few rebounds. Tristen Newton, senior, primary ball handler. Checks our boxes.
Bargain:
Davonte Davis, G Arkansas $6,200
The price tag should put him in the mid-tier but let me explain. First, he's the third-highest-priced guard on his team. He put up 21 of his 25 points in the second half against Kansas, and if you want to look at what he is averaging across the first two games of the tournament, then he should be the highest-priced guard on the entire card for Thursday behind Marquis Nowell of Kansas State.
"This team's been struggling. And we figured it out."

Davonte Davis got emotional after No. 8 Arkansas upset reigning champ Kansas 🙏 pic.twitter.com/UWyWOA3J3s

— Bleacher Report (@BleacherReport) March 18, 2023
But to counter that – he is the third highest priced because he isn't the primary option. However, he does have competition for the ball when on the floor. So I will ride with the 20.5 points, 7.0 rebounds, and 2.0 steals he has given us at this price point. His player points prop is severely underpriced as well at 10.5 as a single bet which is probably my favorite single bet you can make in the Sweet 16 round. 
Rounding out your lineup:
Josiah-Jordan James, G Tennessee $6,300
Desi Sills, G Kansas State $5,500
Mady Sissoko, F Michigan State $4,900
Ben Gregg, F Gonzaga $4,300
RELATED CONTENT