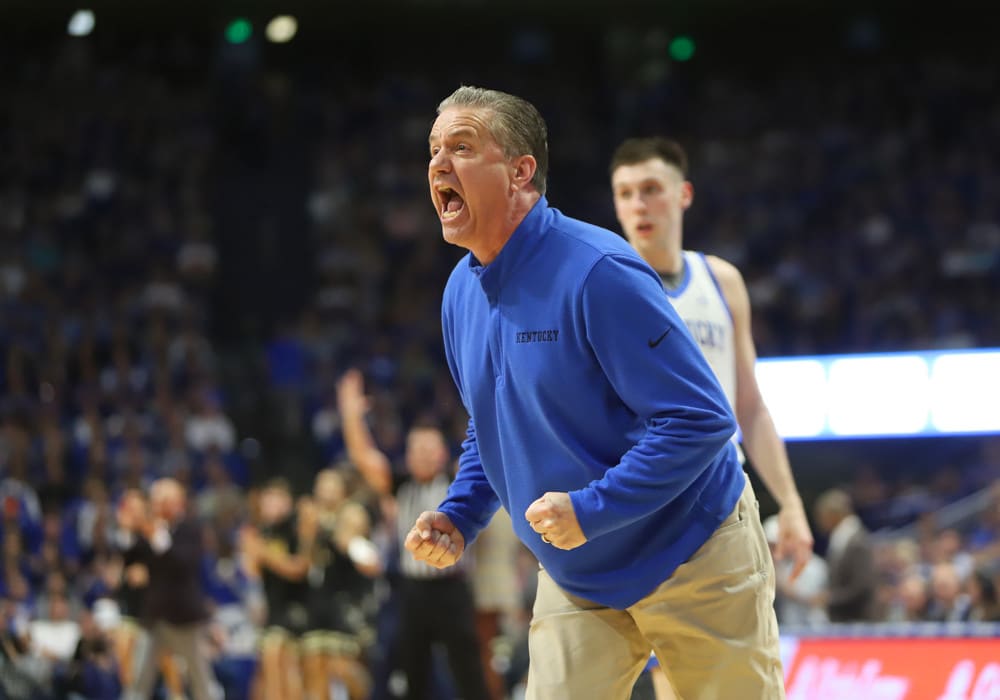 College Basketball Predictions 3-4-23
The guys (@GamblingPodcast) give out their best college basketball bets in this college basketball predictions 3-4-23 podcast. They give out their college basketball picks with the help of Colby Dant (@TheColbyD) from The College Basketball Experience. We once again have the best slate of Saturday games this season with some games with major implications!
Alabama travels to Texas A&M where A&M is a home dog by 2 points. Despite the criminal charges looming over Alabama, the players and staff don't seem to care. A&M looks good but Alabama has gritted out some wins as of late. A&M has played well though at home and could take the points.
Michigan State is -7 at home against Ohio State. Michigan State is simply the better team in this one and Ohio State truly can't compare.
Baylor is -7.5 and hasn't failed to cover the spread since the release of Cocaine Bear. Iowa State is reeling as of late despite being on the bubble and Baylor has looked strong.
Providence hosts Seton Hall and is -8.5. By winning this game Providence does not gain much but Seton Hall could certainly use a win. Still though, Providence should win the game but definitely possible for Seton Hall to cover.
Kentucky is a road dog by 5 points as they visit Arkansas. In the last 3 matchups, Arkansas has won all of them, which is slightly surprising. This game should be down to the wire especially since Arkansas is at home.
West Virginia hosts Kansas State after a big time win which should get them in the tournament. Kansas State though is also in the hunt for March Madness and needs a win here to solidify this position.
Tennessee travels to Auburn in a classic pick 'em, but currently Auburn is +1.5. The last road win for Tennessee was January 21st.
TCU is a road favorite by 2 points against Oklahoma. Oklahoma is far out of the tournament and morale is low while TCU is enjoying a healthy Mike Miles. TCU also looks great against the spread right now.
Texas is -2.5 against Kansas. Texas is 16-1 at home this year and Kansas will have a lot of work to do to try to get a win in Austin, Texas
Oklahoma State is +6 against Texas Tech. Tech has been playing great ball recently but 6 points could be a little too high.
Between Miami and Pitt, the ACC Title is on the line. Miami is 8-8 against the spread at home and Pitt is 6-1 on the road against the spread. Pitt being +6.5 could be a great play as long as Jeff Capel can win the coaching battle.
The best rivalry in sports has another game this Saturday. This is an uncharacteristic season for the rivalry as UNC is looking like they will not be the tournament but the game will still be competitive. Duke is surprisingly not favored in this one and getting them at plus points is a great opportunity.
Villanova hosts UConn at the Wells Fargo Center. Villanova has played some hot basketball recently and it is shocking that they are +3 in this one.
Hawaii is +4 against Santa Barbara. Hawaii plays well on the road, but UCSB has played good ball.
Boise State heads to Utah State who is -4.5. This is a good battle between two bubble teams which will come down to 3-point shooting. Boise State dominated in the first matchup of these two teams.
Arizona travels to UCLA, where UCLA is -5.5. UCLA has been dominant this year as they have kept a tight core over the past few seasons and are playing impressive defense. UCLA is making a strong case to be a favorite to win the whole dance.
College Basketball Predictions 3-24-23 Best Bets:
Kramer Lock: Texas A&M
Kramer Dog: Duke ML
Kramer Bonus Lock: Auburn +1.5
Sean Lock: Baylor
Sean Dog: Villanova ML
Sean Bonus Lock: TCU -2
Colby Lock: Texas A&M
Colby Dog: Pitt ML
Colby Bonus Lock: TCU -2
Round Robin (TriPuss):
Kramer TriPuss: Duke ML, Kansas ML, Kentucky ML
Pitt ML, Villanova ML, Kansas State ML
College Basketball Odds 3-4-23 via WynnBET
| | | |
| --- | --- | --- |
| | Teams | Sprd |
| | | |
| 3/4 9:00 AM | Alabama | -2 |
| College Station, TX | Texas A&M | |
| 3/4 9:00 AM | Ohio State | |
| East Lansing, MI | Michigan State | -7 |
| 3/4 9:00 AM | Iowa State | |
| Waco, TX | Baylor | -7.5 |
| | | |
| 3/4 9:00 AM | Seton Hall | |
| Providence, RI | Providence | -8.5 |
| 3/4 11:00 AM | Kentucky | |
| Fayatteville, AR | Arkansas | -5 |
| 3/4 11:00 AM | Kansas State | |
| Morgantown, WV | West Virginia | -5 |
| | | |
| 3/4 11:00 AM | Tennessee | -1.5 |
| Auburn, AL | Auburn | |
| 3/4 12:00 PM | TCU | -2 |
| Norman, OK | Oklahoma | |
| 3/4 1:00 PM | Kansas | |
| Austin, TX | Texas | -2.5 |
| | | |
| 3/4 3:00 PM | Oklahoma State | |
| Lubbock, TX | Texas Tech | -6 |
| 3/4 3:00 PM | Pittsburgh | |
| Miami, FL | Miami FL | -6.5 |
| 3/4 3:30 PM | Duke | |
| Chapel Hill, NC | North Carolina | -2.5 |
| | | |
| 3/4 4:30 PM | Uconn | -3 |
| Philadelphia, PA | Villanova | |
| 3/4 6:00 PM | Hawaii | |
| Santa Barbara, CA | UC Santa Barbara | -4 |
| 3/4 6:00 PM | Boise State | |
| Logan, UT | Utah State | -4.5 |
| 3/4 7:00 PM | Arizona | |
| Westwood, CA | UCLA | -5.5 |
Podcast Transcription