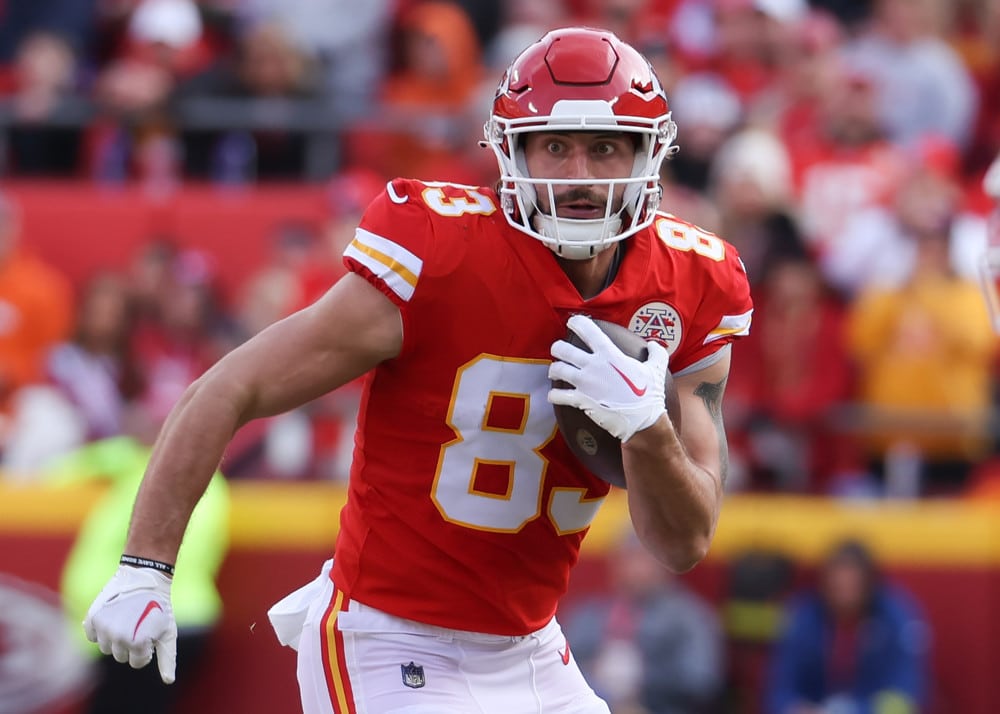 Super Bowl 57 Kansas City Chiefs Prop Bets
The guys (@GamblingPodcast) give out their favorite Super Bowl 57 Kansas City Chiefs prop bets as part of their latest Super Bowl predictions podcast. They're joined by Danny Solomon from the 'Sorry We Love Football' podcast.
The infamous Octopus bet is mispriced and is currently 14-1!
There is a solid chance the Chiefs will look to establish the run early to help their passing game. They have a number of capable runners in Pacheco and McKinnon as well as Mahomes. To add to this likely running approach, there is a good chance Andy Reid will spread this love amongst all his talent. Skyy Moore has gotten plenty of recent love on reverses and Mecole Hardman and Kadarius Toney probably will not be getting these opportunities.
Due to all this running though, Patrick Mahomes probably won't be throwing as much especially if the running works. In an effort to also protect him, he may struggle to get to his yards mark. Danny is the somewhat contrarian though as he believes the Chief's first play will be a pass. Sean agrees, but he believes this pass will be an incompletion, which is priced very nicely at +220 for such a likely event as Mahomes is 1-2 on first passes in his two prior Super Bowls.
Danny once again proves contrarian as he believes there isn't enough viable options for the Chiefs to space out their rushing attempts. To get Mahomes in a rhythm, he will probably dump off a low yardage pass early. For those that want to bet on Travis Kelce first touchdown, a good alternative is to take the tight end position as the first to score. In general, both tight ends have a good chance to find paydirt when Andy Reid gets creative.
If he really is trying to get creative as well as his counterpart Sirianni, they could have more than just their quarterbacks attempt a pass. All in all, its likely both teams will not drive down the field and score the first drive and punting is likely as everyone gets the jitters out. While it is likely the Chiefs score with a tight end first, it is also likely for the Eagles as well. The trend seems to be these playoffs that the tight ends will score first.
In the Super Bowl, Andy Reid will have to be aggressive and may do so by going for it on a fourth down. For all the running we discussed about the Chiefs, this did not mean they would do it to get into the endzone. The Chiefs have yet to record a rushing touchdown in the playoffs, and you are getting plus money for this. Yet, they are still going to score, and it will be at the hands of Pat Mahomes. If they do fall behind though, Mahomes could have to air it out more than expected. With his ankle injury though, you just can't expect him to rush too much, resulting in not too many yards.
The Eagles will also be running the ball well as they have all year and might spread the love too. For how spread the love will be though, we might not see repeat scorers. On the other side, they will also get pressure on Patrick Mahomes, who likes to avoid sacks by hucking the ball up. One of these are likely to end up in the hands of the Eagles, and possibly more than one. Defensively though, the Chiefs can bring the heat, especially Frank Clark as he has all year.
His pass rushing mate Chris Jones also has had a good year and has the chance to dominate upfront enough to take MVP honors. AJ Brown has caused trouble all year and should cause trouble in this Super Bowl. If Jalen Hurts can hit him consistently and the Eagles run the ball well as well as the Chiefs, these quarterbacks should not experience many incompletions.
Butker is always good to take a good volume of field goals throughout the game and should be able to get 2. In the seemingly inevitable first punt for Chiefs, it should go well over 45.5 yards. As good as Butker has been though, he has had an issue with missing extra points. To align with Mahomes having a short pass to start off to gain rhythm, it is likely that a short pass goes to Jerick McKinnon.
Kramer has a strong belief that the Chiefs will score points solidly, especially in the second half. However, Sean thinks Travis Kelce won't be getting many catches to help them get to the endzone as James Bradberry may be locking him up. If you expect the Chiefs to win, its hard to not expect Patrick Mahomes will also be the MVP of the game, the media loves him.
Super Bowl 57 Prop Bets:
Kramer:
Skyy Moore first to 20 rushing yards at 200-1
Pacheco first run over 3.5 yards at +106
Tight End first position to score for Chiefs at 2-1
Chiefs to convert a fourth down -125
Patrick Mahomes over 2.5 passing touchdowns +169
Frank Clark to have a sack +125
Travis Kelce Anytime TD -120
Noah Gray Anytime TD +750
MVS receiving ladder over 59.5 receiving yards +325
Jerick McKinnon receiving ladder over 50 receiving yards +425
Chiefs over 13.5 second half points +105
Chiefs team total over 24.5 -105
Patrick Mahomes MVP +130
Sean:
Over 5.5 Chiefs players to have a rushing attempt at +140
Pat Under
Mahomes first pass is an incompletion +220
First completion under 9.5 yards -114
Chiefs first drive results in a punt -122
Chiefs not converting a rushing touchdown +126
Patrick Mahomes to throw an interception -110
Patrick Mahomes to throw 2 interceptions +460
Patrick Mahomes over 38.5 passing attempts -125
Patrick Mahomes under 20.5 rushing yards
Harrison Butker over 1.5 field goals -140
Chiefs first gross point yards over 45.5
Jerick McKinnon first reception +550
Travis Kelce under 7.5 receptions -130
Chiefs not to score a touchdown 25-1
Danny:
Isaiah Pacheco, Jerick McKinnon, and Patrick Mahomes to combine for over 100 rushing yards at +100
Patrick Mahomes under 292.5 passing yards -114
Chiefs first play is a pass at +115
Less than 4.5 Chiefs players to have a rushing attempt at +168
Tight end position first to score for game +310
Over 4.5 Eagles players with a rushing attempt at +184
Chris Jones Super Bowl MVP 50-1
Total players to have a pass attempt over 2.5
Harrison Butker missed extra point +550
AJ Brown over receiving yards
Total combined incompletions under 23.5
No player to score 2 touchdowns +135
Any player to return a punt or kickoff for a touchdown
Danny Final Score Super Bowl Prediction:
27-20 Chiefs
Podcast Transcription