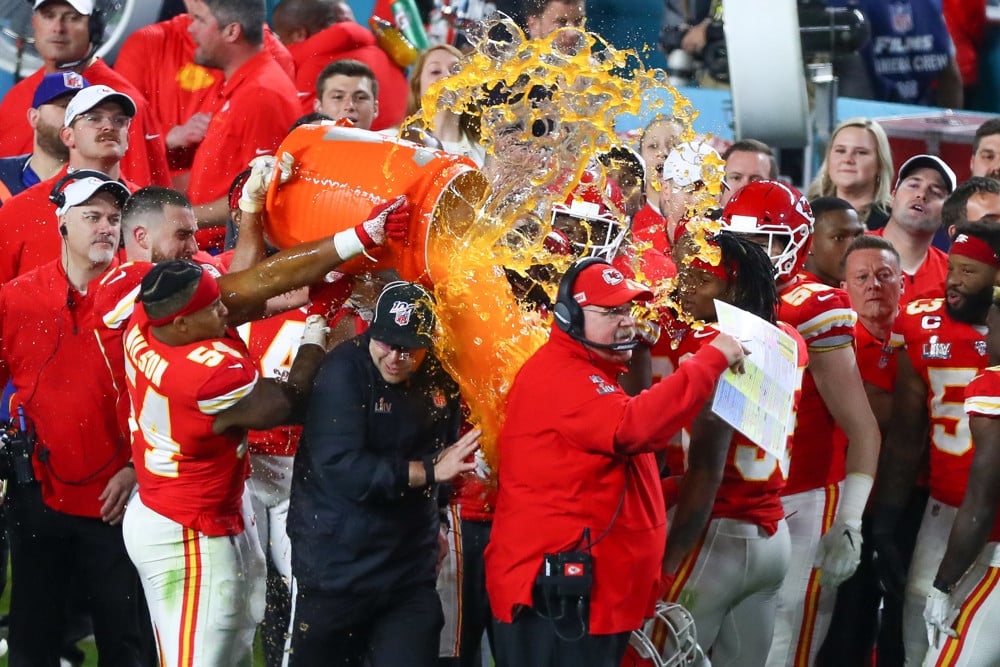 Super Bowl 57 Prop Bets Exotics
The guys (@GamblingPodcast) are getting you ready for the BIG GAME with their Super Bowl predictions. They give out all their favorite Super Bowl 57 exotic prop bets. They have you covered for National Anthem best bets, Gatorade Color and Super Bowl halftime bets.
T-minus 1 week until Super Bowl Sunday. Bets will be flying this whole week, especially from the Sports Gambling Podcast! The gameplay will be exciting, but the Super Bowl brings about much more exotic bets such as the coin toss, length of national anthem, and first commercial. Sticking to just the game exposes you to missing out on substantial chances to win money.
Betting on the coin toss is quite literally, a coin flip. For now it seems as though the public is on tails, which you can take as you wish. Since this truly can go either way, be careful of the odds you are taking. Betting on which team wins the coin toss is a little more exciting, especially when you parlay with it with the winner of the game. Betting the Eagles to win the coin toss and the game is +260, clearly a bet that Sean will like.
The last time the Super Bowl was played at this location, 117,400 beers were sold as spectators watched Atlanta give up a massive lead to the Patriots. Off pure opinions, there's a solid chance Kansas City fans will drink more beers than Patriot fans would've, and Eagles fans are thought to drink plenty of beer.
The line on the length of the singing of America the Beautiful came in at 1 minute and 3 seconds and has now jumped all the way up to 1 minute and 9 seconds. This is a very large line movement, but singer Babyface has said he is dedicating the performance to his mother. How could he rush a performance dedicated to his mother? Historically, this song has been known to be completed in under a minute.
Everyone loves taking the over on the National Anthem and this year it just might be a lock as country singers typically go long on their performances of National Anthem. The line is currently at 122 seconds, and singers like Chris Stapleton have been going over 130 seconds in the past. This is not the only bet centered around Chris Stapleton, as there is speculation on his hat color. The choices for this bet is either black, or any color. For so many variants of a hat color, it is quite interesting they singled out a black hat. Sean was only able to find one instance in which Stapleton did wear a black hat, but he likes the black hat anyway.
During the National Anthem, Kramer believes if the quarterbacks are shown, Patrick Mahomes will be shown before his opponent Jalen Hurts. Mahomes is much more popular than hurts for now, so there will be more eyes wanted on him. For the same reason, Andy Reid will be shown before Nick Sirianni.
According to the Eagles superfan, Philly will punt less than 3.5 times. There may be bias in this statement, but Sean makes valid points as the Eagles have gone for it on 4th down a number of times as they have shown they don't trust their punter much. In a high stakes-game, there is no time for punting.
In the Chiefs' last Super Bowl, they ran the ball on the first play. The Eagles have a great running game and should look to get their feet wet before they air it out. For these reasons, the first play of the game should be a running play.
A special football event called The Octopus is when the same player who scores a touchdown also converts a 2-pt conversion. An event that seems unlikely in general seems much more likely in the Super Bowl as teams once again needs to do all they can to win.
Andy Reid is known to not be successful on his challenges and Nick Sirianni is in his first Super Bowl. Winning a challenge is very tough on the big stage.
The first kick return is likely to not be a touchback because kickers have learned there's a lot ways for the return team to not make it back to the 25. From good coverage to a bad return or a penalty, it seems likely more kicks are returned than not, especially the first one.
Historically, teams score more in the second half. This year the Eagles have poured it on teams early but had to match them in the later half as the teams come back. With an offense like the Chiefs, points are always possible.
If the Chiefs do not do a special trick play with Noah Gray or Travis Kelce, it seems like an injury will need to happen for a white person to have to throw a pass.
Even though Harrison Butker has been shaky, it's hard to expect that a kick will hit an upright in a game as it is a rare occurrence.
While many enjoy the game, many enjoy the Halftime Show as well. Rihanna will be performing to the delight of the many. She hasn't performed much in the past few years so she will deploying her arsenal, especially with a hit like Diamonds to start and Run this Town to take us into the second half of the game. Her songs are very scandalous, and you can bet that her dressing style will match that.
The Gatorade is one of the more common and sought after bets in the Super Bowl. Who will dump the Gatorade is always a question and for both these coaches in their most recent Gatorade dumping moments, both an offensive and defensive player dumped the Gatorade. As for color, there's no rhyme or reason on which tub they grab to dump, it is completely random.
Sneaky plays come to light in the Super Bowl. Slipping an offensive lineman out for a pass is very sneaky.
Mahomes thanked his teammates first when he won the MVP in the last Super Bowl, and Jalen Hurts thanked his teammates first in the Conference Championship first. Hurts is quite religious though, so it will be interesting to see.
Super Bowl 57 Exotic Prop Bets:
Sean:
Coin Toss: Heads
Eagles to win coin toss and win game +260
America the Beautiful over 1 minute 9 seconds
Chris Stapleton Hat Color: Black
Eagles punts under 3.5 -115
The Octopus +650
A white person will not attempt a pass -250
Over 8.5 songs performed -110
First song performed, "Diamonds" +500
Last song performed, "Run this Town" +500
Rihanna to show cleavage +260
Yellow/Green Gatorade Color
An offensive lineman to score a receiving touchdown
Kramer:
Coin Toss: Tails
Total Beers sold at the event over 120,000
America the Beautiful under 1 minute 9 seconds
Patrick Mahomes shown before Jalen Hurts -125
Andy Reid shown before Nick Sirianni -110
First offensive play will be a run -130
The Octopus +650
First coaches' challenge will not be successful +120
Second half more points than the first half +110
A kick will not hit the upright -650
Offense and Defense player will dump Gatorade on coach +450
MVP thanks his teammates first -150
In honor of #SuperBowl57 @GamblingPodcast is giving out $570 cash and a $570 gift card for our 57 Bets Challenge.

Enter in the app https://t.co/ZxCpHpIC59#NFL #SuperBowlLVII #SGPN57 pic.twitter.com/cdtxFhFfx0

— Dave Heilman (@DynastyDorks) February 6, 2023
Podcast Transcription