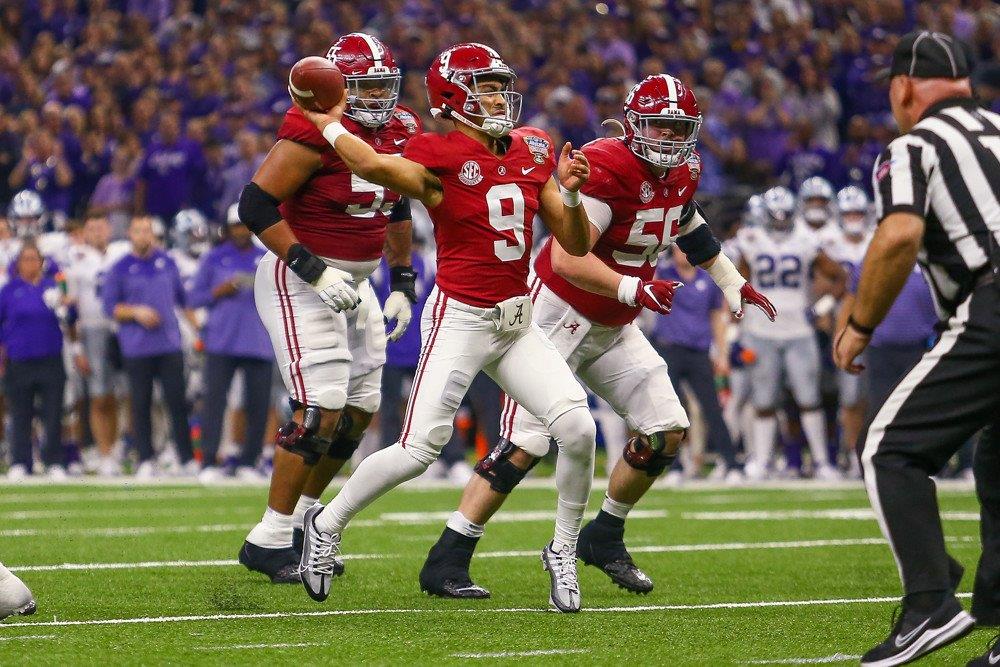 The Sports Gambling Podcast Network is bringing the first edition of our 2023 NFL Rookie Draft Reviews. We will start with the Quarterback positions with 3 to 4 first-round Quarterback Candidates.
This class is filled with talent and will bring great value to your dynasty squad for the foreseeable future. Dave Heilman (@DynastyDorks) and I (@FFBourbonDude) will discuss the following Quarterbacks and if you're interested in listening in to our initial pre-combine breakdowns, follow the links below.

Our pre-draft consensus rankings are as follows:
This write-up is all about our consensus number-one quarterback in the 2023 rookie class. Alabama quarterback Bryce Young has given us two years of elite college production against the toughest of competitions. So let's get into it.
MORE SGPN FANTASY FOOTBALL CONTENT
Follow SGPN Fantasy Football on Youtube
SGPN Fantasy Football Rankings
---
Bryce Young – NFL Rookie Draft and Dynasty Watch
Background
Bryce Young committed to the Crimson Tide in 2019 and sat behind Mac Jones during his 2020 rookie season. He was the number 2 ranked player in the country according to 247sports. Young played high school football at Mater Dei, which has now produced 3 Heisman Trophy-winning quarterbacks.
Bryce was initially scouted as a dual-threat quarterback, which we saw more of this season at Alabama but not his full potential. Bryce Young's measurable's will be criticized due to his slight build when compared to your "prototypical" quarterbacks.
Height – 6'0″
Weight – 194 pounds
College Career
Bryce Young began his career as a starter in 2021 against the 14th-ranked team in the Miami Hurricanes, where he threw for 344 yards, four touchdowns, and 0 interceptions. In that 2021 season, he threw for 43 touchdowns and only four interceptions while taking his team to the National Championship game.
We did see some minor regression in the 2022 season for the Alabama offense in its entirety. Some of it can be seen in the stats for Young. In 2021 he had nine games over 300 yards and two games with less than 25 attempts.
In 2022, he only threw over 300 yards in 4 regular season games and had four games with under 25 attempts. What we did continue to see was Young take care of the ball and did not take too many risks.
| | | | | | | |
| --- | --- | --- | --- | --- | --- | --- |
| | cmp/att | Yds | TD/INT | rush att | yds | Rush TD |
| 2020 | 13/22 | 156 | 1/0 | 9 | -23 | 0 |
| 2021 | 366/547 | 4,872 | 47/7 | 81 | 0 | 3 |
| 2022 | 245/380 | 3,328 | 35/5 | 49 | 185 | 4 |

QB Pros
Throwing Accuracy
Young has the best package as it pertains to his accuracy at all levels of the field. Sometimes you see the accuracy diminish when scrambling outside the pocket. This is not the case with Young.
Read Progression
Alabama has allowed Young to grow as a quarterback, and you can see that on the field. He can progress through his reads and doesn't force the ball into questionable situations. This is evidenced by the career 82:12 touchdown to interception ratio.
Quarterback Scrambling
While he doesn't wow you with his rushing upside, Young moves extremely well in the pocket and can make plays from outside the tackle box with ease.
QB Cons
Holding the Ball
Watching Young, there are two issues regarding holding the ball. One is that he sometimes gets lost in reading the progressions and will take a sack, not feeling the pressure.
The second issue is because of his scrambling ability and the fact he keeps his eyes downfield. He is sometimes reluctant to throw the ball away and will take a sack when not necessary.
Arm Strength
Look, he can make the throws and can adjust velocity based on the coverage. What you don't see is that Josh Allen or Patrick Mahomes cannon of an arm. This is a very low level of concern for me.
Pocket Patience
This plays on his scrambling ability. Young knows that he has the legs to keep plays alive, and at times he bails on the pocket early and allows a play to break down instead of stepping into the pocket and making the throw.