The transfer portal has created a lot of excitement for college football. The impact of the NIL money adds another element of excitement to college football's version of free agency.
In the last offseason, we saw top prospects like Jordan Addison change teams. We have even seen players that ended up going #1 overall, such as Joe Burrow and Baker Mayfield. Other top players like Jameson Williams or Justin Fields made the move before coming as first-round picks. This offseason had some big moves and some players that you will want to keep an eye on this season.

MORE SGPN FANTASY FOOTBALL CONTENT
Follow SGPN Fantasy Football on Youtube
SGPN Fantasy Football Rankings
---
Transfer Portal Recap: 20 Devy Transfers to Keep an Eye On
*NIL numbers from on3.com
1. QB – Sam Hartman, Notre Dame – $651k NIL
Sam Hartman left Wake Forest and will be the next quarterback of the fighting Irish. We saw Hartman throwing dots against Clemson last year, and his impact will help the Notre Dame offense. Hartman is an older prospect and will be 24 when the season starts.
He has thrown for 77 touchdowns in the last two seasons, so expect a big impact on the pass catchers at Notre Dame. They did not have a wide receiver with more than 361 receiving yards in 2022. Hartman will try to boost his stock for the 2024 NFL Draft. He will boost the devy and dynasty stock of others.
2. Dominic Lovett, Georgia – $47k NIL
The rich get richer as Lovett joins the national champs from Missouri. Lovett had six catches for 84 yards against Georgia last year. Lovett was third in the SEC in yards and catches last season.
Now, he joins the Bulldogs. Lovett is a fantastic slot WR that has the ability to play outside as well.
3. QB – Devin Leary, Kentucky – $148K NIL
Will Levis leaves Kentucky, and Leary comes over from N.C. State. Levis is a potential top 10 or even a top 5 pick. This was a coveted position, and Leary gets a great opportunity to work with Liam Coen.
Coen transformed this offense and helped Levis boost his stock after he transferred from Penn State. Leary missed time due to an injury last year but hopes to get back to his 2021 form.
In 2021, Leary threw for 35 touchdowns on 3,433 yards. Leary is another older prospect who will be 24 during the season next year.
4. WR – Dorian Singer, USC – $142k NIL
At Arizona State, Singer lead the conference in receiving yards last season and now joins Heisman winner Caleb Williams. Singer will help fill the void left by Jordan Addison leaving.
The Trojans added a plethora of talent this offseason by signing 5-star recruits Zachariah Branch and Makai Lemon. They also added a four-star recruit, Ja'Kori Lane.
Singer is an experienced WR, and his deep ball prowess will be on display at USC. Singer could really boost in draft stock if he emerges as Williams' top target.
5. QB – Shedeur Sanders, Colorado – $1.6 Million NIL
Colorado made a massive splash by adding Deion Sanders, who brought his luggage with him from Jackson State. Sanders' son Shedeur joins the team and will be their starting quarterback.
As you can see by the NIL money, all eyes will be on him and this team this year. This team has brought over some of the top transfers in the country per 24/7 sports on top of flipping major recruits. The Deion Sander effect is strong, and the Colorado roster will be significantly different in 2023.
6. QB – Hudson Card, Purdue – $113k NIL
Hudson Card is a 4-star recruit and was the #2 dual-threat QB in his class. Card heads to Purdue with Ewers and Arch Manning in Texas. Card will jump in immediately as a starter and gets to work with the new HC, Ryan Walters, and Assistant Coach Drew Brees.
7. WR – RaRa Thomas, Georgia – $43k NIL
Georgia plucked two of the top WRs in the SEC and added them to their roster. RaRa Thomas is 6'2″, 200 lbs, and has the size to be their X receiver.
He has two years of eligibility with Georgia, so we could see him in the 2024 or 2025 class. Thomas is a player to watch that has stock that could be on the rise in 2023.
8. RB – Marshawn Lloyd – USC – $74k NIL
Marshawn Lloyd leaves the USC of the south Gamecocks for the west coast. Lloyd is a powerful runner who ran hard and played well in the SEC. Lloyd left South Carolina under some controversy regarding his injury status.
He did not play much in 2022 due to the injury, and we expect him to have an early impact at USC.
9 WR – Devontez Walker, North Carolina – $141k NIL
North Carolina has one of the top young QBs, and their offense continues to produce NFL-level talent. Javonte Williams, Sam Howell, and soon Josh Downs will join this group.
Downs will leave a ton of targets and a great opportunity behind for Walker. If Walker becomes Maye's favorite target, this could mean major things for his devy/dynasty stock.
10. WR – Dante Cephas, Penn State – $17k NIL
Penn State has been churning out good NFL receivers despite poor quarterback play. Parker Washington looks to be one of the best WRs in the 2023 class, while Jahan Dotson was one of the top WRs in the 2022 class.
Cephas leaves Kent state and was the top-ranked receiver in the portal by some. The Pittsburgh Panthers expected to land Cephas, but he ended up going to Happy Valley. A NIL first, Cephas has a deal for touchdown celebrations.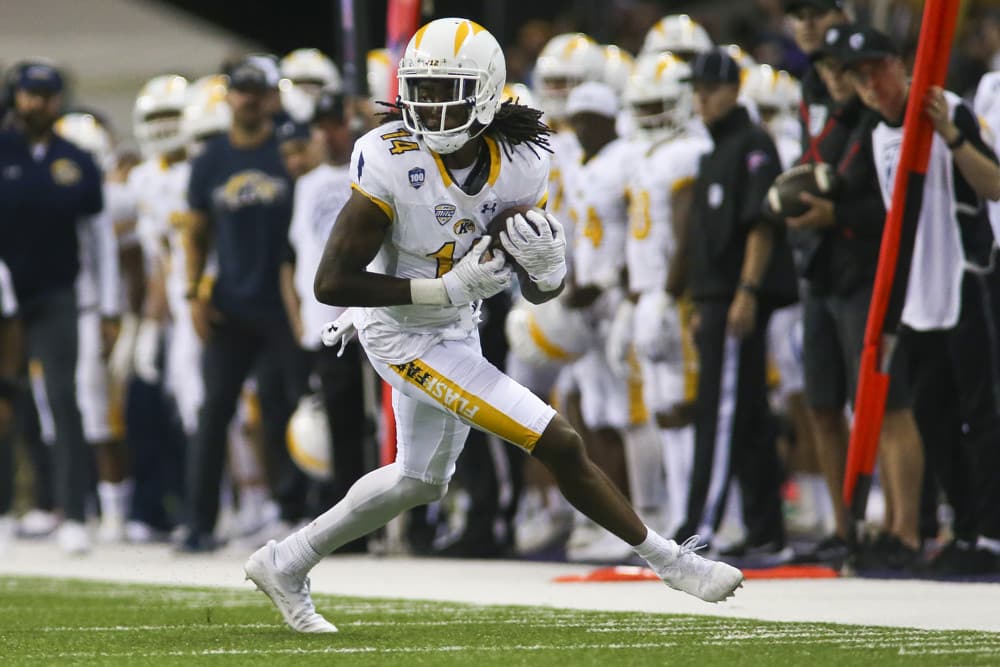 11. QB – Colin Schlee, UCLA – $22k NIL
Kent State got ravaged by the transfer portal. Schlee's top two targets left via the portal as well. Schlee helped them gain some notoriety, and he got his own as well. Schlee gets a coveted position with UCLA and under Chip Kelly.
Kelly's offense will allow Schlee to showcase his ability as a thrower and a runner. He ran for almost 500 yards in 2022 and has eight career rushing touchdowns. Schlee has not been announced as the starter yet, and he will have up to 2 years of eligibility with the Bruins.
12. QB – Walker Howard, Ole Miss – $111k NIL
Walker Howard leaves LSU and goes to work with Lane Kiffin at Ole Miss. Kiffin is one of the best offensive minds in college football, and his work with quarterbacks in his career has been well-documented.
Walker was the 42nd-ranked prospect in the 2022 class and 3rd ranked dual-threat quarterback. Howard will backup and compete with former USC transfer Jaxson Dart.
13. WR – J.Michael Sturdivant, UCLA – $33k NIL
Sturdivant caught 65 passes at California, and now they will have to face him next year. Sturdivant is one of the most exciting wide receivers in the conference.
At 6'3″ and 205 lbs, he can absolutely dominate on the outside. Sturdivant was California's highest-rated recruit, and he was on several freshman All-American teams.
The redshirt freshman had 755 yards and seven touchdowns with his 65 receptions. He offers a great compliment of speed to go with his size as a potential #1 option in this offense.
14. WR – Aaron Anderson, LSU – $82k NIL
Anderson leaves Alabama and returns home to LSU. Kayshon Boutte chose to leave for the NFL draft, and Anderson will be one of the top options behind Malik Nabers. Anderson is an electric player that offers speed and a slippery slot option for LSU.
15. WR – Ali Jennings III, Virginia Tech – $154k NIL
As you can see by the NIL money, Jennings was a big-time get for the Hokies. He left Ole Dominion after dominating and hopes to do the same in the ACC.
Jennings will try to boost his NFL stock by jumping up a level in competition and getting more notoriety at a bigger school. Jennings had plenty of suitors, and big schools were throwing big money at him. Now Virginia Tech gets to throw passes his way in hopes of big success in 2023.
16. RB – Aidan Robbins, BYU – $25k NIL
Aidan Robbins leaves UNLV and lands at BYU. BYU is known for having a dominant running game and putting up lucrative numbers on the ground.
Robbins ran for over 1,000 yards last season. Robbins will have multiple years of eligibility and could boost his stock if he takes over this backfield.
17. WR – Adonai "AD" Mitchell, Texas – $216k NIL
Georgia rarely loses anything these days, but they lost Mitchell to Texas. Mitchell enters the transfer portal and goes from a great situation to another great situation. Mitchell will benefit from playing with Ewers and, potentially, Arch Manning.
He also gets to work with Steve Sarkisian, who has transformed this offense. Mitchell will have to earn a role on this offense that already has Xavier Worthy and other top recruits. Ourlads currently has Mitchell as the starting Z receiver for the Longhorns in 2023.
18. TE – Jaheim Bell, Florida State – $80k NIL
Jaheim Bell was one of the highest-ranked tight ends in the country already, but things did not work out in South Carolina last season.
His offensive coordinator left for Nebraska, and he decided to leave as well. Bell is from Florida and was one of the highest-rated recruits out of Florida in his class.
19. TE – Erick All, Iowa -$46k NIL
Erick was a team captain at Michigan, and this is a big loss for the Wolverines. The Iowa Hawkeyes have been churning out NFL Tight Ends, and All looks to be one of the next ones.
All will have the opportunity to play with Sam LaPorta this season. All could be one of the top tight ends in the 2025 class.
20. TE – Trey Knox, South Carolina – $70k NIL
Jaheim Bell leaving left the door wide open for Knox. Knox transfers from Arkansas to stay in conference with South Carolina. Knox follows his tight ends coach Dowell Logains to South Carolina. Logains is their new offensive coordinator.
Knox is an NFL-sized tight end at 6'5″, 245 lbs. He will compete with another transfer, Nick Elksnis, who transfers in from Florida State.
There was plenty of room with South Carolina losing three tight ends from their 2022 roster. Knox is an established player and is in line to start. He could be a breakout player in 2023.
Bonus
TE – CJ Dippre, Alabama – $31k NIL
Dippre enters the transfer portal and leaves Marland to join the Alabama Crimson Tide. He made a lot of plays in Maryland and was tied for 2nd on their team for most receiving touchdowns in 2022. Dippre is already penciled in as the starter per Ourlads, and he offers the tide a receiving threat at the tight end position.