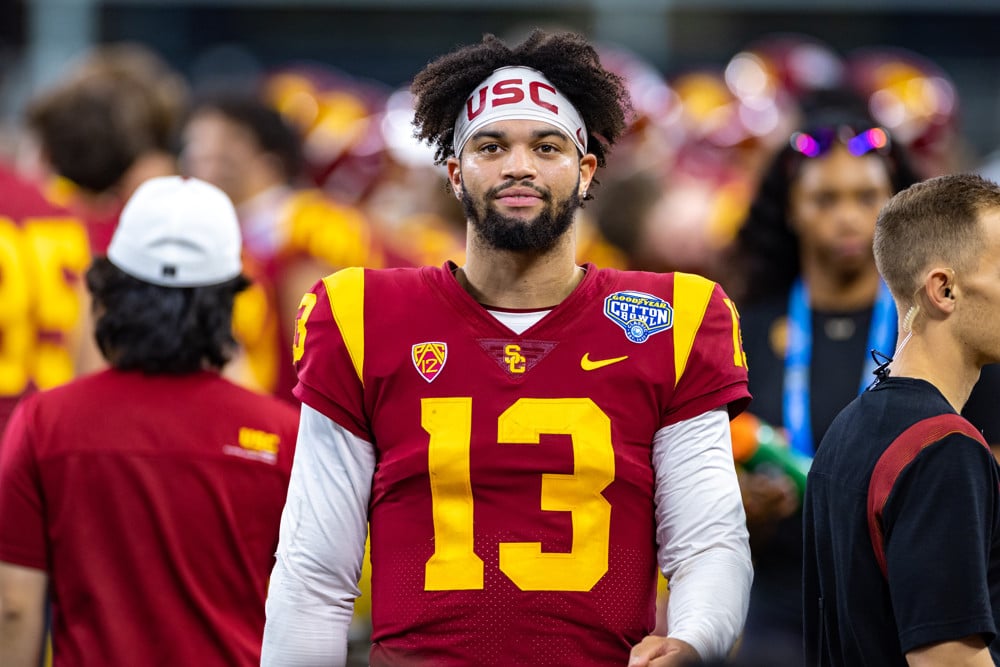 The NIL deals and college players being able to make money off their likenesses have changed the game for college football. We are in a new era and we will see how this will change the NFL. My first thought was that it would impact the rookie salary range. This won't happen any time soon due to the current NFL/CBA running through 2030.
Unless there is a strike or something significant, the rookie salaries are here to stay. I do predict that NIL will change significantly at some point though. Most NIL deals are not in the millions, and most college athletes do not get that much money.
However, a significant number of them do, specifically the quarterbacks. One thing that I think we will see is more quarterbacks staying in college football unless they are getting first-round money. On average for the past 10 seasons, we have only seen 11.3 quarterbacks total drafted in total, and 3.2 in Round 1 per drafthistory.com.

There are 130 teams in the NCAA 1-A alone. Here are the top 10 NIL rankings for quarterbacks via On3.com, and the 2022 quarterback class guaranteed salaries via spotrac.com.
MORE SGPN FANTASY FOOTBALL CONTENT
Follow SGPN Fantasy Football on Youtube
SGPN Fantasy Football Rankings
Quarterback NIL Money Analysis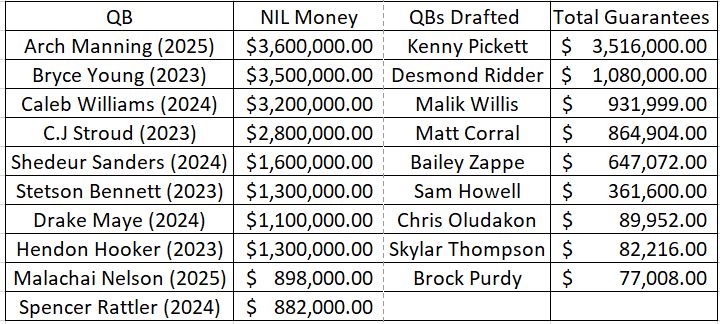 First-round quarterbacks, and those being drafted in the top 5, are obviously getting different money than guys like Brock Purdy. These NFL Guarantees are spread out over 4 years and the NIL money is this year. Where it gets interesting for me are guys that are in the 2nd, 3rd, and 4th range.
Spencer Rattler is an example of a player that was a day 3 quarterback that decided to stay. We also saw Sam Hartman pass on the NFL draft to go to Notre Dame with expected increases in NIL money. Hartman was making $720k in NIL money at Wake Forest as well.
With increased exposure and a bigger school, Hartman left his team via the transfer portal like thousands of other players. Spencer Rattler who was already making top 10 NIL money for a quarterback chose to not declare too. Additionally, Michael Penix Jr. chose to stay in Washington and keep his $621k in NIL money.
We saw guys like C.J. Stroud, Jordan Addison, and Quinton Johnston wait until the last day to commit. We saw Kayshon Boutte flip his decision, while Blake Corum chose to stay as well.
NIL Fantasy Football Landscape
How can NIL money help you in fantasy football? I spoke with Jeff Bell from the Football Guys and the Devy Royale this Summer and these were his thoughts. Jeff spoke about a running back from a small school and said the fact that he is not transferring is concerning.
I would like to see bigger schools recruiting him to transfer, especially with the money. This can help you with your Devy rankings or prospect scouting. The bigger schools will have more money to spend, that is obvious. But, this is the college football equivalent of free agency. The top players get paid more and this can translate. As of now, players can only transfer one time and this helps protect the universities.
The players that enter the draft, benefit from a smaller pool of players. If they are in the top 10 quarterbacks that enter the draft, they should be drafted. This speeds up their second contract and this allows them to enter the league. In free agency, the eight quarterbacks from the 2018 class didn't make very much money.
The only 3 that were on active rosters were Mike White and Mason Rudolph. White earned $2.54 million but had no guaranteed money on his contract. Mason Rudolph ended up having $2.02 million guaranteed. Logan Woodside signed a 1-year deal with $895k guaranteed as well.
None of these guys got Chase Daniels' kind of money. Two of these players are in the USFL and the rest are out of the league. So staying in college to collect hundreds of thousands of dollars before going to the NFL does seem like the better financial move. We will see more quarterbacks stay, and better quarterback play, which should help further develop players.
NIL Deals & Fantasy Football: Final Thoughts
The differences in pay between day 2 draft picks and day 3 draft picks are just not a significant enough incentive in my opinion. Pick 94 Matt Corral's 4-year contract is $5.01 million and pick 262 Brock Purdy's contract is $3.75 million over 4 years. The difference in guarantees is significant at $787,893 though.
Nonetheless, that is spread over 4 years ($196,973/yr). When Purdy could have stayed and received that money in NIL money, and tried to improve his stock. Corral also could have stayed to try to improve his stock, and collect some NIL money in the process. At the end of the day, I think the analytics that we use will have to adjust. Age is one of many factors that we are going to see affected by this change.
RELATED CONTENT