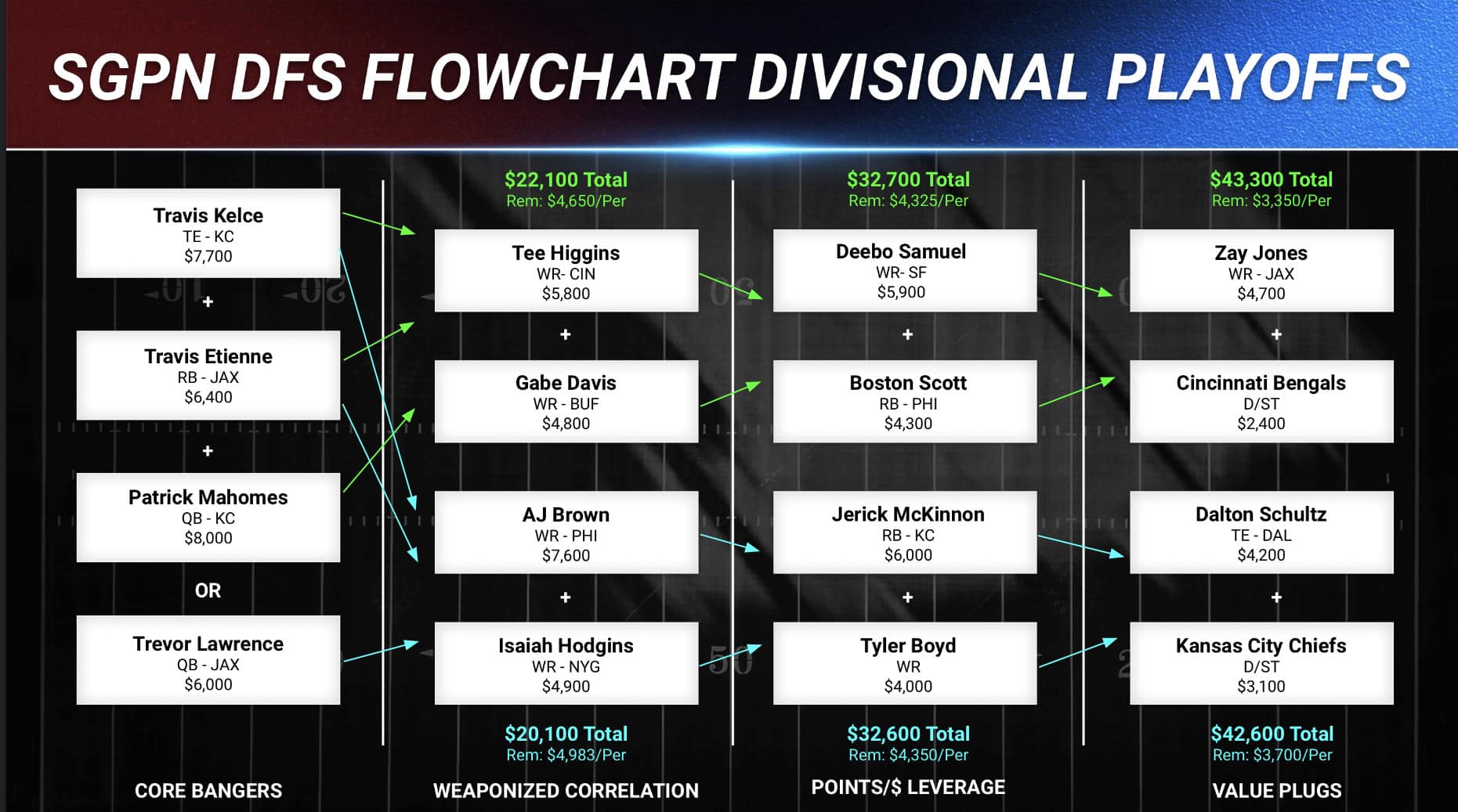 Wildcard Weekend was everything its name implied. The scoring was off the charts, putting optimal lineups in rare air for a six-game DFS slate. Attacking with huge performers like Dak Prescott and Dalton Schultz, along with DK Metcalf and Deebo Samuel, were the keys to a slate-breaking payday.
Last week's DFS Flowchart keyed you in on Chris Godwin, Ja'Marr Chase, and Christian McCaffrey. This goes along with my smash value plays like Schultz and Isaiah Hodgins. A simple tweak from there, and you were sitting on a nice win.
The Divisional round of the NFL Playoffs reintroduces the top-seeded Chiefs and Eagles off their first-round byes. The four-game DFS slate encompasses two games on Saturday and the other two on Sunday.
An even-smaller scope means a higher likelihood of duplicate lineups and an unruly amount of chalk. As we saw last weekend, there was still a ton of leverage to be had.

The Divisional Round DFS Flowchart is a visual representation of my lineup-building thought process. It is condensed into two diverging paths for the sake of digestibility and protecting you all from knowing just how incredibly loony I am. Here are some of my core thoughts for the combined four-game Divisional slate on DraftKings.
MORE SGPN FANTASY FOOTBALL CONTENT
Follow SGPN Fantasy Football on Youtube
SGPN Fantasy Football Rankings
---
Divisional Round NFL Playoffs Flowchart: DraftKings DFS
Familiar Faces
Technically, this is a main slate. Travis Kelce is obviously on this slate with bells on and under $8k to boot. I have a steadfast rule that Kelce is a foundational piece of any DFS lineup.
This is especially true when he is showing up as a massive leverage play on this condensed slate, according to RunTheSims. The Jags will be able to keep this game high-scoring, which will certainly give Kelce a better chance to end his uncharacteristic touchdown drought.
I love stacking shootouts, especially with a diamond in the rough at the RB position. Travis Etienne fielded every single snap out of the backfield for the Jaguars last week in their comeback win over the Chargers.
He is always a threat to take a simple handoff to the house with his electric speed. Unfortunately, his role in the Jacksonville receiving game has yet to materialize. Perhaps a negative game script in a win-or-go-home scenario will bring the rain.
Primetime Performers
It appears everyone has received the memo that Gabe Davis SZN is arriving on Sunday afternoon. In order to eat the unholy chalk on him and Stefon Diggs, one must complement him with a Bengals weapon.
Amazingly, Chase and Tee Higgins are projecting lower ownership than Diggs and Davis. To get the very most leveraged option, Tyler Boyd is only picking up a 4% ownership projection.
After swallowing the good chalk on Hodgins last week, he is suddenly a leper on this slate against the vaunted Eagles' defense. Hodgins is still a good play, as he mans the slot away from James Bradberry and Darius Slay. Chauncey Gardner-Johnson will be rotated into the nickel corner from free safety to cover for the injured Avonte Maddox.
Thorn in the Side
Remember the Wildcard epic between the 49ers and Cowboys last season? It was a heroic performance by Deebo Samuel, who donned a cape and whisked San Francisco into the next round while time literally ran out on Dak Prescott and Dallas. I expect Samuel to play a pivotal role in this Sunday clash at a ridiculous bargain on DraftKings.
In one of the strangest current streaks in the NFL right now, Boston Scott has scored a touchdown in eight consecutive games versus the Giants. That's right, the third RB in the Philadelphia rotation behind Miles Sanders and Kenneth Gainwell is a shoo-in to the end zone to keep the streak alive.
It was obvious that Philly was conscious of the streak a couple of weeks ago when Scott suddenly saw nine carries (he had two the previous week), including an eight-yard scamper to paydirt in the first quarter.
Apple Turnovers
I'm just as guilty as anyone else on Twitter at poking fun at Eli Apple every time he gets burnt for a touchdown. To be fair, it seems to happen every game. The Bengals still figure to be a solid value at DST this week against an explosive Bills offense that has a bad case of the turnover bug.
Cincinnati's defense is more of a reason for the team's advancement to this round than Joe Burrow's offense after a miraculous scoop and score decided last week.
Similarly, the Chiefs will test the mettle of young phenom Trevor Lawrence. These two teams played to a 27-17 Chiefs win back in November, where KC sacked Lawrence five times. Lawrence did not commit a single turnover in that game.
I fully expect the bright lights and playoff atmosphere at Arrowhead to coerce a shakier performance from the Clemson star, even if he moves the ball and puts points on the board.