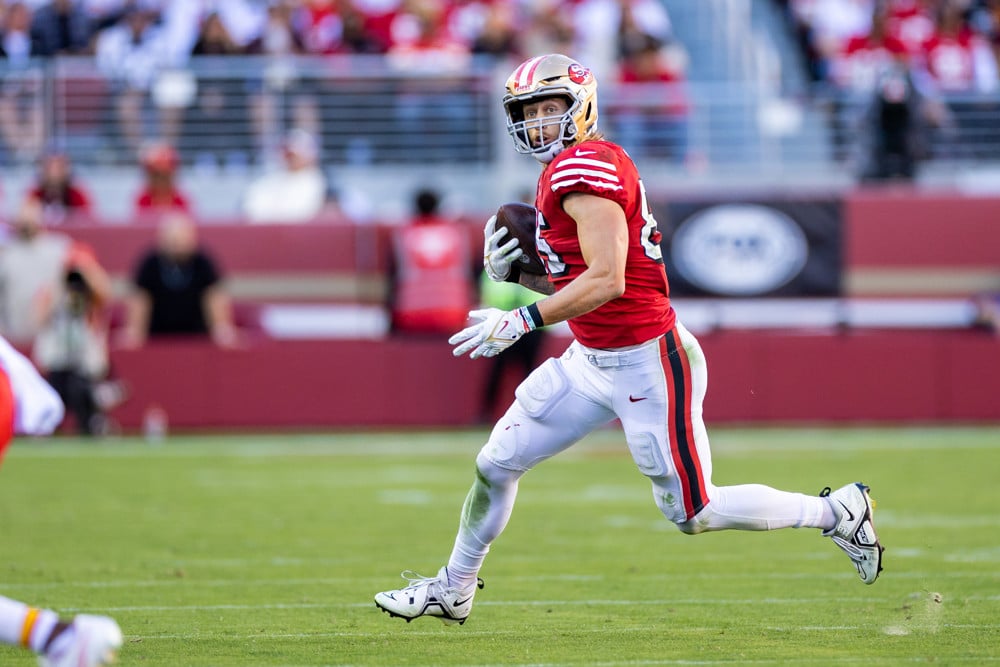 NFL DFS Picks Divisional Playoff Round
The guys (@GamblingPodcast) talk about their favorite daily fantasy football picks in this NFL DFS picks Divisional Playoff round podcast. They're joined by Adam Pelletier (@AdamPelletier) the managing editor at SportsGamblingPodcast.com to break down DFS GPP picks for the Milly Maker.
Adam joins the show from Charlotte as a big time representative of Bills Mafia. The guys make their DFS picks for the Divisional Round GPP. All the games should be very exciting this weekend and players should be putting up big numbers. A strategic stack, or double stack, or even a triple stack, could put you over the edge.

A healthy Jalen Hurts could have a field day in his playoff debut. Look for him to put the offense on his back and make use of his legs, as long as he is truly 100%. Daniel Jones is a cheap play and a dual threat, allowing for a high likelihood of production. Daniel Jones has benefited heavily from Head Coach Brian Daboll and it seems as his departure from the Bills has affected Josh Allen.
Despite his recent turnover worries, Josh Allen will do all he can to get the Bills to the conference championship whether it is through the air or on the ground. Bills vs Bengals has a real chance to push 90 total game points as it is explosive offenses and banged up defenses. A quiet beneficiary of this explosive game play would be James Cook who gets a lot of action in the passing game as a running back.
Factoring in the heavy target volume Stefon Diggs has been receiving and the expected shootout, he can get absolutely busy. Deebo Samuel had a strong wildcard round, enough for people to believe he is truly back. There is expectation that Kyle Shanahan will be getting extra creative to give the Cowboys headaches, and Deebo will most likely be the focal point of the creativity.
McKinnon has gotten plenty of love the past few weeks due to his pass catching ability. Darius Slayton is the most likely receiver for the Giants to take the top off the Eagles secondary. At a relatively cheap price he could be a steal if he just makes a couple plays. Zay Jones is another cheap option since there is heavy attention on Christian Kirk who played well in the last matchup with the Chiefs. Jones's first 10 target game was against the Chiefs, and he as well played pretty well this game. All year he has played well and has the ability to explode in games with multiple touchdowns and crazy yardage. Another slightly cheap option is Juju, who can certainly benefit from the Jaguars over preparing for Kelce and McKinnon.
Dallas Goedert gets to go against the Giants, a tight end's dream. The Giants are 31st in tight end coverage according to PFF. Another tight end with ample opportunity this weekend is George Kittle, Brock Purdy's right-hand man. Dawson Knox has 5 touchdowns in 7 playoff games and was very close to 6. When the lights are on, he is a paydirt magnet. The Bengals gave up a lot of yards last week to the two Ravens tight ends, so Knox should fill up the stat sheet as well.
Devonta Smith will be shadowed in ownership due to the abilities of AJ Brown. For the slightly cheaper price and probably the better matchup, Smith could ball out. After wildcard weekend last year, Tee Higgins had 299 yards and 2 touchdowns. While the Bills worry about Jamar Chase, Higgins will have a favorable matchup to do damage to the Bills.
The Eagles lead the NFL in sacks and face a Giants offense who played a clean game last week, they might be due. Josh Allen has been interception happy, and the Bengals could catch him forcing it a few times. On the flip side, the Bengals are missing a big chunk of their offensive line who finished top 15 in sacks allowed in the NFL even with one less game.
Kramer DFS Lineup:
QB: Daniel Jones
RB: Joe Mixon
RB: Saquon Barkley
WR: Darius Slayton
WR: Zay Jones
WR: Juju
TE: George Kittle
Flex: Devonta Smith
DEF: Bengals
Sean DFS Lineup:
QB: Jalen Hurts
RB: Jerick McKinnon
RB: Boston Scott
WR: AJ Brown
WR: Zay Jones
WR: Deebo Samuel
TE: Dallas Goedert
Flex: George Kittle
DEF: Eagles
Adam DFS Lineup:
QB: Josh Allen
RB: Travis Etienne
RB: James Cook
WR: Stefon Diggs
WR: Zay Jones
WR: Deebo Samuel
TE: Dawson Knox
Flex: Tee Higgins
DEF: Bills
Podcast Transcription