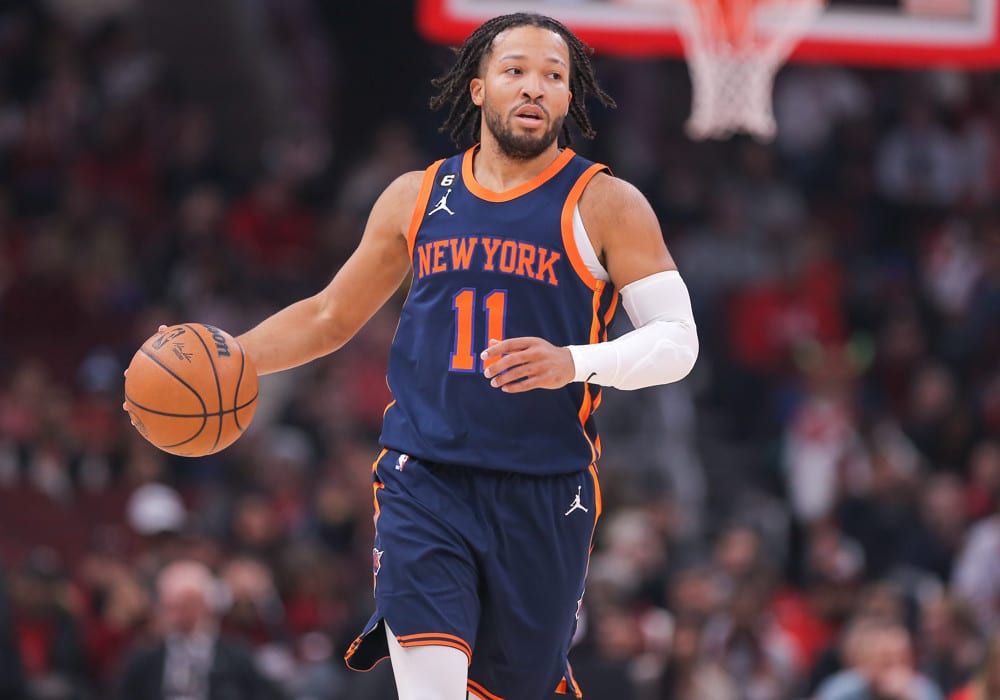 Among the NBA's most coveted days is Martin Luther King Jr Day, where they honor the late reverend with a day of game from afternoon to midnight. 18 teams in total will be in action this Monday, which means there is plenty to sift through to get a winning DFS lineup. Luckily for you, we did the leg work and have what you need for the NBA's MLK Day slate of games.
Daily Fantasy Lineup for NBA's MLK Day Slate
In every game since Christmas, Jalen Brunson has blown his projection away. He's dipped into the 30s just once since that time (a 38.0 fantasy point performance on January 2nd. Meanwhile, he's dotted the 50s twice and the 60s once. There's really not much in the way of advanced analytics that you need to know that his salary hasn't caught up with his production (although it has risen 1.5k in that time).
Oladipo is another one on an upward trend with a salary that just hasn't caught up yet. Over his last three games, he's crushing his season averages. Not once in that span has he dropped below his average of points? Not once has he dropped below his average of assists. Only once has he dropped below his average of rebounds – which seems unlikely since the Hawks rank 27th in opponent's rebounding percentage.
In eight of his last nine games, Anunoby has managed to go off for at least 30+ fantasy points. That's a stable floor largely brought to you by the fact that he's been active on the boards more than usual. The Knicks are in the bottom third of the league in opponent rebounds, so NBA's MLK day should be a big one for this Raptor.
It's been nothing but absurd numbers for the last two months from Randle. If you're looking for a big-ticket player on the NBA's MLK day slate, then Randle is as good as they get. He's a lock for a double-double and hasn't had less than 15 boards in over a week. Put him down for 25+ and 15+ against a Raptors team in the bottom half of the league in defense over their last three.
Speaking of double-double machines, Valanciunas has six in his last seven games. Some might not like this matchup because Cleveland has a stingy defense and has been good on the boards, but they've actually been on a downward trend for both. While they have the second-best opponent rebounding total on the season, they're 13th over their last three. While they're first in the opponent's scoring, they're 11th in their last three.

After being banged up and disappearing for five games, Sexton returned with a 26.3-point showing against the Magic on Thursday. He then sat on the second end of the back-to-back to get his legs back underneath him. With him healthy and facing the team ranked 29th in giving up three-pointers (the Timberwolves), he should put together another good showing.
On January 2nd, the Warriors had a bunch of regulars out with injuries and entrusted Lamb to fill in some of the voids. He did so with 17 points and 7 boards in a 33.8 fantasy point performance. That earned him an average of 25 minutes a game since, which he's used to posting double figures in scoring in five of six – making him one of the better bargain bin options on the NBA's MLK day.
Kispert has been a nice spark for the Wizards since Beal went out to hurt. He's started the last four games and is putting in starter minutes. It's hard to find any starter at this price, let alone one at shooting guard who has more than one deep ball in six of his last seven games. Add in that the Warriors are 25th in allowing points to shooting guard and he should be in every DFS lineup.
If you'd like even more information that could help your NBA DFS lineups on the NBA's MLK Day, be sure to check out the NBA Gambling Podcast. The guys are dropping episodes every week to make you the smartest guy at the bar. 
Related Content