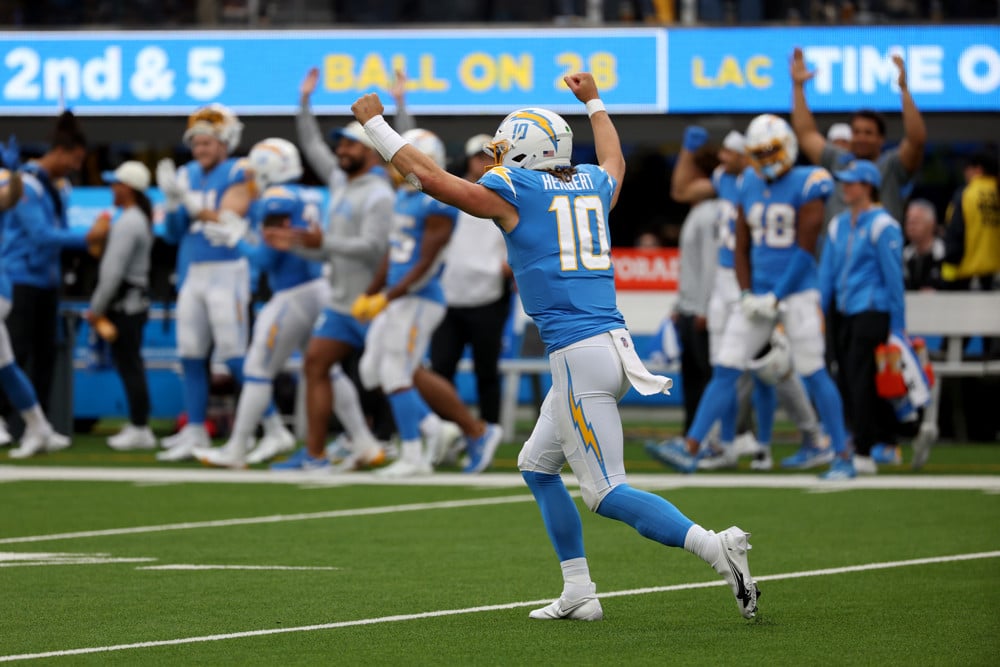 NFL DFS Picks Super Wildcard Weekend
The guys (@GamblingPodcast) give out their NFL DFS picks for Super Wildcard Weekend.
During the show today NFL DFS lineups are made for the Saturday games as well as the Sunday ones. These lineups are made just for the Wild Card weekend.

No Mike Williams will open up receiving game obviously for Keenan Allen, but also Deandre Carter. Carter could be getting good matchups that he usually does not get and can take advantage. Zay Jones has had some big games and you could expect him to show out in the playoff stage with solid matchups.
There is a chance the 49ers will try to show Deebo a lot of action to get their future matchups worried about him as well in their booming offense. In terms of targets these quarterbacks like, Evan Engram comes about right away with Trevor Lawrence. Similarly, Geno Smith loves Tyler Lockett, and their backs are against the wall against the 49ers, they will rely on each other. In the red zone even with Mike Williams, Herbert likes Donald Parham.
Daniel Jones has to put on a huge performance for the Giants to win, which he can even with right tackle Evan Neal battling injury. Some of Joe Burrow's career games have come against the Ravens and last year proved he can come up big in the playoffs. Saquon Barkley got a chance to rest last week and should have another big game against the Vikings like last time. With probably no Mostert, Jeff Wilson will get massive volume that you can't pass up on.
Stefon Diggs is intentionally getting targeted more and is the motor of the Bills passing attack. With the opportunity to take Burrow and his receivers, it is hard to pass up. Even still, Chase and Higgins are absolute dawgs, and at least one of them will be going off. Richie James has a very cheap price and gets plenty of attention consistently. Gabe Davis is boom or bust to the max, but should probably be a lot more boom, playoff time is a good time to boom. Mike Gesicki will most likely benefit from the Bills focusing more on the other weapons of the Dolphins.
We've got another FREE NFL contest for you!

Enter on the SGPN App https://t.co/yXC0Qc6Rgd for a chance to win $300 Cash, a $100 SGPN Gift Card and a $100 @HOMAGE Gift Card pic.twitter.com/ilxRvhC8RB

— Sports Gambling Podcast (@GamblingPodcast) January 11, 2023
Saturday NFL Wildcard Weekend DFS Lineups
Kramer:
QB: Justin Herbert
RB: Austin Ekeler
RB: Travis Etienne
WR: Keenan Allen
WR: Deebo Samuel
WR: Brandon Aiyuk
Flex: Donald Parham
TE: Evan Engram
DEF: 49ers
Sean:
QB: Brock Purdy
RB: Austin Ekeler
RB: Travis Etienne
WR: Keenan Allen
WR: Deandre Carter
WR: Zay Jones
Flex: Tyler Lockett
TE: George Kittle
DEF: 49ers
Sunday NFL Wildcard Weekend DFS Lineups
Kramer:
QB: Daniel Jones
RB: Saquon Barkley
RB: Jeff Wilson Jr.
WR: Stefon Diggs
WR: Tee Higgins
WR: Justin Jefferson
Flex: Mike Gesicki
TE: David Bellinger
DEF: Dolphins
Sean:
QB: Joe Burrow
RB: Saquon Barkley
RB: Jeff Wilson Jr.
WR: Jamar Chase
WR: Tee Higgins
WR: Gabe Davis
Flex: Richie James
TE: Mike Gesicki
DEF: Bengals
Podcast Transcription