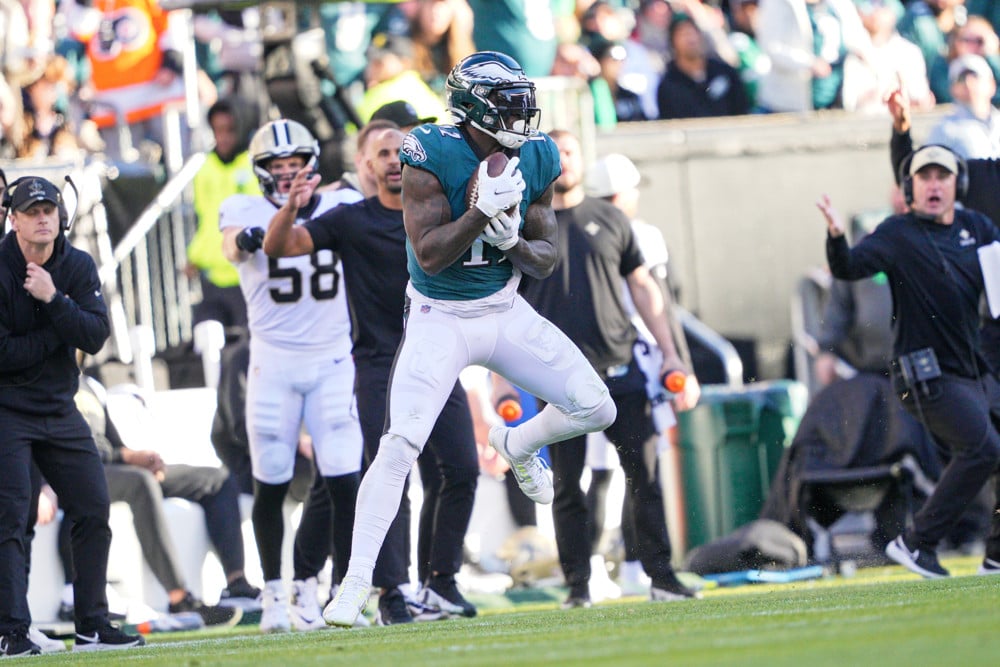 NFL DFS Picks Week 18
The guys (@GamblingPodcast) give out their favorite NFL DFS lineups for Saturday and Sunday in this NFL DFS picks week 18 podcast. They have Millionaire Maker lineups with their favorite GPP plays centered around players like Brock Purdy, Jarrett Stidham, Derrick Henry, A.J. Brown and more.
Making a lineup is not just about production, but how much you are paying for this production as well. Week 18 is full of extremely motivated and unmotivated players, so you must be careful.
Jacksonville/Tennessee is likely to be a shootout so Lawrence could be a high volume, lower cost option than someone like Pat Mahomes. Running back is a tough spot to pick in general, as there isn't much variance in production. However, game script could benefit running backs like Jacobs and Henry well. In addition, after seeing how McCaffrey played against the Raiders, it would be fair to assume the hot hand of McKinnon will as well.
Continuing with the Chiefs, they work hard to get Toney the ball when he is on the field, so he creates an exciting play every week. Shown in the lineups, Sean and Kramer are trusting strong in the Titans and Jaguars divisional championship. They expect Lawrence to air it out to guys like Zay Jones and Evan Engram but also for CHIG to have a big game on the other side. The Raiders defense has a tall task in the Chiefs, but are a cheap option.
With the motivation of the playoffs behind them, the Seahawks should give it all they have, lead by their pro bowl quarterback Geno Smith. Battling with Ramsey, DK could look to close the regular season with a bang. Purdy and the 49ers will be playing for the 1 seed and have a weak opponent in Arizona.
With no Deandre, Greg Dortch will most likely see a lot of volume for a cheap option, especially one who had 10 targets last week. AJ Brown could expose a rest mode Giants, but Richie James will be active for the Giants, a guy who looks like the best cost per target. Bobby Wagner has all the motivation he needs as he goes against his former team.
Pittman is another guy who is showing like he is playing with a fire inside him, despite a bad quarterback situation. Najee Harris, a star as of late, is poised to beat up on the Browns similar to Dallas Goedert against the Giants, who have struggled against the Tight End all year.
Saturday Games: 
Kramer's Lineup:
QB: Trevor Lawrence
RB: Josh Jacobs
RB: Derrick Henry
WR: Davonte Adams
WR: Zay Jones
WR: MVS
TE: Evan Engram
FLEX: Kadarius Toney
Defense: Raiders
Sean's Lineup:
QB: Jarrett Stidham
RB: Jerick McKinnon
RB: Derrick Henry
WR: Davante Adams
WR: Kadarius Toney
WR: Robert Woods
TE: CHIG Okonkwo
FLEX: Travis Kelce
Defense: Raiders
Sunday Games:  
Kramer's Lineup:
QB: Geno Smith
RB: Cam Akers
RB: Najee Harris
WR: Tyler Lockett
WR: DK Metcalf
WR: Richie James
TE: Dallas Goedert
FLEX: Michael Pittman Jr.
Defense: Steelers
Sean's Lineup:
QB: Brock Purdy
RB: Najee Harris
RB: Cam Akers
WR: Rashid Shaheed
WR: AJ Brown
WR: Devonta Smith
TE: George Kittle
FLEX: Greg Dortch
Defense: Rams
Podcast Transcription