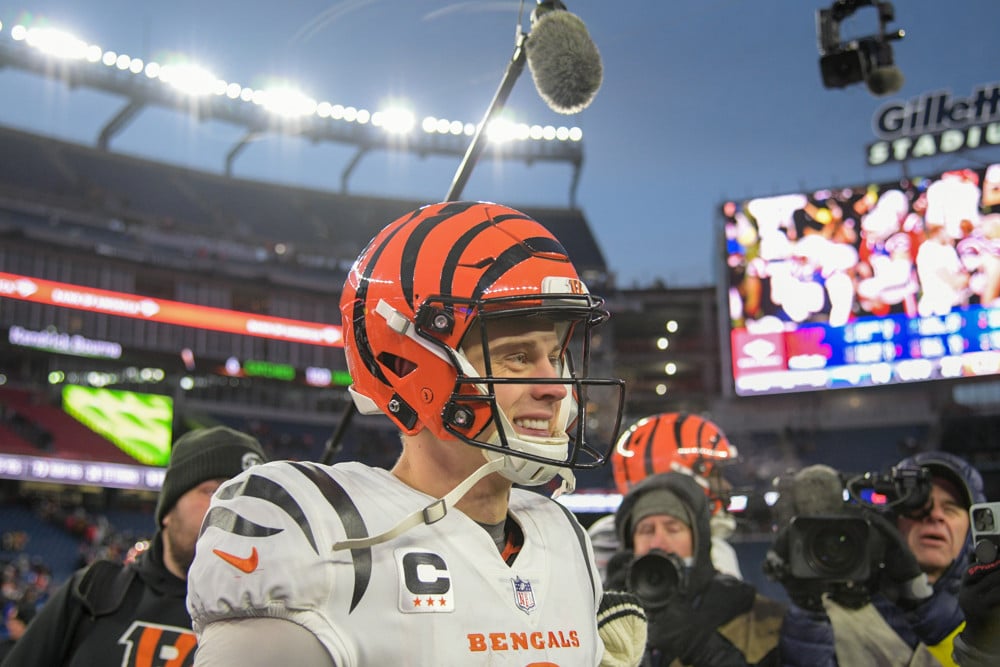 Monday Night Football Prop Bets + NFL Week 17 Recap
The guys (@GamblingPodcast) give out their best bets for Monday Night Football in this Monday Night Football prop bets podcast. The crew has NFL player props for Josh Allen, Tee Higgins, Joe Burrow and more as the give out their best bets for the Buffalo Bills at the Cincinnati Bengals. Plus they recap NFL week 17 and hit on all the big NFL storylines.
A crazy day of fantasy football championships with big performances from Daniel Jones, Tom Brady, and Mike Evans among others transpired on Sunday to bring in 2023. This big game from Daniel Jones couldn't have come at a better time as he helped the Giants punch their ticket to the playoffs, the first time since 2016.
The Giants are locked in as the 6th seed in the NFC, but they do have the opportunity to knock the Eagles out of 1st place in the NFC next week. The Saints were able to steal one today from Philadelphia as they were the only ones able to pull off the big upset despite a number of them forming today. The 49ers, Buccaneers, and Chiefs all came from behind to secure wins that were surprisingly early. The Steelers climbed to 8-8 tonight with a heroic ending out of Kenny Pickett over the Ravens.
However, the Degen Play from Sports Gambling Podcast Twitter called Isaiah Likely First Touchdown at 30-1. In a major NFC North matchup, the Packers routed the Vikings 41-10 and Justin Jefferson was held to one catch. The Pats were able to pull out yet another ugly win over a beat-up Dolphins team 23-21.
FIRST TDs #SNF

Pat Freiermuth +1500
Kenny Pickett +2500
DeSean Jackson +3000
Isaiah Likely +3000

— Sean Green (@seantgreen) January 2, 2023
For the Monday Night Football game between the Bills and the Bengals, there is some interesting picks. The first is Burrow longest completion over 37.5 yards, this has hit 3 out of the last 4 and he is playing at home. The Dolphins receivers also put up 204 yards against the Bills secondary, something the Bengals receivers are certainly capable of.
Josh Allen over 45.5 rush yards, prime time Josh Allen at home against another great quarterback in Burrow, he will do anything he can. For the same reason, Joe Burrow over 12.5 rushing yards is another play. Reggie Gilliam Anytime TD 27, he is a backup Bills Tight End who is seeing more work. The extra day of preparation allows for more creativity in the playbook, possibly heavy goal line packages. Over 1.5 interceptions for Burrow and Allen Combined, both will be forcing plays and likely to make mistakes.
First TD Scorers: Joe Burrow, Josh Allen, Tee Higgins, Richie Gilliam, Isaiah Mckenzie, Mitchell Wilcox, Quintin Morris
Build Your Own Bet: Josh Allen 2 Touchdowns and Tee Higgins 2 Touchdowns at 100-1
Reggie Gilliam and Bengals to Win at 60-1
Podcast Video
Podcast Transcription