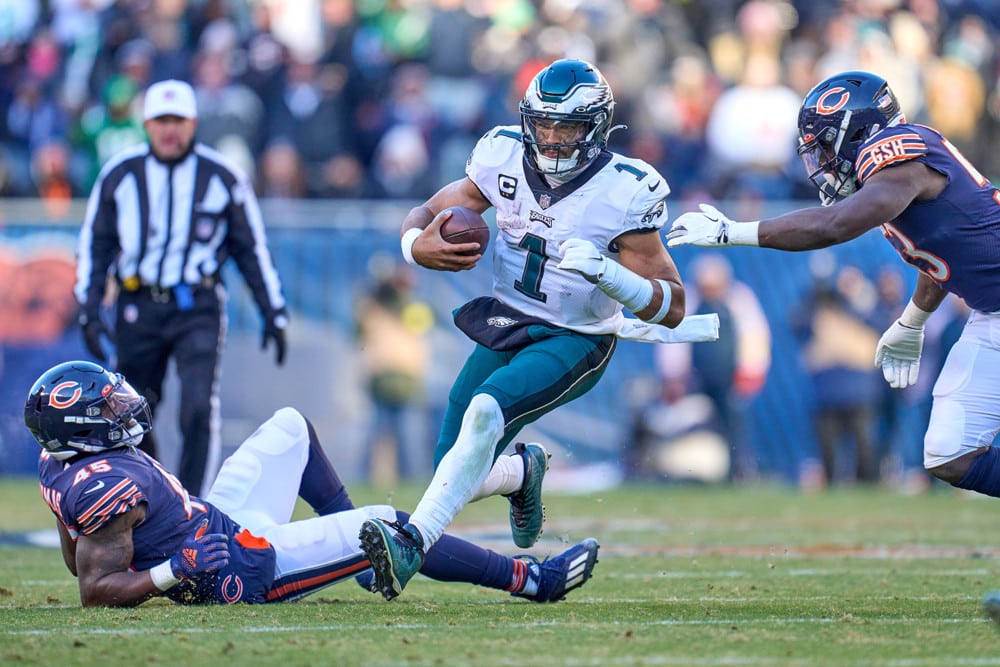 We are coming down the home stretch in the NFL and fantasy football season. If you're reading this, you're likely either well on your way to a fantasy championship or looking for a DFS edge. Either way, there is cash to be won and pride to be boosted. At this point, many new injuries are in danger of becoming season-ending.

However, some big names do have a shot at returning from injury this week. In a week where roster decisions are so crucial, you want to make sure you're best prepared. An in-depth injury analysis and advice on the biggest names in fantasy football will get you there. Welcome to the Week 16 Fantasy Football Injury Report!
Note: This injury report will be updated until the conclusion of Week 16. For the most current injury news and analysis, follow me on Twitter @SGPNFootballDoc!
Week 16 Thursday Inactives
Mike White (QB) New York Jets
Denzel Mims (WR) New York Jets
Week 16 Saturday Inactives
Devin Duvernay (WR) Baltimore Ravens
Lamar Jackson (QB) Baltimore Ravens
Kenyan Drake (RB) Baltimore Ravens
Jalen Hurts  (QB) Philadelphia Eagles 
Nico Collins (WR) Houston Texans
Ryan Tannehill (QB) Tennessee Titans
Chris Olave (WR) New Orleans Saints 
Jarvis Landry (WR) New Orleans Saints 
Chase Claypool (WR) Chicago Bears 
Equanimeous St. Brown (WR) Chicago Bears
Tyler Lockett (WR) Seattle Seahawks
Hayden Hurst (TE) Cincinnati Bengals
Damien Harris (RB) New England Patriots
DeVante Parker (WR) New England Patriots 
Deebo Samuel (WR) San Francisco 49ers
Week 16 Sunday Inactives
Colt McCoy (QB) Arizona Cardinals
Ben Skowronek (WR) Los Angeles Rams
Week 16 Monday Inactives
Jonathan Taylor (RB) Indianapolis Colts
MORE SGPN FANTASY FOOTBALL CONTENT
Follow SGPN Fantasy Football on Youtube
SGPN Fantasy Football Rankings
---
Week 16 Fantasy Football Injury Report
Jalen Hurts (QB) Philadelphia Eagles
Shoulder Injury, Initial Injury: 12/18/2022
We kick off the Week 16 injury report with the biggest news of the week. Philadelphia Eagles QB Jalen Hurts is dealing with a shoulder injury that he suffered against the Bears.
He got landed on by a Bears defensive lineman, with most of the force directed at his throwing shoulder. Hurts were able to finish the game, but reports have surfaced that the injury may cause him to miss some time.
The good news for the Eagles is that they can afford to rest Hurts until he is 100%. The bad news for you is this creates a bit of a high-risk, low-reward situation for Hurts to play this week. Additionally, Hurts did not practice to begin the week, and signs are pointing to QB Gardner Minshew starting.
The Eagles have not disclosed exactly what type of injury he is dealing with, but it is most likely an AC sprain. These injuries can be played through but are painful and do negatively affect a player's throwing ability temporarily. On the other hand, these injuries typically heal in 2-4 weeks, depending on the severity.
Hurts is unlikely to play this week but should not miss more than 2-3 weeks. – SIT 
---
Lamar Jackson (QB) Baltimore Ravens
PCL Strain, Initial Injury: 12/4/2022
Dynamic Baltimore QB Lamar Jackson remains on the injury report for Week 16. Ravens fans and fantasy owners alike held their breath a few weeks ago as Jackson had to be helped off the field. He suffered a knee sprain and was quickly ruled out of the game. Tests revealed that Lamar suffered a PCL strain and is being referred to as "week-to-week."
The PCL is a stabilizing ligament in your knee that is often injured by another player running into the back of a player's knee. The strain appears to be mild, as the team's recovery window is between 1-3 weeks.
With a capable backup in QB Tyler Huntley and already squarely in the playoff picture, it is unlikely the Ravens will rush to bring Jackson back. He will want to be fully able to trust his knee before returning to the field, as he relies on his legs so much to operate effectively.
As of Wednesday, Lamar is still not practicing. There was some hope he may be able to return this week, but he will need to practice Thursday to have a real chance. The more practices Lamar misses, the more concerning the injury becomes. I would still expect Jackson to return by next week and am not quite ready to rule him out for this week.
The Ravens QB has been ruled out yet with a knee sprain but is still not practicing. – SIT
---
Dallas Goedert (TE) Philadelphia Eagles
Shoulder Injury, Initial Injury: 11/14/2022
Injury was added to insult in the form of the Week 11 injury report. Not only did the Eagles lose their first game of the season, but they also lost their star TE for a significant period of time.
Philadelphia TE Dallas Goedert injured his shoulder on a play where he was ripped down by the facemask and fumbled. Although it did not appear to be serious on the field, the injury has proved serious enough for him to be placed on IR. The exact nature and severity of the injury are unknown but what we do know is that Goedert will miss at least four games.
Despite the concerning QB news, it's not all bad injury report news for Week 16. The Eagles activated their star TE Dallas Goedert this week. The expectation is that he is going to play this week against Dallas.
This will be a welcomed boost for an offense likely on their backup QB. Look for Goedert to be a security blanket for QB Gardner Minshew, making a rare start.
Eagles TE Dallas Goedert is off the IR and expected to play this week. – START 
---
Courtland Sutton (WR) Denver Broncos
Hamstring Injury, Initial Injury: 12/4/2022
A hamstring injury is one of the last injuries you want your fantasy football player to come down with. They are frustrating and nagging injuries to manage, and unfortunately, Courtland Sutton managers have to deal with this nightmare for a crucial Week 16 injury report and likely beyond.
The Broncos WR already screwed you over in Week 13 as he injured his hamstring early on and posted a nice goose egg in the stat sheet. It's going to be difficult to trust Sutton much moving forward, especially while he is dealing with such a burdensome injury.
A hamstring strain refers to damage (tear) to the muscle in the back of the upper leg. The hamstring plays a BIG role in generating lower body power and controlling the ability to slow down. A player's speed, cutting, and route running are all negatively affected during this injury.
Based on the severity of the injury, the recovery timeline is 2-3 weeks for mild cases and 3-6 weeks for moderate cases. With the Broncos having virtually zero chance of making the playoffs, they may choose to shut Sutton down if the injury is anything more than mild.
One of the biggest downfalls of this injury is that it comes with a high reinjury rate that is hard to see coming. Reinjuries typically occur within the first two weeks of the injury when the player is trying to ramp up their rehab too fast. Sutton finally returned to practice in a limited fashion this week. There is a better chance he returns this week, but I would not trust him for a playoff matchup.
Sutton finally returned to practice this week, but his status is very much in question. – MONITOR 
---
AJ Dillon (RB) Green Bay Packers
Concussion, Initial Injury: 12/19/2022
Coming off a must-win last week, the Packers get some good injury report news in Week 16. RB AJ Dillon took a big hit against the Rams and was ruled out in the second half. He was evaluated for a concussion and was unable to return due to the NFL changing its concussion rules.
Fortunately, Dillon was able to clear the concussion protocol both Monday night and Tuesday. This likely means he did not, in fact suffer a concussion and should be good to go for this week. Concussions can be tricky injuries, so it's worth monitoring but expect him to play with no limitations.
AJ Dillon took a big hit last week but cleared concussion protocol early in the week. – START 
---
Devin Duvernay (WR) Baltimore Ravens
Foot Injury, Initial Injury: 12/20/2022
Baltimore continues to be hit with bad news on the Week 16 injury report. While QB Lamar Jackson is trending the wrong way, WR Devin Duvernay is definitely out this week. He suffered an injury in practice Tuesday that broke a bone in his foot.
Broken bones typically take about two months to heal, and there is not much to be done to speed up that process. He has been placed on IR, and his season is likely over. If the Ravens make a Super Bowl run, he has a chance to return, but other than that, he's out.
Ravens big play WR Duvernay is OUT indefinitely with a broken foot. – SIT/DROP
---
Ryan Tannehill (QB) Tennessee Titans
Ankle Injury, Initial Injury: 10/23/2022
Ryan Tannehill has been battling injuries most of the season, and the Week 16 injury report is more of the same. The Titans QB reinjured his right ankle last week and had to be carted to the locker room. Surprisingly, he missed only one series and was able to finish the game. His likelihood to play this week is much more grim.
His status for this week has been in doubt, but there are reports that he may miss the rest of the season. This will be determined by his need for surgery on the damaged ankle ligaments. Unfortunately, a reinjury is always more damaging than the initial injury, whether it is to muscles or ligaments.
These repetitive injuries to the same ankle ligament seem to have taken their toll and may knock Tannehill out for the year. More news should break soon, but at the very least, you should plan not to have Tannehill in your lineup this week.
Tannehill reinjured his ankle and is unlikely to play this week, maybe the rest of the season. – SIT
---
Tyler Lockett (WR) Seattle Seahawks
Hand Injury, Initial Injury: 12/15/2022
Seattle Seahawks WR Tyler Lockett suffered a pretty severe hand injury last week. The injury required substantial surgery, and many assumed his season would be over. However, reports have come out that he could return as early as next week.
Lockett is definitely out for this week but will have a chance to return in Week 17. The exact nature of the injury has not been disclosed. However, it appears the team surgeon is the one pushing for the early return.
Although this is a very aggressive recovery timeline, the Seahawks are fighting for a playoff spot. Barring any setbacks, I could see Lockett returning next week but how effective he will be is another story. His practice participation will be the best indication of how close he will be to 100% in the next few weeks.
Lockett is OUT for this week but seems to have avoided a season-ending injury. – SIT 
---
Jonathan Taylor (RB) Indianapolis Colts
High Ankle Sprain, Initial Injury: 12/17/2022
It is only fitting that Colts RB Jonathan Taylor's season ends in a disappointing fashion. The consensus #1 pick has had an awful 2022 campaign due to a number of reasons.
Injuries have likely played the largest part, however, and an injury will end his season early. Taylor suffered a high ankle sprain last week and has officially been placed on the IR, ending his season.
A high ankle sprain is a serious injury that takes at minimum four weeks to recover from. With the Colts out of the playoff race, Taylor will look to the 2023 season for a fresh start. This injury is not serious enough to impact his outlook for next season.
Colts star RB Jonathan Taylor is OUT for the season with a high ankle sprain. – DROP
---
Mike White (QB) New York Jets
Ribs Fracture, Initial Injury: 12/11/2022
Poor Mike White. Just as he was proving to the world that he is a much better QB than Zach Wilson, an injury knocks him out. White is dealing with some fractured ribs and his biggest hurdle is not being medically cleared to play yet.
Rib injuries are very painful but can be played through if they are deemed safe. Clearly the Jets medical staff thinks there is a high risk that the fractures could worsen by taking hits.
This is a frustrating injury, but definitely the correct call here to protect his lungs and other organs. With White out, the Jets will have to rely on QB Zach Wilson to save their season. Good luck with that.
Jets QB Mike White has not been cleared and is OUT for Thursday. – SIT