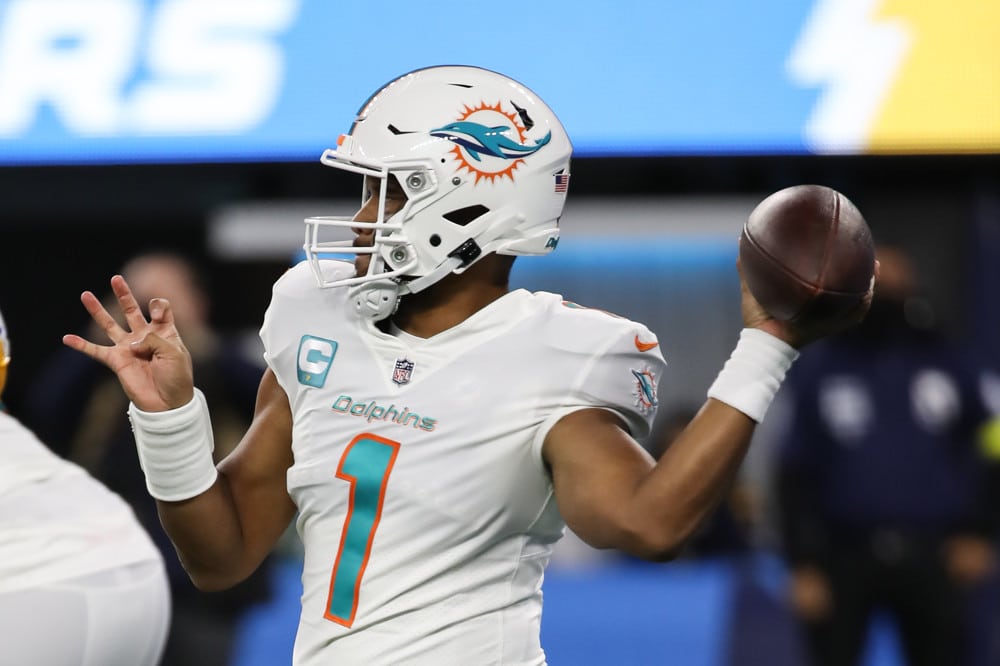 The Week 15 Fantasy Football playoffs have arrived, and now is the time to discuss players we should sit or bench. Week 14 brought heartbreak and excitement as some of us made the playoffs, and others are left looking at the next season, much of which could have been because of the decision to play the wrong players.
Last week we had some takes to help fantasy football owners with some possibly surprising decisions for week 14 of the fantasy football season. Here is a quick rundown of how we did:
Player 
Verdict 
Last 4 Wk Average FP 
Week 14

 

Dak Prescott

 

Bench

 

19.1

 

15.6

 

Tom Brady

 

Bench

 

17.7

 

12.1

 

Josh Jacobs

 

Lower Expectation

 

25.6

 

17.4

 

Leonard Fournette

 

Bench

 

11.2

 

4.6

 

Darius Slayton

 

Bench

 

12.0

 

4.2

 

Keenan Allen

 

Lower Expectation

 

13.7

 

15.2

 
Other than the take on Keenan Allen up against Kader Kohou, not bad for recommendations. So how about we do it again? What are some surprise decisions to make in week 15 of the fantasy playoffs? Now it's win or go home. Make the wrong decision, and you will likely lose that sweet, sweet call to the belt, ring, or other token of the championship to gloat to your fellow league-mates. 

MORE SGPN FANTASY FOOTBALL CONTENT
Follow SGPN Fantasy Football on Youtube
SGPN Fantasy Football Rankings
---
Week 15 Fantasy Football Players to Sit
Quarterback
Tua Tagovailoa
QB8 in FantasyPros Rest of Season Rankings 
QB9 in Fantasy Points per Game 
Look, Tua has been pretty good. Tyreek and Waddle are pretty good, and they are just bringing Tua along for the ride. When facing the top 15 defenses against the pass, Tua has been terrible from a fantasy perspective. Just take a look: 
Week 3 vs. Buffalo – QB25 
WK 4 @ Cincinnatti – QB33 
Week 12 vs. Houston – QB18 
WK 13 @ San Francisco – QB17 
He gets the luxury of playing Buffalo this week with Tre'Davious White, who missed the week three matchup. I, along with Vegas, believe this to be a game of defense and not a lot of points with an over-under set at 42 and the weather to be cold and snowy. Find another option this week if at all possible. 
Verdict: Bench
The Dolphins fans should watch this

The Dolphins organization needs to see this—and adjust. ASAP

Touchscreen Tuesday with @realrclark25#NFLLIVE pic.twitter.com/b3lG1DIpUA

— Dan Orlovsky (@danorlovsky7) December 13, 2022
---
Running Back
Kenneth Walker
– Seattle Seahawks
RB13 in FantasyPros Rest of Season Rankings 
RB8 in Fantasy Points per Game (Since taking the Starting Role) 
With full practices in the books for this week, it looks like the star rookie running back will be a go for the week 15 matchup against the 49ers. In his last game against San Fran, he averaged a measly 2.5 yards per carry. Over his last two games before the injury, he averaged just under 1.8 yards per carry. The San Francisco rushing defense is number 1 against the running back position, leading the league in yards and 5th in touchdowns allowed.
I see a game script where SF can get out ahead early, and the Hawks need to abandon the run game. With little upside in the passing game for Walker, he needs to be evaluated. If you have two better options, I would fade and bench Walker. If he is filling your RB2 spot, leave him in and hope for some touchdowns, which he has given you this year. 
Verdict: Bench if your RB3
Seattle #Seahawks RB Kenneth Walker is up to 121 carries for 587 yards and 7 touchdowns on the season @Kenneth_Walker9 #Seattle #NFL #Stats #MSU #SpartansWill #MI pic.twitter.com/kmAItXV9z8

— Gabriel Schray (@schrayguy) November 27, 2022
Travis Etienne
– Jacksonville Jaguars
RB11 in FantasyPros Rest of Season Rankings 
RB23 in Fantasy Points per Game 
Travis Etienne was the real deal with three straight top 10 Running Back finishes after the departure of James Robinson. Since that explosion, things have cooled down. He went from averaging 5.7 yards per carry through week 9 to 3.4 over his last four games.
The game plan seems not to be leaning on Etienne as much as earlier in the season and he is not providing that receiving upside we had hoped for coming into the season, as he has not topped three catches, 45 yards, or scored a receiving touchdown all season. 
The drop in production, coupled with the Dallas rushing defense, which is 6th best in the league against the RB position, is a recipe for disaster. The Jaguars have only scored over 24 points in 5 games this season, and those were against porous defenses.
I expect the game script for this game to lead to less than 15 total touches for Etienne based on the game plan we have seen from Jacksonville over the last four weeks. 
Verdict: Bench
Travis Etienne LESS THAN 51.5 Rushing Yards:

Splits from midseason 4-game surge followed by the 4 games since:

• 76 carries, 465 yards, 6.1 avg
• 43 carries, 134 yards, 3.1 avg

Last week, he had 1.9 YPC on 17 carries with 0 targets.

Tough to trust him at the moment.

— The Joe Holka Show (@thejoeholkashow) December 14, 2022
---
Wide Receiver
DeAndre Hopkins
– Arizona Cardinals
WR9 in FantasyPros Rest of Season Rankings 
WR7 In Fantasy Points per Game 
Look, we all know how good Nuk is at the game and providing for our fantasy squads. While I understand this may be tough to swallow, we need to lower our expectations for him realistically for the remainder of the season.
He lines up against Patrick Surtain, who is more of whom we will talk about than Nuk. Here are the numbers we know about Surtain: 
Allowed 58% completion percentage (5th among qualified corners) 
Allowed 371 Receiving Yards (5th among qualified corners) 
82 Yards After Catch (2nd among qualified corners) 
You can see that Surtain is all over his assigned coverage. Coupling this with Hopkins' poor performance against the top 20 rated pff cornerbacks over the last two years would lower my expectations.
Over the last two seasons, Nuk has been matched up against the top 20 rated PFF cornerbacks seven times. One of those instances was with Patrick Peterson and the Minnesota Vikings this season, but upon review, none of Nuks catches came up against Peterson, so I omitted that data.
Out of the six remaining games, he averaged just under five catches and 55 yards. Now with all this being said, you can't bench Hopkins because of the touchdown upside, but this level of performance, coupled with Colt McCoy and Patrick Surtain, doesn't set the stage for a blowup performance. 
Verdict: Lower Expectations Heavily
Keenan Allen
– Los Angeles Chargers
WR17 in FantasyPros Rest of Season Rankings 
WR25 in Fantasy Points per Game 
I know, I know, I know. I said the same thing last week and wasn't in the green. The more I look at it, the more I think the Chargers are just good when Keenan and Mike are healthy. With all of that being said, he has to see Amani Hooker this week.
The typical safety for the Tennessee Titans has been playing massive snaps as the slot corner over the last three weeks, where Keenan has had over 65% of his targets. When Hooker is lined up in the slot (8 games), he has only allowed nine catches for 78 yards. This doesn't bode well for Keenan, in my opinion. 
Like I said earlier, the Chargers look to be firing on all cylinders with both WR back. So the touchdown upside is there. You can't bench him but look for it to be a low-yardage game for Keenan with the need for a touchdown to save the week. 
Verdict: Lower Expectations (Needs a TD)
Week 15's Top 5 wide receiver target recipients:

Ja'Marr Chase: 15

Justin Jefferson: 15

Keenan Allen: 14

Donovan Peoples-Jones: 12

Zay Jones: 12

— Zareh Kantzabedian (@ZKantzFF) December 13, 2022