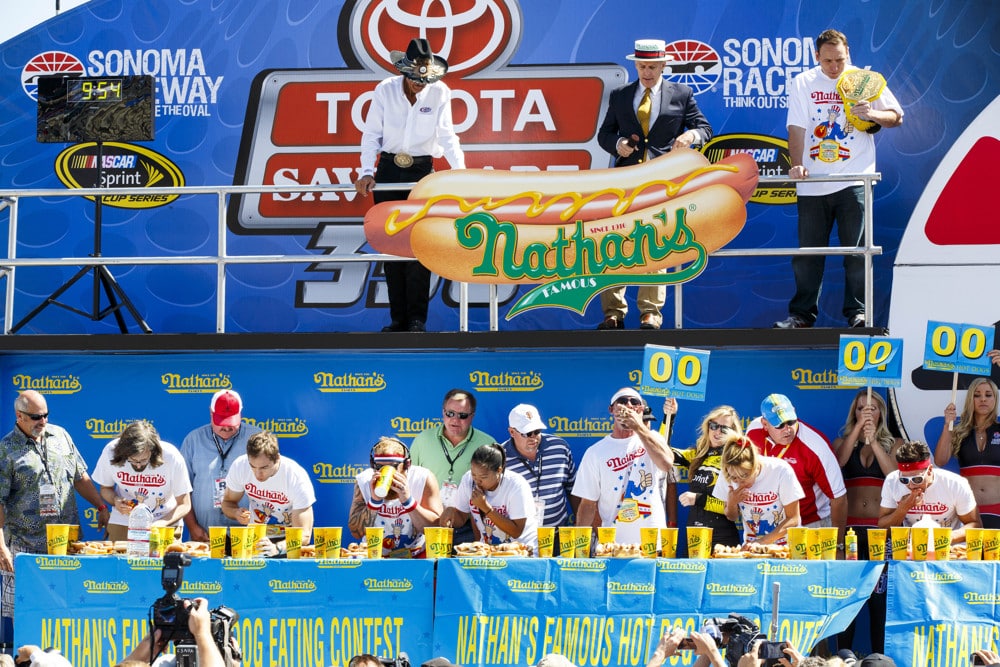 Nothing screams America and Fourth of July like watching the 2022 Nathan's Hot Dog Eating Contest. At 10:45 A.M. EST in Coney Island, NY, watch the women compete on ESPN3, and at Noon EST on ESPN News watch these competitors shove and wash Hot Dogs (and buns) "HDB" down their throat, and maybe lose your own appetite along the way. At the end of every Sports Gambling Podcast episode, they often give a "lock". In the last 15 years, there has been no bigger lock than Joey "Jaws" Chestnut winning the hot dog eating contest. This year Chestnut is gunning for his 15th Mustard Belt in the last 16 years. Nipping at his heels for "biggest lock in sports" is female competitor Miki Sudo. Seven years in a row, from 2014-2020, Sudo captured the Mustard belt. After sitting out of 2021's contest due to pregnancy Sudo returns to claim her Mustard belt in 2022.
Early lines and betting odds aren't even offering any outrights other than Chestnut and Sudo. On BetMGM Sudo is listed as a -5000 favorite to win the Women's Contest, and -3000 for Chestnut. Each year both contestants basically compete against each other's past outputs and World Records. Last year Chestnut set a new World Record consuming 76 HBDs inside the ten minutes of competition. In 2020 Sudo broke her original World Record by recording 48.5 HBDs. The weather always plays a huge factor in Major League Eating. On a hot and humid day, the belief is that the competitors don't perform as well. Last year's contest took place during comfortable 75-degree weather. This year the forecast projects weather in the 80s and more comfortable conditions for Chestnut and other competitors.
2022 Nathan's Hot Dog Eating Contest Odds, Picks, And Props
It's pretty safe to assume Joey Chestnut and Miki Sudo win the Nathan's Hot Dog Eating Contest. In 2021 Chestnut defeated the 2nd place finisher, Geoffrey Esper, by 26 hot dogs and buns. In 2020 (her last competition) Sudo ate 48.5 HDB and the 2021 winner Michelle Lesco only got 30.75 HDB down. They're heavy favorites but we're being offered some props on the duo. How many hot dogs and buns will each of the top competitors consume?
Joey Chestnut 74.5 Total Hot Dogs And Buns
Chestnut's most recent videos on his YouTube channel showcase him devouring a 12-pound deli sandwich, 200 pieces of sushi, a beast of a ramen noodle challenge, 272 chicken wings, and 50 hardboiled eggs. When taking a quick look at Jaws' most recent performances it wouldn't be too smart for me to bet against him in the 2022 Nathan's Hot Dog Eating Contest. Chestnut's recent history; 2016 70 HDB, 2017 72 HDB, 2018 74 HDB, 2019 71 HDB, 2020 75 HDB, 2021 76 HDB. During his streak of six straight titles, Chestnut has improved every year except in 2019 during a very hot 95-degree competition.
I couldn't help but think, why are books offering us a 74.5 number that Chestnut has already beaten given his performances in recent competitions? News has broke that Chestnut recently ruptured his Achilles and is currently on crutches. Chestnut assured fans that the injury will not affect him because he does not eat with his Achilles. The books seem to think differently. There's a lot of jumping up and down inside Chestnut's strategy of eating a lot of hot dogs very fast. We may not see that maneuver too often this year. Chestnut could very well build up a good lead and then take his fully hard-casted foot off the gas pedal. That gives me a good enough reason to fade the public when they all take this over. I'm on the Under here.
UNDER +110 Joey Chestnut 74.5 Total Hot Dogs And Buns
"I feel better than I look." Reigning champ Joey Chestnut showed up on crutches, but says he's ready to compete in the Nathan's Fourth of July hot dog eating contest. pic.twitter.com/q3qyTQqFZz

— AP Sports (@AP_Sports) July 2, 2022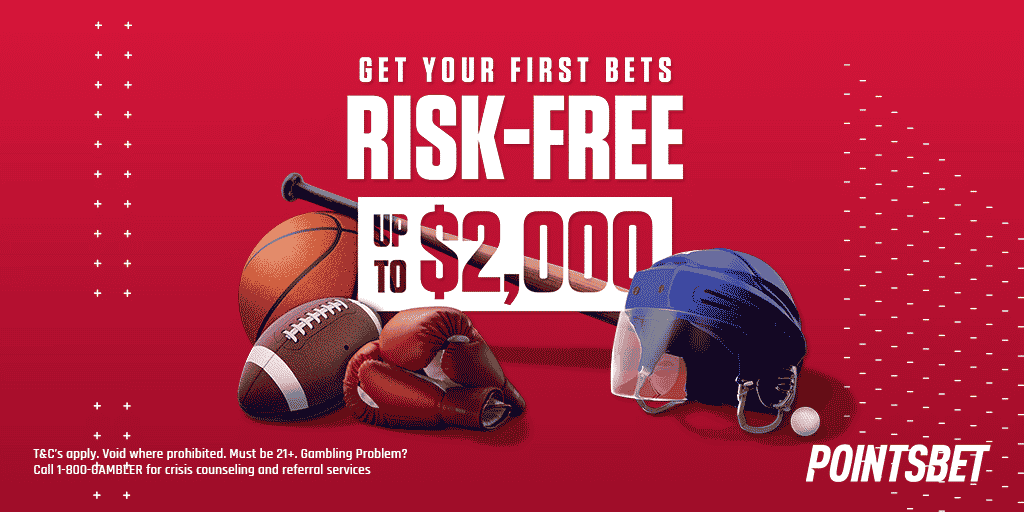 Miki Sudo 43.5 Total Hot Dogs And Buns
Hop on this Miki Sudo prop as soon as possible! On Bet MGM I see this at 43.5 HDB at -115. Whereas on other books I'm spying this number set 49.5 HDB which I still like!
Sudo is a seven-time women's Nathan's Hot Dog Eating Contest champion. She took last year off as she birthed a son with Nick Wehry, a male Major League Eating competitor. In 2020 Sudo ate 48.5 HDBs, devouring her previous record of 41 HDBs. It's evident that Wehry and Sudo compete against each other. Wehry's total usually lands in the mid to high 40s as he finished with 44 in 2021. With Sudo competing first and not knowing what Wehry's number will be, look for her to eclipse this 43.5 and maybe even the half-century mark in this year's contest.
OVER Miki Sudo 43.5 Total Hot Dogs And Buns
---
RELATED CONTENT