Best Ball Draft Strategy – Part 1:  When to Draft by Position
Our friends at Underdog Fantasy have released a TON of data regarding last year's best ball leagues. So, we combed over the best ball strategy in the draft of the 4,700 plus teams that made the playoffs in Best-Ball Mania II. If you find yourself new to best ball or if you missed the playoffs last season, let's see how those on the other side of the cut line drafted. Let's see what we can learn from inside the numbers, AKA charts, and how to make the best ball playoffs.
Exclusive SGPN Content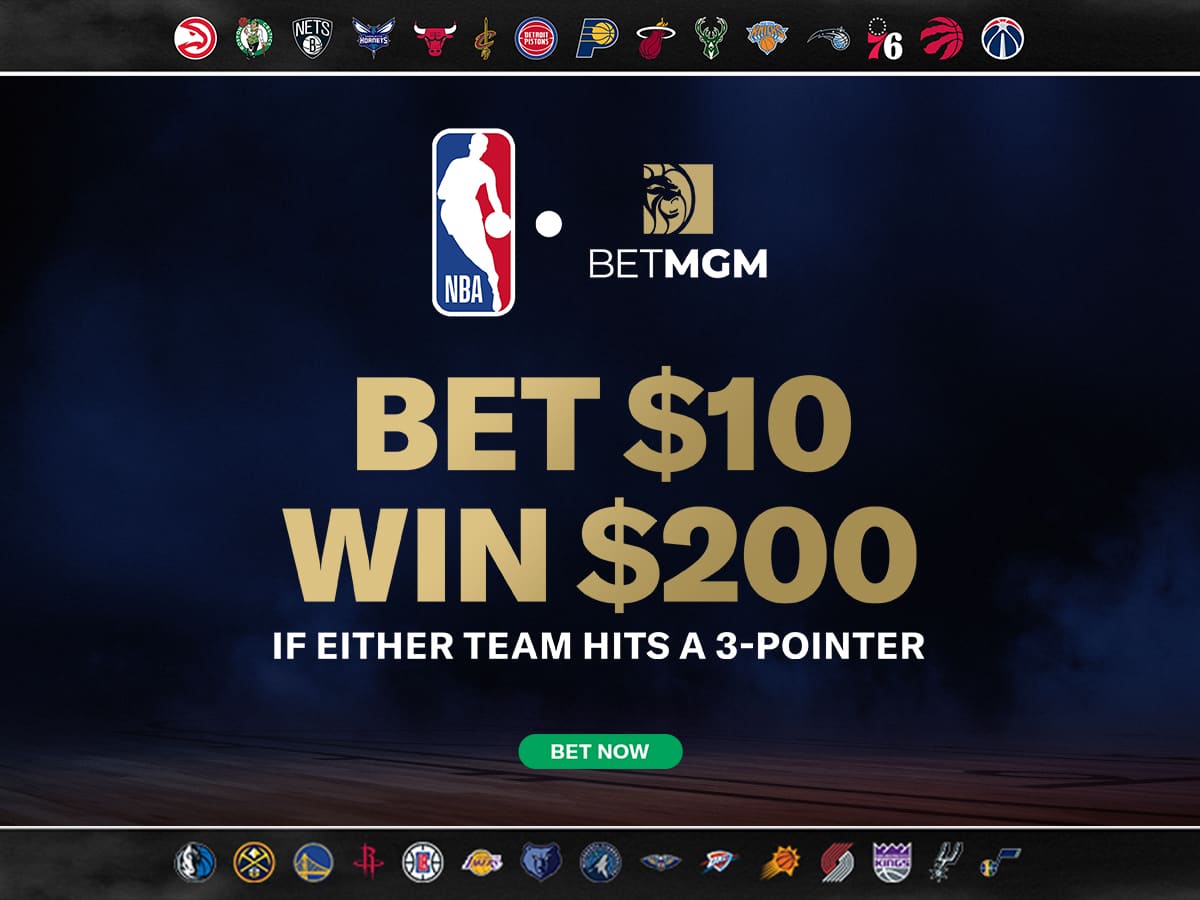 Best Ball Strategy:  When Not To Draft A Quarterback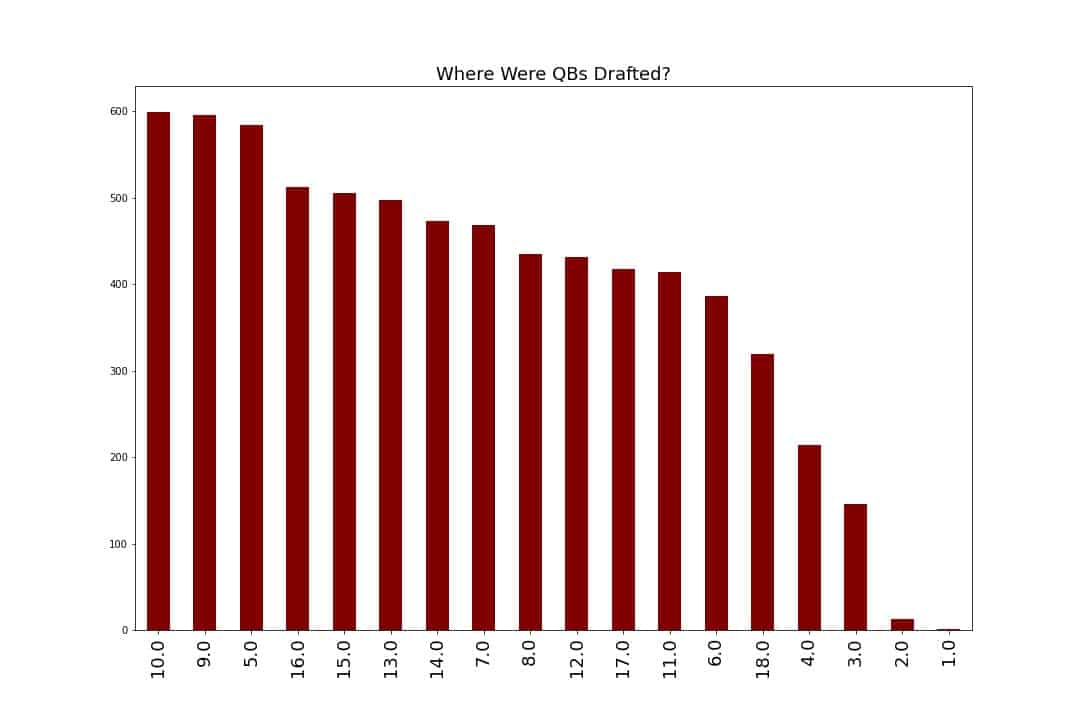 The FIRST best ball strategy you should take away from this chart is when NOT to draft a quarterback. Teams that drafted a quarterback in the first or second rounds RARELY made the playoffs. All Quarterbacks are going to put up a lot of points, in any given week. For instance, Josh Allen put up 11.6 (STD) points in Week 9. That same week Trevor Siemian had almost 16 fantasy points. Jordan Love put up almost 13. Don't waste a pick in the top five rounds on a quarterback is the best ball strategy to follow.
The SECOND thing this chart shows is that many teams can't hold off drafting a quarterback past the fifth round. This tells us two things. If you MUST have your hometown quarterback, you better be looking at him HARD in the fourth round, even though that is too early. It also tells us that round five is a great round to get a steal on a different position.  If you're wondering how to make the best ball playoffs, here's a look at some players to target.
Derek Carr
ADP:  118
Best Ball Strategy Draft Goal:  Round 10
Derek Carr would be a great pick-up if we are holding off on quarterbacks until the double-digit rounds. With the addition of Davante Adams, to a receiving corps that already has a top 5 tight end in Darren Waller, and his favorite possession receiver Hunter Renfrow returning.  Carr should only improve on his 2021 stats. Carr and Adams have a connection dating back to their college days at Fresno State. During Adams's time at Fresno State, the combination accounted for 233 receptions, 3031 yards, and 38 touchdowns in just two years.  With Carr playing against other elite quarterbacks in the AFC West, for 6 games this season, he should be in plenty of high-scoring games this year, likely leading to a higher pace of play in games.  Which will likely lead to Carr having to throw more often. Derek Carr is a great pick if he sneaks into the double-digit rounds because he's a guy that we know what we're going to get from him. With the addition of a top receiver like Davante Adams, we should expect Carr's numbers to improve from his 2021 stats.
Jameis Winston
ADP:  172
Best Ball Strategy Draft Goal:  Round 12
Jameis Winston is falling WAY too low this season, especially with the offseason additions of veteran wideout Jarvis Landry and rookie stud Chris Olave in the draft. Along with the return of Michael Thomas, the Saints' receivers look primed and ready to put up a big season with Jameis at the helm. Jameis is the perfect QB to pick up in a best ball format. We know he's going to put up some crazy numbers some weeks, and he may throw quite a few interceptions the next, fortunately, we don't have to try and pinpoint those weeks. We'll have other capable quarterbacks to cover those during Jameis' down weeks. Give me Jameis and one of his receivers in those six touchdown games.  He's a great player to target when considering the waiting on quarterback best ball strategy.
Desmond Ridder
ADP:  324
Best Ball Strategy Draft Goal:  Last Round
Does anyone REALLY think Marcus Mariota is going to be the guy all season in Atlanta? If Ridder ends up in the starting spot, only a couple of good games could REALLY make him the steal of the draft. Not to mention, Smith's love for play-action passing will help Ridder. Last year Matt Ryan ranked 11th in play-action dropback rate (minimum 200 dropbacks, per PFF). In 2021, Ridder was tied for 17th in play-action passing touchdowns out of 121 qualifying quarterbacks (minimum 200 dropbacks, per PFF). At Cincinnati, Ridder was very efficient. In his senior season, he threw for 30 touchdowns and only eight interceptions. He can also run the ball when he needs to. He ran for around 600 yards during his first three years in college. Ridder knows how to win, leading the undefeated 2021 Bearcats to the College Football Playoffs. As the ACC's offensive player of the year in back-to-back seasons, he should be used to having eyeballs on him. And his size, comparable to Patrick Mahomes, doesn't hurt.  If you're wondering how to make the best ball playoffs, waiting on a quarterback and taking a shot on Ridder isn't a bad idea. 
@desmondridder College Football Highlights Video From @GoBearcatsFB pic.twitter.com/hGPKksuUfi

— Atlanta Falcons Fans (@ATL_Falcons23) April 30, 2022
Best Ball Strategy:  First-Round Running Back?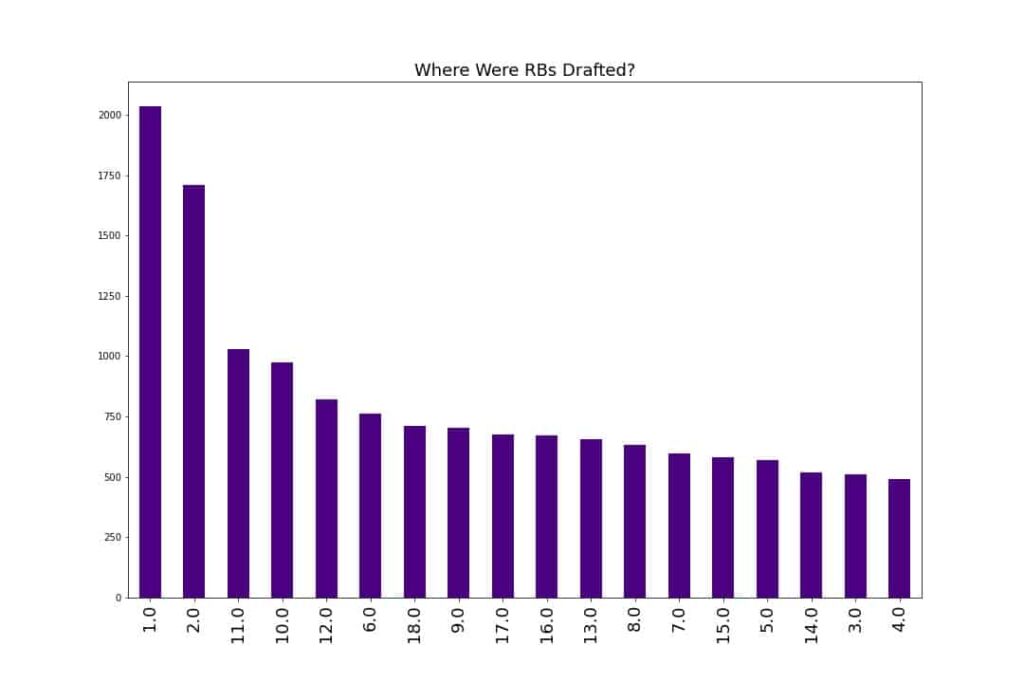 If you're new to best ball or if you're sick of missing the playoffs and want to know how to make the best ball playoffs, hard to argue with the success and the track record of these teams. Go elite running back in the first two rounds. In PPR last season, there were only four running backs in the top 25-point scorers. You have to play a running back, might as well try to get an elite one on your roster.
We've all heard the team "zero-running back" because there might be something to that. After the first two rounds, there isn't a significant change in running back numbers. Matter of fact, teams that drafted running backs in rounds ten and eleven have about the same success rate as those that took running backs in rounds six and nine. This makes loading up on wide receivers in rounds three through nine quite a reasonable best ball strategy.
Jonathan Taylor
ADP:  1.6
Best Ball Strategy Draft Goal:  Round 1
If you have a shot, take the consensus 1.1 of the season, Jonathan Taylor. How many stats do you need to be convinced that he is the man?  Taylor had the most red-zone touches in the NFL. And it wasn't even close. He is going to be a top 10 running back in routes run, as he was 11th last season. Plus, we KNOW that Matty Ice loves to target running backs out of the pocket. Ryan threw the ball to running backs over 8 times per game. Taylor only went two games, including playoffs, in 2021 without a touchdown. According to FantasyPros Taylor will be top 1 or 2 in points, yards, and touchdowns. Plus, they project him 21st in receptions. Don't overthink it. Then get to scooping up wide receivers.  If you're wondering about an easy way how to make the best ball playoffs, drafting Taylor is a good start. 
Jonathan Taylor calls game pic.twitter.com/jidHvbIU4K

— NFL Stats (@NFL_Stats) December 19, 2021
Christian McCaffrey
ADP:  2.3
Best Ball Strategy Draft Goal:  Round 1
As you read above, if you have a chance to get one of the top five running backs, snag him. Yes, we are concerned about his injury issues. But we'd rather have a sometimes-healthy Christian McCaffrey than most running backs when they are FULLY healthy. While he has missed a ton of games, he hasn't had any MAJOR surgeries, so that provides some comfort. As does the fact that Carolina made some moves to improve this offensive line this offseason. The dude is undeniable when he plays. In the four games McCaffrey played in 2021 he was a top 4 scoring running back in PPR.  This will make your whole draft easier. Build your foundation with an elite running back, then forget running backs for a few rounds. According to the Athletic's Panther's beat writer, Joe Person, Carolina is going to rest McCaffery for the entire pre-season, making him PRIMED for week one. 
James Cook
ADP:  117
Best Ball Strategy Draft Goal:  Round 12
Who's James Cook? That's what we are expecting your competition to think as they pass him by. This 2nd round draft pick is going to get a HEAVY workload in Buffalo. Let's give a TINY bit of credit to the family, because, yes, that is Dalvin Cook's younger brother. Cook was REALLY good for the Georgia Bulldogs in college. But he doesn't really have the stats to back it up because he shared the backfield with Zamir White, who was taking up all the carries. Not only is he FAST, with his sub-4.5 forty, but he has great hands. Cook had 27 catches and ZERO drops last season. And after the catch? He's good there as well, averaging 10 YAC. We know the Bills are pass-heavy and they traded away their best receiving running back. While he isn't as big as his brother, he is about a fast and that should help him get early season reps.  If you're wondering how to make the best ball playoffs, these running backs might fit right in your best ball strategy. 
Why Even Draft A Tight End?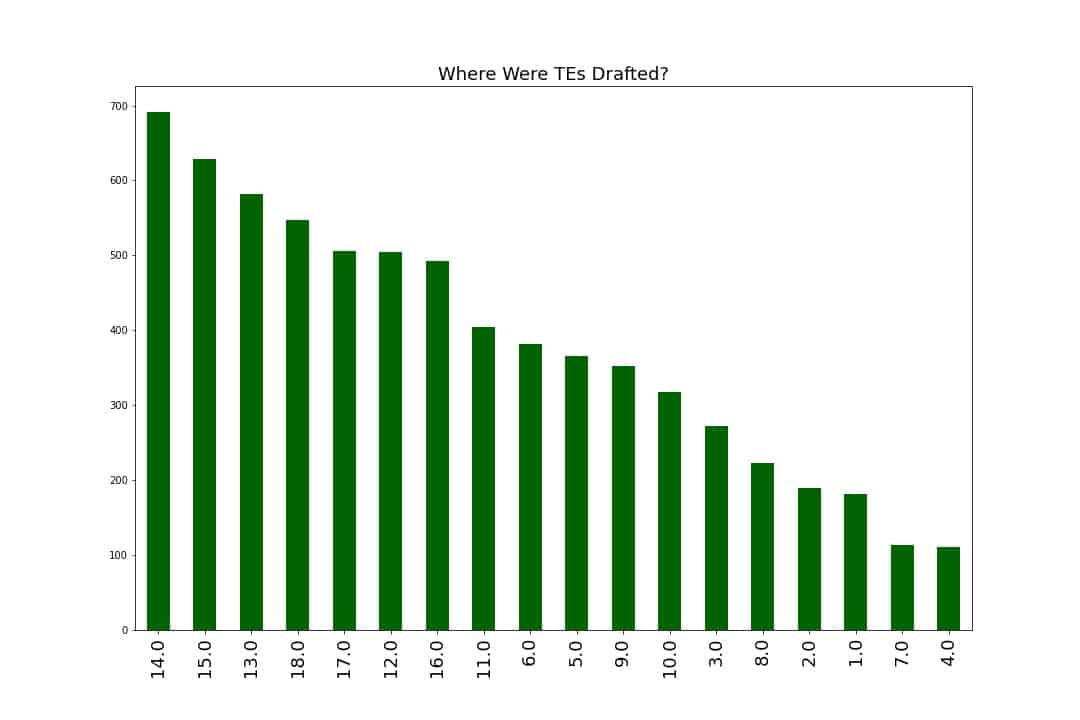 Why do we draft a tight end?  Because we have to. It doesn't take a fantasy football savant to tell us to wait on drafting a tight end. A vast majority of teams that made the playoffs waited to draft a tight end until rounds eleven and later. The third-highest scoring tight end last season, Dalton Schultz, was 66th in overall scoring. Wait on tight end is a great best ball strategy.
Gerald Everett
ADP:  166
Best Ball Strategy Draft Goal:  Round 14
Gerald Everett had a great year last season. He peaked at the end of the season and we expect him to continue that run this season. He was a top 10 tight end in Weeks 10 through 16. In 2021 he had career-highs in receiving yards and receptions. While others are reaching for tight ends too early, you are going to be patient and snag Everett in round 14 and you are going to be proud of that pick. Everett looks to be a younger version of Jared Cook. He's more durable as well, breaking tackles as few tight ends can. Cook was TE16 last season and we can project that Everett will improve on that number this season. This is a good chance for us to get a player in the top 10 of his position in the 14th round. THAT is how to make the best ball playoffs. 
Gerald Everett shook off three defenders on this play 😳

(via @NFL)pic.twitter.com/P31mnkl4TV

— Bleacher Report (@BleacherReport) October 18, 2021
Austin Hooper
ADP:  194
Best Ball Strategy Draft Goal:  Round 17
You look at the name Austin Hooper and you're probably thinking this is crazy, the guy hasn't been good in years. Well, you'd be right, but he was in Cleveland. Sorry Browns fans. Austin Hooper could see a new lease on his tight end life this year by joining the run-heavy Titans. Austin Hooper was a two-time all-pro and was the highest-paid tight end in the league at one point. Now he's joining a Titans team that just lost their top two receiving options in A.J. Brown and Julio Jones. Going into the season he should easily be the 2nd option on this Titans squad behind only Robert Woods, who's coming off a torn ACL in November. Giving Ryan Tannahill a tight that can really catch is going to make Austin Hooper the best Titan tight end we've seen in a while.
Robert Tonyan
ADP:  156
Best Ball Strategy Draft Goal:  Round 15
Robert Tonyan should fall to round 15, making him an easy pick this late. Without Davante Adams in the line-up taking up 99% of the targets, everyone with hands in Green Bay should see an increase in targets this season. Tonyan signed a one-year deal with the Packers a couple of months ago, so this is a prove-it year. If he CAN prove it, he might start seeing some of that elite tight-end money the league is tossing around. And don't forget, before a short season in 2021 due to a knee injury, Big Bob Tonyan had 11 touchdowns in 2020. This is a chance to scoop up a late-round tight end with lots of touchdown upside, maybe the most in the league, NOT named Travis Kelce.
Catch Wide Receivers, Catch Success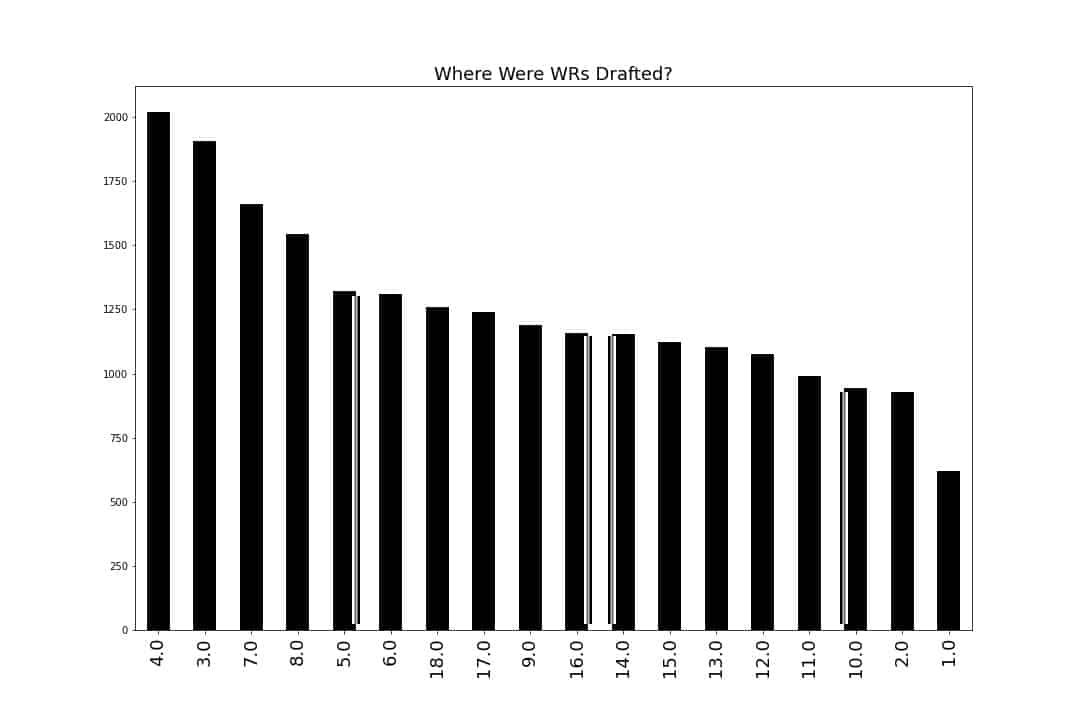 So that leaves us with wide receivers. Looking at the numbers, there is never a wrong time to draft a wide receiver. When in doubt, go wide receiver. Try to grab that elite running back in the first round, then draft wide receivers for the next SEVERAL rounds. Wide receiver is the position that is going to be most boom or bust. So, if we can have a lineup that will have a couple of wide receivers boom each week, we should be able to stroll right into the playoffs. Around half of the total players drafted by playoff teams were wide receivers. Your lineup should look the same.
Cooper Kupp
ADP:  6
Best Ball Strategy Draft Goal:  Round 1
Don't overthink this selection, if Cooper Kupp, Super Bowl MVP, is on the board he could be the best pick in the draft at just about any pick. Last season he led the league in points per game, receiving yards (1,947), and target share with 31%, and was targeted well over 200 times, if you include the Rams' playoff run. Kupp and his quarterback, Matthew Stafford, have a clear connection as they also hooked up for 16 receiving touchdowns last year during the 17-game regular season. With the Rams losing Robert Woods and Odell Beckham this offseason while bringing in an aging Allen Robinson, it's safe to assume that Cooper Kupp will again be a stud this year and will continue to get a large share of the targets from Stafford again this year.
Davante Adams
ADP:  11.5
Best Ball Strategy Draft Goal:  Round 1
The Las Vegas Raiders went out and spent all the money on Davante Adams this offseason.  Adams will be joining the Raiders and his former college quarterback Derek Carr in Vegas. A healthy Adams hasn't finished lower than WR5 since 2018, and we don't think we'll see a dramatic drop-off going into this season. During his two years in college at Fresno State, with Carr as his quarterback, Adams put up video game numbers with 233 receptions, 3,031 yards, and 38 touchdowns. Obviously, we can't expect numbers like this to be put up this year.  However, it's obvious the connection is there, and stacking Davante Adams with Derek Carr, our first late-round QB, would be a high upside stack for best ball.  It's a great best-ball strategy to follow.  
Tee Higgins
ADP:  31.1
Best Ball Strategy Draft Goal:  Round 2
Tee Higgins was a top 20 wide receiver last season and we expect the same this season. He had over 100 targets the last two seasons and the Bengals didn't let Burrow REALLY throw it like he can until the end of 2021. Being on the same roster as Jamar Chase is a positive here, not a negative. This is one of the lesser of two evils for defensive schemes. It seems as though teams are looking at Tee Higgins as the lesser of the two, which is fine for our fantasy teams. Higgins actually ran more routes than Chase last year. He also had a higher target share in the games they played together. Coming off of a second 900-yard-plus receiving year in a row, look for Tee to do it again. We want to draft a piece of this high-powered offense.
Footwork Efficiency is the key to being "quicker than you look"

Tee Higgins shreds on this goal line whip route because he takes no extra steps in his break. He's essentially throwing down a two-step pivot. Surgical.🔪 pic.twitter.com/bif4YqlJ3H

— JetPack Galileo (@JetPackGalileo) December 29, 2021

Related Content