One week after a thrilling PGA Championship, the PGA Tour kicks back into action. The final leg of the Texas Swing tees off at Colonial Country Club for the 2022 Charles Schwab Challenge. As always, here is your early deep-dive on the 2022 Charles Schwab Challenge and a preview for how to bet. In addition, listen below to the Golf Gambling Podcast for more information about golf betting.
2022 Charles Schwab Challenge – The Field
Headlining the field is Justin Thomas, the winner of the 2022 PGA Championship. When I originally wrote this column on Sunday morning, this is what I originally wrote about him:
Oops! Congratulations to everyone who cashed a JT ticket when my preview column altered the forces of the universe to give him the improbable win. That's now his second career major championship, and he did it in incredible fashion. He'll look to go back to back at Colonial.
Another storyline is, as of this writing, Bryson DeChambeau's return to the PGA Tour. He tried to give it a go at the PGA Championship. However, he opted to withdraw at the last minute. While Colonial typically has favored more precise ball strikers, it can be bomb and gouged. If healthy, he could be an unlikely prototype winner of the Charles Schwab Challenge.
Other notables in the field include Will Zalatoris, Mito Pereira, Sam Burns, Viktor Hovland, Sungjae Im, Collin Morikawa, and Jordan Spieth.
For the full field, click here.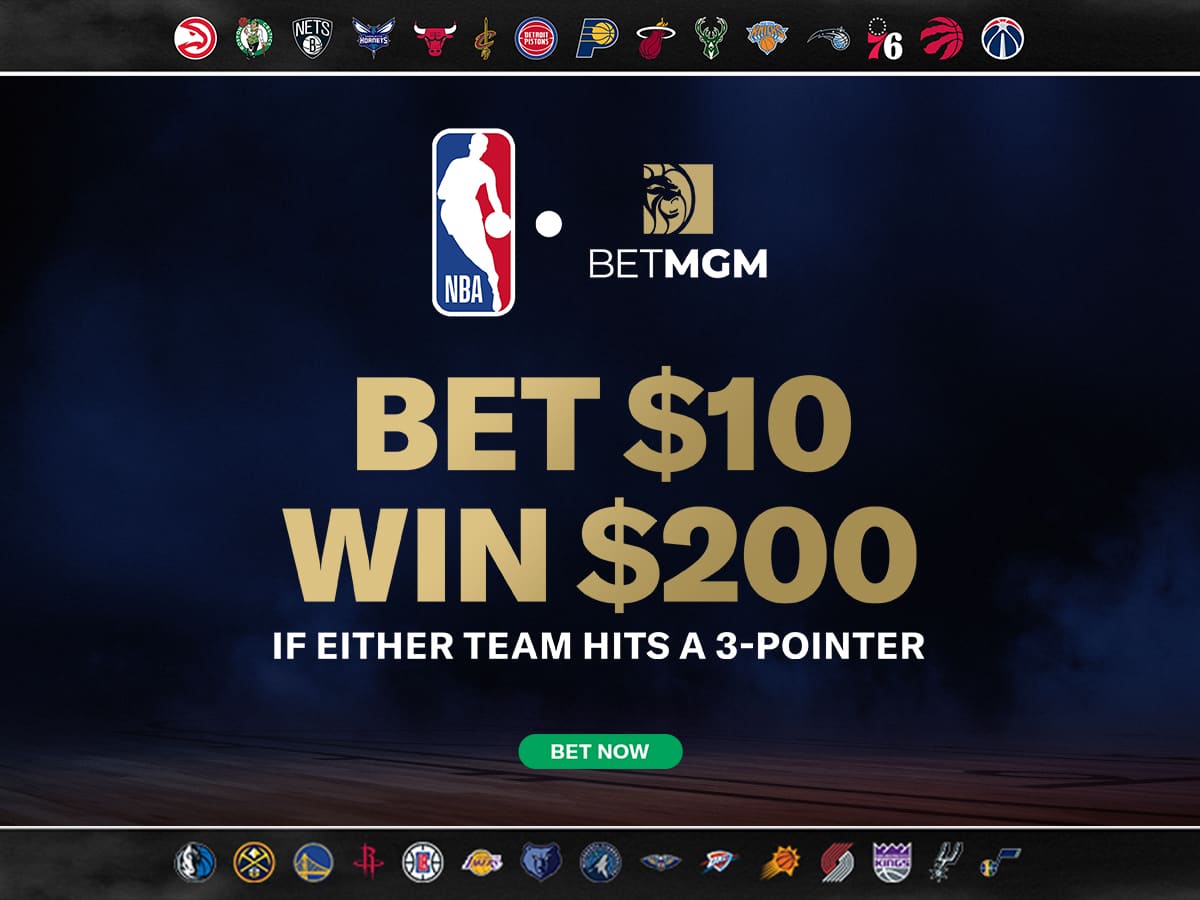 2022 Charles Schwab Challenge Preview – The Golf Course
The Colonial Country Club was built in 1936 in an effort to prove naysayers wrong. It was speculated that Bentgrass was too fragile to withstand the hot Texas heat. Most golf courses in the area strictly utilized the native Bermuda. Taking up the challenge, club founder and golf nut Marvin Leonard constructed the grounds entirely of Bentgrass. He tasked Perry Maxwell (architect of 2022 PGA Championship site Southern Hills) to design the course, while John Bredemus was tasked to oversee the construction.
While Maxwell's design of the golf course was well done, Leonard's dream of a wall-to-wall Bentgrass golf course in Texas failed to come to fruition. It was simply too hot for the Bentgrass fairways and rough to withstand the summer heat. As a result, those were transitioned to Bermuda full time. However, the greens remain Bentgrass and are some of the best-maintained greens offered on the PGA Tour.
Colonial features a lot of sloped fairways and some elevation changes. That will force the golfers to accommodate for uneven lies several times a round. The routing of the golf course is also very creative. Hole after hole players tee off in different directions. This also can be challenging in windy conditions.
Something that makes Colonial Country Club a great golf course is that it's located right in the heart of downtown Fort Worth. There is a tremendous bond between the community and the private country club. The tournament is also rich in tradition as one of the oldest on the PGA Tour. It also has a murderer's row of former winners – Ben Hogan, Sam Snead, Arnold Palmer, Ben Crenshaw, Lee Trevino, Jack Nicklaus, Tom Watson, Phil Mickelson, Sergio Garcia, Justin Rose, and Jordan Spieth
Lastly, here are two videos from the boys of No Laying Up covering Colonial Country Club. The first one discusses what the tournament and the country club mean to Fort Worth. The second one shows them take on the Horrible Horseshoe, a grueling trek across the third through fifth holes and is one of the tougher three-hole stretches in golf.
Colonial Country Club is slated to undergo a big facelift. Following the completion of the 2023 Charles Schwab Challenge, Gil Hanses will completely renovate the golf course to restore the traditional Perry Maxwell roots.

2022 Charles Schwab Challenge Preview – Betting Strategies
First, let's begin with some nuts and bolts about the golf course. From the Championship Tees, the golf course stretches just over 7,200 yards and plays as a Par 70. Tee-to-green the golf course is Bermuda, and the Bermuda rough is thick. It typically averages 3 inches in length, which is even thicker than the Bermuda rough at last week's PGA Championship. The greens, however, are Bentgrass. They also average around 5,000 square feet in area, which is roughly the same size as the greens at Southern Hills Country Club last week.
There are two Par 5's on the golf course. The opening hole is a 551 yard Par 5 that plays almost at a 90 degree angle. It is absolutely vital to hit your tee shot in the fairway. That's pretty much the only chance one has to hit the green in two. If one finds their ball in the rough, in the trees down the right or in the bunkers down the left, there's almost no chance to hit the green in two. The second Par 5, the 11th, stretches 629 yards. It's reachable if a player has a helping wind. Otherwise, this is likely a three shot hole. In 2021, neither Par 5 yielded any eagles.
Next, let's evaluate historical statistics of the golf course. Since 2015, the historical driving accuracy of Colonial Country Club is 61.8%. That's similar to the following golf courses (+/- 1%):
East Lake Golf Club – 61.9%
Harbour Town Golf Links – 62.1%
TPC Scottsdale – 62.1%
Waialae CC – 62.3%
Memorial Park Golf Course – 62.5%
Ridgewood CC – 62.6%
TPC Four Seasons – 62.7%
Country Club of Jackson – 62.7%
Colonial Country Club is also the sixth toughest golf course off-the-tee on the PGA Tour. It may be why so many players opt to club down off the tee to play positional golf. The average driving distance at Colonial since 2015 is 279 yards. That's the 8th fewest on the PGA Tour.
Since 2015, the historical green in regulation % is 65.9%. That's similar to the following golf courses (+/- 1%):
TPC Southwind – 65.1%
The Concession GC – 65.3%
TPC Four Seasons – 65.8%
Glen Abbey GC – 66.0%
Shadow Creek GC – 661%
Glen Oaks Club – 66.2%
Congaree GC – 66.6%
TPC Sawgrass – 66.8%
TPC Boston – 66.8%
Lastly, Colonial CC does not feature very challenging or punishing greenside surrounds. It features the 12th easiest greenside surrounds on the PGA Tour. This includes relatively easy up and downs from the rough and from bunkers.
Next, let's look at the relative skill set chart per DataGolf: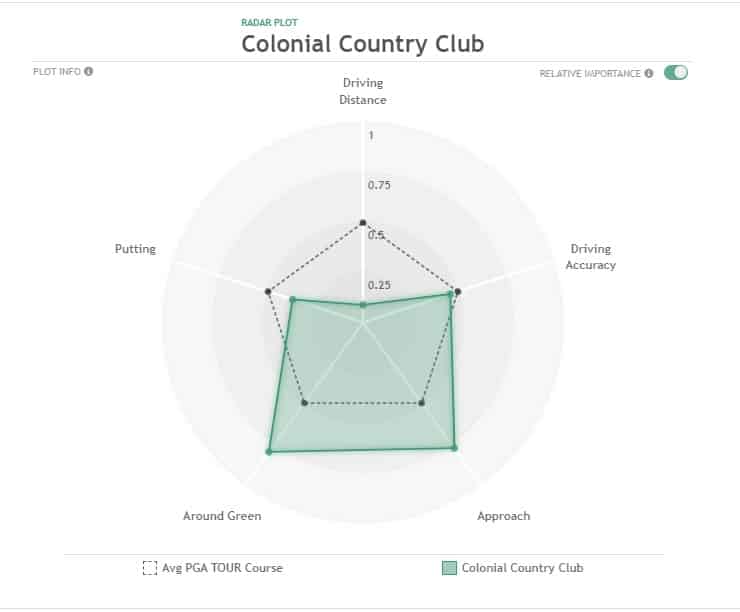 Per DataGolf, the regular PGA Tour courses with the most similar relative skill set chart is the following:
Austin Country Club
TPC Southwind
Harbour Town Golf Links
TPC Craig Ranch
Port Royal Golf Course
What stands out the most is while Colonial is a very demanding golf course off-the-tee, there doesn't seem to be a strong correlation in any driving stat. Driving distance doesn't matter at all at Colonial. But most surprising is that there isn't a higher than average premium on driving accuracy either. That's probably because the optimal strategy off the tee is positional golf. That often requires clubbing down. At that point, it promotes a parity of off-the-tee specialists (or not specialists). If you're leaning towards one driving statistic, target the more accurate players. They're a little more comfortable in this type of environment than a bomber.
There is, however, two huge correlations at Colonial that always seem like a theme to each year's leaderboard. Strong iron players and great scramblers tend to finish near the top of the leaderboard at Colonial. The emphasis of strong iron play is reasonable given the small greens and the premium of hitting from the fairway. But given how easy the greenside surrounds are, one would think that how well or poorly one usually scrambles matter all that much?
Not so fast. Any time one particular aspect is easy it allows for players who excel in it to separate from the field, while ones who struggle will lag behind. Because the greenside surrounds are relatively easy at Colonial, better scramblers can separate themselves on the leaderboard while those who struggle won't. As such, a big focus of my handicap this week is great iron play and great scramblers.
Next, let's look at the approach shot proximity chart per DataGolf:
Unlike last week at the PGA Championship, Colonial features a very defined proximity pattern to follow. There is a greater than average emphasis on every approach shot range under 175 yards. Not only should you target great iron players, you need to target ones who excel with approach shots under 175 yards.
Lastly, here's the Top 10 players in the field who gain the most strokes per round at Colonial Country Club (minimum of 8 Rounds:
Jordan Spieth – +2.5, 36 Rounds
Collin Morikawa – +2.3, 8 Rounds
Justin Rose – +2.1, 16 Rounds
Webb Simpson – +1.8, 12 Rounds
Kevin Na – +1.7, 28 Rounds
Tony Finau – +1.4, 24 Rounds
Justin Thomas – +1.4, 8 Rounds
Kevin Kisner – +1.3, 28 Rounds
Harris English – +1.3, 24 Rounds
Charley Hoffman – +1.2, 38 Rounds
There's a wide variety of performers off-the-tee. There's a few inaccurate bombers, mixed in with some balanced drivers, as well as super accurate players. What links almost all of them is that they're really good iron players, particularly within 175 yards. They're also all pretty good scramblers. That's the formula this week. This list is a great preview of who will excel at the 2022 Charles Schwab Challenge.
Related Content