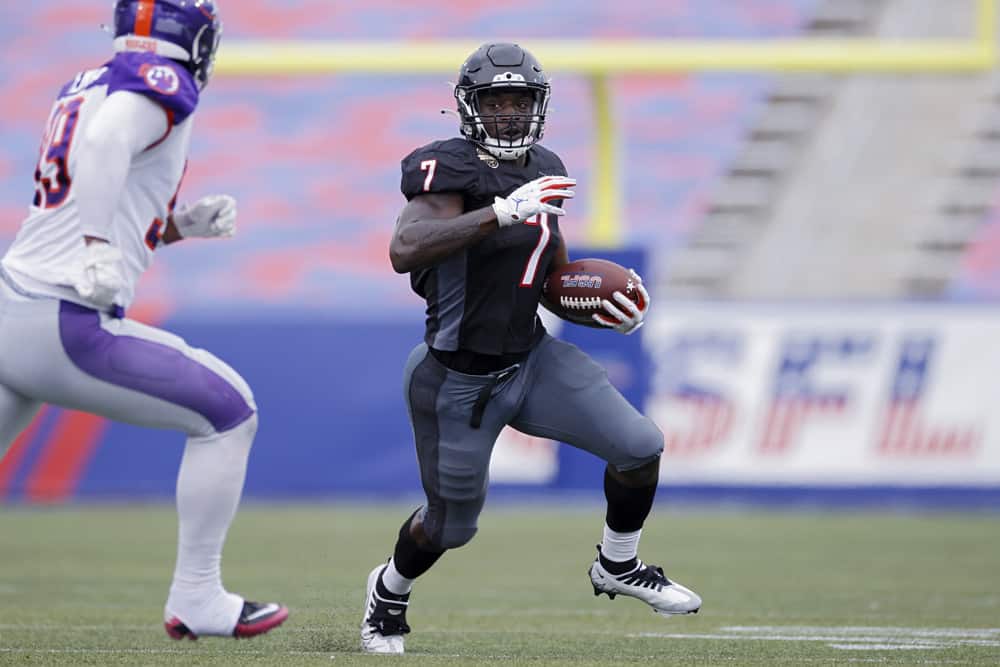 We are officially halfway through the 2022 USFL season. Can you believe it? The USFL has been a lot of fun so far and the league has really hit its stride. We have seen some excellent football played and had numerous exciting moments. There were a lot of questions and unknowns heading into this rebooted 2022 USFL season. Now that we are through Week 5, let's talk about what we have learned from a football and USFL fantasy football perspective.
MORE USFL SGPN CONTENT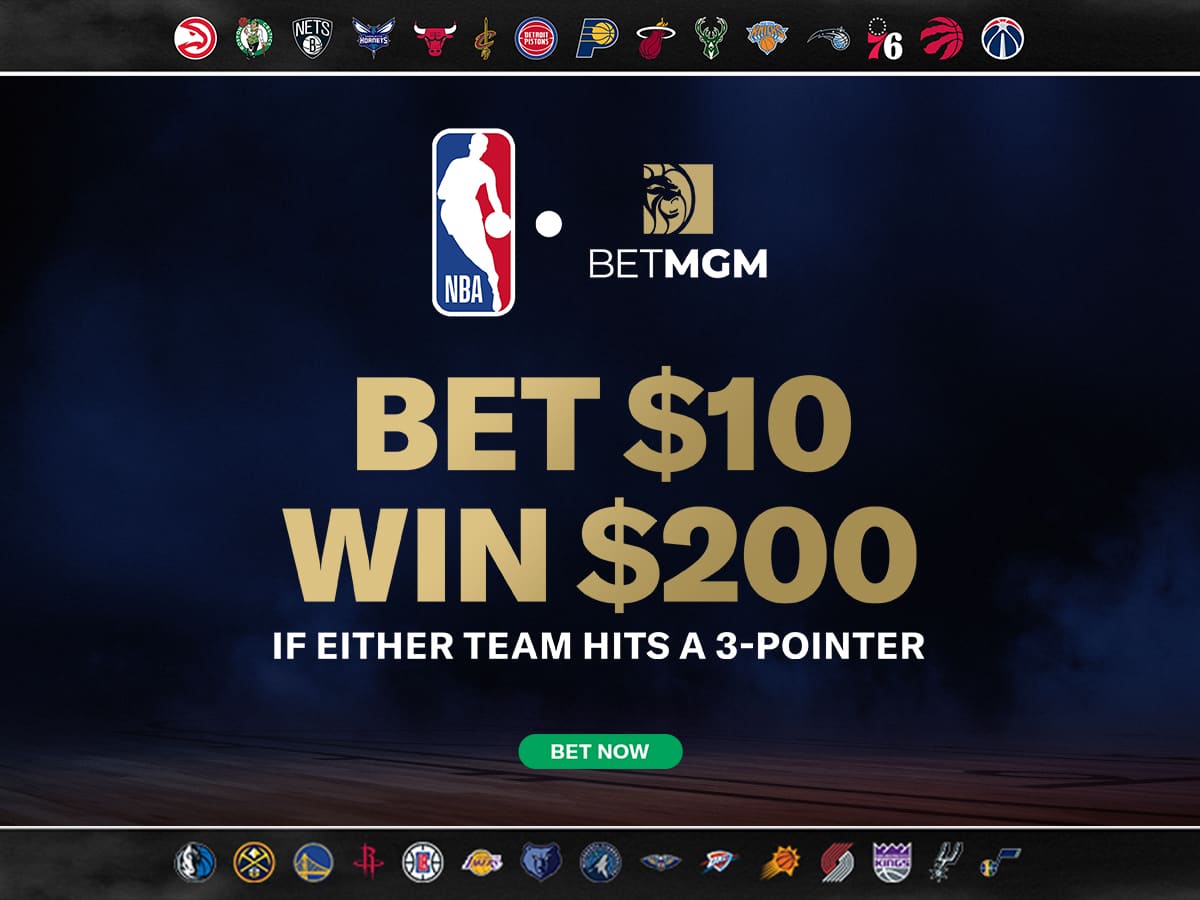 Your Week 6 USFL Fantasy Football Preview
Now let's get into why we are here. We are talking Week 6 USFL fantasy football. You have questions and I have answers. Who should you be starting this weekend? Let's take a quick look at who I believe will be the best and worst performers in the USFL during Week 6 now that we have a little more information to go on. Who should you keep an eye on this week? Is there anyone that can be safely dropped? Who should you be looking to target on the waiver wire? What player has provided the most value thus far through the season? After reading this article you should feel confident in setting all your lineups for the rest of the season and letting it ride this weekend.
Who should You Keep an Eye On in Week 6 For USFL Fantasy Football?
Darius Victor (RB), NJ
DraftKings price: $5,900
The Generals lead the league with 901 rushing yards this season. For the first few weeks of the season, it looked as though Trey Williams had the edge in the backfield. He had the slight edge in carries and has been heavily involved in the passing game since the season started. In recent weeks, Darius Victor has seen the number of carries he is receiving per game increase. At this point halfway through the season, Victor has seen enough work to overtake Williams in carries through five weeks (66 to 60). Victor is clearly the running back of choice in the red zone for the Generals. Victor has five rushing touchdowns on the season while Williams has zero. Williams will continue to be productive in PPR leagues but going forward Victor might be the running back to own on this team and be a top USFL fantasy football back.
https://twitter.com/USFLGenerals/status/1525604196791242752?s=20&t=DeCldUAxMYEfqD-b-pl2HA
Who Can You Safely Drop?
Randy Satterfield (WR), NJ
DraftKings price: $4,300
Satterfield exploded onto the scene in Week 1 of the season for the USFL opener against the Stallions. He dazzled with a 49-yard reception in the first half on his way to five receptions for 100 yards and a touchdown. He had the looks of a player set to make a huge impact all season for one of the best teams in the league. The problem is that in the 4 weeks since then, Satterfield has been active for every game but has only seen four targets and two receptions in four games. He is clearly an afterthought in this offense that runs through their running backs. The Generals make an effort to manufacture plays for Kavontae Turpin, their running backs, and DeAndre Johnson. Since Week 1, Alonzo Moore and Darius Sheppard have overtaken Satterfield in touches and targets. You can safely drop Satterfield.
There is is. Randy Satterfield's 3-yard touchdown catch from Luis Perez. pic.twitter.com/2Adjm2lYVi

— USFL Sapient 🇺🇦 (@USFLSapient) April 16, 2022
Who Else Can You Safely Drop?
Paxton Lynch (QB), Mich
DraftKings price: $7,800
After being a first-round pick in the NFL draft in 2016, Lynch flamed out of the NFL. He appears to be on his way to flaming out of the USFL. He has been injured in recent weeks but has been less than dazzling in his limited action. Lynch has played in two games so far and only managed to complete five of 13 passes for 24 yards and an interception. He has also rushed six times for 35 yards and a touchdown but also managed to fumble on one of those attempts. He cannot be trusted to not turn the ball over. The Panthers also claimed recently released QB Josh Love and added him to the roster. Love got his best shot to run the inept Maulers' offense but failed. It appears the Panthers are ready to move on from Lynch and you should too in USFL fantasy football.
Who Should You Add Before Week 6?
Bo Scarbrough (RB), BHAM
DraftKings price: $4,000
Depending on the size of your league and the size of your rosters, there might be better options here. I tried to pick a player who is likely available in most leagues. Bo Scarbrough of the Stallions might be worth an add this week. He has only played in one game and was a mid-season addition to the roster to replace Jordan Chunn. CJ Marable has established himself as the clear number one back on this team. Prior to this week, Tony Brooks-James was seeing a sizeable workload in the run and passing games. In the first game, Scarbrough was active, he overtook Brooks-James in carries by a sizeable margin receiving seven carries to Brooks-James' one. This could be a sign Brooks-James is being phased out of the rotation and the Stallions may have bigger plans for Scarbrough. He is worth a stash in USFL fantasy football.
Great team win today. @starbo06 checking in after his first game AND first win 🤝 #GiddyUp pic.twitter.com/LyndtUmiwB

— CHAMPIONSTALLIONS (@USFLStallions) May 15, 2022
Who Has Been the Best Value Thus Far In USFL Fantasy Football?
Mark Thompson (RB), HOU
DraftKings price: $7,600
Mark Thompson is the obvious choice here.  He is currently ranked third in fantasy production for running backs through five weeks. He has battled injuries in the process making this production just that much more impressive. Dalyn Dawkins was almost universally drafted in the first round as the projected bell cow for this Gamblers team. Boy, were we wrong. The Gamblers run their entire offense through Thompson and look best when we he is picking up steam. Thompson has carried the ball 84 times (second in the league) for 401 yards and a touchdown. Dawkins has only managed 29 attempts for 86 yards. Thompson will continue to be a top-flight fantasy option for the rest of the season. Thompson was being drafted in the third or fourth round at best and mainly to be a handcuff for Dawkins. He has far outproduced his average USFL fantasy football draft position.
These angles of that @InMarkWeTrust hurdle are 🔥🔥🔥

cc: @USFLGamblers

📺: @FOXSports pic.twitter.com/8IWzeilkap

— USFL (@USFL) May 15, 2022
Who Has Been the Worst Value Thus far?
BJ Emmons (RB), TB
DraftKings price: $9,400
Emmons was projected to be the best running back on the best offense in the league. His production was supposed to be through the roof. Emmons was one of the first backs off the board in almost every league I played in. He has not lived up to those expectations. He is currently 17th in the league in rushing yards and only averages 2.5 yards per carry. His involvement in the passing game (10 receptions) has kept him fantasy relevant but even so, he ranks near the middle of the pack in fantasy points. Emmons does not even lead his team in rushing yards. For a player that was drafted highly to lead fantasy teams, his production has been more than disappointing. He is still the highest-priced running back on DraftKings and I cannot imagine many lineups he has been featured in have won many contests in USFL fantasy football.
Who Could Breakout in the Second Half of the Season?
Marlon Williams (WR), BHAM
DraftKings price: $5,100
Marlon Williams was a no-show for the Stallions' Week 1 opening night matchup against the Generals and did not record a single catch. Since then, he has steadily contributed to the offense and now ranks second on the team in targets with 25. He has shown a propensity for big plays and averages 20.3 yards per catch. The Stallions continue to be the best team in the league and continue to score plenty of points. As the season goes on they will be looking for someone to step up alongside Victor Bolden and Williams looks to be the obvious candidate. In addition to being a home run threat and a burner, he is a YAC machine that can turn any play into a touchdown. Buy low on him now if you can in USFL fantasy football.
🗣 "Best WR in this league after the catch" @TheReall__6 #BuiltByUCF ⚔️ @USFLStallions pic.twitter.com/MRbQzdYTOh

— UCF Football (@UCF_Football) May 15, 2022
Overall, What Have We Learned?
We knew nothing heading into this season. BJ Emmons has not turned out to be the fantasy stud we thought he would be in USFL fantasy football. Mark Thompson has turned out to be the bell cow for the Gamblers and Dalyn Dawkins has been an afterthought. We were right about Kyle Sloter and Bryan Scott (before the injury) as they are both studs. Jordan Ta'amu has been somewhat of a disappointment thus far but has shown flashes. We have also learned that the USFL is NOT the NFL and any player can be cut at any time.  Players are going to be signed off the street and contribute immediately so it is important to keep an eye out for up-to-date roster news. For all we know, a player signed off the street in the coming weeks could be leading teams to fantasy championships by the season's end.
Check Back Often
Make sure you check SGPN regularly for updates to our 2022 USFL positional rankings and for all things USFL and USFL fantasy football.

Related Content