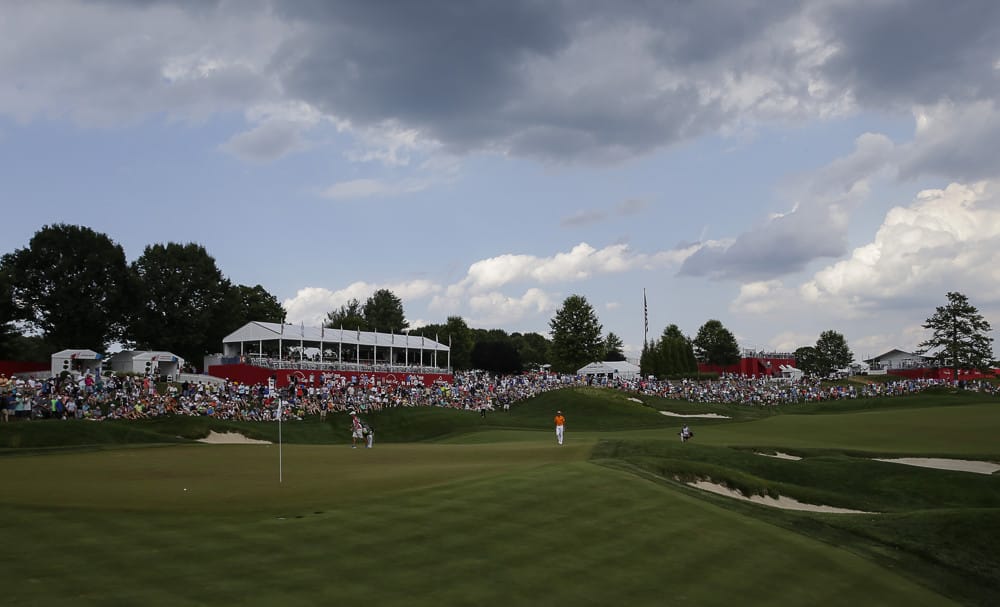 While the tournament name is familiar, the venue certainly is not. The Wells Fargo Championship finds a temporary new home in 2022 at TPC Potomac at Avenel Farms. As always, here is your early deep-dive on the 2022 Wells Fargo Championship and a preview for how to bet. In addition, listen below to the Golf Gambling Podcast for more information about golf betting.

2022 Wells Fargo Championship Preview – The Field
Anything is an upgrade to the field strength we saw last week at the Mexico Open. The field this week still isn't elite. But there are a few interesting names in it.
The most prominent of them is Rory McIlroy. Rory is the King of the Wells Fargo Championship. However, that was at Quail Hollow, which usually hosts this tournament. TPC Potomac is a much different golf course than Quail Hollow is. Rory will have to adjust his strategy if he wants to win his fourth Wells Fargo Championship.
Other notables in the field include Tony Finau, Matthew Fitzpatrick, Corey Conners, Tyrrell Hatton, Abraham Ancer, Gary Woodland, Marc Leishman and Patrick Reed.
For the full field, click here.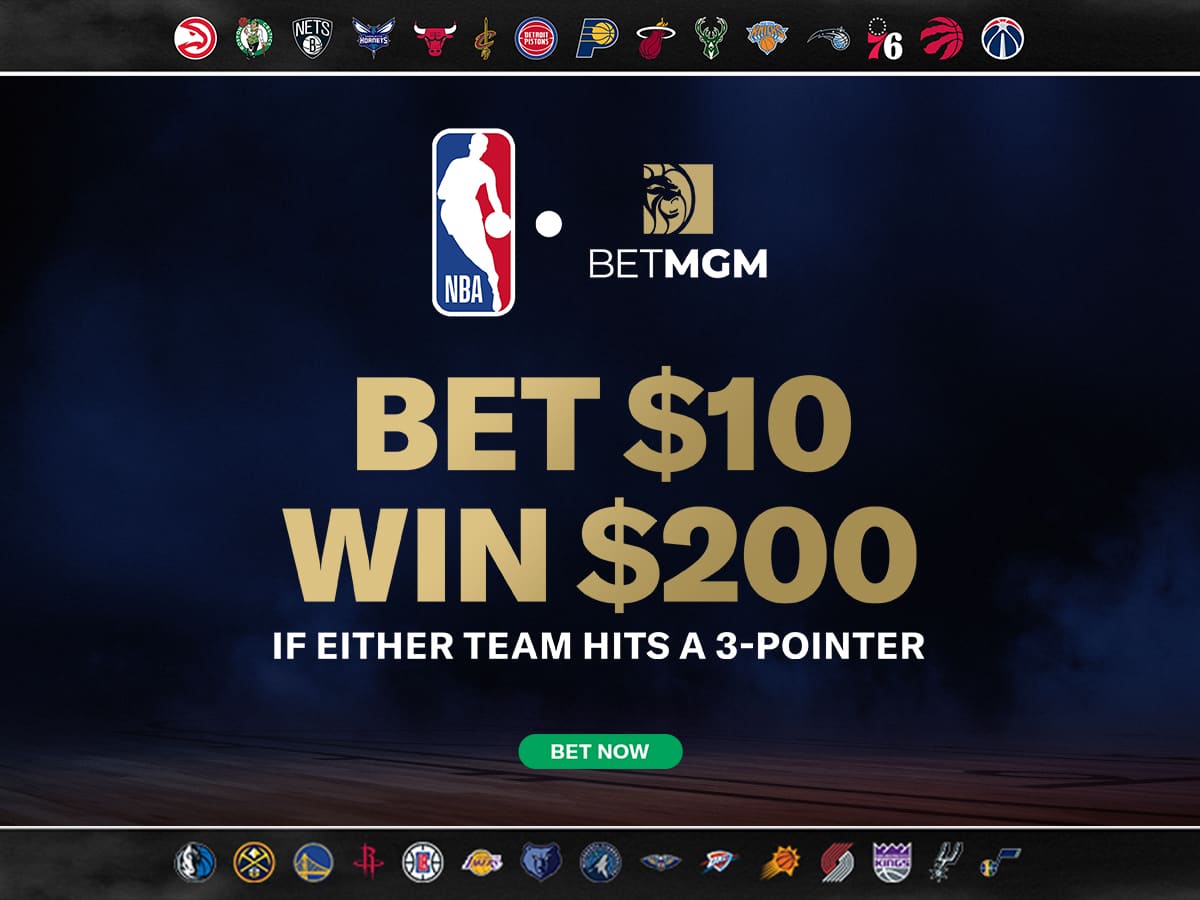 2022 Wells Fargo Championship Preview – The Golf Course
Typically Quail Hollow Golf Club hosts the Wells Fargo Championship. However, Quail Hollow is hosting the 2022 Presidents Cup. Therefore, the PGA Tour picked a replacement golf course for the Wells Fargo Championship. It choose TPC Potomac at Avenel Farms for 2022.
TPC Potomac opened in 1986 at the height of the TPC boom. Ed Ault, Tom Clark and Ed Sneed designed the golf course. Ed Ault has the most famous golf course connection with his consultation work on the Blue Course at nearby Congressional Country Club. However, no other PGA Tour stops feature the design work of any of these individuals.
One of the things that TPC Potomac has going for it is a great piece of property. There's is significant natural elevation changes to the property. In addition, the golf course uses the landscape well by bringing in natural hazards right off the fairway and rough. And with the out to in routing on both nines, one does feel pretty isolated and immersed in nature during the round.
Soon after opening, the golf course hosted the Booz Allen Classic (formerly known as the Kemper Open) from 1987-2006. But upon its inception, the golf course was one hated by professionals. Greg Norman proclaimed that the 9th green ought to be "blown up with dynamite". In addition, the golf course had severe irrigation issues that caused massive flooding issues. That made tournament conditions very dicey. As a result, the tournament struggled to attract significant star power, as top players would skip the event because it wasn't at a popular venue.
In 2005, however, TPC Potomac sought to repair its image with a total redesign and renovation. Stephen Wenzloff and Jim Hardy were in charge of the renovation.
One of the first things Wenzloff and Hardy had to fix was the course flooding. They discovered that Rock Run Creek, which runs through the property, had been mined for gold in the 19th century. Prospectors had used mercury to extract gold from the bedrock. That process caused the bedrock to significantly erode and left the water no place to flow except up and out. By restoring the bedrock to its original state, it solved the problem of flooding.
After that, the duo put the golf course under the knife. Almost every green was rebuilt on the golf course with new contours and turf. And several holes were changed. For example, the 10th and 11th holes were combined to create the opening Par 5 on the back nine. The 11th was converted from a Par 3 to a long Par 4. The green on the Par 3 9th was elevated into the hillside to create a more challenging tee shot. And almost all greenside bunkers were reshaped and repositioned to increase difficulty if one finds themselves in it.
Following the redesign, the golf course had lengthened to 7,139 yards. And all this was enough to bring the PGA Tour back to TPC Potomac at Avenal Farms for the 2017 and 2018 Quicken Loans National. Kyle Stanley and Francesco Molinari won both tournaments.
While I'm not sure the professionals gave the golf course glowing reviews after the renovation, most did note that the golf course conditions had significantly improved. 2016 Quicken Loans Champion Billy Hurley III noted that the golf course condition had "elevated" and that there were few low scores to be had. Justin Thomas echoed similar sentiments, noting that the golf course could host a U.S. Open in its current state.
All in all, it appears as though the work done to TPC Potomac raised its statute and increased the difficulty of the golf course. That was evident in scoring seen at both the 2017 and 2018 Quicken Loans National. In 2017, the scoring average for the field that week was +1.46. This primarily was due to firm conditions created from the new greens. In 2018, scoring conditions were a little easier, however still challenging. The field average that week was -0.11. A year's worth of foot traffic, combined with hot and muggy weather, softened the golf course. Considering rain is anticipated for the tournament this week, expect scoring to resemble more like 2018 than 2017.

2022 Wells Fargo Championship Preview – Betting Strategies
For the second straight week, gamblers find themselves without either recent or a high volume of data to parse over. However, unlike the Mexico Open, at least there is some data available to us to dissect.
Let's first start with the nuts and bolts of the golf course. As referenced earlier, TPC Potomac at Avenel Farms is 7,139 yards. In consists of two Par 5's. Hole No. 2 stretches 619 yards and is likely a three shot hole to most competitors. The other is the Par 5 10th, which stretches 560 yards. While reachable, trouble looms all the way down the left side of the hole.
In addition, the golf course is wall-to-wall Bentgrass. This is the second time the PGA Tour will have seen Bentgrass playing surfaces in 2022. The Fescue and Kentucky Bluegrass rough will be 3 inches deep, which is fairly thick. The greens average about 4,300 square feet in area, small for PGA Tour standards. And the greens will run about 12.5 on the stimpmeter, which is slightly above average for PGA Tour standards.
Next, let's look at the relative skill set chart of TPC Potomac at Avenal Farms from the 2017 and 2018 Quicken Loans National (per DataGolf):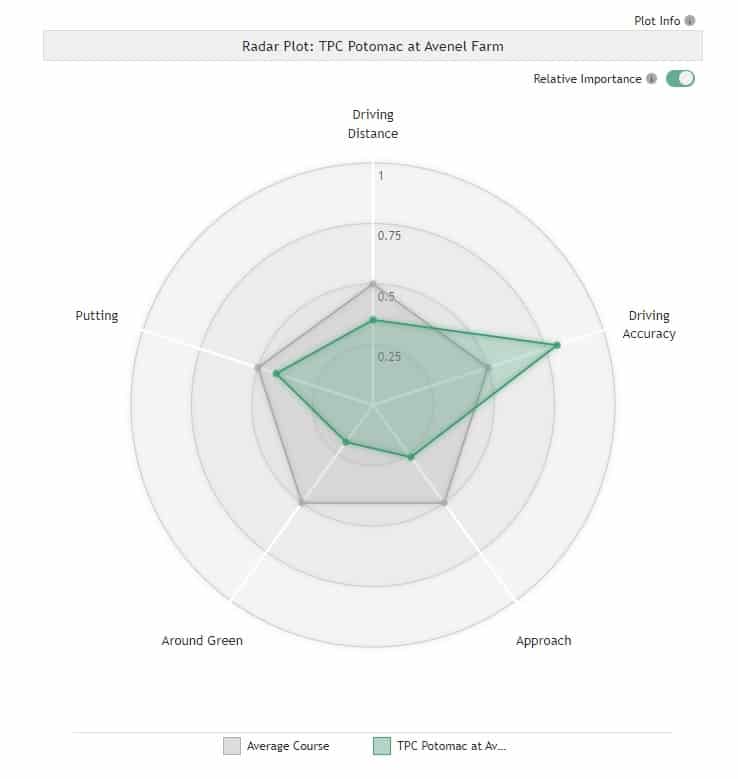 The only correlated trait amongst the 2017 and 2018 leaderboards was driving accuracy. Every other statistic yields very little correlation to success. But golfers who typically are very accurate off the tee had very good showings at the 2017 and 2018 Quicken Loans National at TPC Potomac. Some of this has to do with the weaker field strength of each tournament. Weaker fields generally yield more golfers who tend to be more accurate off the tee.
But a large part of this has to do with the setup of TPC Potomac. The fairways at TPC Potomac are only about 30 yards wide. The rough is 3 inches thick, as mentioned earlier. And outside of that is tall fescue and water hazards. It's part of the reason why TPC Potomac is one of the most penal golf courses to miss a fairway at on the PGA Tour. Its penal nature is similar to that of places like Sherwood Country Club, Shadow Creek, Liberty National, Muirfield Village and East Lake. As such, TPC Potomac is one of the few golf courses remaining on the PGA Tour that favors more accurate players.
But driving accuracy can be a bit misleading, especially when so many holes at TPC Potomac require clubbing down with less-than-driver. Therefore, let's also take a look at the variance in scoring on the leaderboard at TPC Potomac (per DataGolf):

Ball striking statistics drive scoring more than on and around the green statistics. How one scrambles and putts around the golf course had less of an effect on your position on the leaderboard as most other venues. While the bunkers at TPC Potomac are quite challenging (5th hardest on the PGA Tour), ultimately ones fate comes down to avoiding trouble off the tee and with their approach shots.
Next, let's take a look at where golfers will hit their approach shots from (per DataGolf):

There's a greater than average emphasis on approach shots between 150 and 225 yards this week. Despite the short scorecard yardage, the golf course forces several layups off the tee due to bottlenecking of fairways and the positions of hazards. As such, players will be tested with their intermediate and long irons this week.
In terms of comp courses, it's difficult to pinpoint a few. That's because there's only one metric (driving accuracy) that has a strong correlation with the leaderboard at TPC Potomac. Every other category shows very little correlation. That makes identifying comparable courses to be a challenge.
From my eye, TPC Potomac is a narrower version of Muirfield Village. While Muirfield Village is longer and wider, the routing and design of both golf courses are similar. As are their penal nature. And there's some crossover to both leaderboards at Muirfield Village and TPC Potomac. Francesco Molinari, the 2018 winner at TPC Potomac, holds a T3 finish at Muirfield Village. Kyle Stanley, the 2017 winner, finished T2 in 2018. Other players with good finishes at both TPC Potomac and Muirfield Village include Ryan Armour, Ryan Palmer, Rickie Fowler, Tiger Woods, Marc Leishman, Billy Horschel, Troy Merritt, Spencer Levin, Joaquin Niemann, David Lingmerth, Bill Haas, Bryson DeChambeau and Patrick Reed.
Per DataGolf, the following golf courses also yield very similar leaderboards to TPC Potomac:
TPC River Highlands
Sedgefield Country Club
TPC Sawgrass
East Lake Golf Club
TPC Twin Cities
TPC Deere Run
Sea Island Golf Club
Innisbrook Resort
All these golf courses tend to either value accuracy off the tee or produce leaderboards with more players who tend to be accurate off the tee than typical PGA Tour leaderboards.
Lastly, there are the Top 10 players in the field this week who have gained the most strokes per round at TPC Potomac:
Francesco Molinari: +5.13, 4 Rounds
Ryan Armour: +3.13, 4 Rounds
Sung Kang: +2.64, 8 Rounds
Abraham Ancer: +2.63, 4 Rounds
Keegan Bradley: +2.41, 4 Rounds
Ben Martin: +2.41, 4 Rounds
Beau Hossler: +2.38, 4 Rounds
Rickie Fowler: +2.27, 8 Rounds
Chesson Hadley: +2.13, 4 Rounds
Marc Leishman: +2.02, 8 Rounds
Most of these players possess similar skill sets, including accuracy off the tee. This list is a great preview of what to expect at the 2022 Wells Fargo Championship.
Related Content