A new event this week brings challenges to gamblers. The historic Mexico Open finally makes its debut as a full sanctioned PGA Tour event. This year's Mexico Open will be played on Greg Norman's Signature Course at the Vidanta Villarta Resort in Vallarta, Mexico. As always, here is your early deep-dive on the 2022 Mexico Open at Vidanta and a preview for how to bet. Go here for more info on golf betting.

2022 Mexico Open Preview – The Field
Highlighting the field this week is Jon Rahm. After a torrid 2021, he has cooled off significantly. The issues with Rahm appear to be a decline in performance with his iron play and his putting. Rahm has not been nearly as good in those two departments as he was in 2021. He's the biggest fish in the field this week and carries an outright price less than 10/1. Maybe let others fire a single bullet on him instead of you.
Two other notables are Abraham Ancer and Carlos Ortiz. Both players typically show well in events in Mexico. Both have really good track records at Mayakoba, a fellow Greg Norman design. They should be motivated to perform in front of the home crowd this week at the 2022 Mexico Open.
Otherwise, the field this week really stinks. The only others of note appear to be Gary Woodland, Daniel Berger, Patrick Reed and Tony Finau. Otherwise, this field resembles more a Corales Puntacana Championship than a mid-season PGA Tour event.
For the full field, click here.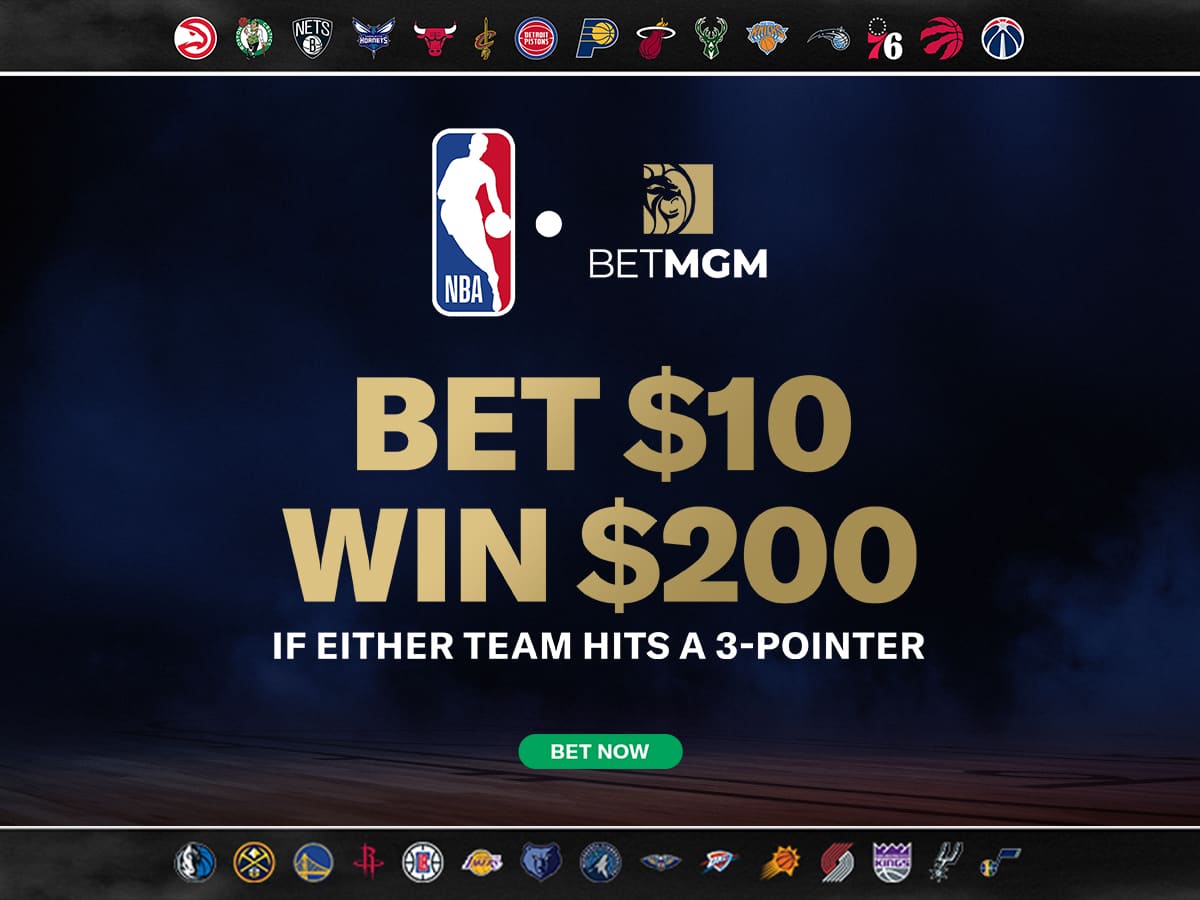 2022 Mexico Open Preview – The Golf Course
The Mexico Open has its origins going back to the 1940's. It was first played in 1944 at the Club de Golf Chapultepec (site of the defunct WGC – Mexico Championship). Over its history, it has been an event on the Latin America Tour, the European Challenge Tour and the Korn Ferry Tour. And the Mexico Open has several elite winners. Mexico Open champions include Tony Lema, Lee Trevino, Billy Casper, Ben Crenshaw and Stewart Cink.
However, 2022 marks the first time the Mexico Open is a fully sanctioned PGA Tour event. And this year's Mexico Open will play on the Greg Norman Signature Course at the Vidanta Villarta Resort. The golf course opened for play in 2016. It rests near the banks of the Ameca River and provides stunning views of the Sierra Madre Mountains. It's a relatively flat piece of property with very little elevation change tee-to-green. For resort guests, the golf course plays as a Par 73. However, a few Par 5's will be converted into Par 4's to make the Mexico Open a Par 71. It will run 7,456 yards on the scorecard. The golf course also features paspalum fairways, rough and greens.
There is very little information online about the golf course. There are a handful of reviews on GolfPass and a few bloggers who wrote about their experience at the golf course. But for this preview, I went ahead and charted out the golf course tee-to-green for each hole. Here's a hole-by-hole layout of the Greg Norman Signature course at the Vidanta Villarta Resort.
2022 Mexico Open Preview – Hole By Hole
Hole No. 1 – Par 4, 415 Yards

The course starts out with a dogleg right with water hugging all the way down the right side. Players reach the first fairway bunker with a 325 yard shot off the tee. However, the landing zone is really wide. And with the paspalum, the ball won't roll out very far. A tee shot aimed down the left should be more than acceptable.
Hole No. 2 – Par 4, 498 Yards
This hole was lengthened 25 yards for the event. It plays along the banks of the Ameca River and features a large sandy waste area down the entire left side of the fairway. Like the first hole, the fairway bunker is reachable with a 325 yard drive. But also like the first hole, the landing area is fairly wide. The slow nature of the paspalum also makes it play even wider.
Hole No. 3 – Par 4, 445 Yards

This hole seems intimidating off the tee. But to the professionals, the water down the left isn't really in play unless they miss badly. As long as they cut the corner over the waste area and in between the fairway bunkers, they'll set themselves up with a short iron into the green.
Hole No. 4 – Par 4, 520 Yards
Not only is this a converted Par 5 for the PGA Tour, they added about 15 yards to the hole with a new tee box. However, it's a very straight forward hole. As long as one avoids the fairway bunkers down the left, it's a relatively simple long iron into the green.
Hole No. 5 – Par 3, 208 Yards
While technically an island green, water likely won't be in play for any of the professionals. There does not appear to be significant run offs left, right or behind the green to allow a ball to race to the water. The paspalum should also slow down the ball enough if one misses the green. Two bunkers guard the left and right fronts of the green to also collect errant tee shots.
Hole No. 6 – Par 5, 603 Yards

Unless players are aided by wind, this Par 5 is likely reachable only for longer hitters. Otherwise, shorter players will lay up to a comfortable number for their third. The bunker down the right won't be in play for the professionals. A good poke also should take the long bunker down the left also out of play. Players won't likely aim down the left side at all in order to take the water completely out of play. The yardage seems daunting, but this hole should yield lots of birdies.
Hole No. 7 – Par 4, 297 Yards
A drivable Par 4 that doesn't carry too much risk. I doubt anyone will lay up off the tee. Only a poor tee shot towards the water on the left will get someone in trouble. While Greg Norman's greenside bunkers are notoriously deep and tricky, ending up in one of them should still be a simple up and down for birdie. Expect lots of scoring on this hole.
Hole No. 8 – Par 4, 496 Yards

While water lurks down the entire right side of the hole, players won't be aiming there off the tee. Even if one blocks their target a little right, it probably won't find the water. It likely won't carry in the air to there, and the paspalum should do enough to slow it down once it hits the ground. Another generous landing zone sets up a longish approach shot into the green.
Hole No. 9 – Par 3, 174 Yards

Once again, the water surrounding the green provides more bark than bite. Only extreme mishits off the tee should bring water into play. The greenside bunkers should collect any shots that miss left. To the right is plenty of room to miss yet still find ways to get up and down. The only issues on the hole would be to find one short-sided in one of the bunkers. Otherwise, a pretty straight forward Par 3.
Hole No. 10 – Par 4, 475 Yards

The safe tee shot is down the left. While a tee shot down the right provides the best angle to the green, water comes into play. But with nothing down the left to pose any trouble, players will aim left for a mid iron into the green.
Hole No. 11 – Par 3, 195 Yards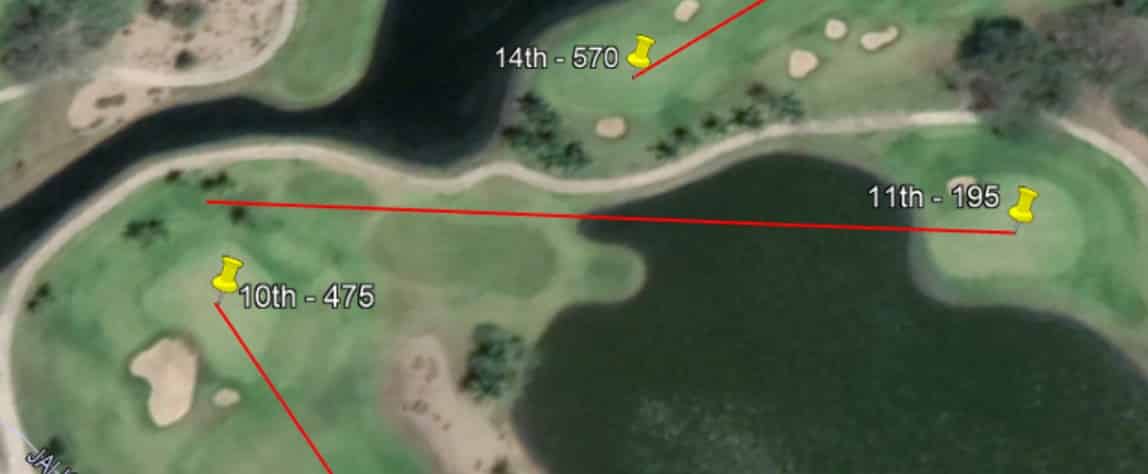 Here, water does come into play on the Par 3. Miss the green right and your tee shot will almost definitely find the water. Anything short also finds a watery grave.
Hole No. 12 – Par 5, 637 Yards
A beast of a Par 5. At 637 yards, it's almost definitely a three shot hole for everyone. And the tee shot is tough. A centerline bunker and two bunkers on the right don't provide a great visual for the players. The hole also (unnecessarily) features several bunkers down the left hand side of the hole in the layup zones. Not a guaranteed birdie on this Par 5.
Hole No. 13 – Par 3, 170 Yards

From up top, a relatively simple Par 3. I would guess the green is fairly undulated to provide some sort of protection. Otherwise, this hole doesn't appear to provide much challenge.
Hole No. 14 – Par 5, 585 Yards

A relatively stress free tee shot on the Par 5. There's nothing in front of the golfer off the tee to provide any anxiety. But going for the green does yield a bit of indigestion. A miss right finds the water. A miss left winds up in deep greenside bunkers. There's also a large waste area on the right side of the hole for anyone who botches their layup. But avoid all this trouble, birdie is a very reasonable expectation.
Hole No. 15 – Par 4, 459 Yards

Once again, a centerline bunker off the tee provides a bit of bother for the players. But otherwise, there is an ocean of paspalum fairway awaiting a tee shot. After that, players must make sure not to miss left. If so, this is a pretty stress free Par 4.
Hole No. 16 – Par 4, 505 Yards
Tough hole. The left side of the fairway features three bunkers that aren't ideal to be in on this long Par 4. To the right is the jungle and almost definitely an unplayable lie. And the green is guarded by three front bunkers. It'll require a perfect tee shot and perfect long iron to get in position to escape with par.
Hole No. 17 – Par 3, 226 Yards
Second tough hole in a row. A right to left long iron is the preferred shot shape. But those who have confidence in their power fades can start their line over the water. Definitely a hole that could see a swing at the top of the leaderboard.
Hole No. 18 – Par 5, 548 Yards
Most Greg Norman designs feature a closing Par 5. The Vidanta Villarta is no exception. And while it's definitely reachable in two, it's not an easy hole. Once again, this hole features a very tough tee shot. To the right is unplayable jungle forests. To the left is a large fairway bunker that'll almost definitely require a layup should one find themselves in it. This hole definitely could provide for some closing fireworks.
Overall, most of this golf course isn't all that tough. Even though it's fairly long, the wide corridors and stickiness of the paspalum should allow for the opportunity for low scores. But as shown above, the last three holes aren't a cake walk. There's definitely some opportunity for some late stage drama on Sunday in this closing stretch.

2022 Mexico Open Preview – Betting Strategies
Anytime the PGA Tour takes on a new course, there's a ton of guesswork from a handicapping standpoint. While this section usually is very in depth and detailed, I'm instead going to try and take a pretty simplified approach based on my findings from charting out the course on Google Earth.
For starters, it appears that this tournament will feature a lot of longer approach shots. Between the length of the golf course and the inability for balls to roll out due to the stickiness of the paspalum, players will have several long irons into most greens. As such, I'll look at proximity stats from 175+ yards this week.
After that, there appears to be a lot of room off the tee. And this golf course allows for players to hit a ton of driver. I'll likely be looking at Strokes Gained – Off the Tee stats a little more than most weeks. This golf course absolutely will allow someone to unleash driver off the tee all week. That'll give them an opportunity to have a really good week with that club. That stat should provide a preview of who will do well at the 2022 Mexico Open.
Next, I'll try and identify players who do well on paspalum golf courses. They include the following PGA Tour events:
Corales Golf Club – Corales Puntacana Championship
Grand Reserve Golf Club – Puerto Rico Open
El Camaleon Golf Club – World Wide Technology Championship at Mayakoba
The Ocean Course – PGA Championship
Of these golf courses, the Ocean Course likely shouldn't be used as a comp course this week.
In addition, the following European Tour venues also feature paspalum playing surfaces:
Yas Golf Links – Abu Dhabi HSBC Championship
Al Hamra GC – Ras al Khaimah Classic
Doha GC – Qatar Masters
Royal Greens G&CC – Saudi International
Golf Costa Adeje – Canary Islands Championship & Terife Open
Al Mouj Golf – Oman Open
On the off chance anyone in the field this week has a European Tour background, these are the ones to look at for paspalum experience.
Gamblers can also take a look at fellow Greg Norman designs. They include the following:
TPC San Antonio – Valero Texas Open
El Camaleon Golf Club – World Wide Technology Championship at Mayakoba
Al Mouj Golf – Oman Open
Jumeirah Estates – DP World Championship
There's definitely a lot of similarities between Vidanta Villarta and these places. The layout and yardage is similar to that of TPC San Antonio and Jumeirah Estates. And there's the paspalum connections between this course and El Camaleon and Al Mouj Golf. These golf courses provide a nice preview of what to expect at the 2022 Mexico Open.
Lastly, the few pictures available of the golf course show some of Greg Norman's trademark bunker tendencies. Norman tends to overbunker his golf courses, especially around the greens. And the bunkers next to each green tend to be pretty deep. Like at the Valero Texas Open, I'll be looking at sand save percentage to target guys who are adept at getting up and down from bunkers.
Stick to these relatively simple betting strategies, and you should have a decent chance of a successful Mexico Open.
Related Content