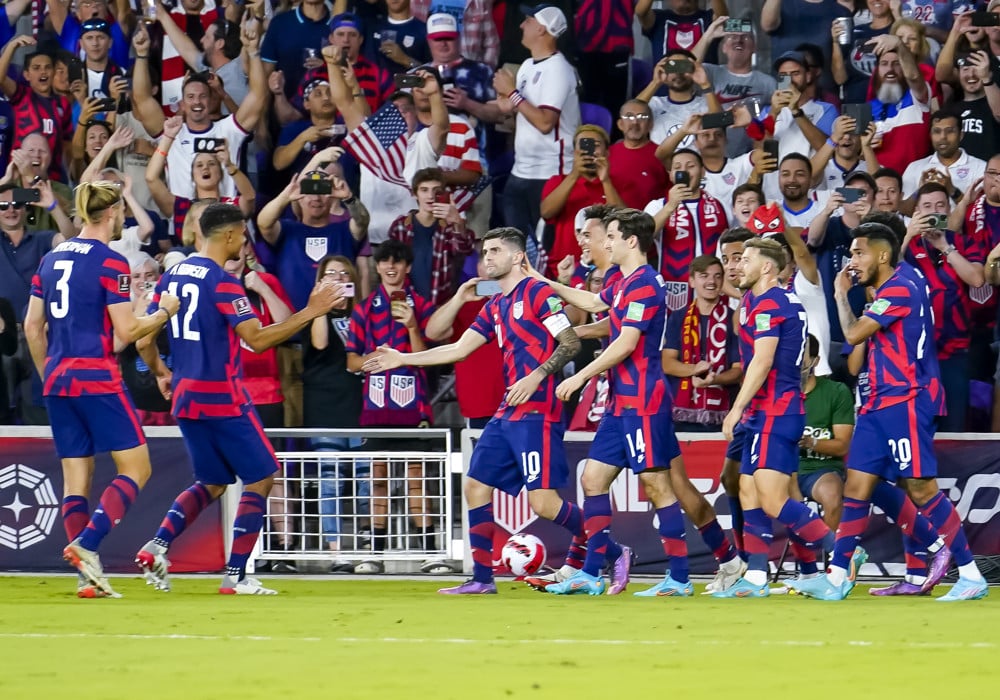 The draw for the Finals of the 2022 World Cup in Qatar was made this week. With that, we can begin plotting how the World Cup teams might negotiate their way to glory.
The first half of the draw, comprising groups A-D, looks slightly easier and more diverse for the teams who find themselves there. The latter half, Groups E-H, gets difficult quickly. The 2 halves of the draw don't merge until the semi-final stage, so bear this in mind when you're looking at making some future bets on how far a team might go in the tournament. You can see the full World Cup draw here.
I've looked at the top contenders and worked out their route to the latter stages, so let's see how it shakes out.
World Cup Teams and their Path to the Finals: Post-Draw Analysis
Netherlands
Outright +1200
To win Group A -160
To qualify from Group A -1000
The Netherlands got a dream group helped by the quirk of the draw that saw hosts Qatar given a top seeding. A likely last 16 game against a 2nd tier nation, most likely USA or a lower-ranked European side, should see them into the quarterfinals. Argentina likely awaits them here. The South Americans have found top-class European opposition too much for them in recent years. I can see the Netherlands making it to the semi before eventually succumbing to either France or England.
Top Players: Liverpool defender Virgil van Dijk is the best in the world in his position, and they'll be relying on Memphis Depay at the other end to bang in the goals.
England
Outright +750
To win Group B -300
To qualify from Group B -2000
England couldn't have hand-picked a better group to set them on the way to repairing the heartache of the Euro 2020 Final loss to Italy. The Three Lions really should top this section easily, leaving them with a last 16 tie against either Senegal or Ecuador. Neither of these opponents should be able to hold the English. The QF is where it gets tough, probable opponents being France, followed by Germany and Spain in the semi and then final. You need to beat the best, however, and England has a lovely run through to the business end of the tournament.
Top Players: England has a great young squad. Players like Jack Grealish, Bukayo Saka, and Declan Rice will complement the tournament-winning potential of striker Harry Kane.
Argentina
Outright +1000
To win Group C – 160
To qualify from Group C – 1200
Group C has a couple of banana skins for Argentina to avoid. Both Mexico and Poland will feel they can push them all the way. Argentina will need to win the group to avoid a last 16 date with France and give them a more winnable fixture against Denmark or Australia. After that, it's the Europeans, and I think the quarterfinals is where they will come unstuck.
Key man: Now 35 years of age, Lionel Messi will carry the hopes of his nation in a World Cup for a final time. Still a top-quality performer, but isn't surrounded by too many others. Have a look at all 6 of his World Cup strikes here:
All of Lionel Messi's goals for Argentina at a FIFA World Cup. pic.twitter.com/dLXSbEWTit

— Roy Nemer (@RoyNemer) March 31, 2022
USA
Outright +10000
To win Group B +650
To qualify from Group B +100
The US has a chance of getting out of this group. They will need to get a result against Iran and a yet-to-be-determined European second-tier side (Wales/Scotland/Ukraine). However, unless the Netherlands make a hash of winning Group A, then they await the Americans. That would be a not-so-sweet 16. The +100 on the USA emerging from the group is a good price.
Top Players: Chelsea's Christian Pulisic is not always first choice for his club but is a premium piece for his country. Being based in England Pulisic immediately had team-mates who would soon become adversaries. I'm a big fan of Weston McKennie too, and have a huge soft spot for DeAndre Yedlin after his time playing for my EPL club Newcastle United.
🗣️'The first call I got was from Mason Mount!' 📞

Christian Pulisic's reaction to the World Cup draw after England were placed in the same group as USA. pic.twitter.com/X65pfKWRP1

— Sky Sports News (@SkySportsNews) April 2, 2022
France
Outright +650, to win Group D -160, to qualify from Group D -1200
France was another beneficiary of the softer-looking bracket. They should easily top the group before getting a winnable last 16 against Mexico or Poland. Like the rest of this half of the draw, the QF is where it gets hard. France will need to dispose of England, Germany, and then Spain or Brazil in successive games to lift the trophy. That's a big ask and I think they'll fall short.
Top Players: Kylian Mbappe of PSG is the poster boy of French football. If gets hot he is virtually impossible to stop. The squad has plenty of enigmas, however, none more so than the Manchester United pair of Paul Pogba and Raphael Varane who have been very much underwhelming this season.
Spain
Outright +900
To win Group E – 115
To qualify from Group E – 1000
Group E is fascinating. Powerhouses in Spain and Germany are expected to emerge, but the finishing order will go a long way to determining their path through. If Spain top Group E I expect them to be able to dispatch Croatia in the last 16. This will almost certainly see them meet Brazil in the QF. I'm fading the South Americans against this class of opposition, meaning Spain progresses to an easier looking semi v Netherlands before meeting England or France in the final. The presence of Germany in this group has lengthened the odds on Spain and makes all futures on them attractive to me.
Key Men: Spain has a lovely blend of experience and youth. Ferran Torres, Dani Olmo, and Rodri aren't even nearly at the peak of their powers yet but will feature heavily in this tournament. They would be top class on any of the teams in this World Cup.
Germany
Outright +1200
To win Group E +120
To qualify from Group E -800
Much of what applies to Spain applies here. If Germany does finish 2nd in the Group they have a run of entirely European opposition. Belgium is top class, and the winners of that tie will likely face Portugal. This is a really tough route. The Spain-Germany game is crucial.
Top Players: Veteran Goalkeeper Manuel Neuer will again be between the sticks for the Germans. Thomas Mueller is also a stalwart of this side. He'll need some help from the likes of Serge Gnabry and Kai Havertz if they are going to topple the Spanish.
Belgium
Outright +1200
To win Group F -200
To qualify from Group F -1000
Belgium should survive Group F unscathed, Croatia is the main danger. However, whether they finish 1st or 2nd is irrelevant as likely either Spain or Germany awaits. Should Belgium pull this off it will be Brazil in the QF, and that's enough for them.
Top Players: The 'Golden Generation' of Belgian football might be running out of time. I adore watching Kevin de Bruyne play football he's a dream. The enigmatic Romelu Lukaky will be key to his team's chances here, if he can get amongst the goals Belgium is a real danger.
Brazil
Outright +550
To win Group G -210
To qualify from Group G -1000
Tournament favorites Brazil have a tricky group. They face 3 opponents who can cause them trouble, Serbia, Switzerland, and Cameroon. They are still top picks to win, and this will give them a nice looking last 16 ties against Uruguay, South Korea, or Ghana. The QF is where things get messy, with the Euro giants Spain or Germany likely opponents. Brazil has struggled with high-class European competition, and this would signal the first of 3 such ties Brazil would have to win to lift the trophy. I think it's too much for them.
Key Men: Neymar should have a bit more help this time around. Roberto Firmino and Raphinha of Leeds United are both live threats, and Liverpool stopper Allison is amongst the best around. His club teammate Fabinho will play the crucial role of midfield enforcer, allowing the flair players to do their thing.
Portugal:
Outright +1200
To win Group H – 150
To qualify from Group H -300
I'm not a huge fan of this Portugal side, and the group is competitive. Uruguay, Ghana, and South Korea are all problematic opponents. If they progress in the top spot, the mackerel-filled Portuguese get an equally tough tie against Serbia or Switzerland, before a QF versus Germany. At one of these junctures, the Portuguese are going to exit.
Key Men: Cristiano Ronaldo is having an odd season with Manchester United, but he never seems to let down his country. Bruno Fernandes and Bernardo Silva are both EPL players who hold key roles in how a limited Portuguese side performs. They can hang with some of the tougher teams in this World Cup draw.
The Fun Outsiders
Canada
Outright +15000
To win Group F +1600
To qualify from Group F +475
Canada needs to spring a surprise against Croatia to give them a chance of wrestling the second spot in this group. If they can manage that it will be a great thing, and give them the honor of getting humped by Spain in round 2. It's a great achievement to have made it and Head Coach John Herdman knows as much.
Serbia (+15000)/Switzerland (+8000)
I've put these together as they are most likely fighting for second place in Group G behind Brazil. Both are in that second tier of European sides that tend to make it to the last 16 or QF at best. However, there is a route that goes through Portugal to the World Cup quarterfinals so both teams will like their chances of getting at least to the last 8.
Japan:
Outright +25000
To win Group E +1100
To qualify from Group E +430
The Japanese got a horror draw. Usually reliable for a fun run in big tournaments, the Japanese have the daunting task of getting at least one positive result against Spain or Germany in order to make it to the last 16. If they manage that it's Belgium or Croatia, and then probably Brazil. Good luck, my friends, good luck. Takuma Asano is a player doing good things in the Bundesliga.
Last week: Qualified for the World Cup with Japan. 🎌

This week: Wonder-goal for @VfLBochum1848EN. 😱

Not bad going for Takuma Asano. 👏 pic.twitter.com/9rGiCMr8ui

— Bundesliga English (@Bundesliga_EN) April 2, 2022
Qatar
Outright +35000
To win Group A +1400
To qualify from Group A +700
The host nation often does well in World Cups, so why not Qatar here? Their opening game against Ecuador will be crucial to their chances of progressing. If they can come away with 3 points there they will go at Senegal with a real chance of making round 2. Should they make it out of the group they will most likely face England. Winning that will be a shock of epic proportions. The +700 for them to emerge from the group is a live bet, Ecuador and Senegal are not terrifying opposition. The World Cup is all about teams getting hot, but sometimes no amount of heat can salvage them.
Uruguay (+5000), Ghana (+25000), South Korea (+25000)
These 3 sides are all in group H with Portugal, and it will be a real scrap to see who can make the knockout stages. Uruguay is the shortest price but I'm not convinced by their aging front line. Ghana did nothing for me in the African Cup of Nations, leaving South Korea as the team I think can progress. Unfortunately, whichever of these sides makes it, will have the boys from Brazil awaiting them, and barring a huge shock that will be the end of the line.
Morocco
Outright +25000
To win Group F +1000
To qualify from Group F +300
Morocco is the kind of team that could grind out some ugly results against Belgium or, most likely, Croatia. Unfortunately, they are in the quarter of the draw which sees any team coming out of this group getting Spain or Germany, at which point it will be Moroc-go. I'm sorry. A long shot among the World Cup teams, but could be a fun qualifying bet.

RELATED CONTENT