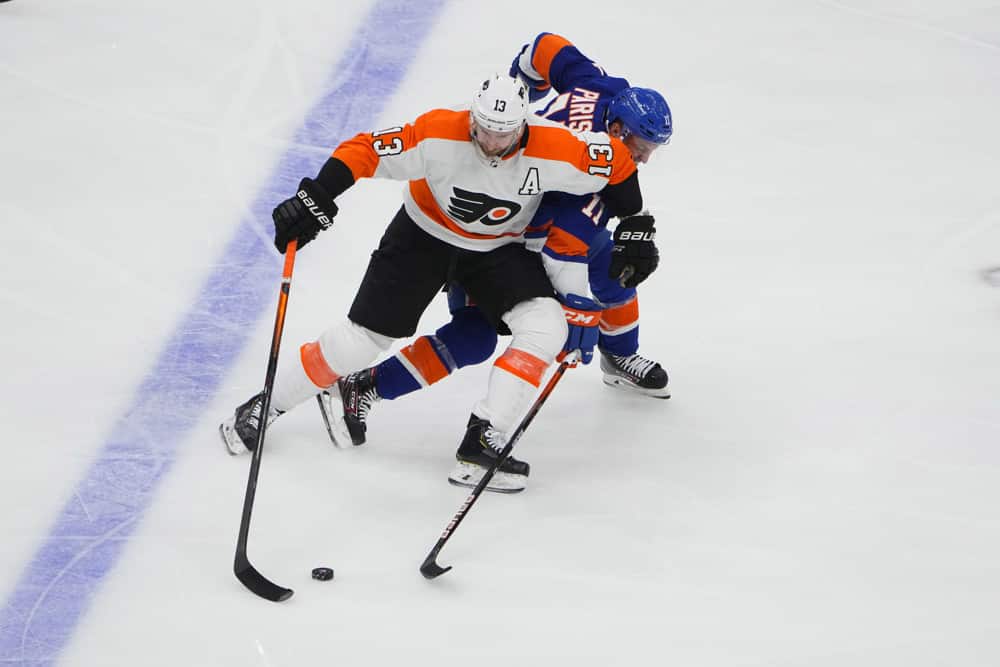 There have been many changes around the NHL after the trade deadline. We have seen many new-look lineups and players getting more minutes and opportunities on the ice. It's essential to keep an eye on daily lineups at this juncture of the season; we may continue to see fresh talent rotated onto non-playoff teams that can help our fantasy hockey teams. This article will highlight players with low ownership rates who have seen an increase in minutes in the recent weeks. We only have a few matchups left in the regular season for fantasy hockey; let's keep our eyes on the prize and dig in for value plays on this list or players with similar opportunities.
Fantasy Hockey: Players with Increased Minutes
C – Kevin Hayes – 12% Rostered
Kevin Hayes is benefiting from the departure of Claude Giroux. Hayes starts at the center on the 2nd line with Oskar Lindblom and Hayden Hodgson. In the last two weeks, Hayes averaged 19:45 minutes played; before this stretch, he averaged just 16:05 minutes per game through 24 appearances. Hayes has taken advantage of his opportunities and has nearly doubled his production in the last two weeks.
Through his first 24 games, Hayes registered three goals and eight assists and was a minus 11. However, he's recorded four goals and six assists in his last seven games and is a +5 on the ice. This turnaround has doubled his fantasy point production; he averages 5.23 fantasy ppg through the season, but he's averaging 11.05 fantasy ppg in the last two weeks.
Hayes is just 12% rostered, so there is an excellent chance he's available at this time. He's a great player to stash or even scout for a few more games; his popularity is growing, his ownership rate is up 8% in the past day, so don't wait too long!
Kevin Hayes ties it up for the #Flyers!! pic.twitter.com/qbSNLkBKl7

— High & Wide Hockey | For Philadelphia Flyers Fans (@FlyersHW) March 20, 2022
LW/RW – Taylor Raddysh – 2% Rostered
Taylor Raddysh is an option for owners in deeper leagues since arriving in Chicago via trade. There's less trust with a young player like Raddysh, but he's backing up his play in the past week. He's seen an increased role in Chicago's lineup. Raddysh finds himself on the 2nd line alongside Jonathan Toews and Dominik Kubalik. Raddysh is also getting time on the 1st powerplay unit.
Raddysh has appeared in 58 games this season, but most of them he filled out as a bottom-six player for Tampa Bay, and didn't touch the ice with any consistency. Through his first 53 games, he averaged just 11:03 minutes per game. However, in his last five games, he's averaging 15:56 minutes per game. He hit 17:20 minutes played in his previous start; there's still room for growth.
Raddysh has four points in his last five games, it may not sound like much, but he is a young player trending in the right direction and will continue to see a healthy diet of minutes. I think he's worth a look in deeper formats, but I'm not afraid to add him to my roster; the Blackhawks have a few favorable home matchups this week where I'd more than welcome his production.
Taylor Raddysh scores his sixth career NHL goal — two of them have come at the United Center. #Blackhawks pic.twitter.com/Opudm7KFxe

— Charlie Roumeliotis (@CRoumeliotis) March 21, 2022
C/RW – Dawson Mercer – 6% Rostered
Dawson Mercer is now playing on the Devil's top line alongside Jack Hughes and Yegor Sharangovich. The promotion has offered a slight uptick in minutes as he's averaging an extra two minutes per game in the past two weeks. Mercer is also on the 2nd powerplay unit at the center position.
Mercer offers steady production throughout this season; he consistently averages around five fantasy points per game, so while he doesn't have a soaring ceiling, he does provide a reliable floor. Mercer offers your fantasy team scoring upside, but he may not be a player you hold down the stretch of the playoffs; I see him as a fill-in player on a slow night, not someone I necessarily want to commit to long-term.
Throw him on your watch list and scout him out this week; the Devils play three of their next four games at home; I think he'll give us more confidence to scoop up his value in the coming days.
🚨GOAL🚨

Dawson Mercer puts the Devils within one 28 seconds after Marchand's goal. #NHLBruins 2#NJDevils 1 pic.twitter.com/xuceivdVmE

— Hockey Night in New England (@HockeyNightInNE) November 13, 2021

D – Alexander Romanov – 18% Rostered
Romanov has seen a massive increase in minutes since the departure of Ben Chiarot. Romanov averaged 19.27 minutes per game through his first 55 appearances this year. However, Romanov averages 23:00 minutes per game in the last two weeks.
His fantasy hockey production has made a steady climb as well. He averages just 3.93 fantasy ppg through the season; however, in the last two weeks, he's up to 8.36. He's also turned around his plus/minus rating recently. He's a +8 through his previous five games; it's even better considering he's now an even 0 on the season. At an 18% roster rate, he'll likely be available to add; he's an easy pick-up for me.
🚨GOAL🚨

Dawson Mercer puts the Devils within one 28 seconds after Marchand's goal. #NHLBruins 2#NJDevils 1 pic.twitter.com/xuceivdVmE

— Hockey Night in New England (@HockeyNightInNE) November 13, 2021
D – Carson Soucy – 1% Rostered
Soucy has seen an increased role with the departures of Mark Giordano and Jeremy Lauzon. He's playing an extra two minutes per game across the past two weeks and is installed on the 1st defensive pairing with Jamie Oleksiak. While Soucy's production hasn't been excellent this season, he's had a few solid recent outings.
Soucy averages 4.87 fantasy ppg on the season, but through the last two weeks, he's up 9.13. The extra minutes are going a long way for his production; he recently had a two-goal game. Unfortunately, Seattle isn't in a position to go on any positive runs, but Soucy should be on the ice consistently down the stretch.
The extra time is doing wonders for his production, and we should be here for it. You can scout him for now, but I see an increased ownership rate coming his way. He won't be under the radar for long.
CARSON SOUCY SCORES OFF HIS OWN REBOUND #SeaKraken pic.twitter.com/eNrXrWgWmm

— Spoked Z (@SpokedZ) October 19, 2021