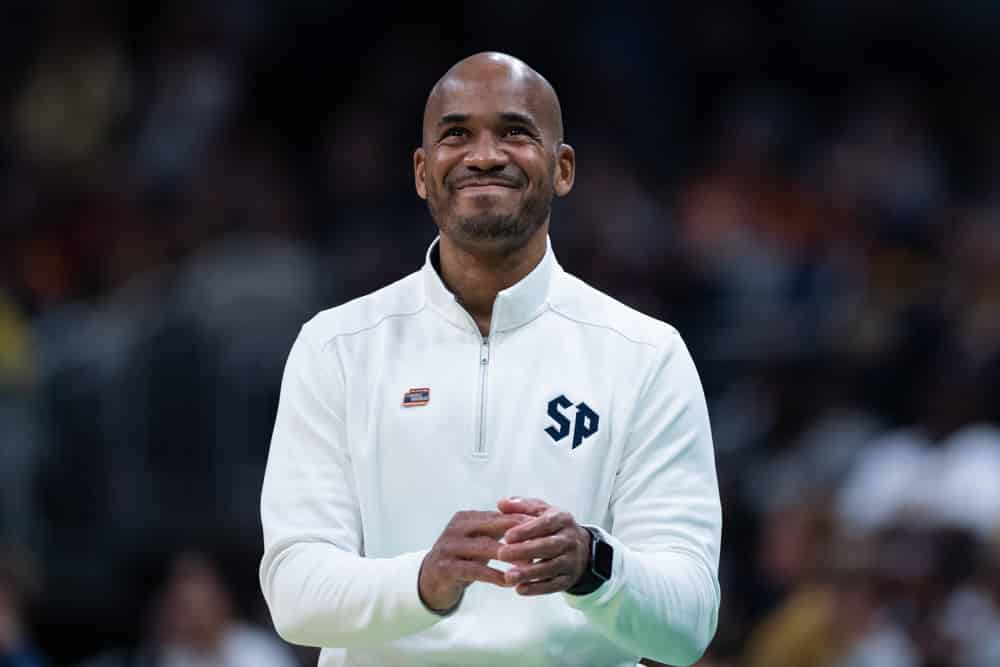 We are down six teams with two spots left for a trip to the Final 4. The Sweet 16 had everything you wanted to see from upsets to tough fought victories. By the end of tonight, we will know the four teams heading to New Orleans for the Final 4. Let's dive into tonight's two games and preview my favorite plays for tonight's games as the NCAA Tournament Elite 8 concludes.
NCAA Tournament Elite 8 Picks: College Basketball Best Bets For Sunday, March 27th
NCAA Tournament: #10 Miami (FL) vs #1 Kansas
Time: 2:20 pm EST
TV: CBS
Spread: Kansas -6.5
Total: 147
A win and you secure a spot in the Final Four. No surprise we see this Jayhawk team as I would say a pretty light path up until this spot. Both teams are well-coached so there is no real advantage there. Due to their offense, there is no surprise Miami is playing in this game. They beat an underrated USC team, one of the best teams in the country, Auburn, and a very good defensive Iowa St.
The way the Hurricanes don't turn the ball over is going to be huge in this game. If Kansas is able to generate steals and push the pace, it might turn into a long day for Miami. But we can make the same argument for the Jayhawks because they're also bad with their transition defense. I think where the Jayhawks will win the battle is on the glass. But if Miami could stay out of foul trouble and team rebound, they could stay in this game.
If this offensive run continues, it has to come from Miami's 3pt shooters, Sam Waardenburg and Charlie Moore. If Kansas isn't able to come out and defend the shooting of Miami, I think they will be able to stay alive in this game. Now, if this game comes down to late-game fouling, I trust the Hurricanes. As a team, they shoot around 74% from the line which is better than the Jayhawks. Give me the better free throw shooting team to stay hot and cover this number.
Elite 8 Pick: Miami +6.5
---
NCAA Tournament: #15 St. Peter's vs #8 UNC
Time: 5:05 pm EST
TV: CBS
Spread: UNC -8
Total: 137
St. Peter's is a small school located in the state of New Jersey. Coming from New Jersey, I think I and only a few others have heard of this small school. If you didn't know about St. Peter's before this tournament, you do now. St. Peter's has been a blessed team this tournament. No one gave them a chance from the start, but they kept defying the odds.
Sure, St. Peter's has a chance. Look what they've done this tournament, being the number #2 Kentucky, #3 Purdue, and a very good #7 seed Murray St. This tournament is all about momentum and the Peacocks are getting hot at the right time, playing with a lot of confidence. St. Peter's has covered 10 straight games since February 20th, this is not a team I want to get in front of right now.
UNC is beatable. If the Peacocks are able to get the Tar Heels into foul trouble and force tough shots, then St. Peter can keep this one close. The Peacocks have to be able to take care of the ball because if they start turning the ball over, UNC can get out and run their transition offense.
Caleb Love and Armando Bacot have been the team's two most consistent players in this tournament. I think the Peacocks with their tough, grimy defense and forcing UNC into difficult shots, they'll be able to cover this number. St. Peter's are top 25 in defense and can guard the arch well. Who would I be if I didn't back the Peacocks coming from New Jersey? It's Peacocks or pass for me.
Elite 8 Pick: St. Peter's +8
---