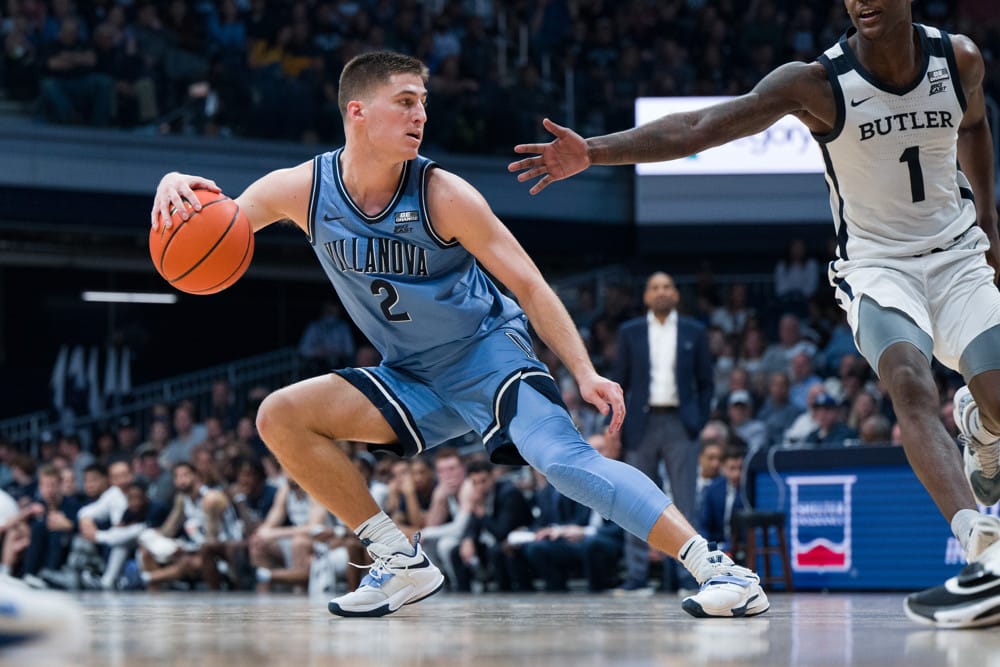 It's Sweet 16 time! We just witnessed an outstanding four days of basketball which concluded the first and second round of the NCAA Tournament. We saw shocking upsets, buzzer beaters, and overall great games. The final 16 teams left standing will be playing Thursday and Friday with those winners doing battle for Final Four berths on Saturday and Sunday. It's also a good time to check in on some odds to make the Final Four and to cut down the nets. I'll go region by region and provide my favorite bets in each.
NCAA Tournament Sweet 16 Picks: Best Bets To Win Each Region
NCAA Tournament Picks: East Region
Purdue: Final Four -125 / Win it all +900
UCLA: Final Four +220 / Win it all +1400
UNC: Final Four +380 / Win it all +2800
With all due respect to Saint Peter's, there's no way the 15 seed can win two more games and make it to New Orleans, let alone win four more. The Peacocks have been a wonderful story and one of the reasons why we love college basketball, but they aren't getting past Purdue.
That should leave the Boilermakers waiting for the winner of the UNC/UCLA matchup in the Elite Eight. With that said, Purdue currently has -125 odds to make the Final Four and +900 odds to win it all. Those odds, for a team still just ranked 89th in Adjusted D, aren't juicy enough for me. Purdue faced a completely overmatched Yale team in Round 1, the offensively challenged Texas Longhorns in Round 2, and now they get a 15 seed on Friday. That's one of the easiest paths to the Elite 8 that I can recall and one of the reasons why I'm not buying in on Matt Painter's squad.
The Tar Heels have as much talent as anyone but they've failed to string together exceptional basketball on a consistent basis all season. I love the frontcourt of Armando Bacot and Brady Manek but RJ Davis and Caleb Love are as unpredictable as they come. Davis had a fantastic game vs Baylor but only shot 1-10 vs Marquette. Love hit six 3's in Round 1 but has only shot 6 of 21 from the field in this tourney with 8 turnovers to just 3 assists. Lastly, UNC basically has no bench (339th in the country in Bench Mins). The deeper we go into this tournament, the bigger of a problem that might become.
Therefore, as long as Jaime Jaquez's ankle is fine, I have UCLA making it out of this region and representing the East in the Final Four. I like the odds of +220 and while we're at it – let me get a taste of that +1400 to win it all as well. The 1-seeds in this tournament have been less than impressive and this UCLA squad was built for success in March. Tyger Campbell willed his team to the win over Akron and the Bruins defense decimated a really good St Mary's team in Round 2. Plus, Johnny Juzang hasn't even played all that well yet. He's going to remind us of how good he is offensively soon.
NCAA Tournament Best Bet: UCLA +220 to make the Final Four and +1400 to win it all.
---
NCAA Tournament Picks: West Region
Gonzaga: Final Four -175 / Win it all +220
Arkansas: Final Four +1000 / Win it all +6000
Texas Tech: Final Four +380 / Win it all +1300
Duke: Final Four +450 / Win it all +1600
The West is the only region that went chalk and has all four top seeds still alive and well. In the process, the Zags have looked anything but dominant. They let the #16 seed Georgia State hang around way too long and needed a second half comeback to topple Memphis. The matchup vs Arkansas favors Gonzaga but their odds, mixed with how pedestrian they have looked, prohibit me from placing any wagers on them.
I'm certainly not taking Arkansas to advance any further which leaves the winner of the Duke and Texas Tech matchup as my favorite future in the region. I'm a Duke guy but I dread this matchup vs the defensive-minded Red Raiders. Starting in about mid-February, the Blue Devil defense has not been championship caliber. The poor defense was also on display vs an average Michigan State offense which resulted in Duke needing a comeback in the final minutes to move on. Lastly, the health of AJ Griffin is a concern and Duke is a thin team as it is.
While I question the Texas Tech offense, and their struggles shooting the ball limits their ceiling, they should find enough success to survive and advance. The Red Raiders are a team loaded with upperclassmen who are long and athletic. Texas Tech played in two NCAA tournament games a season ago and brought in Kevin Obanor from Oral Roberts who went to the Sweet 16 last year. Meanwhile, this is the very first NCAAs for Duke's entire starting five. Experience matters in March. At +380 odds, my favorite bet would be on the Red Raiders to win twice more.
NCAA Tournament Best Bet: Texas Tech +380 to make the Final Four
---
NCAA Tournament Picks: South Region
Arizona: Final Four +145 / Win it all +550
Houston: Final Four +220 / Win it all +900
Michigan: Final Four +900 / Win it all +6000
Villanova: Final Four +240 / Win it all +1400
The South is wide open. Congrats to the 11-seed Michigan for making it to the Sweet 16 but they're the only team left that doesn't have a realistic chance of winning two more. Arizona didn't look great vs Wright State or TCU but they're a 1-seed for a reason. The defense has been a question, but the trio of Mathurin, Koloko, and Tubelis is still excellent and Dalen Terry is playing good ball as well. Offensively, the Wildcats can score points with anybody. How they handle Houston and their 333rd pace in the country (Arizona has the 5th fastest) will be fascinating to watch. Can they handle the physical Cougars who will attempt to shorten the game and make it a rock fight?
I love the brand of basketball that Houston plays. Kelvin Sampson is a great coach and this team has a chip on their shoulder. The lineup including Kyler Edwards, Taze Moore, and Jamal Shead is tough-as-nails with the ability to create mismatches all over the court. After making the Final Four a season ago and having a stellar regular season campaign this year, getting the 5-seed was disrespectful. What will prevail against Arizona – toughness or talent?
While the 1 and 5 seeds do battle, Villanova only needs to get past an 11-seed to reach the Elite 8. They have the easier path to the Final Four with juicier odds than Arizona or Houston. The Wildcats quietly took care of business in rounds one and two by hitting threes, not turning the ball over, and not missing from the free throw line. It might not be a sexy brand of basketball but Jay Wright's squad is rock-solid. They're also an uber-experienced squad with great guard play. Additionally, the emergence of Eric Dixon is rounding the team out by providing some much needed interior presence.
I'm torn here but I don't believe Arizona is tough enough to knock off Houston and Villanova in back to back games one day apart. It wouldn't be the worst idea in the world to put a unit on both Nova and the Cougars. However, we go big over at SGPN so give me the Villanova Wildcats at +240 to get to the Final Four. Jay Wright has this team in excellent form and nobody seems to notice.
NCAA Tournament Best Bet: Villanova +240 to make the Final Four
---
NCAA Tournament Picks: Midwest Region
Kansas: Final Four -190 / Win it all +425
Providence: Final Four +600 / Win it all +7000
Iowa St: Final Four +600 / Win it all +10000
Miami: Final Four +500 / Win it all +8000
Do we trust Kansas enough to lay -190 to win the next two games? First off, the matchup on Friday vs Providence should be excellent and I'm taking the 7.5 point dog to cover. Remember, Kansas struggled to put away a Creighton squad that was down two starters.
On paper, Kansas looks like the complete team. Jalen Wilson and David McCormack are a formidable duo on the inside and Ochai Agbaji, Christian Braun, and Remy Martin are excellent on the perimeter. Plus, they have depth and experience coming off the bench. The Big 12 has proven it's the best conference in America and Kansas won that tournament convincingly. Yet somehow there's been too many close calls for me to fully buy in. Maybe it was the split with TCU in early March, the split with Texas, or the home-court drubbing at the hands of Kentucky that casts doubts but I'm not a believer yet.
If Providence can cover the 7.5, they can win outright too. Plus the winner of that matchup will be favored vs the winner of Iowa St/Miami. Providence has been slept on all year. They start four seniors and have a couple more that come off the bench and play big minutes. If Nate Watson and Noah Horchler can neutralize the Kansas bigs, Jared Bynum and Al Durham are hard-nosed perimeter players that will come through in the clutch.
JARED BYNUM!!!

#17 PROVIDENCE GETS A HUGE W OVER #21 XAVIER ON THE ROAD
pic.twitter.com/XTyacNkCgO

— Barstool Bench Mob (@stoolbenchmob) January 27, 2022
I understand Iowa State and Miami have an easier route to the Final Four but if you aren't a Providence believer, then they'd still face Kansas in the Elite 8. As far as I'm concerned, the Friars are a much more complete team. With comparable odds to the Hurricanes and Cyclones, me favorite wager would be for Providence to get to the Big Easy.
NCAA Tournament Best Bet: Providence +600 to make the Final Four