It's golf's very own version of March Madness! This week the world's top players go head-to-head in Texas for the WGC – Dell Technologies Match Play at Austin Country Club. As always, here is your early deep-dive on the WGC – Dell Technologies Match Play and a preview for how to bet.
WGC Match Play Preview – The Field
Like all WGC's, only the top players in the world are eligible to compete. Therefore, this field is completely stacked. This weekend, 64 of the Top 69 players in the OWGR will vie for the title. The only ones missing are Cameron Smith (#6), Rory McIlroy (#7), Hideki Matsuyama (#11), Harris English (#22), and Phil Mickelson (#45).
The biggest headline of who is in the field is Bryson DeChambeau. Golf hasn't seen Bryson play since the 2022 Saudi International. Since then, he's been on the mend as he recovers from wrist and back injuries sustained prior to the Sony Open. If he's healthy, he can be a very lethal match play competitor because he's so volatile.
For the full field, click here.
WGC Match Play Preview – The Golf Course
The Austin Country Club was first established in 1899, however, the site of the current club was established in 1984. The golf course itself was designed by Pete Dye, who true to his reputation created a championship-caliber golf course designed as a thorough test of all a player's abilities. While the golf course is Bermuda, it's not warm enough to support healthy growth this time of year. As such, the fairways are overseeded with a Ryegrass/Fescue mix. The greens are overseeded with Poa Trivialis. However, unlike other overseeded golf courses the rough at Austin Country Club remains Bermuda. As such, the rough will be primarily dormant Bermuda with a hint of green grass emergency from dormancy.
What stands out about the golf course is a different style and feel between the front nine and the back nine:
The front nine has the look and feel of a more traditional Texas or Southwestern golf course. It's much more rugged than the back nine. While the directional layout of the front nine isn't all that mind-blowing, Pete Dye did a very nice job using the surrounding terrain to create obstacles and challenges for the golfers. There is a lot of sloping and side-hill lies on the front nine. The holes use the surrounding canyons as natural hazards quite well. They play a prominent role on many approach shots and can put a player down early if they hit into it.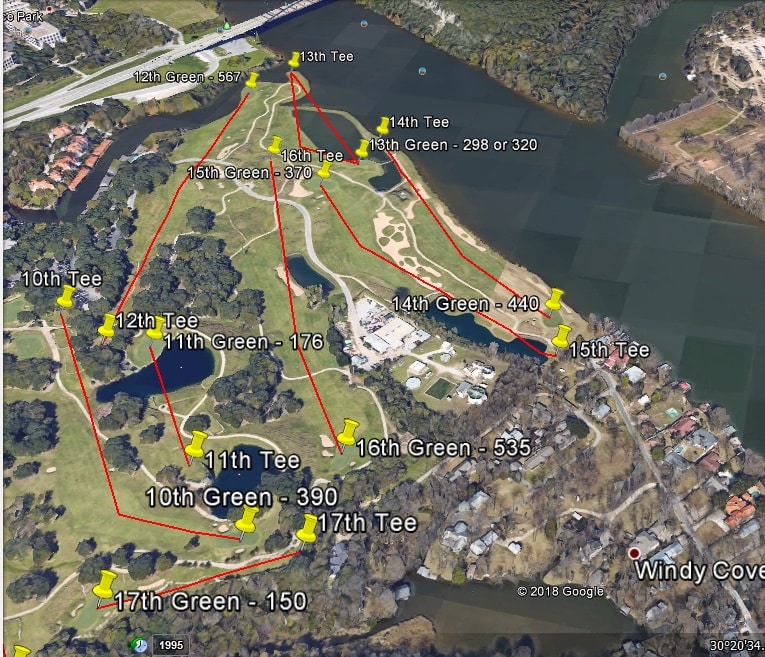 The back nine has more of the look and feel of a traditional Pete Dye design. There are more water hazards on this side of the golf course as well as Pete's trademark expansive, elongated fairway bunkers. The back nine is also much more interesting visually on television, particularly from holes 12 through 14 which work their way towards the Pennybacker Bridge and Lake Austin. This side of the golf course is much more exposed to the trademarked Texas winds. The front is much more protected by surrounding trees. The back nine can play pretty difficult in windy conditions, particularly the Par 3 11th.
While the golf course itself is solid, the most important question is if it's a good golf course for match play. Overall, Austin Country Club meets these criteria. The golf course isn't overly long and is fairly generous off the tee. However, it's penal for those who are missing fairways, particularly for a match play format. That shrinks the gap between shorter hitters and the bombers. There also are several holes that reward the bold and daring. It includes the short Par 4 13th over water and the downhill 18th. Both are great holes down the stretch for a match play format.

WGC Match Play Preview – Betting Strategies
There are a lot of things going against gamblers this week.
For starters, this event is 100% match play. Match play tournaments are some of the most unpredictable to pick. It's entirely feasible for one player to beat another player head-to-head if everyone counted their own strokes. But because only the best score between the two is relevant, anything is possible.
There's also not a lot of commonality of who has done well at Austin Country Club. Here's the Final Four in each of the last four tournaments:
2016:
Jason Day (Winner)
Rory McIlroy
Louis Oosthuizen
Rafa Cabrera Bello
2017:
Dustin Johnson (Winner)
Hideto Tanihara
Jon Rahm
Bill Haas
2018: 
Bubba Watson (Winner)
Justin Thomas
Kevin Kisner
Alex Noren
2019:
Kevin Kisner (Winner)
Francesco Molinari
Matt Kuchar
Lucas Bjerregaard
2021:
Billy Horschel (Winner)
Scottie Scheffler
Matt Kuchar
Victor Perez
With the exception of Kevin Kisner and Matt Kuchar, no player has made the Final Four of the WGC Match Play at Austin Country Club more than once. They also are players who do it in completely different ways. There are long bombers like Bubba Watson, Rory McIlroy, Jon Rahm, and Dustin Johnson. There are short and accurate players like Kevin Kisner, Billy Horschel, Matt Kuchar, and Bill Haas who rely on getting hot with their putter. And there are all-around solid ball strikers like Francesco Molinari, Justin Thomas, Scottie Scheffler, and Louis Oosthuizen who do a little bit of everything really well.
In addition, there is no on-course data maintained. Strokes gained data is not tracked at the WGC Match Play because not everyone plays the same number of holes per day. In order to find out how someone won their match, a bettor would have to click through everyone's play-by-play data. That's not an efficient or viable option for gamblers to do.
So how should bettors approach the tournament? For starters, DFS lineups shouldn't be done until the pods and brackets are revealed on Monday morning. Lineups will have to take into account where players fall into the bracket to better the odds of getting all 6 players into the knockout round. Those who manage to do that stand a great chance of taking down some money.
As far as gamblers, it's probably not all that worthwhile to try and pick outright winners before the tournament had begun. Match play is way too unpredictable as shown by some of the final fours we've seen at the golf course. Save your bullets to live bet an outright once there's some more clarity of the road for a champion. All pre-tournament betting should be limited to betting the winners of pods only. If you don't want to do that, you're much better off betting longshots pre-tournament. As shown above, a lot of out-of-nowhere semi-finalists have emerged at Austin Country Club.
This tournament, however, is a dream come true for those who love to bet head-to-head matchups. There are 32 every day from Wednesday-Friday, and there are certainly ones that can be exploited by a savvy bettor. Without in-tournament strokes gained data, bettors need to look at the long-term and short-term stats to identify good ones. Try and identify matchups featuring the wrong player as an underdog based on historical data, or find a clear mismatch at a poor price offered by a book. With March Madness going on, books might not put out their sharpest lines.
For those who absolutely need their pacifier and identify approach shot distances, I went ahead and assembled a sample of approach shots from the 2021 WGC-Dell Technologies Match Play to identify the ranges. It isn't a perfect analysis, but it's pretty representative of what to expect. Here are the ranges:
Shots Analyzed: 252
<125 Yards: 78 shots (31.0%)
125-150: 14 Shots (5.6%)
150-175: 40 Shots (15.9%)
175-200: 60 Shots (23.8%)
200+: 60 Shots (23.8%)
This also shows why there's a lot of parity at Austin Country Club. There are a ton of short approach shots into greens, often times from less than 100 yards. That favors players with great wedge play. There's also a fair share of approach shots into greens more than 175 yards. That favors better ball strikers who are awesome with their long irons. If you're insistent on building a model this week, target proximity stats less than 125 yards and more than 175 yards. Ignore 125 to 150 yards.
Lastly, the types of players who do well in match play are those who make a lot of birdies. It's typically the players who perform the best with their scoring clubs – irons and putting. At the end of the day, birdies and eagles are king in a match play format. It's those who put up explosive scorecards are the ones who'll likely end up on top. In addition, recent ball-striking is always a plus. Guy striking the ball great will put themselves into great spots to win more holes.
Overall, though, this tournament is going to require a lot more gut handicapping than usual. Stat models won't serve much of a purpose this week. This is a tournament that'll see a ton of unexpected results. Be willing to be bold with your picks this week. Like the NCAA Tournament, chalk is death at the WGC – Dell Technologies Match Play.
Related Content