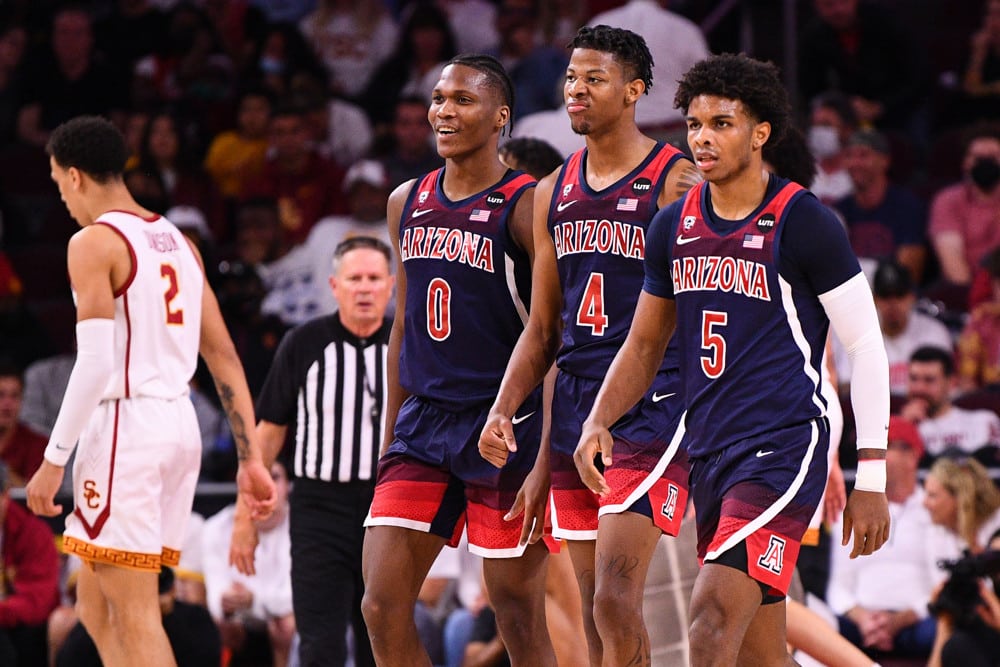 March Madness is already in full swing and the College Basketball Power Six haven't even started their conference tournaments yet. That all changes with the College Basketball Power Six Conferences this week. The ACC starts it off in Brooklyn on Tuesday. Following suit, the Big 10, Big East, PAC 12, SEC, and Big 12 will get underway on Wednesday. While I love me some MVC, SoCon, and Sunbelt, the madness really heats up this week.
For each league, I'll highlight my pick to win the conference tournament as well as a potential longshot with juicy odds. It's March and it's the best time of the year.
College Basketball Power Six Conference Tournaments: Preview, Picks, & Predictions
College Basketball Conference Tournament Preview: ACC
ACC Conference Tournament Bracket:
https://twitter.com/accmbb/status/1500285235786915842?s=20&t=aFErxhHJShyd2Im8Ku6YnA
My Pick: Duke -130
The ACC is one of the conferences that affords its top 4 teams a double bye which obviously provides #1 seed Duke a huge advantage. Over the course of the season, the Blue Devils proved they're the class of the league and they took home the regular season crown by a game over Notre Dame and UNC.
In regards to potentially winning the conference tourney, I love the fact that Duke just got beat by the Tar Heels in Coach K's last home game. After winning seven in a row and twelve of their last thirteen, the defeat was the slice of humble pie needed before the postseason begins. Paolo Banchero is set to at least win Freshman of the Year in the ACC, if not the Most Valuable Player as well. The odds of -130 aren't that bad for the clear-cut best team in the league. Stay chalky here.
My Longshot: UVA +1800
When looking at a sleeper in the ACC, it makes sense to go with a school on the bottom half of the bracket where Duke is not. The Cavaliers have stumbled down the stretch but it's still possible to get an at-large berth in the NCAAs with a deep run this week. Their first matchup will be vs the winner of the GT/Louisville game and UVA beat both squads by double digits.
It gets tougher from there and the Wahoos might have to topple both UNC and Notre Dame to get to the title game. With that said, a Tony Bennett coached team is always dangerous. Like usual, UVA has the top defense in the league and SR's Kihei Clark and Jayden Gardner will be laying it all on the line and looking to extend their collegiate careers as long as possible.
College Basketball Conference Tournament Preview: SEC
SEC Conference Tournament Bracket:
SEC Tournament Bracket pic.twitter.com/v7lR7pSS5U

— Matt Jones (@KySportsRadio) March 6, 2022
My Pick and My Longshot: Arkansas +750
While Auburn and Kentucky are Top 10 teams and the favorites come Wednesday, the SEC is fairly wide open with up to six or seven squads who could potentially cut down the nets. Coming in at the 4 seed, and getting the double bye, Arkansas has only lost twice in the last 16 games and that was at Alabama and at Tennessee by a combined five points.
The Razorbacks were down 21 vs Tennessee but stormed back to cut it to two with under a minute before eventually losing by four. It's that kind of resolve and never-give-up attitude I can get behind this time of the season. SR Guard JD Notae has blossomed into a bona fide star and Eric Musselman is a head coach with a history of success in March. Lastly, Arkansas already beat both Auburn and Kentucky within the last month. Since there isn't a team head-and shoulders above the rest of the field, I like rolling the dice and getting +750 odds on the Razorbacks.
---
College Basketball Conference Tournament Preview: Big 12
Big 12 Conference Tournament Bracket:
The 2022 Big 12 Tournament Bracket. pic.twitter.com/M9mUkDgnJB

— Jon Rothstein (@JonRothstein) March 6, 2022
My Pick: Kansas +200
The Big 12 has fewer teams compared to the ACC and SEC which means no double byes. There's the 8&9 (K-State/WVU) battle on Wednesday but everyone else will play Thursday in Kansas City. It's been a very deep and balanced league but I'd be surprised if someone other than Kansas, Baylor, or Texas Tech wins this tournament. Baylor and Texas Tech are together on the bottom half of the bracket so the Jayhawks should have the easier path up top. Plus, KC is a short 40 miles from Lawrence which means the crowd should be overwhelmingly in KU's favor.
Kansas and Baylor split the regular season series and share the same +200 odds. Texas Tech at +340 is appealing but they've lost two of their last three games and too often struggle to score. Additionally, barring major upsets, they'd have to beat Iowa State, Baylor, and Kansas in a row to cut down the nets. All signs are pointing to the Jayhawks getting it done this week. Gimme another favorite in the Big 12.
My Longshot: Texas +550
If not Kansas or one of the top three seeds, how about the team that just took Bill Self's gang to OT in Phog Allen? I realize the Longhorns are just 1-5 this year vs the top of the conference but the last two losses vs Kansas and Baylor were very tight games. HC Chris Beard is no stranger to postseason success and Texas certainly has the talent. If they can take down TCU in the opening round, it'll be revenge time vs Kansas. Win that and things will certainly get very interesting quickly.
---
College Basketball Conference Tournament Preview: BIG 10
BIG 10 Conference Tournament Bracket:
The 2022 Big Ten Tournament Bracket. pic.twitter.com/QrZ3D6blgU

— Jon Rothstein (@JonRothstein) March 7, 2022
My Pick:  Wisconsin +700
If there's one conference tournament where I have no idea what to expect, it's probably the Big 10. The league has a boatload of "good" teams that are capable of winning it all in Indianapolis but probably no elite teams. I'd argue the top 8 seeds all have a realistic chance and for that reason it's best to choose a squad with decent odds. The Badgers were edged out by Illinois for the regular season crown so expect them to be hungry here. Additionally, there's real value at +700 . I understand Iowa is hot but they don't have the double bye and they are at +330?
Wisky is led by all-Big 10 performer Johnny Davis who is averaging 20 PPG and 8 RPG. He delivers the star power needed for success in March. Like most well coached teams, the Badgers are 3rd best in the country at taking care of the rock and not turning the ball over. I underestimated Wisconsin coming into the season but I won't any longer. The favorite to win the Big 10 tourney is Purdue (+220) and they got swept by the Badgers.
My Longshot: Michigan State +2500
For the record, I have not been high on Sparty all year but they are still coached by Tom Izzo and the team is at least deep enough to win four games in four days. I realize Nebraska at +50,000 is compelling with how hot they have been but reeling off five wins in five days is unimaginable. MSU should beat Maryland and they've already knocked off Wisconsin once this year.
If they can take down the Badgers, they'll have a shot to go further because who knows what other carnage will take place. Sparty is still a top half of the conference defensive team and they shoot and defend the three ball well (2nd in 3pt %, 1st in 3pt % D). Limit the turnovers and they'll have a chance.
---
College Basketball Conference Tournament Preview: PAC 12
PAC 12 Conference Tournament Bracket:
🚨 Bracket Reveal 🚨

The field for the 2022 Pac-12 Men's Basketball Tournament is set! See you next week at @TMobileArena!

🎟 » https://t.co/1WwlebsDtU
📰 » https://t.co/3EUlu0GpyB#Pac12MBB | #BackThePac pic.twitter.com/i2OUFcmRFe

— Pac-12 Conference (@pac12) March 6, 2022
My Pick: Arizona -120
Last year, Oregon State shocked the CBB world by winning the PAC 12 tourney, getting the auto-bid into the NCAAs, and making a run to the Elite 8. While that was a great story, don't expect a similar Cinderella in 2022. While teams like Oregon, Colorado, and Wazzu have all flashed signs of promise, this conference will most likely be decided by a Arizona vs UCLA rubber match. While the two teams split the series, the Wildcats ran away with the league and won by 3 games.
So while UCLA at +160 sounds tempting, Arizona is just the better team this season. Expect Tommy Lloyd's gang to shine brightest under the Vegas lights. After a shocking blowout loss at Colorado, Zona regrouped to win their last three including a 20pt beating of USC in LA. The offense, led by G Bennedict Mathurin, finsihed first in the PAC 12 in scoring while the defense led the league in blocked shots. Additionally, the Wildcats are the best rebounding team in the conference.
My Longshot: USC +1000
At one point this season, Oregon looked like a potential longshot to contend for the PAC12 but after losing five of their last six, we can write them off. That basically leaves USC as my dark horse. They're only a 3 seed but the odds at +1000 are tempting. They shouldn't have an issue with the winner of Washington vs Utah, which would most likely set up a 3rd matchup vs UCLA. The teams split the series this season with UCLA just winning this past weekend by seven.
Sure, the Trojans got swept by Arizona but they've proven they could at least get to the title game. Plus, I like riding the hot hand of senior G Drew Peterson. If his shots are falling, watch out.
---
College Basketball Conference Tournament Preview: Big East
Big East Conference Tournament Bracket:
The 2022 Big East Tournament Bracket. pic.twitter.com/jNsTklnUXB

— Jon Rothstein (@JonRothstein) March 6, 2022
My Pick:  UConn + 300
I'm assuming Villanova at +170 will be the most popular pick to win the Big East Tourney. Led by household names like HC Jay Wright and PG Collin Gillespie, it makes a lot of sense. For that reason, among others, I'll zig with the Big East and take UConn at juicier odds. After all, the two teams split this season and I'm still concerned about the lack of a frontcourt with Nova.
For the Huskies, I love the all-senior backcourt of RJ Cole and Tyrese Martin. There isn't a more talented team in the league and as long as C Adama Sanogo can stay out of foul trouble, their isn't a more complete team either. If you need more convincing, don't forget UConn also beat Auburn all the way back in November.
Id be remiss if we didn't mention Providence. The Big East regular season champion surprisingly comes in at +500 which could be viewed as a slap in their face. However, as brilliant as a regular season as they had, the Huskies have a higher ceiling. UConn finished up league play as the 2nd best offensive team, the 2nd best free throw and 3pt shooting team, the 2nd best rebounding team , and 5th best defensively. It's that kind of all-around performance we're looking for in March.
My Longshot:  St John's +3500
You want to get a little crazy? Hey, nobody had Georgetown winning the Big East tournament last year. The Johnnies have been a disappointment this season but at +3500, come on. On talent alone, the Red Storm could at least win a couple games this week. F Julian Champagnie is one of the best players in the country while PG Posh Alexander is now back at full health and F Aaron Wheeler is really emerging.
---