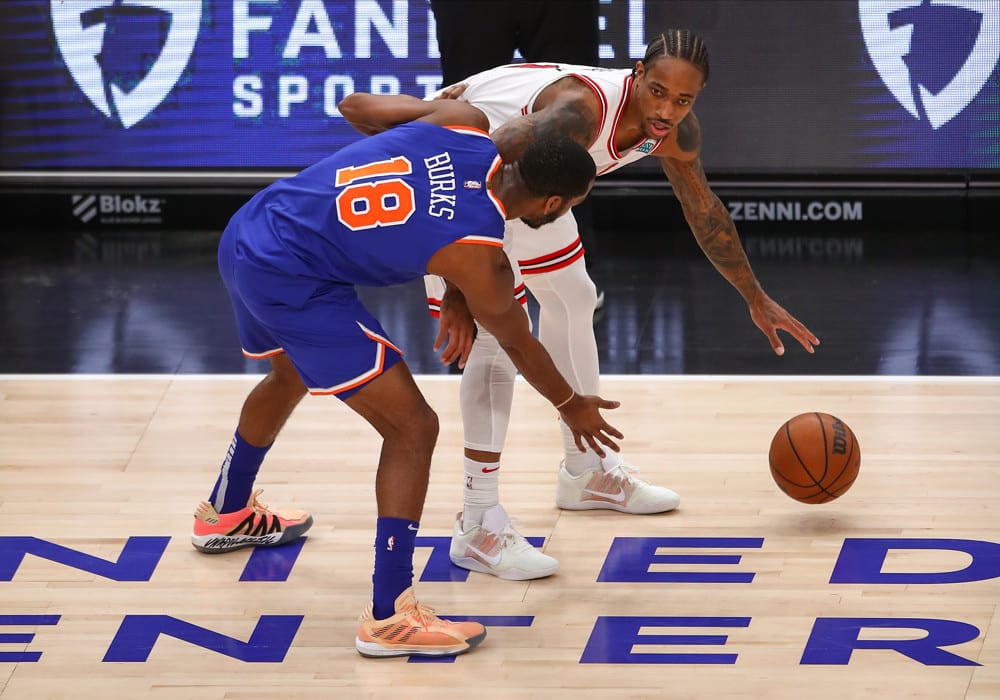 After a week away, the NBA returns to their regular season – and we've wasted no time getting you back to our NBA DFS lineups. Twelve teams are in action tonight, including the Western Conference leaders – so let's see what we can make of it all.
(NOTE: This NBA DFS lineup was made ahead of time. Always check for the latest injuries and inactives prior to lineups locking. )

NBA DFS Picks for Thursday – Feb 24th
With Portland sending CJ McCollum out of town, Simons has proven to be every bit as prolific as Dame's prior #2. In the final three games before the break, Simons never dipped below 30 points in a game – leading to at least 45 fantasy points a game. His NBA DFS salary isn't even close to the cost you'd expect for that production, making him a must-roster for this slate.
Speaking of people who I think are must-roster, let's just talk ab0ut Josh Giddey for a second. In the final three games before the break, the Aussie rookie had a triple-double in all of them. They are the second, third, and fourth youngest triple-doubles in NBA history (the only by a younger player was his back in January). Maintaining that level of production at that age may be hard, but like Simons, the NBA DFS cost is lagging so far behind that production.
DiVincenzo's move to Sacramento seems to have given him a huge boost for this season. After being relegated to high teens or low twenties for minutes, he's now pushing thirty as part of the Kings' second unit. The result is nearly 30 fantasy points per game over the last couple – which is easily enough to justify snagging him for this NBA DFS lineup.
It's been 20 days since the last time that DeRozan failed to score at least 35 points. That's a crazy run even when you factor in the All-Star break. It's always a bit of a reach to put the super-high salaries in your NBA DFS lineup because it can cripple what else you can afford. However, with a stretch like DeRozan has been on, I think people rostering him will be satisfied.
Steven Adams is coming off a disappointing two-point performance right before the break (sort of an anti-DeRozan example). However, prior to that, he had been putting up gaudy numbers for someone costing less than 6k in NBA DFS lineups. He had three straight double-doubles and had 40+ fantasy points in all of those contests. I think he returns rested and puts up a big number. Especially considering Minnesota is 21st in giving up fantasy points to opposing centers.
Over his last seven games, Morris is shooting just shy of 50% from three-point. His assists, as of late, are far and ahead of his season averages. Those two things together are providing a nice floor that a good day on the boards or the defensive end could really spark a big NBA DFS score. It won't hurt that the Kings rank 22nd and 23rd in opponent's rebounding and turnovers respectively.
The Thunder have seemed to find a spot for their other youngster. In three of the last five games, he's cracked 30 minutes. The production hasn't exactly matched it each game. He's bounced all around in fantasy point totals going as low as 10 and close to 40 on a good day. This seems like a stab in the dark, but in the NBA DFS bargain bin, he might have some of the highest upside.
This year, Olynyk definitely has not been what people expected him to be. Detroit is hardly using him the way you'd expect from a guy on a three-year $37 million contract. With that all being said, he's found some touch as of late. With the exception of a rough game at Washington, he's averaging over ten points and six boards over three games. That's good enough for 22 fantasy points a game, which would be a steal at this NBA DFS cost.

Make sure to check out all the great NBA coverage we have to offer and be sure to listen to the NBA Gambling Podcast, which airs twice a week. This week the guys are breaking down all the best plays for the coming days.  
Related Content