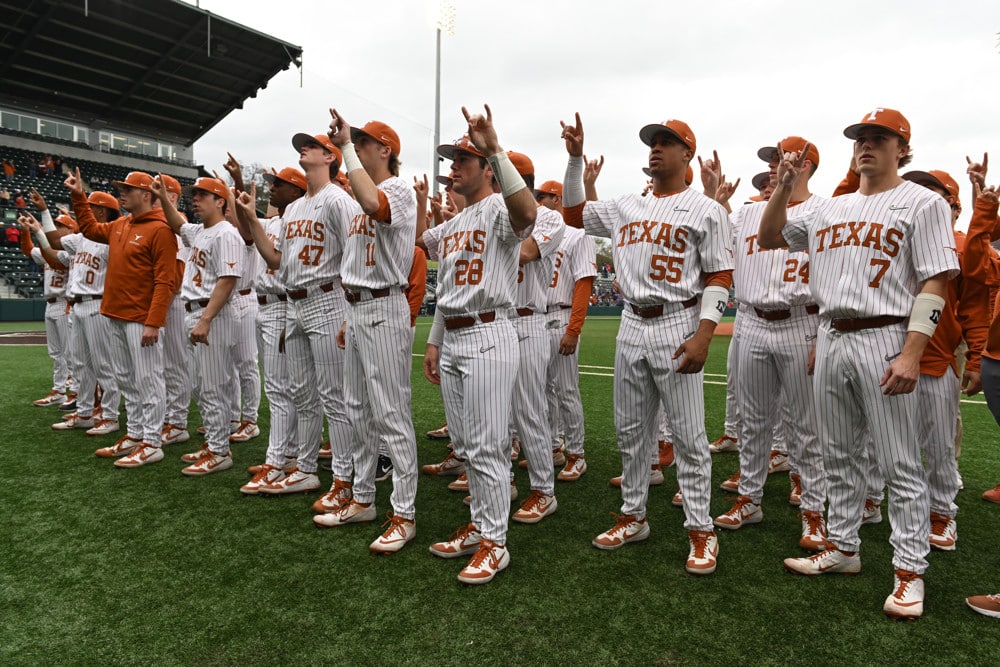 It's February 9th, and the MLB and MLBPA are still acting like Drake and Kanye West. The two sides are feuding over a collective bargaining agreement instead of getting ready for Spring Training. How will you fill the void of baseball betting? The good news is you don't have to go without! Sportsbooks are releasing College World Series betting odds left and right to make up for the fact that the start of the MLB season is nowhere in sight. I am claiming that 2022 is "The Year of College Baseball." This is huge news for the College World Series (CWS), college baseball betting, and college baseball in general. With new college baseball rankings, released sportsbooks are capitalizing on the newfound interest in the game. So far Circa Sports, Barstool, and DraftKings are the first sportsbooks to take action and release College World Series betting odds and futures.


A good strategy I like to live by when baseball betting is to get down on a team with stud-filled starting pitching. In college baseball, if you are an average hitting team but have a starter or two that can shove for seven or more innings you're in great shape for a long postseason run. You're in the right spot if you are looking for the best value on College Worlds Series betting odds. Below are the eight schools I think have the best value to win in Omaha, Nebraska, and two honorable mentions. Speaking of Omaha, did you hear that the College World Series stadium went under a name change? It is now Charles Schwab Field, and no longer TD Ameritrade Park.
NC State Wolfpack (+1500)
2021 Record: 37-19 (19-14 ACC)
Head Coach: Elliott Avent (926-550 in 25 seasons at NC State)
NC State enters the 2022 season ranked #10 in D1 Baseball's college baseball rankings. There was major roster turnover for NC State after 2021 going into this offseason. The Wolfpack lost their top five bats and seven total starters from last year's magical postseason run. Nevertheless, the 2022 Pack will be a determined bunch after how their CWS experience ended. I will never forget the NCAA's actions that day and that should tell you something. If I won't forget, I know head coach Avent won't forget. Since I know Avent won't forget so then I know his program won't forget. If the kids and that program won't forget (I don't care if half of the 2021 team graduated) this squad will be DANGEROUS in 2022. Year in and out NC State has made Regionals and Super Regionals. This program is bound to string together two straight College World Series appearances.
Last night meant more than you'll ever know, #WPN. pic.twitter.com/F7OEdNrQOy

— #Pack9 ⚾️ (@NCStateBaseball) June 27, 2021
Key Factors To Win The CWS
Avent and his Pack bring back the most important piece from the '21 postseason. A pitching trio that is very hard to match anywhere around the country. The trio of Friday night starter Sam Highfill, Saturday SP Matt Willadsen, and closer Chris Villaman give me confidence that they can carry the Wolfpack into another CWS appearance even if there is an off day for the offense. Highfill enters the season as a D1 Baseball 2nd Team All-American starting pitcher. In 2021 the Covid Freshman had a 9-2 record and accumulated 84 strikeouts (Ks) in 93.1 innings pitched (IPs). Also, as a Covid Freshman, Willadsen put up 72 Ks in 83.2 IPs. Lastly, Villaman enters his Covid sophomore season after posting 71 Ks in 60 IPs in 2021.
NC State has all of the necessary pieces to win the College World Series this year. There is some youth in the lineup so a slow non-conference start may happen for the Wolfpack. But, when the dog days of ACC play come around this program won't lose focus because their one goal for '22 is revenge against the NCAA. The story for this June already feels written. NC State will ironically beat Vanderbilt during their '22 postseason run, and coach Avent will bring home the school's first College World Series title. The Wolfpack will end the season rightfully on top of the baseball world.
NC State may be a public play because I was expecting the online betting odds to be a bit better for a team that lost a lot of position players last year. In saying that, this is the squad I think will win the College World Series this year and for this caliber of a team +1500 still offers good value when baseball betting.
Texas Longhorns (+750)
2021 Record: 50-17 (17-7 Big 12)
Head Coach: David Pierce (172–94 in 5 seasons at Texas)
Coach Pierce's Longhorn program is the consensus #1 overall team wherever you may find college baseball rankings. The 2021 group had their dream of winning the College World Series dashed in the semi-final win or go home game against the eventual National Champion Mississippi State. On paper, the Longhorns appear to be the strongest team in the country. The Longhorns are a very experienced team that will excel in every facet of the game. Texas does not have a glaring hole and there is not one freshman projected to be on the starting roster starter in 2022.
Key Factors To Win The CWS
Last year Texas was only a few hits away from beating Mississippi State. Texas hit the transfer portal like many other teams this often, and coach Pierce picked up 3rd baseman grad transfer Skyler Messenger from Kansas. The former Jayhawk comes to Texas to fill a defensive weakness at the position. Messenger owned a slash line of .324/.398/.460 ((BA/On-base percentage (OBP)/Slugging percentage (SLG)) with Kansas last year.
D1 Baseball 2nd Team All-American slugger, Ivan Melendez, will switch positions to first base to lighten his defensive load. In '21 Melendez hit .319/.438/.603 with 13 homers and 51 RBIs. Even though the Longhorns lost their 2021 Friday night starter, Ty Madden, via a Detroit Tigers first-round draft pick, they have restocked. Texas' projected weekend rotation begins with 5th year senior Tristan Stevens throwing on Friday nights. Stevens had an 11-3 record while accumulating 77 Ks in 111.1 IPs.
https://twitter.com/NCAABaseball/status/1408631927981084677?s=20&t=PzdnR8q1Qp9ml-qhFAKhPg
The other two starters aren't slouches either. On Saturdays, Covid Sophomore Pete Hanson will hurl for the burnt orange. The southpaw owned a 9-1 record, 1.88 ERA, and tallied 80 Ks and only 23 BBs. As a result of that statline, D1Baseball named Hanson a 2nd Team All-American starting pitcher. Reliever turned starter, Tanner Witt, carried almost a 3:1 strikeout to walk ratio in '21. The Horns are expected to be bumping him on Sundays. To close games Texas will bring in a D1 Baseball 1st Team All American relief pitcher, Aaron Nixon. He finished the '21 season with nine saves in 27 appearances.
Florida Gators (+2500)
2021 Record: 38-22 (17-13 in SEC).
Head Coach: Kevin O'Sullivan (585-278 in 14 seasons at Florida)
Last year the Gators were the number one overall team in many versions of college baseball rankings. The season didn't live up to the hype, they finished the regular season as the #15 team in the national college baseball rankings and then flamed out of the regional that they hosted in their brand-new stadium, "Florida Ballpark at Alfred A. McKethan Field," with an 0-2 record.
Florida is coming into the 2022 season significantly underrated. The squad remains mostly intact and they have a bitter taste in their mouth from the way last season ended. Coach O'Sullivan brought in the 2nd overall recruiting class that will aid the Gators everywhere on the roster. Speaking of the squad it is an all-around group that excels in hitting for average, power, speed, defense, and power pitching.
Key Factors To Win The CWS
The standout MLB Prospect for the Gators is Jud Fabian. The centerfielder hung up 20 long balls and 41 RBIs during the 2021 campaign. Fabian has 1st round talent and is the offensive star but was only drafted in the 2nd round of '21 after a .250 season with a high strikeout rate. Jud is good enough to make the offseason adjustment and have a better campaign this season. Right fielder Sterlin Thompson had an incredible freshman year. Thompson blasted 27 bombs and slashed .301/.396/.470 in '21. If he makes a freshman to sophomore jump, he could turn into one of the best hitters in college baseball.
During his freshman year in '21, the '22 Friday night starter Hunter Barco proved to be a workhorse with a great 3 pitch mix (low 90s FB, slider, splitter). The left-hander had a 10-3 record and racked up 94 strikeouts in 83 IPs last year. An interesting storyline to follow for Florida is Nick Pogue's recovery from Tommy John. If he can get back to 100% Florida has the 1-2 starting pitcher punch to go to the College World Series.
Oregon State (+3300)
2021 Record: 37-24 (16-14 in Pac-12)
Head Coach: Mitch Canham (42-33 in 2 seasons at Oregon State)
Oregon State is a sheer gamble on experienced pitching and hopes that bats evolve throughout the season. Coach Canham just brought in Travis Bazzana to play second base for the Beavers. Bazzana hails from Australia and has a tremendous ability to hit for contact. 1st baseman Garrett Forrester returns for his sophomore season with the tag of "Best bat in the lineup." As a freshman, Forrester showed great pop as he hit .299/.435/.475 with seven home runs and 36 RBIs. The Beavers will count on Forrester to make a big impact this year.
Key Factors To Win The CWS
The Beaver baseball program has been elite over the last 20 years. Former head coach Pat Casey built a baseball powerhouse that current coach Mitch Canham was a player for in the early 2000s. It's commendable to create a program this consistent at a school without a rich athletic history in Northwest America. Canham's 2022 group is following the formula of classic Casey teams, solid pitching, clutch, do your job, simple hitting. Oregon State has one of the top weekend rotations in all of college baseball. Their top 2 starters are funky! Friday night starter Cooper Hjerpe has a freaky Chris Sale-like left-handed sidearm delivery. He had a 4.21 ERA but held hitters to a .222 BA. That's some borderline unhittable shit. His low opponent's batting average tells you that if Hjerpe can limit his walks he can be elite.
Don't think Oregon State LHP Cooper Hjerpe is getting the respect he deserves in draft circles. Kid throws 65% strikes, has an above average CH with a 46% whiff rate, funk in a low 3/4 slot w/growing low-90s/t97 FB. If breaking ball turns up in 2022, he's a pot. Top 100 guy imo. pic.twitter.com/dDyBgPMdbT

— Joe Doyle (@JoeDoyleMiLB) August 23, 2021
Jake Pfenning's, OSU's projected Saturday starter, had a 5-0 record with a 3.24 ERA during 2021. Unlike Hjerpe you'll find Pfennigs' release point from straight over the top. The kid has wicked movement coming out of a 12:00 arm slot which is also extremely frustrating to face at the plate. Lastly, Will Frisch can start or relieve. I think Canham will have Frisch bumping on Sundays because last year the kid was 3-0 in 40 IP with a 2.38 ERA. Opposing teams will have nightmares facing these three starting pitchers in a 3-game series.
Florida State Seminoles (+3000)
2021 Record: 31-24 (20-16 in ACC)
Head Coach: Mike Martin Jr. (43-29, in 2 seasons at Florida State)
Mike Martin Jr's father Mike Martin retired three years ago with the most wins ever in a career. Martin Sr. also ended his career as the best college baseball coach without a College World Series Championship. Junior continues his father's mission to lead the Seminoles to destiny but in a different way. Florida State's stadium in Tallahassee, Fla is a hitter's park and that's how past Seminoles teams have been built, but not the 2022 team. Pitching will carry this team to the College World Series, in saying that, the batting lineup is efficient as well. Two bats to keep your eye on are Miami (FL) grad transfer Alex Taurel who hit 24 tanks in 2019, and Logan Lacy who also has good pop in his bat. Lacy, a Covid senior, slashed .295/.364/.518 and hit 10 bombs, 13 doubles, with 39 RBIs in his 2021 campaign.
Key Factors To Win The CWS
As mentioned above, the pitching will propel the Seminoles to Omaha. Parker Messick will be the Friday night starter in '22 as he recorded 126 Ks, 90 IPs, and a 3.10 ERA last year. Messick, a Covid Sophomore lefty, sits in the low 90s with a heavy sink on his fastball that screams MLB potential. Left-hander Bryce Hubbart will probably celebrate his bump day on Saturdays, he had a 6-5 record and 3.80 ERA in '21. There is good enough lateral movement on Hubbart's pitches to cause weak contact either off the end of the handle of a college BBCOR bat. There hasn't been another pitcher emerge as the third starter or the bullpen roles yet, but that is a good thing for this Nole squad. Their pitching is so deep and should be perfect for a College World Series run.
Georgia Bulldogs (+8000)
2021 Record: 31-25 (13-17 in SEC)
Head Coach: Scott Stricklin (234-186-1, in 8 seasons at Georgia)
Whatever podcast or website you go to for information isn't bold enough. It's easy to list off your "Omaha 8" with six top ten teams in it, nobody will come gunning for your head, but dealing with those comments is half the fun. We hear at the Sports Gambling Podcast Network like to entertain our longshots because when you hit big you get four months of bragging about it for free! Out of everything I've seen, NOBODY has Georgia making it to Omaha, and I am recommending you entertain the thought of laying 1/5th of a unit on the Bulldogs.
People forget that when the college baseball season was suspended in 2020 due to Covid, Coach Stricklin had the Bulldogs #3 in the country. 2021 did not go as planned for Georgia but they return basically everyone from that roster. The hope is that the batting lineup littered with 5th year Covid seniors will step up in production from the level it was at in '21.
Key Factors To Win The CWS
Georgia's starting pitcher trio is in the top 3 for the SEC in my opinion. The Bulldog Friday night starter will be MLB Prospect and D1 Baseball 3rd Team Preseason All American Jonathan Cannon. According to Aaron Fitt of D1 Baseball, "the big righty sits in the mid-90s with his fastball, and has a plus slider, and quality change-up." Cannon carries a 3.98 ERA with him from '21 going into '22.
The Bulldogs Saturday starter Liam Sullivan stands 6-6 and throws his fastball in the 90s. This big lefty has a quality three-pitch mix. Sullivan had a 3.99 ERA with 52 Ks in 38 IPs in '21. Lastly, Georgia pulled in one of the best Junior College transfers that were in the portal, Dylan Ross. The right-hander comes from Northwest Florida Junior College which is a power JUCO program. A jump from JUCO to the SEC is huge but if Ross can do it successfully, he is a key piece to the puzzle if Georgia wants to go to the College World Series.
East Carolina Pirates (+4000)
2021 Record: 44-17 (20-8 in American)
Head Coach: Cliff Godwin (258-130-1 in 7 seasons at East Carolina)
I know what you're thinking, I included East Carolina because @TheColbyD went there. He even thought I was pulling his string when I told him I really liked the Pirates team this year. The truth is, ECU has had the talent to go to Omaha a few times in the past decade. The Pirates have been in the NCAA Tournament 18 times in the past 23 years, but they have had terrible NCAA Tournament draws.
Their three most recent ejections from the Super Regional round are 2016 @ Texas Tech, 2019 @ Louisville, and in 2021 @ Vanderbilt. All three programs are mainstays in college baseball and extremely tough environments to play in. The toughest part for ECU is that they are in the American conference which is relatively uncompetitive. It's almost a guarantee that head coach Cliff Godwin's squad finishes the regular season with +40 wins, but because of their strength of schedule, they don't have a chance to become a top 8 national seed and be able to host a Super Regional.
https://twitter.com/Stu_Murray1/status/1325500028165697536?s=20&t=PzdnR8q1Qp9ml-qhFAKhPg
Key Factors To Win The CWS
Even though this East Carolina batting lineup doesn't have as much talent as it has had in the past, their pitching is dominant. Friday night starter Carson Whisenhunt went 6-2, with a 3.77 ERA in '21. Whisenhunt doesn't just rock a classic blonde mullet and handlebar mustache, the southpaw has one of the nastiest change-ups at the college level and throws a great knuckle-curve as well. On top of the D1 Baseball 1st Team All American, the Pirates have a very strong bullpen. CJ Mayhew is a disgusting lefty who has a very deceptive delivery. Mayhew had 34 appearances out of the pen last season with 76 Ks over 50 IPs he was 3-1. On the offensive side, Josh Moylan punishes baseballs. Moylan batted .310 with 6 dingers as a freshman look for him to make a good freshman to sophomore jump.
Mississippi State Bulldogs (+1200)
2021 Record: 50-18 (20-10 SEC)
Coach (Record at school): Chris Lemonis (114–37, 3 seasons)
Entering 2022 the defending National Champions lost their two biggest stars from the 2021 team OF Tanner Allen and RHP Will Bednar to the MLB Draft. Mississippi State brings back many role players from the College World Series team. There's one serious question for me when it comes to if MSU will be able to repeat and that is their starting pitching.
Head coach Chris Lemonis' weekend rotation will consist of two '21 relief pitchers. It is a common belief that last year's closer Landon Sims will be one of the nation's best Friday night starters. Sims put up 100 Ks with only 15 walks in 56.1 innings pitched last season. The other reliever, Preston Johnson, wasn't as dominant as the closer last year but still gave the Dawgs quality innings in Omaha. Johnson had a 3.82 ERA with 50 Ks and 14 BBs. With Sims and Johnson being the Bulldogs' top two starters, asking "how far can this team go in the postseason," is a valid question.
Key Factors To Win The CWS
The answer to the previous question may be D1 Baseball 1st team All American catcher Logan Tanner. The pitch caller will be the most important player to the 2022 Bulldog team. Tanner slugged for 15 HRs, and 53 RBIs while owning a slash line of .287/.382/.525. To help support Tanner carry the Bulldogs to the '22 College World Series Kellum Clark will need to be consistent. Clark's Covid Freshman season had its peaks and valleys. The peaks far outweighed the valleys though as the lefty came up clutch with highlight-reel hits in HailState's College World Series run last year.
HONORABLE MENTIONS
Vanderbilt Commodores (+1300)
2021 Record: 49-18 (19-10 in SEC)
Head Coach: Tim Corbin (802-377, in 19 seasons at Vanderbilt)
Head coach Tim Corbin runs a factory down in Nashville, Tennessee. One year after losing Jack Leiter and Kumar Rocker to the first round of the MLB Draft the Commodores are a consensus top-five team in the country again, and rightfully so. Betting against Corbin is like betting against Nick Saban in football. When you think the star quarterback is gone and the program is due for a regression, a new one is leading them to the natty or winning the Heisman.
What makes me nervous about putting money down on Vandy this year is that their weekend rotation is unproven. The tentative plan for the Commodores is to have true freshman Carter Holton start on Friday nights. It's tough to judge the 5-11 wronghander because I haven't seen him pitch yet. But if Corbin trusts Holten over all of the talent at his disposal, I have faith in the kid.
On the weekend we will see sophomores Patrick Reilly and Christian Little. Both arms are tainted with ERAs over 4.95 during the 2022 campaign. Can either Reilly or Little take the big Fresh to Soph jump? If Vandy wants to win another College World Series it is needed. With this big of a question, I can't hitch a future on the popular bandwagon even though they're known for their great pitching.
Dallas Baptist (+6500)
2021 Record: 41-18 (18-6 MVC)
Head Coach: Dan Heefner (516-271 in 14 seasons at Dallas Baptist)
If you liked rooting for Cincinnati throughout the 2021 college football season, Dallas Baptist should be your squad for the 2022 college baseball season. The Patriots flat out just hit bombs. Their batting lineup is very experienced with eight of their nine projected starters being at least third-year players. DBU only has one proven starter and that is Luke Eldred. The 6th year super Senior ended last season with a 4-0 record, and a 2.25 ERA. The lineup is just really good for a mid-major team. Centerfielder Jace Grady is the most complete player on coach Heefner's squad. Grady slashed .337/.417/.534 and slugged four HRs and recorded 40 RBIs and 15 stolen bases.
You can get in touch with me on Twitter @seventy7nb or email me at seventy7nb@gmail.com. Another great way to have a normal chat with me and other baseball degens is by joining the SGPN Slack channel! We have specific feeds for both the MLB and college baseball. Let It Ride and Stomp On The Plate!
RELATED CONTENT