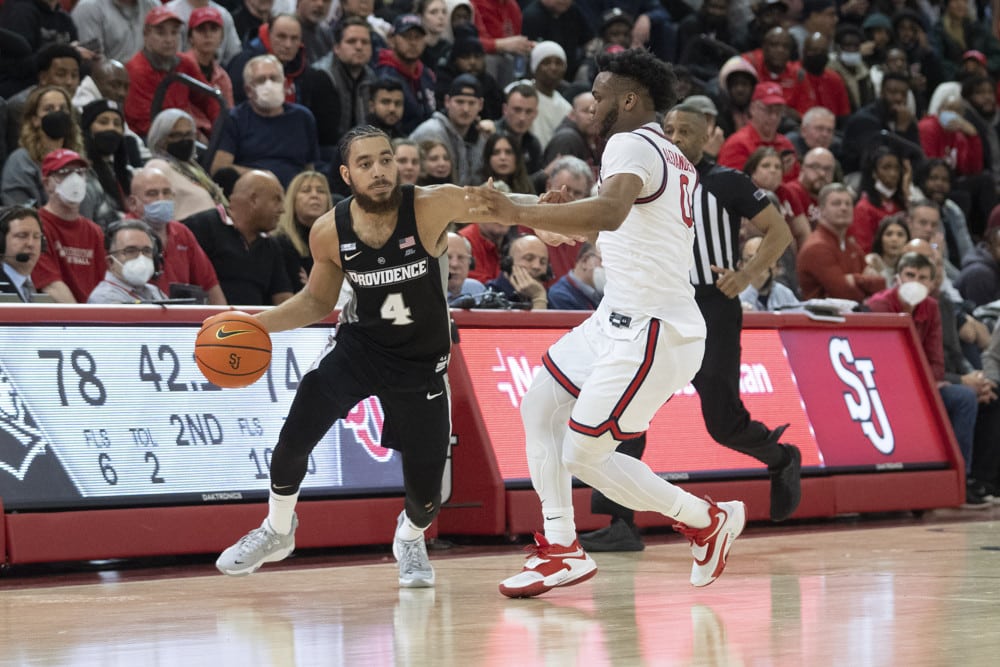 The college basketball regular season coming to a close as there are only a handful of games left. With that being said, these last couple of games are going to be intense. We have teams that will be battling for their postseason lives. Let's break down a few of these games with CBB picks and college basketball best bets for this slate!
CBB Picks: College Basketball Best Bets for Tuesday, February 15th
College Basketball Picks: Michigan State vs Penn State
Time: 6:30 p.m. EST
TV: Big Ten Network
Spread: Michigan State -4, Over/Under 129
This is going to be a gross Big Ten battle. Michigan State has lost three of their last six games, with two of the losses being blowouts. Penn State is struggling in their own right losing six of their last seven.
Michigan State is the more skilled team in this contest. Michigan State is shooting nearly 39 percent from three. Penn State is 230th in the country at defending the three-point line. The Spartans have six players that are shooting the deep ball over 30 percent, so it appears that they will be having a field day from behind the arc. I'm expecting a big game from Gabe Brown and Malik Hall for Michigan State in this one.
Looking at Penn State's offense, I just don't see how they stay within the number here. Over their last three games, they have averaged under 62 points per game. While the Nittany Lions are shooting 34 percent from three, Michigan State is holding opponents to under 30 percent from deep. I think the Spartans will drown Penn State from three and just make it too hard to cover the four points.
Pick: Michigan State -4
---
College Basketball Picks: Texas vs Oklahoma
Time: 7:00 p.m. EST
TV: ESPN 2
Spread: Texas -1, Over/Under 124.5
Oh boy will this be another intense game. Both of these teams are looking to bounce back after a loss. Texas got beat up by Baylor on Saturday and Oklahoma is coming off of a two-point loss to Kansas. I'm expecting a game similar to the Oklahoma vs. Kansas game where it comes down to the last play.
I think Timmy Allen for the Longhorns is going to play a pivotal role in this game. Allen has to show up in clutch spots and get the ball to fall when they need it most. This is a game where the stats for both sides are very similar, which is part of the reason why I believe this will be a close match-up. Both the Longhorns and the Sooners are shooting about 33 percent from three and 75 percent from the line.
I do like what I am seeing out of Duke transfer Jordan Goldwire for the Sooners this year, however. Goldwire was used as more of a defensive threat on Duke these past few years. He has nearly doubled his points per game while increasing his field goal percentage as a Sooner. While I do believe Oklahoma will be able to put up points in this game, I think Texas will come out as the victor. I feel confident laying one with the Longhorns here.
Pick: Texas -1
---
CBB Picks: Memphis vs Cincinnati
Time: 7:00 p.m. EST
TV: ESPN+
Spread: Memphis -2.5, Over/Under 141.5
I never thought I'd be including Memphis in my college basketball best bets this year, but here we are. I really thought Penny Hardaway was leading this team into the ground during the first half of this season. It seems as though he has gotten his team wide awake and playing to their full capability.
The Tigers have won their last five games in which they covered four of them. Their last win was a huge won taking down the now 14th ranked Houston Cougars. I would normally say this is a letdown spot for the Tigers but I think they carry this momentum moving forward. They have a point to prove, which is that they are not just an average team. Memphis is also ranked seventh in the country in free throws attempted while hitting 67 percent of them.
I think the Bearcats are running into this Memphis team at the wrong time. The Bearcats have not been able to string any wins together as they are two and three over their last five games. While I do think Cincinnati will put up a fight and keep the game somewhat close, I do not see them covering.
Pick: Memphis -2.5 and Over 141.5
---
CBB Picks: Villanova vs Providence
Time: 8:00 p.m. EST
TV: CBSSN
Spread: Villanova -4, Over/Under 130
This is definitely a game you want to keep your eyes on. We have a battle between the top two seeds in the Big East. This game is going to be intense all the way down to the wire.
Providence is very hot right now as they are currently on an eight-game winning streak. While they've only covered four of those eight games, they were sizable favorites in a few of them. One stat I really want to point out is that Providence is 22nd in the country at free throws attempted per game. Providence is shooting 75 percent from the line which is a huge advantage for the Friars.
Piggybacking off of the free throw stat, Villanova is impressively shooting 83 percent from the line. However, they are currently ranked 188th in the country at free throws attempted. These two teams are very similar stat-wise in regards to field goal percentage and three-point percentage as well. All of these things considered, I like Providence in this spot catching a few points. I think this game comes down to the wire and I trust Providence to get points at the line and stay within the points. I am going to make this game my college basketball best bet of the day!
Pick: Providence +4
---
CBB Picks: Kentucky vs Tennessee
Time: 9:00 p.m. EST
TV: ESPN
Spread: Tennessee -2.5, Over/Under 139.5
This is a match-up we could see in late March depending on how the brackets play out. The last time these two teams faced off, Kentucky buried Tennessee 107-79. While I obviously predict this game will be a lot closer, I do see Kentucky winning a tight one.
Tennessee has been fluctuating a bit this season. They have been getting a few wins in a row but then run into a powerhouse and that ends their winning streak. I think that same pattern is going to repeat itself tonight. The Vols have won their last four with the best win being over Mississippi State. I do think Tennessee is a very good team, but I think Kentucky will be a little too much to handle for them.
Kentucky is dealing with a few injuries heading into this game however. Most notably, TyTy Washington is a game-time decision with a left lower leg injury. Jacob Toppin is also a game-time decision with an ankle injury. These are two crucial players to Kentucky's success. I expect them both to suit up and play in this game but if they don't I still believe Kentucky escapes with a close win.
Pick: Kentucky +1.5
---
There are a few additional exciting games in this slate today so be sure to check out SGPN's college basketball picks page! The SGPN team posts their college basketball best bets every single day on this page so you'll never miss a winner.