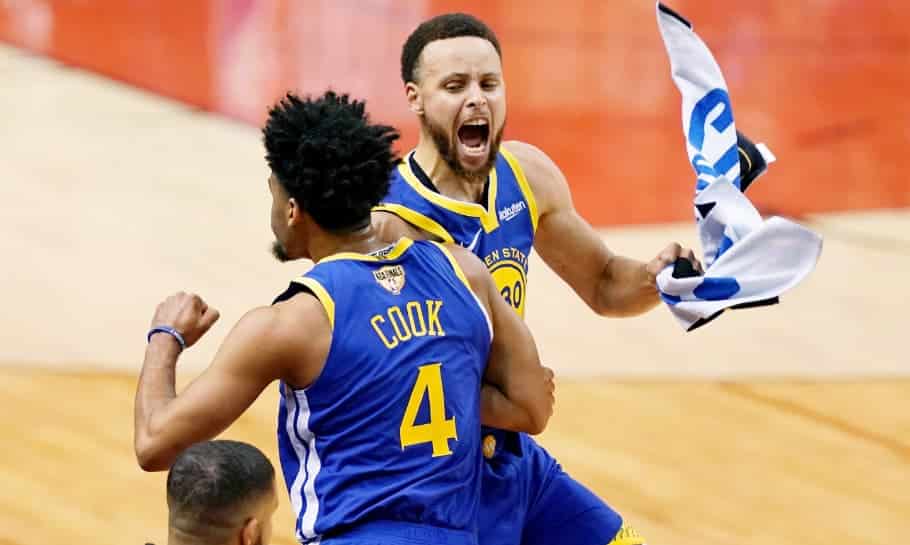 We're coming to you on the day of the trade deadline with a death-defying stunt. In the midst of all the team movement and new roles for players, we're going to attempt to do the unthinkable – put together an NBA DFS roster. The action really got started on Tuesday with a couple of deals, but be sure to keep an eye on all the comings and goings right up to lineups locking.
(NOTE: This NBA DFS lineup was made ahead of time. Always check for the latest injuries and inactives prior to lineups locking. )

NBA DFS Picks for Thursday – Feb 10th
If you're looking for one NBA DFS asset that you don't have to worry about being moved at the deadline, it's Steph. While Steph is coming off a rare off-night fantasy-wise, his shooting has been red hot as of late. Over his last six games, he's averaging 4.5 three-pointers a game, which gives him a nice floor. Playing the skidding Knicks, who have lost ten of their last twelve and may be poised to make some deadline moves, Curry should have a field day.
SG – Gary Trent Jr ($6,500) – TOR
What Gary Trent Jr. is doing on the defensive side of the ball is enough for me to have a lot of faith in him. It's been 11 straight games that he's recorded a steal and twice in that span, he's cracked five of them. He's slipped a bit since he was putting up fantasy totals in the upper 40s and 50s, but he has a solid floor around 30 with big game potential as an upside.
I'm doubling down on Raptors who play a 2/3 position for a number of reasons. Firstly, I legitimately like the runs each has been on. Anunoby, like Trent Jr., has a steady floor with the potential to rip 50 off for you. Secondly, the Rockets are absolutely terrible against people who play those positions. They rank 30th overall against SG/SF. So while Pascal Siakam is the hot name in NSA DFS for the Raptors right now, these two will cost you substantially less and have an upside that will rival what he's going to get.
As far as an NBA DFS bargain bin option goes, Trey Lyles is one of the easier choices. With the exception of a tough three-game stretch recently, he's been up over 20 fantasy points a game for nearly a month. He's averaging over that in the last two as well. We've seen upside that hits in the 30s and pushes 40, but with Cade Cunningham back in the fold, that seems like a reach. However, the fact that he didn't regress last night with Cunningham in the lineup should give owners some confidence.
Don't look now, but Jaren Jackson Jr. is the highest-producing center on the Grizzlies. That's right. Not Jonas Valanciunas – Jaren Jackson Jr. In fact, over the last four games, Jackson has outscored his teammate by an average of 9.3 fantasy points in NBA DFS contests. He's costing you $400 less, so why not go in on the cheaper option here?
Anytime you put Fournier in an NBA DFS lineup, you're taking on a level of risk. He has over 40 fantasy points in two of his last four games. He also has been under 30 in two of his last four games. It all depends on him having a hot hand or not because he fires them off regardless. The Knicks will likely be down early in this one, so here's to hoping that Fournier tries to shoot their way out.
Matthews sneakily has at least 20 fantasy points in five of his last six games. He's shooting over 40% from three-point in that span, which is a big part of the reason. His minutes seem to be steadily rising with nearly 30 in back-to-back games. You're not going to find anyone with an NBA DFS cost like this that gets that kind of burn.
Since returning from injury, Avdija's scoring has been pretty rough. He's failed to even whiff double-digits in scoring in the last five games. That's part of the reason why we see his NBA DFS cost so low. However, he's pouring on the rebounds with 6.4 per game in that time. Should his scoring pick back up a bit or his minutes increase, he'll easily be worth the price here. Even without those additions, he'll make his projection.

Make sure to check out all the great NBA coverage we have to offer and be sure to listen to the NBA Gambling Podcast, which airs twice a week. This week the guys are breaking down all the best plays for the coming days.  
Related Content