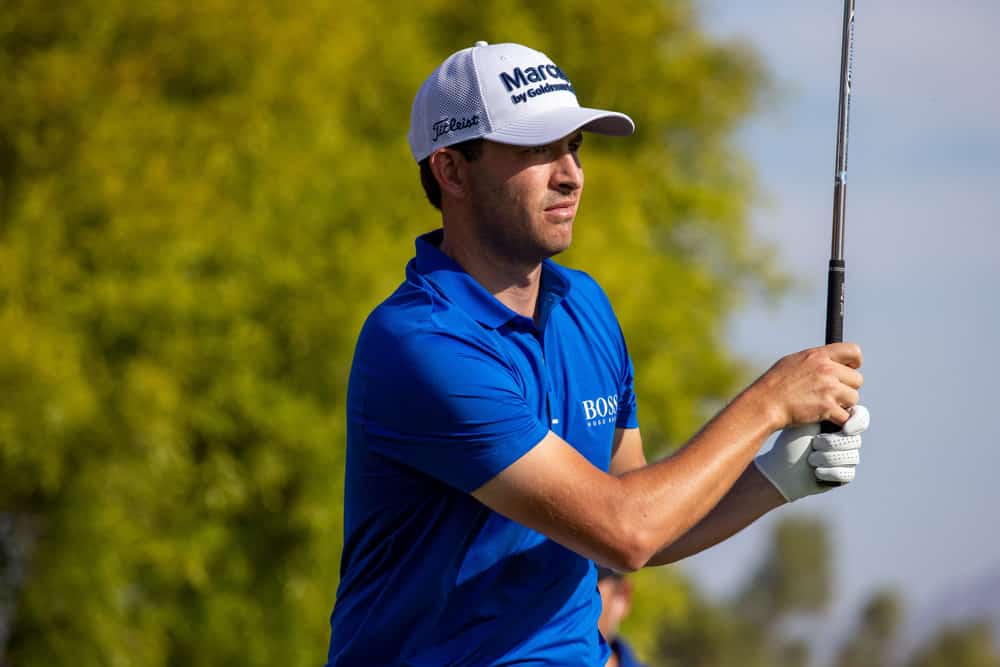 For those who missed it, check out the WM Phoenix Open Preview and Betting Strategies for the types of golfers you should look to target for your picks. Using that as a guide, let's take a look at some of the best bets to make this week. Here are my picks for the 2022 WM Phoenix Open (odds courtesy of WynnBet):
WM Phoenix Open Picks – Outright Winners
Patrick Cantlay: 16/1
There seems to be some backlash around Cantlay this week. He was expected to run away with the American Express. It didn't happen. Then he was expected to steamroll the field at the AT&T Pebble Beach Pro-Am. That didn't happen either. And now all the talk is about how Cantlay can't win anything.
Here's the reality of the situation. Since the start of the 2021 season, only Viktor Hovland can say he's won more than Patrick Cantlay has. Sure, his "win" at the Tour Championship wasn't really a win. But in a do-or-die spot, he still had to go toe to toe and beat the #1 Player in the World. He got the job done. And sure, he was gift-wrapped a win at last year's Memorial thanks to a COVID diagnosis. But he still had to vanquish Collin Morikawa to do it, who we all agree is awesome. And his other two wins came by taking town some huge heavyweights. He ran down Jon Rahm and Justin Thomas to take down the ZOZO Championship, and he outlasted Bryson DeChambeau at last year's BMW Championship. Hovland may have more wins. But Cantlay has much more impressive wins.
So sure, get it into your head that Cantlay stinks because he can't win a putting contest. That's the only ammunition you have this week. There's absolutely nothing in his performance or statistics that suggests he can't win this week. And with everyone zigging away from him, I'm zagging to his 16/1 outright price, which actually is a bit of a value for him. Block out the haters. Pick Cantlay to win the 2022 WM Phoenix Open.
Scottie Scheffler: 28/1
There's a good case to make for Scheffler to win his first PGA Tour title at TPC Scottsdale. Scheffler has a wonderful combination of length and accuracy off the tee. He's a really good iron player, particularly with his short and intermediate clubs. He scores a ton of the Par 5's and doesn't give many strokes back to the field with stupid bogeys. And he has success at TPC Scottsdale. He's going to win at some point. He was so close last fall to getting the job done. Maybe, at long last, Scottie Scheffler gets the job done on Super Bowl Sunday.
Daniel Berger: 28/1
With a back injury, Berger should not be used in any other type of bet. He's too risky to be used in DFS, in matchups, or even positional props. No one has any real idea what his condition is. But that's why, at 28/1, Berger is a perfect candidate for a set-it-and-forget-it outright. Because if the back is right, what he brings to TPC Scottsdale is very good. Berger won't get in trouble off the tee. He's hitting his irons tremendously. He's putt well on overseeded surfaces in the past. And he scores well on the Par 5's.
What's also encouraging is that Berger was in a very similar spot last year. Like at the AT&T Pebble Beach Pro-Am, Berger was battling a rib injury ahead of the Honda Classic. He was the heavy favorite but bowed out of the tournament at the 11th hour. However, he returned one week later for the WGC Match Play. Berger ended up going 2-1 and only failed to advance out of group play because he lost a sudden-death playoff to Erik Van Rooyen. Needless to say, Berger was fine immediately post-injury.
Who's to say Berger just didn't want to play four days of 6-hour rounds with an amateur in cool conditions. Maybe with a few extra days off, he'll be right back in form. If that's the case, 28/1 is a bargain for Daniel Berger to win the 2022 WM Phoenix Open.
Matthew Fitzpatrick: 50/1
It's sometimes hard to believe that Matthew Fitzpatrick has been a professional for 8 years. He still is so very young but has a ton of experience under his belt on so many different types of golf courses. And while we're still waiting for him to win the PGA Tour, there's no denying that he has the game to do so. And it all might finally be rounding into form.
For a year, Fitzpatrick was a confusing player to track. For a player as short off the tee as he was, he was gaining a significant amount of strokes off the tee. His iron play, however, was definitely lacking. It was surprising because that once was a strength. But last week at Pebble Beach, he hit his irons well in the two ShotLink rounds captured for him. And combining that with his improvements off the tee and always reliable putting, he scored a T6 finish.
Maybe in his long layoff, he figured out what was wrong with his irons. If that's fixed, he checks a ton of boxes for a winner at TPC Scottsdale. He'll keep the ball in play off the tee, he'll fire at pins on big, firm greens, and can roll in putts all day long. That's how Webb Simpson got the job done in 2020. Fitzpatrick can follow this same exact blueprint.
Aaron Wise: 100/1
Gamblers are still waiting for Aaron Wise to turn back into a pumpkin on the greens. After all, this was a guy who at one point had a 6 shot lead at the Honda Classic, but four putted his way out of the win.
But starting last fall, Wise made a switch to the broomstick putter. And it's been working wonders. Wise has gained strokes on the field putting in his last four ShotLink measured tournaments. And much to my surprise, it was his ball-striking that let him down at Torrey Pines, not the putter. No one questions how good of a ball-striker Wise is. Sot if that turns around this week, he might be a force to be reckoned with. Wise is a nice longshot flyer to win the 2022 WM Phoenix Open.
WM Phoenix Open Picks – Other Props
Jon Rahm Top 10: -110
Rahm has the highest floor in golf. With how skilled he is in so many areas, he's able to find ways to score and stave off poor rounds when one part of his game isn't working. That's why it's not only foolish for books to offer a Rahm Top 10 at -110, but to also do it at one of his best tracks on the PGA Tour. He's played this tournament every year since 2017. He hasn't finished worse than T16. Considering how well he's playing right now, getting football game odds on him to finish Top 10 is too good to pass up. The same can also be said for someone like Justin Thomas, who can be had for a Top 10 at +150 on WynnBet. Forget betting the coin toss or how long the National Anthem will be at the Super Bowl. Placing football bets on two relatively safe players is the way to go.
Other Top 10's To Consider:
Xander Schauffele – +240
Adam Scott – +450
Mito Pereira Top 20: +450
Mito Pereira was a darling in golf gambling communities last fall. Now all of a sudden he's priced over 100/1 in golf tournaments and is being ignored. While he's seen his ball-striking regress, he's seen an improvement on and around the greens. I like seeing that he's not a one-trick pony. That makes him a versatile golfer on a lot of different types of tracks. And now that the steam is off of him, he's getting priced accordingly. Pick him +450 for a Top 20 finish at the 2022 WM Phoenix Open.
Other Top 20's To Consider:
Corey Conners – +175
Keith Mitchell – +275
Adam Hadwin – +400
Matthew NeSmith – +550
Aaron Wise -130 over Rickie Fowler
The praise for Wise is above. As for Fowler, I've run out of patience. It seems like his Top 5 finish at last year's CJ Cup was a blip on the radar. He's done zilch since. Given what both have done over the last 12 months, Wise should be a much heavier favorite over Fowler in a head-to-head. The only reason why this is as close as it is is because once upon a time a young and talented player named Rickie Fowler was great here. The 2022 version of himself is nowhere near what it was. Wise should prevail head to head over Fowler this week.
Related Content