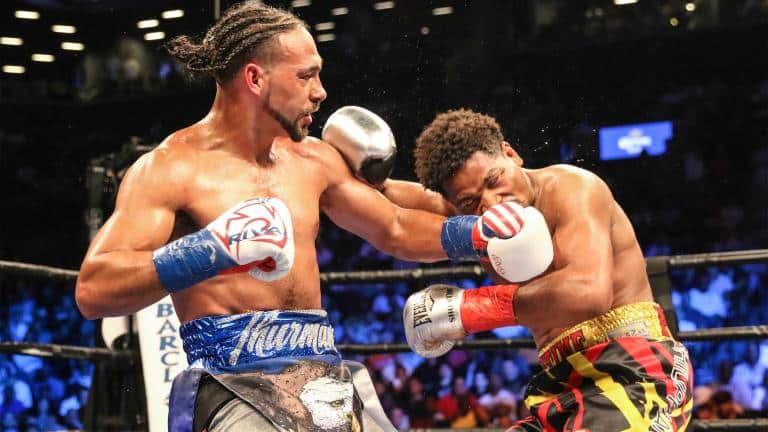 It's a brand new edition of the only boxing show you need for the news, fight previews and of course, picks against the lines. And, we are ready for one of the exciting, hard punching champs of the 2010s to make his return Saturday on "The Big Fight Weekend Podcast."
Host T.J. Rives is joined by Dan Canobbio of his own successful show "Inside Boxing Live" found on Fubo Sports, Youtube and more. The guys are ready to go over the news of the week, including a couple of big battles that are now set for the upcoming short term
And, they also discuss the three prominent fight cards from London to Phoenix to Las Vegas coming Saturday night. That includes, the return to the ring of former World Welterweight title holder Keith "One Time" Thurman. Thurman is back after a 2 1/2 year layoff from his first pro loss to future Hall of Famer, Manny Pacquiao.
How will Thurman look in the ring with a tough, sturdy opponent in Mario Barrios in Las Vegas? We're about to find out.
The guys also reminisce on the upcoming 32nd anniversary of James "Buster" Douglas stunning and kayoing Mike Tyson in February 1990. Dan's father Bob Canobbio was at ringside in Tokyo for CompuBox and HBO Sports to witness first hand the upset.
Finally, T.J. and Dan make some fight picks with the lines on the Thurman main event, plus, England's popular contender Chris Eubank, Jr. is headlining Saturday afternoon U.S. time from London. And, there's an intriguing WBC Super Flyweight title bout between veteran Carlos Cuadras and hard punching, up and comer Jesse "Bam" Rodriguez Saturday night in Phoenix, as well.
Hear it all on the "Big Fight Weekend" podcast and make sure to follow/subscribe on Apple Podcasts, Spotify, Google, etc.!!
Download the SGPN APP today https://sgpn.app and leave us a rating & review.
Support for this episode – WynnBet | PropSwap.com code "SGP" | ThriveFantasy.com code SGP | StableDuel.com | BettorFantasy.com/SGPN