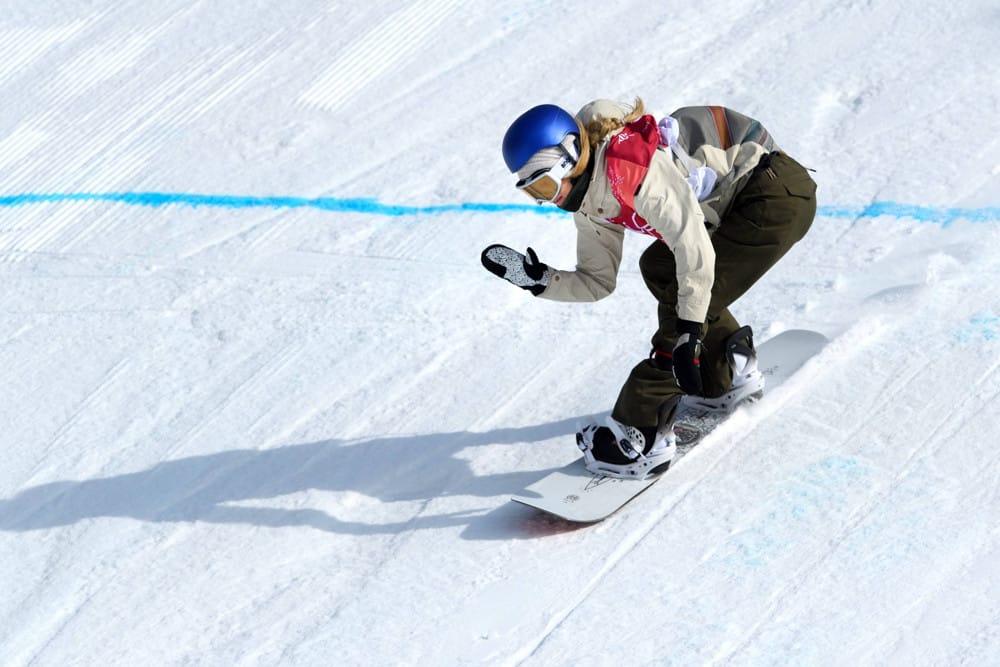 The bad news is that we have to wait almost two weeks for the Super Bowl. The good news is you don't have to wait that long to get in on some betting action. Here to save the day is the Winter Olympics!  If you're new to watching or gambling on the Winter Olympics you are in the right place. Let's dig into a preview and some betting picks for women's snowboard slopestyle.
You may not know what the women's snowboard slopestyle event is or what it entails. Slopestyle was not added to the Winter Olympic Games until 2014 in Sochi, Russia. The first Olympic champions in the snowboarding slopestyle event were both Americans (Jamie Anderson for the women and Sage Kotsenburg for the men). Jamie Anderson also won the gold in the slopestyle event in the 2018 Winter Olympic Games held in Pyeongchang, South Korea. Let's take a look at some betting previews, our picks, and betting odds for this event.
What Is Snowboard Slopestyle?
Slopestyle may be a relatively new event but that does not make it any less exciting. Both men and women compete in the snowboard slopestyle event that includes snowboarding down a course that has numerous obstacles. The obstacles on this course include jumps and rails. The Olympians are judged and score points for originality, amplitude, and the quality of their tricks. Essentially there are four categories of tricks performed during the slopestyle. There will be some variation of these and include: grinds, grabs, spins, and flips.
When Does This Event Take Place?
Where to watch: USA, Peacock, and NBCOlympics.com

Women's Snowboard Slopestyle Schedule:
Qualifying Round: February 4th at 9:45 PM Eastern, 6:45 PM Pacific
Finals: February 6th at 8:30 PM Eastern, 5:30 PM Pacific.
2022 Women's Snowboard Slopestyle Preview and Betting Picks
New Zealand – Zoi Sadowski-Synnott (Outright Winner, -115)
Who: Zoi Sadowski-Synnott is a New Zealand snowboarder who specializes in slopestyle and big air competitions.
Accomplishments: Sadowski-Synnott won the bronze medal in big air during the 2018 Olympic Games and won the title in the slopestyle competition in the 2019 World Championships. She won the gold medal in the January X Games for both the big air and slopestyle events.
Outlook: Sadowski-Synnott, fresh off two gold medals in the January 2022 X games, is determined to bring home New Zealand's first gold medal in the Winter Olympics. Given her recent success and extra motivation, she should be the betting favorite, and she is.
USA – Jamie Anderson (Outright Winner, +250)
Who: Jamie Anderson is an American professional snowboarder and has been the face of women's snowboarding since the inception of the slopestyle event as part of the Winter Olympic Games in 2014.
Accomplishments: Anderson won the gold medal in the first-ever women's slopestyle event in the 2014 Winter Olympics in Sochi, Russia. She then repeated at the 2018 Winter Olympics Games. She is the first female snowboarder to win more than one gold medal.
Outlook: Anderson is looking to make history and three-peat in the slopestyle event. She is also one of the most decorated women's snowboarders in American history and in this competition. There are worse ways to spend your money.
Australia – Tess Coady (Outright Winner, +700)
Who: Tess Coady is an Australian snowboarder that competes internationally and competed and represented Australia in the 2018 Winter Olympic Games in Pyeongchang, South Korea.
Accomplishments: Coady was the youngest athlete on Australia's Olympic team in 2018 at a mere 17 years old. She was supposed to make her slopestyle debut in 2018 but had to miss the event when she tore her ACL during a practice run. Coady participated in the FIS Freestyle Ski and Snowboarding World Championships in 2017 in Spain. She participated in the big air and slopestyle events. She was crowned the "Rising Star" at the 2017 Australian Ski and Snowboard Awards.
Outlook: Though not the betting favorite or most decorating Olympian in this event, Coady has the look of a real up and comer and could challenge to become one of the new faces of this event. If you like taking a bit more of a risk and having a chance to be one of the first to jump on the Tess Coady bandwagon, this may be your shot.
Austria– Anna Gasser (Outright Winner, +1200)
Who: Anna Gasser is an Austrian snowboarder who has competed in slopestyle and big air events. Gasser was first part of the Austrian gymnastics team before beginning to compete in snowboarding events in the 2010/2011 season.
Accomplishments: Gasser qualified for the 2014 Winter Olympic Games for the slopestyle event. She had the best result of the qualification round and therefore directly qualified for the final. Gasser won gold in the slopestyle event in the 2017 X Games and in the same year won gold in the big air event of the Snowboard World Championships in Spain. She won gold in the big air event during the 2018 Winter Olympics and this will be her third straight Olympic Games.
Outlook: Gasser will be competing in both the big air and slopestyle events. Gasser has become a social media sensation using social media and technology as a platform to show off her unique and flashy tricks to the whole world. Now she has the chance to show them off on the biggest stage. Between her propensity for flashy tricks and her history of blowing judges away in a single round (see 2014 Winter Olympic Games slopestyle event), she may be my favorite bet in this event.

Other Winter Olympics Games to check out on Feb 4th
Make sure to check out the other Olympic Games either starting or playing on Friday including; Men's Alpine Skiing, Men's Curling Mixed Doubles Round Robin sessions 5 and 6, Men's Figure Skating, Women's Ice Hockey Preliminary Rounds for both Groups A and B, Men's Luge training runs, among others. All Olympic Games can be watched on USA, NBC, Peacock, and NBCOlympics.com.
Look Ahead
Make sure to check out tomorrow's preview of the 2022 Winter Olympics Men's Luge event and get a sneak peek at the preview and betting picks for this event! Why not take every advantage you can get and get a head start on building up your betting bankroll. There is going to be so much fun associated with these Olympics and this is only the beginning.
Related Content