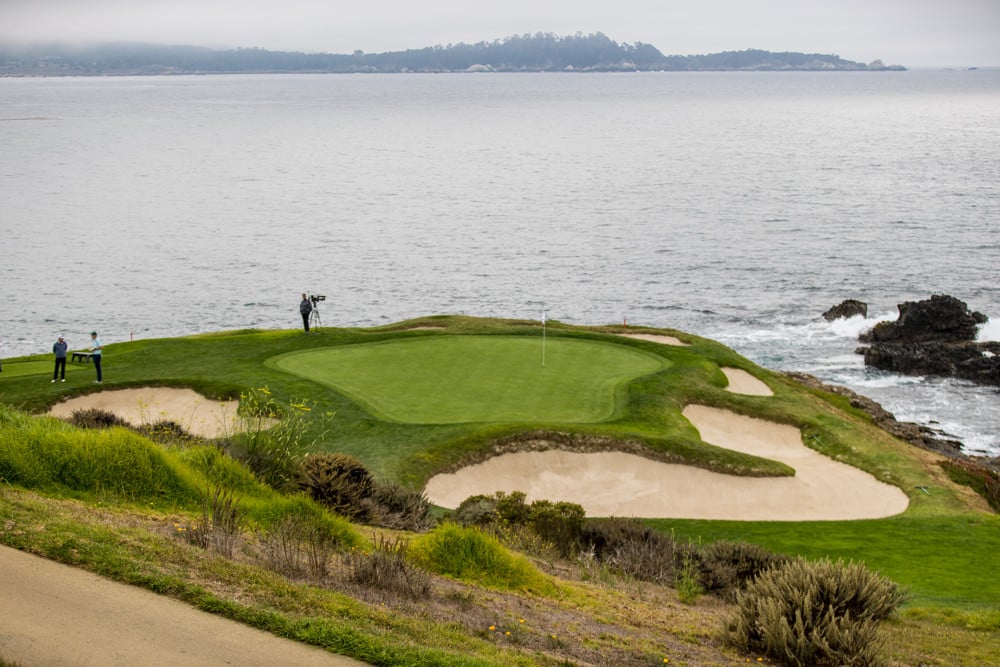 While most of the top players in the world are in the Middle East, the PGA Tour feels a bit like an opposite-field event. But that doesn't mean we can't gamble on it! And what better way to gamble on golf than to watch it go down on one of the most iconic golf courses in America. It's the AT&T Pebble Beach Pro-Am from Monterrey, California. As always, here is your early deep-dive of the 2022 AT&T Pebble Beach Pro-Am and a preview of how to bet.
AT&T Pebble Beach Pro-Am Preview – The Field
As mentioned earlier, the Saudis dumped a truckload of cash on several top players to go to the Middle East and play their event. But there are a few top players who refused the bribe and will instead tee it up at the AT&T Pebble Beach Pro-Am
The top player in the field this week is Patrick Cantlay. Cantlay got off to a hot start at the American Express. However, a mediocre weekend cost him yet another opportunity at a victory at PGA West. Cantlay historically crushes on short Poa golf courses. And given the lack of talent in the field, expect his odds to be around 6/1 this week.
Other notables in the field include Patrick Cantlay, Jordan Spieth, Matthew Fitzpatrick, Maverick McNealy, Justin Rose, and Will Zalatoris.
For the full field, click here.
AT&T Pebble Beach Pro-Am Preview – The Golf Courses
Due to COVID, last year's AT&T Pebble Beach Pro-Am was only held at Pebble Beach and Spyglass Hill. Monterrey Peninsula was left out in 2021. But that golf course makes its return to the tournament this year. And also making a return are the amateurs, which isn't exactly the best news. Unless you like CBS taking time away from the breathtaking views of the Front Nine to show horrible celebrity shots and unfunny Bill Murray interviews, the Saturday afternoon coverage might be a pretty tough scene.
The most famous of the golf courses played in the rotation is Pebble Beach. Ask any golfer what five golf courses are on their bucket list, and Pebble Beach will almost surely be among them. The golf course was first designed by Jack Neville and Douglas Grant in 1919, and later revised by H. Chandler Egan, Alister McKenzie, and even Jack Nicklaus when he redesigned the 5th hole in 1998.
Besides being a mainstay on the AT&T Pro-Am rotation, the golf course has hosted numerous major championships. Jack Nicklaus won the 1961 US Amateur at Pebble Beach and ten years later won the first U.S. Open hosted there. Tiger Woods went completely berserk in 2000 at the U.S. Open, carding a winning score of -12 to win by an astronomical fifteen shots over runner-up Miguel Angel Jimenez. Dustin Johnson blew a three-shot lead here in 2010 to give Graeme McDowell his first and only major championship victory. More recently Pebble Beach played host to the 2019 U.S. Open, which was won by Gary Woodland. Viktor Hovland also won the 2018 U.S. Amateur there.
While the entire golf course is breathtakingly beautiful, it's the front nine that is the crown jewel of the property, specifically from holes 6-8. If you ask any golf fan what they know about Pebble Beach, this stretch of holes should immediately come to their mind:
6th Hole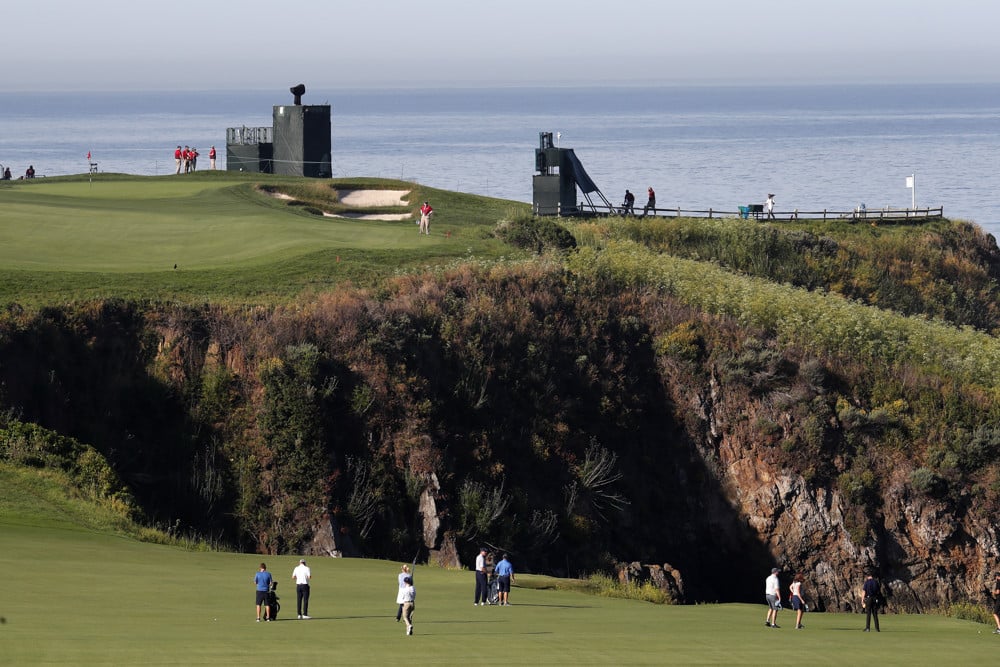 7th Hole
8th Hole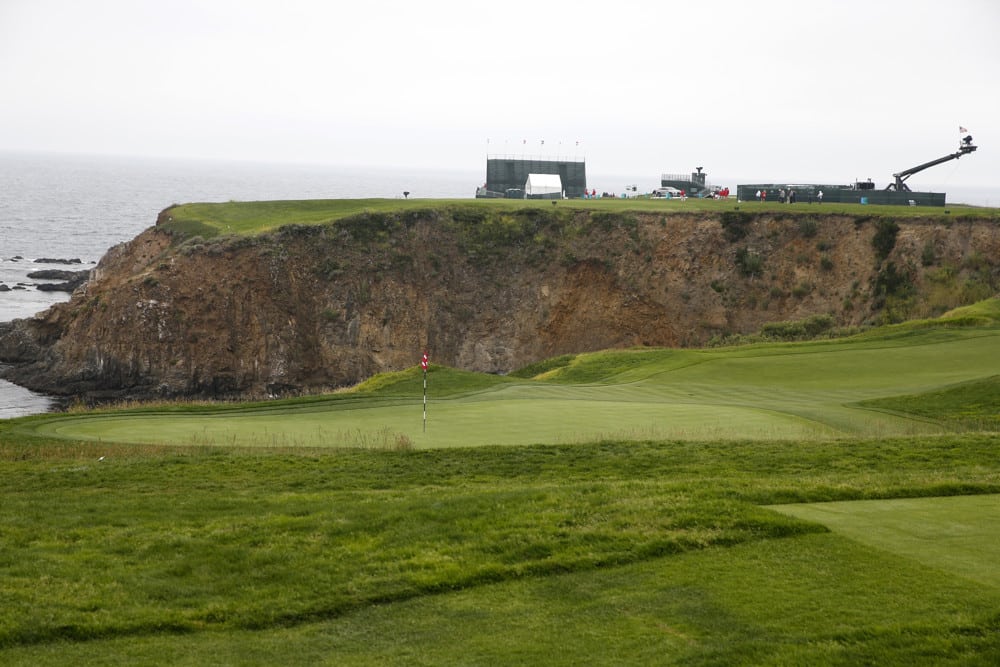 Through the years viewers have seen two distinct setups of Pebble Beach. The USGA generally sets the golf course up to play very firm and fast with deep penal rough flanking the fairways. A lack of rainfall in the summer helps set up the golf course like that. The setup this week is much different. Central California sees significantly more rainfall this time of year. It makes the golf course play much softer. The soft conditions allow for easier scoring conditions. The rough also isn't quite as thick as it would be for a U.S. Open.
Pebble Beach may steal the headlines, but Spyglass Hill is a good one in its own right too. Robert Trent Jones designed Spyglass Hill in 1966. It entered the tournament rotation in 1978. The golf course was originally named Pebble Beach Pines Golf Club but was renamed in 1969 after a reference to the book Treasure Island. Every hole at Spyglass Hill is named after something from Treasure Island.
The round starts off with a bang as the first five holes have fantastic views of the ocean and surrounding sand dunes. The most iconic hole on the golf course is the 4th hole. It plays along the coast and features a 55 yard long, 9-yard wide green. Mounds flanking the green makes it a little easier to funnel the ball onto the green, but anyone who hits it in regulation deserves to automatically pass to the final round.
But after the first five holes, the course moves inland and through the forest, which makes the rest of the round a little uninspired. This course is my least favorite of the three played in a traditional AT&T Pebble Beach Pro-Am.
In 2022, Monterrey Peninsula returns to the tournament rotation at the Shore Course. The Shore Course was built by Bob E. Baldock and Jack Neville in 1959. It was most recently redesigned by Mike Strantz. Other notable courses from Strantz include Tobacco Road, Caledonia Golf and Fish Club, and True Blue. The Shore Course has been part of the tournament rotation since 2010.
After beginning the round inland, the golf course opens up to the coastline where the golfers can enjoy spectacular views of the Pacific. Unlike Pebble, the fairways of the golf course are almost serpentine from tee-to-green. It sets up interesting angles into the green depending on the pin position of the day. The golf course can play tough if the winds are up, but historically this course plays as the easiest of the three in the tournament.
AT&T Pebble Beach Pro-Am Preview – Betting Strategies
Once again, gamblers are faced with a multi-course rotational tournament. Everyone will play Pebble Beach, Spyglass and Monterrey Peninsula from Thursday through Saturday. The field is then cut, and the final round is at Pebble Beach. As you probably experienced a few weeks ago at the American Express, this can be extremely frustrating. It doesn't feel like this tournament has any flow round to round. And like the American Express, 90% of the field is primarily average to below-average PGA Tour players who don't pop on any model. And to top it off, there are no categorical strokes gained maintained for Spyglass Hill and Monterrey Peninsula.
Therefore, gamblers have to find diamonds in the rough.
Let's first start by breaking down the Relative Skill Set charts from all three golf courses. This can help preview what types of players are expected to play well at the AT&T Pebble Beach Pro-Am.
At Pebble Beach, the most predictive statistics to success on the leaderboard is iron play and putting. That makes sense given the composition of the golf course. Players don't have to pull driver out of the bag too often. On several Par 4's, laying back with a fairway metal or iron is the more prudent play. That's also why you don't see driving accuracy as a highly correlated stat either. When everyone is pulling less-than-driver, everyone's accuracy tends to go up. That's part of the reason why, when good weather conditions allow it, the driving accuracy percentage at Pebble Beach is usually in the low to mid 70's.
With many fairways hit, separating oneself from the field with good iron play is a must. It's also important to hit your irons well because the greens are so small. While having a good short game around the green is a small plus, it's hard press for anyone who can hit 75+% of their greens in regulation at Pebble and not show well on the leaderboard.
And once they're on the dance floor, better putters can separate themselves even further. Like last week at Torrey Pines, the greens are Poa Annua. It's a tough surface to putt on, and the data supports it. Last year, Pebble Beach had the 5th toughest greens to putt on, just behind Torrey Pines. It's due to the Poa Annua. Having both experience and the confidence putting on this surface is a big edge.
Next, let's take a look at Spyglass Hill:
Like at Pebble Beach, good iron play and putting are very predictive statistics towards success at the golf course. This is for many of the same reasons as what was described for Pebble Beach. And like Pebble Beach, there's a need to be a good scrambler around the greens because they're so small, however, it's a bit more predictive at Spyglass than it is there.
But the biggest difference is that distance off the tee is a much more predictive measurement of success at Spyglass than it is at Pebble. Both golf courses play under 7,000 yards though. So why is that? It's because, after the first 5 holes, the golf course plays very straight away. The fairways also don't bottleneck in as much as they do at Pebble Beach to force a lay up. And almost all the fairway bunkers can be carried off the tee with a driver. Players are given much more opportunity to hit driver at Spyglass than they do at Pebble Beach. And because it still plays pretty narrow, the ability to shorten up holes is a big plus there.
Lastly, let's take a look at Monterrey Peninsula: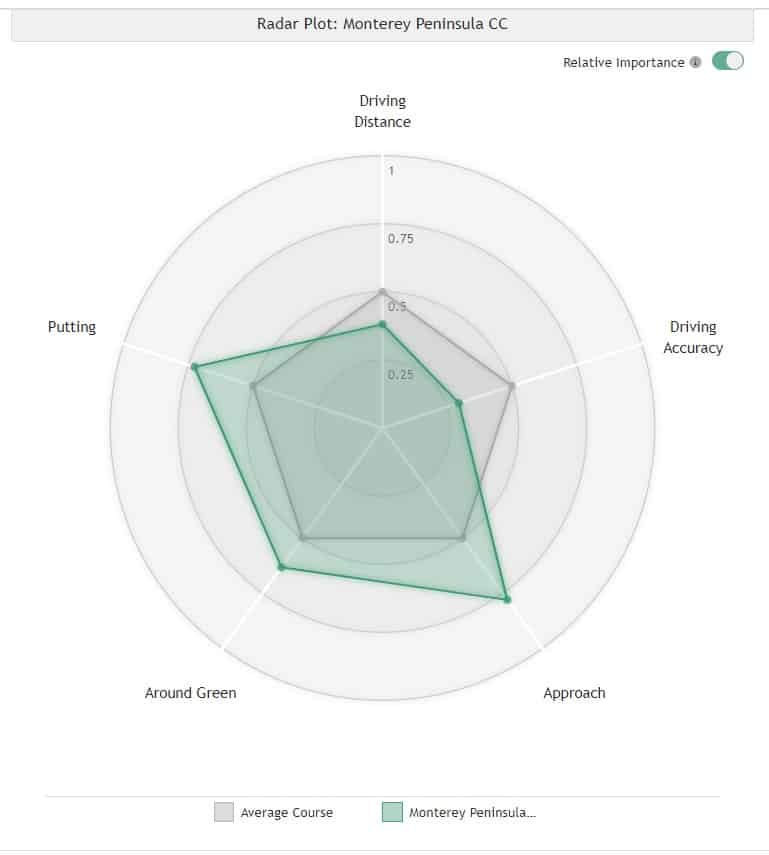 This skill set chart looks a lot like Pebble Beach. Driving distance and accuracy isn't as predictive as iron play, putting, and scrambling is. Unlike Pebble, however, players can hit driver a lot more often at Monterrey Peninsula than they can at Pebble. Pebble's landing zones are pretty wide, but some bottlenecking discourages driver. At Monterrey, there are almost 50 yard wide fairways most of the way down the hole. Someone looking to be more aggressive can justify pulling driver out of the bag. And they play a lot wider than that because of how soft the golf course is this time of year. With generous landing zones, it's pretty difficult for players to not find the fairway. That creates a lot of parody off the tee at Monterrey Peninsula.
Looking at all the golf courses from a high-level view, all of them show that iron play, scrambling, and putting are strong predictors towards success at this tournament. Looking at driving statistics before the tournament doesn't appear to be of much help when handicapping the field. While it shouldn't be totally ignored, gamblers don't need to worry about it too much this week.
Let's next focus on where players will hit their approach shots from. Unfortunately, only Pebble Beach has ShotLink data that tells gamblers the yardages hit into greens. Here's the chart from the 2021 tournament:
Last year, 44.1% of all approach shots came from under 150 yards, 25.9% came from 150-200 yards, and 30% came from over 200 yards. While an emphasis is placed on wedge play at Pebble Beach, it's not an overwhelming majority. Plus, there's no such distribution chart that exists for both Spyglass Hill and Monterrey Peninsula. Gamblers must factor this in as well. Therefore, we have to estimate it based on the shape of the holes and where (in this writer's opinion) the tee shots will land:
Spyglass Hill
<150 Yards: 11 Holes (61.1%)
150-200 Yards: 3 Holes (16.7%)
200+ Yards: 4 Holes (22.2%)
Monterrey Peninsula
<150 Yards: 6 Holes (33.3%)
150-200 Yards: 6 Holes (33.3%)
200+ Yards: 6 Holes (33.3%)
Taking all this into account, here's an approximate distribution chart of the entire tournament as a whole:
AT&T Pebble Beach Pro-Am Approach Shot Distribution
<150 Yards: 33 Holes (45.8%)
150-200 Yards: 18 Holes (25.0%)
200+ Yards: 21 Holes (29.2%)
Gamblers should definitely take a look at approach shot performance from under 150 yards. Gamblers also shouldn't ignore the performance from over 200 too. With the winning score approaching upper teens under par, players will have to make birdies on the Par 5's when they can get it. There's also some longer Par 3's at Monterrey Peninsula that can play pretty tricky if the wind is up.
Lastly, here are the Top 5 players in the field who have gained the most strokes per round on each of the golf courses in the AT&T Pebble Beach Pro-Am:
Pebble Beach
Dawie Van der Walt: 2 Rounds, +3.76
Matthew NeSmith: 5 rounds, +2.97
Maverick McNealy: 6 Rounds, +2.82
Charl Schwartzel: 6 Rounds, +2.63
Justin Rose: 8 Rounds, +2.30
Spyglass Hill
Lanto Griffin: 2 Rounds, +3.34
Justin Rose: 2 Rounds, +3.29
Jordan Spieth: 9 Rounds, +2.95
Joel Dahmen: 4 Rounds, +2.91
Daniel Berger: 3 Rounds, 2.76
Monterrey Peninsula
Jason Day: 9 Rounds, +3.28
Sung Kang: 5 Rounds, +3.03
Brandon Wu: 1 Round, +2.75
Charl Schwartzel: 1 Round, +2.52
Camilo Villegas: 1 Round, +2.47
This list of players is a preview of the types of players who will play well this week at the AT&T Pebble Beach Pro-Am.
Related Content