The PGA Tour returns to one of the most recognizable golf courses on the schedule. A strong field takes on Torrey Pines for the 2022 Farmers Insurance Open. As always, here is your early deep-dive of the 2022 Farmers Insurance Open and a preview of how to bet.
Farmers Insurance Open – The Field
The field at the Farmers Insurance Open is night and day different than it was last week for the American Express. There are lots of big dogs in this tournament. Highlighting the field is the King of Torrey Pines, Jon Rahm. Rahm won his first career PGA Tour event at Torrey Pines in 2017. He also cashed in big for all the gamblers who took a stroll down Narrative Street at the 2021 U.S. Open. Bettors didn't care that Rahm was ludicrously priced at 10/1 pre-tournament to win one of the toughest events of the season. They paid the toll so they could revel in Rahm's fairy tale ending. Despite a strong field, expect Rahm to once again be priced no better than 10/1 to win this tournament.
Also highlighting the field is Bryson DeChambeau. It can be argued that Bryson choked away the 2021 U.S. Open and denied Rahm of his first major win. DeChambeau had the tournament firmly in his grasp heading into the Back Nine. But DeChambeau made a mess of things between Holes 11-13, going +4 over that stretch to take himself out of it. Torrey Pines is a venue where power provides a huge advantage. If the other parts of his game are good, he could run away with this tournament.
Other notables in the field include Dustin Johnson, Justin Thomas, Xander Schauffele, Hideki Matsuyama, Jordan Spieth, and Brooks Koepka. This list is just an appetizer to the deep talent pool at the 2022 Farmers Insurance Open.
For the full field, click here.
Farmers Insurance Open – The Golf Courses
Torrey Pines is a municipally-owned golf course built in 1957 on the site of an old U.S. Army Base just north of San Diego. William Bell designed the golf course. It features two 18-hole tracks on the north and south sides of the property. The PGA Tour has made Torrey Pines a regular stop on the tour since 1968.
Starting in 2000, the U.S. Open began to have an appetite for municipal public golf courses in their effort to #growthegame. Along with fellow municipal golf course Bethpage Black, Torrey Pines was picked by the U.S. Open to host the 2008 event. They hired Rees Jones to redesign the golf course so that it was suitable for championship play.
The revisions to the South Course included a significant lengthening to counter advancements in golf technology. It also repositioned greens closer to the canyons to bring them into play. Finally, Jones added numerous fairway bunkers to challenge the professionals off the tee. The golf course is now a beast. From the tips, it plays as long as 7,800 yards. This week, it will play about 7,630 yards.
I've spent several years breaking down the history and design of the South Course at Torrey Pines. And if you've read this column for the last few years, you know that I'm not a big fan of the golf course. So if you'd like to see those comments, click here.
But I'm not going to rehash all the negative comments. You've come here for information, not my opinion on what I wish would be done to the golf course. So this section is primarily going to focus on the recent changes made to the golf course ahead of last year's event. This space will also discuss the differences in golf course setup between the Farmers Insurance Open and the U.S. Open.
First, let's discuss some recent changes to the South Course. Over the last few years, Rees Jones made a few subtle changes to make Torrey Pines South. A few new tee boxes were added to make some holes play a little differently. A tightly mowed collection area was also added behind the 9th Green.
But the most significant change made to the golf course was with the fairway bunkers. Increased driving distances forced his hand. New fairway bunkers were added to make it more challenging off the tee. Bunkers were also shifted closer to fairways to allow balls to roll down into them. Every Par 4 and 5 on the golf course got some sort of bunker alteration. Either existing fairway bunkers were brought in closer to the fairway, or a new one was added to the landing zone.
The work to the first hole is a great example of this:
1st Hole – Before


1st Hole – After
The short bunker was moved up the fairway. It's now 320 yards off the tee to the middle of that bunker. In addition, before the renovation, a small swath of rough provided a barrier between the bunker and the fairway. Balls that just trickled off the fairway could get caught up in the intermediate rough. Now, the fairway transitions to the bunkers themselves. There's less margin for error off the tee now than there was before.
But while this increased the need to keep the ball in the fairway, that was always the case at Torrey Pines. The problem with this approach is that even for the more accurate guys, finding fairways at Torrey Pines is a difficult task. With fairways only averaging 28 yards wide, the driving accuracy % for this event is typically well below PGA Tour averages. And even if a shorter player does find the fairways, the golf course is so long that they're faced with long approach shots all tournament. That means fewer greens in regulations hit overall for them too. Unless they're wizards on and around the green, these types of players are seriously behind the eight-ball at Torrey Pines South.
Who's not behind the eight ball at Torrey Pines? Guys who love to hit drivers where everything is right out in front of them. Long and straight off the tee is so key at Torrey Pines. These guys can look ahead of them down the fairway, pick their target, and wail away. Given their faster club head speeds, they can hit a higher and more controlled ball fight into the green. And should they find the rough, they have the club head speed to hit it close to the green and get up and down for par.
Another difference between the U.S. Open and the Farmers Insurance Open is the agronomy. Naturally, this golf course has Kikuyu fairways with Bermuda rough. That's the turf conditions at the U.S. Open. But the fairways and rough are overseeded with rye grass this week. While the rough is still plenty thick, it's a little more forgiving because the ball can occasionally sit up in it. In Bermuda, it's almost always going to sink to the bottom of the grass.
Lastly, the greens play a little slower for the Farmers Insurance Open than it will for the U.S. Open. The greens ran about 13.5 on the stimpmeter for the 2021 U.S. Open. For the Farmers Insurance Open, they'll run closer to 12 or 12.5. That's still faster than normal on the PGA Tour. And it's much faster than what these players have seen for the last few weeks. It'll be a big adjustment to navigate on these fast Poa Greens.
Three of four rounds of the Farmers Insurance Open are on the South Course. Gamblers should make that their primary focus for the week. But we can't forget about the North Course though. Everyone will have to play that one either Thursday or Friday: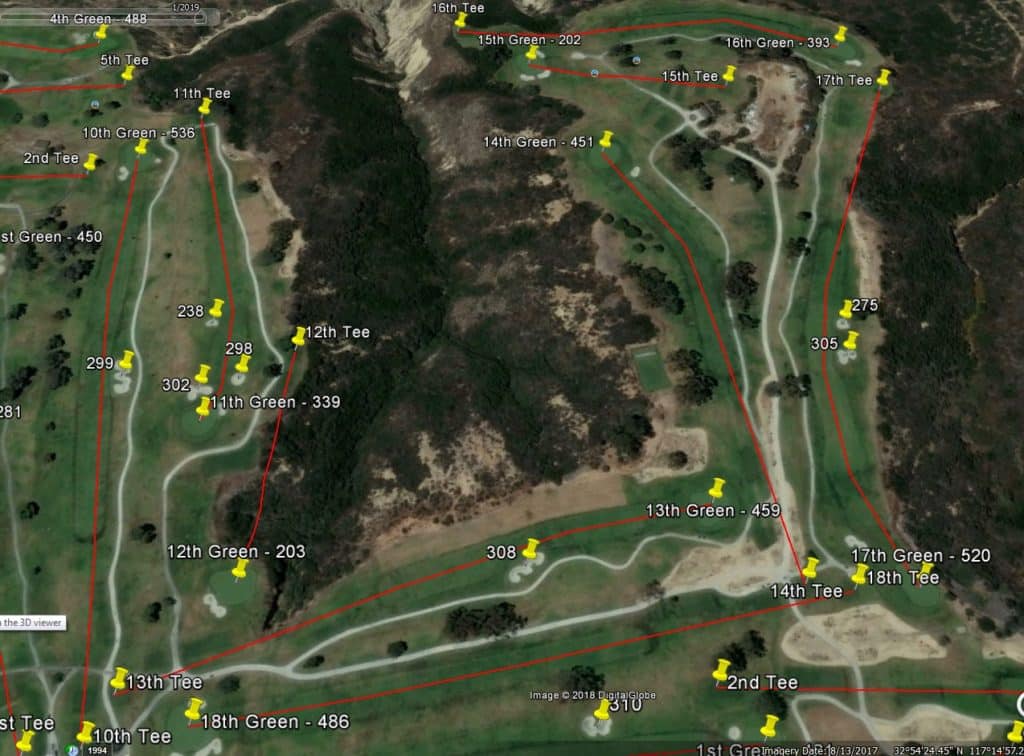 Tom Weiskopf redesigned the North Course in 2016. Unlike its big brother to the south, Weiskopf sought to redesign the North Course with the amateur, not the professional, in mind. As such, Weiskopf enlarged greens, removed eighteen bunkers (mostly of the fairway variety), and cut down dozens of trees due to a beetle infestation. While the removal of the trees disappointed some, it opened up the golf course significantly and gave way to spectacular views of the coastline.
The most beneficial change to the golf course was the simplest one. They decided to flip the nines so the Back Nine plays along the canyons and the Pacific Coastline. This provides a dramatic finale to a round and ensures a golfer walks off with fantastic memories, no matter how poorly they might play.
Farmers Insurance Open Preview – Betting Strategies
Gamblers don't need to focus too heavily on the North Course. Golfers play the North Course only once. Otherwise, they'll be dealing with too much data and angles to process. Keep it simple and just focus on what it takes to have success on the South Course.
To begin the discussion about betting strategies, let's look at the Relative Skillset Chart from DataGolf on Torrey Pines South: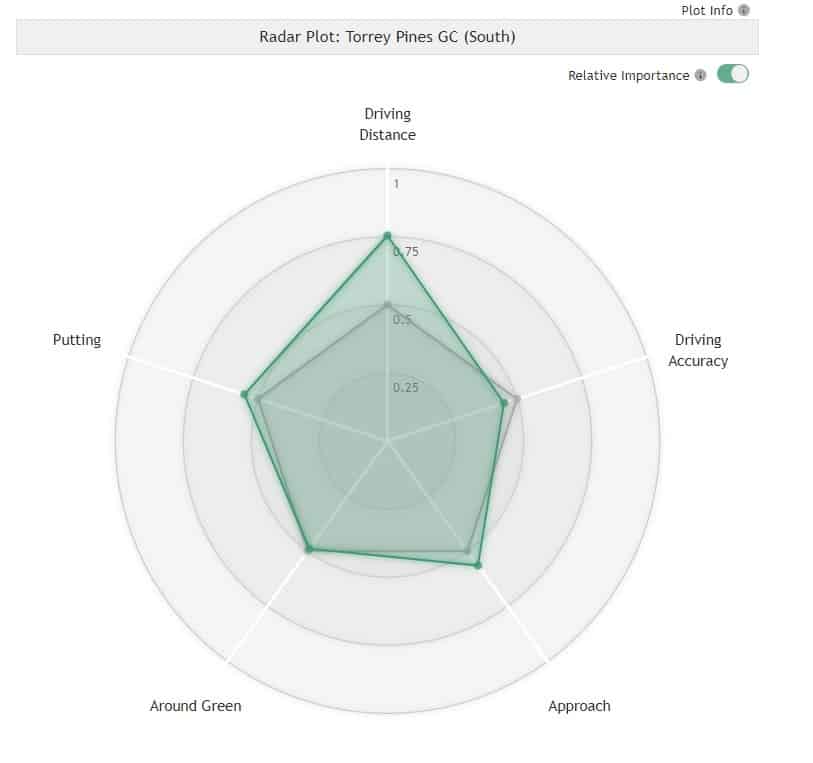 Unsurprisingly, driving distance is the biggest predictor of success at Torrey Pines South. This isn't shocking news. Whenever players take on a long golf course with narrow fairways and thick rough, the players who possess the most length off the tee have a better chance of survival than a shorter hitter. We've seen this play out time and time again.
And when looking at where players hit their approach shots from, it further drives the narrative that the golf course is only set up for bombers:

Almost 75% of all approach shots hit at Torrey Pines South are over 150 yards in length. And about 55% of those come from greater than 175 yards. A shorter player who struggles to find fairways is in for a very long day on the South Course. They'll spend most of their time hacking out of the rough and try and get up and down for par with a wedge.  Once again, a player with faster club head speed holds a big edge in this type of environment.
But just loading up on bombers is not necessarily a good thing. There are so many things a player needs to do well at Torrey Pines. For example, Cameron Champ can probably only name Bryson DeChambeau as a player who can match him with his power off the tee. But Champ is so deficient in every other part of his game. He's a bad iron player, a very poor scrambler, and an inconsistent putter. That's why, on the South Course, Champ loses almost 0.75 strokes per round to the field despite his prestigious length.
Well-rounded golfers with lots of tricks in their arsenal do well at places like Torrey Pines. One trick ponies don't get it done there. That's why when you look at a player like Jon Rahm you can see why he's so good at the venue. Rahm doesn't really have an elite skill set in his bag. But he's really good in several of them. Rahm is a really good driver. He's a pretty good iron player. He's also a good scrambler and a good putter too. On a long and demanding tee-to-green golf course, players will find themselves in many different situations in which they'll have to try and save par. Players with several very good attributes to their credit are better prepared for that challenge.
It's also why we've seen unicorns like Brandt Snedeker and Patrick Reed break the mold of what bettors think as a stereotypical successful player at Torrey Pines. Neither player possesses much pop off the tee. Neither aren't all that great of iron players either. But in conditions where players are missing fairways and greens at a higher than normal rate, their ball striking deficiencies are masked a bit. In that case, they're so good on and around the greens that they can separate themselves from the field.
In fact, when looking at what actually creates separation at Torrey Pines, it's putting that most influences a leaderboard:
(DataGolf)
What's strange is that this chart actually suggests that the Farmers Insurance Open is actually a putting contest. There's by far more variance on the leaderboard based on how well or poorly one putts on the South Course. And there's far less variance between really good and bad drivers for the tournament than the PGA Tour average.
Why is this the case when it's hammered over and over how much one has to drive it really well at Torrey Pines? It might be because there's not much difference in scoring between tee shots that find the fairway and those that find the rough at Torrey Pines. Per DataGolf, Torrey Pines is one of the least penal golf courses to miss a fairway at. DataGolf found that the average difference in scores between balls that find fairways and those that don't at Torrey Pines is only about 0.3 strokes. That's one of the most forgiving rates on the PGA Tour. There are also very few places a golfer can lose their ball off the tee too. When there's not all that much difference separating balls that find the fairway and those that don't, there's not a whole lot of edge in doing so.
But the greens at Torrey Pines are pretty tough to putt on. In fact, they're one of the most difficult greens to putt on anything inside 15 feet. Torrey Pines South greens were the 3rd most difficult surface to putt on in 2021 from under 5 feet, and the most difficult one to putt on from 5 to 15 feet. Putting on fast, bumpy, inconsistent West Coast Poa greens is not easy. So those who either are more confident putting on this surface or just a better putter, in general, can separate themselves more on the leaderboards than others.
Long story short, targeting bombers isn't an automatic play this week. Their edge off the tee might be a little overrated. They have to do a few other things pretty well. Conversely, just because a player lacks pop off the tee doesn't necessarily take them out of it too. While their task is a little more difficult, if they're finding a lot of fairways and are pretty good on and around the green, they'll fare well in this tournament as well.
Here are the Top 10 golfers in the field who have gained the most strokes per round at Torrey Pines South:
Adam Long – +2.65, 1 Round
Jon Rahm – +2.43, 19 Rounds
Brandt Snedeker – +2.11, 45 Rounds
Justin Thomas – +1.83, 8 Rounds
Tony Finau – +1.76, 23 Rounds
Xander Schauffele – +1.75, 14 Rounds
Adam Svensson – +1.59, 3 Rounds
Patrick Reed – +1.55, 21 Rounds
Maverick McNealy – +1.52, 7 Rounds
Hideki Matsuyama – +1.49, 24 Rounds
There's a bunch of guys on this list who have pretty good length off the tee. But all of them have a lot of ways to score. Conversely, there are a few short knockers on this list who are tremendous around the green and putt great on West Coast surfaces. The type of player who fares well at Torrey Pines is a lot more diverse than bettors might give the golf course credit for.
Lastly, here are the Top 10 golfers in the field who have gained the most strokes per round on the North Course:
Jon Rahm – +4.30, 5 Rounds
Matthew Wolff – +4.27, 1 Round
Alex Noren – +4.26, 3 Rounds
Tony Finau – +2.44, 7 Rounds
Brandon Wu – +2.36, 1 Round
Wyndham Clark – +2.27, 3 Rounds
Ryan Palmer – +2.21, 8 Rounds
C.T. Pan – +2.14, 4 Rounds
Trey Mullinax – +2.11, 4 Rounds
Talor Gooch – +2.03, 4 Rounds
This list has a little more presence of driving distance on it. It's probably because the North Course isn't as demanding tee-to-green as the South one is. Use this list on Thursday and Friday to either make some First Round Leader bets or for daily round matchups.
Related Content