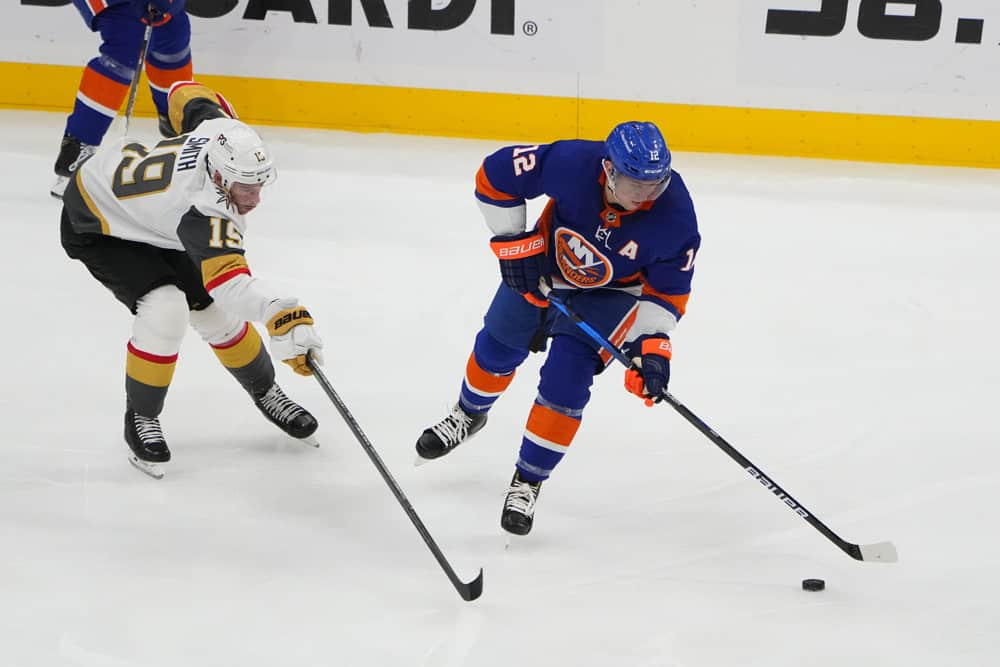 Fantasy Hockey Drop Candidates
The NHL and Fantasy Hockey seasons are in full swing as most teams are nearing the midpoint of their campaign. There have been many ups and downs around the league as fantasy managers deal with injuries and COVID protocols. Depending on your league, you may not have the extra bench space to maintain players as they slump or go through dry spells. As a manager, it's your job to constantly evaluate and take stock of your players' trends. Knowing who is soaring and who is sinking is half the battle in any fantasy sport. In this article, we'll review high-volume players who are being dropped in Fantasy Hockey and make our case if they're due to rebound or will continue to slide.

C/RW – Evan Rodrigues – 65% Rostered
Over the past two weeks, Rodrigues' production has been atrocious, specifically the last ten days. Rodrigues has been dropped in over 700 leagues in the past day. He has 30 points on the season through 39 games, but he provided point-per-game production before this slump. Rodrigues hasn't hit over 2.00 fantasy points in his last five games, dating back January 11th. However, he hasn't recorded a point in seven games, and he's only recorded 4.2 fantasy points in TOTAL in the last five games. For reference, he's averaging 7.87 fantasy points per game on the season; in the previous 14 days, that number is down to 1.99.
I suspect he can turn it around, but how soon will be challenging to say. He had an excellent start to the season, but with the return of Crosby, there have been fewer top six minutes to go around. Rodrigues plays on the third line with Jeff Carter and Dominik Simon, but I would love to see him get more minutes alongside Malkin or Crosby. Evan is on the 2nd team powerplay unit, but the Penguins love to overload the first group with heavy minutes when the opportunities come. After a few games of positive production, I would look to get him back on my roster. However, he'll be a problematic hold candidate if you're in a close matchup this week.
Absolutely electric moment with Evan Rodrigues here. pic.twitter.com/Q6QCwjWO0S

— Taylor Haase (@TaylorHaasePGH) November 7, 2021
---
C – Nico Hischier – 29% Rostered
This one is a head-scratcher! Hischier has been dropped in nearly 1300 Fantasy Hockey leagues in the past 24 hours. Someone will have to explain this to me slowly because there are no numbers to warrant his release. If anything, I see him as more of a buy candidate based on his recent play. The only reason I could surmise for the high drop rate is that he plays for the Devils, and people think they're not a good team. The Devils have postponed a few games, but Hischier played a few nights ago and recorded a goal in a 4-1 loss to the Arizona Coyotes at home.
Hischier has at least one point in eight of his last ten games and has earned nine points total in that same stretch. His plus/minus is at an even 0; perhaps that's nagging owners in category leagues, but again doesn't do enough to warrant his release. Nico is averaging 6.49 fantasy points per game this season; however, in the last 14 days, he's averaging 10.04 points per game. He plays 1st line center and powerplay minutes, gets the puck to the net with regularity, and is clicking at a high rate. Go scoop him up while everyone is dumping his value!
An OT winner from @nicohischier? Yes, please!! 👏 pic.twitter.com/BOiN8nTMiA

— NHL (@NHL) January 2, 2022
---
RW – Reilly Smith – 56% Rostered
Now here's a Fantasy Hockey drop candidate that makes a lot of sense. Smith is being dropped in over 400 fantasy leagues across the past day. While that volume is lower than most listed in this article, the trend is more than warranted. Smith has recorded just three points in his last eight games and hasn't recorded a goal since the start of the new year. It's a bit troubling due to his ownership rate and the fact that he's a first-line winger for the Vegas Golden Knights.
Smith was performing well through the first 33 games of the season. During that stretch, he recorded 26 points, including 11 goals and 15 assists. There is hope Smith can turn it around, but he's been a shell of himself since the start of the new year. Maybe he's having some holiday hangovers? His average points per game this year is 6.67, but across the past 14 days, Reilly is down to 2.32 points per game. Follow his production, but not while he's on your roster; he could be a nice pick-up once he finds his rhythm again.
Jonathan Marchessault, on the ice in flip flops, feeding Reilly Smith one-timers ahead of today's morning skate. pic.twitter.com/NIEj2Fzoew

— Jesse Granger (@JesseGranger_) January 11, 2022

---
C/LW – Trevor Zegras – 58% Rostered
This one really hurts my heart! I've become a big fan of Zegras this year, but recently I had to drop him from my fantasy squad. Zegras has also been dropped with high volume; over 900 Fantasy Hockey leagues have him available on waivers. Unfortunately, his production has become completely hit or miss since he's returned from COVID protocols. While there have been a few bright spots, he's become a liability on fantasy rosters as he's finished with negative points in three of his last six games. Albeit, he does have four points through the previous six, it's not enough to keep him in my lineup, let alone on my roster. If you're playing Dynasty Hockey, it's even more frustrating because in no world could you drop a young player of his caliber.
Zegras went on a great run from the middle of November through the middle of December. He recorded 20 points in 17 games played from November 14th – December 17th. Sadly, that's when he would lose time after entering COVID protocols. He returned to the Ducks on January 8th and started this awful six-game run.
My hope as a fan is that he bounces back, but unfortunately, the league is beginning to catch up to Anaheim. The team has dropped four games in a row and lost five of their last six. However, I'm betting he'll turn the corner again when the team gets back on track, and I hope it's soon!
Connor Murphy with a big hit on Trevor Zegras. pic.twitter.com/ylGqcfDcNa

— Wally (@WallyMaz18) January 16, 2022
D- Kevin Shattenkirk – 62% Rostered
Kevin Shattenkirk is now available in over 800 Fantasy Hockey leagues per Yahoo Fantasy Sports. He, like Zegras, is on a damaging run of production. He averages just 1.96 fantasy points per game across the last 14 days. That's a big hit from his year-long average of 5.50. He has just 3 points in his previous ten games and is a -8 across that same stretch. He was a +4 before this run, so it's not like he's been taking these hits all season.
Shattenkirk has recorded the 28th most fantasy points for a defenseman this year. He has the upside to bounce back, but like Zegras, I suspect it will come when the team gets in a better groove and gets back to playing simple hard-nosed hockey that led to their team's success early in the year. Until then, he's untouchable until he shows the consistency is back.
Nathan MacKinnon vs. Kevin Shattenkirk lol pic.twitter.com/DiKfzjERSD

— Dimitri Filipovic (@DimFilipovic) January 23, 2021
---
RELATED CONTENT