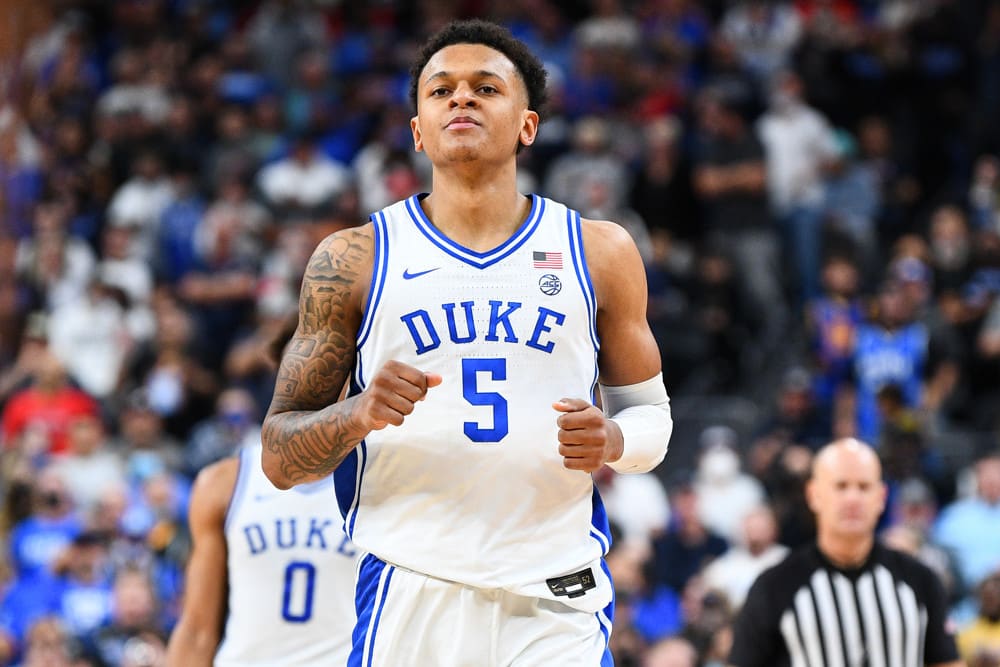 It's mid-January and conference play is underway across the country. That means we are beginning to separate the pretenders from the contenders in college basketball. It's a good time to look at the College Basketball Futures odds to win each of the six major conferences. Here are my predictions and betting recommendations for what programs will take their conference regular season crowns.
College Basketball Futures: ACC
| | | | | |
| --- | --- | --- | --- | --- |
| Duke -130 | UNC +650 | Miami +900 | FSU +1200 | Louisville +1200 |
| Notre Dame +1600 | UVA +2000 | Wake +2200 | Syracuse +4000 | VT +4000 |
Going into the week of January 16th, Miami (5-1) is sitting atop the conference with a win at Duke already under their belt. It's a big week as the Hurricanes have both UNC and FSU coming into town. The FSU game is a rematch of a 1/11 showdown in Tallahassee where Miami lost by one.
Currently getting only the third lowest odds to win the league, the Canes deserve real consideration. This is an experienced roster led by their backcourt of Charlie Moore, Kameron McGusty, and Isaiah Wong. Miami wasn't expected to contend for the league title, and with not much interior presence they have a ceiling, but at +900 there's real value. Perhaps you wait to see how they perform this week before investing.
As for my Duke Blue Devils, they haven't won an ACC regular season championship since 2010. The one-and-done recruiting approach has brought a ton of talent to Durham but usually doesn't lend itself to spectacular regular seasons. It takes time for a bunch of fresh faces to come together and this year's squad is no exception. The most recent starting lineup that includes AJ Griffin, consists of three Freshmen, a Sophomore, and a Junior.
Duke is 4-1 in conference with each victory being by double digits. Paolo Banchero is one of the best players in the country and may be the #1 pick in the coming draft. However, the Blue Devils still have two games vs UNC, FSU, UVA, and Syracuse. As usual, they have the toughest conference schedule in the league and although Duke might have the highest ceiling come the NCAAs, I have them falling short of winning the regular season.
UVA has won three of the last five regular seasons, but the Wahoos just don't have the roster this season. After an 0-2 start, FSU (the 2020 champions) have reeled off three straight ACC W's. The home game vs Duke on Tuesday is huge. Win that and they'll have a shot.
North Carolina was my preseason pick to win the conference but Hubert Davis's tenure as Head Coach got off to a slow start. The defense was abysmal to begin the year and the Heels got blown out by Tennessee and Kentucky amid a couple other L's. With the exception of a road loss at Notre Dame, UNC is beginning to turn a corner. Like Duke, they are 4-1 in conference play with each victory being by double digits.
Armando Bacot is a load down low and is in the running for ACC player of the year. Transfers Brady Manek and Dawson Garcia have been nice front court additions while Caleb Love and and RJ Davis form a nice backcourt duo. It's a big week for Tar Heels fans as they have road games at Miami and at Wake. Additionally, there's the annual games with Duke and other road trips at Louisville, at Clemson, at VT, and at NC State still to play. It's a tough schedule but the Tar Heels have the right blend of experience and talent to take the regular season crown and I especially like them at +650. UNC wins the regular season and Duke wins the ACC tournament is how I see things unfolding.
My Pick: UNC +650
---
College Basketball Futures: Big East
| | | | | |
| --- | --- | --- | --- | --- |
| Villanova -175 | Providence +650 | Xavier +650 | UConn +700 | Creighton+1600 |
| St Johns +2500 | Butler +6000 | Marquette +6000 | G-town +15000 | DePaul +15000 |
*Odds unavailable for Seton Hall
The breakdown of this conference will be a bit more succinct. Baring a major injury, the Villanova Wildcats will be your 2021-22 Big East regular season champions. Last year, even with the season ending injury to Jeremiah Robinson-Earl, Nova still won the league by two games. As I write this column, they have a ½ game lead on Providence. The only conference blemish so far was a 20 point loss to Creighton which they've already avenged in the rematch – beating the Blue Jays by 34.
Providence currently has the second lowest odds but they've never won a Big East regular season. A 4-1 start in league play, including wins over UConn and St John's, is impressive but COVID has hit the program hard and the Friars had to cancel their last three games. With all that momentum lost, expect Providence to be a little sluggish in their return.
From top to bottom, the Big East is a great conference full of several teams that will make the NCAA's. Creighton and Marquette have exceeded expectations but they're not winning the league. Xavier has been very impressive but they've already been swept by Villanova. If you want a long shot, UConn might be your team. RJ Cole is one of the best scorers in the country and with the return of Tyrese Martin and Adama Sanogo, they are back to full strength. However, the Huskies are just 2-2 in the Big East with both games vs Villanova and Xavier still on the schedule.
My Pick: Villanova -175
---
College Basketball Futures: Big 10
| | | | | |
| --- | --- | --- | --- | --- |
| Illinois +220 | Purdue +340 | Ohio State +475 | Wisconsin +475 | Mich State +550 |
| Indiana +1800 | Iowa +1800 | Michigan +2200 | NW +4000 | Penn St +12000 |
Much like the ACC, the Big 10 is wide open. I currently count up to seven schools who could take home the crown. Currently, only Illinois (6-0) is without a conference loss. Led by Kofi Cockburn, the Illini have won 11 out of 12 but the conference schedule has started off a bit light. Other than Illinois, the Big 10 has five other top 25 teams and the Illini haven't played any of them yet. In such an open league, I'll put money on a team with juicier odds.
At #7 in the country, Purdue is currently the highest ranked Big 10 team but they've already dropped league games to Rutgers and Wisconsin. During the first month of the season, the Boilermakers notched wins over Villanova and UNC while looking like a top team in the nation. Since that stretch, they've come down to earth while struggling on the defensive side of the ball. Coming in at 69th in KenPom's Adjusted Defensive Efficiency is not what you expect from a top 10 school with Final Four aspirations. I'll pass on putting money on Purdue.
Michigan State and Tom Izzo at +550 is an interesting choice even if they just dropped a rematch game vs Northwestern. Sparty is far from dominant but they're a rock-solid team that can go nine deep with not much of a drop off. Especially in COVID times, a deep roster is beneficial over the course of a long regular season. However, they may be missing that one special player that can lead a team to major achievements like winning the conference.
Two teams that aren't missing a star player are Ohio State and Wisconsin. For that reason, the two schools at +475 are my favorite bets to win the Big 10. They've also already played each other twice and have split the series. Buckeye F EJ Liddell and Badger G Johnny Davis are two of the best players in all of college basketball.
Johnny Davis is just ridiculous. #Badgers pic.twitter.com/B8mlCcUPWc

— Badger Notes (@Badger_Notes) January 10, 2022
I fully admit I had no idea Wisconsin would be so good this season. They lost a ton of production from a year ago but Davis has gone from scoring 7 PPG to 21.7. He's made a huge second year leap and is primed for a big stretch run. If I have to choose only one team, I'll go with the better defensive squad that is currently a game ahead in the standings and that's the Badgers.
My Pick: Wisconsin +475

---
College Basketball Futures: Big 12
| | | | | |
| --- | --- | --- | --- | --- |
| Kansas +170 | Baylor +200 | Texas +500 | Texas Tech +700 | Iowa State +1200 |
| Okla State +2500 | WVU+2800 | Oklahoma +4000 | TCU +8000 | K State +12000 |
While the Big 12 may be the best conference from top to bottom, is the crowning of a regular season champion just a two horse race? Kansas and Baylor are probably the class of the league but both have shown cracks lately. Baylor looked unstoppable up until this past week where they dropped home games to Texas Tech and Oklahoma State. Kansas also recently lost to the Red Raiders and just squeaked by Iowa State at home by one.
To answer the question posed above – kind of. In a very tight league there will be a lot of carnage but expect the cream to eventually rise to the top. Texas Tech's impressive three game win streak was sandwiched between losses to Iowa State and Kansas State. ISU just beat Texas but already has three conference losses. Texas has all the talent in the world but Chris Beard hasn't been able to mold them into a cohesive unit yet.
So yeah, this will most likely come down to Kansas and Baylor. The Jayhawks were my preseason pick to win and I see no reason to jump off that ship. (G) Ochai Agbaji averages 20.6PPG and leads a deep and talented roster that includes backcourt mates Christian Braun and Remy Martin (when healthy) and big men David McCormack and Jalen Wilson. By the way, Kansas has at least had a share of the Big 12 regular season title in 15 of the last 17 years so history is on your side and you're getting plus odds.
If you want to take a real longshot maybe TCU is your pony. Head Coach Jamie Dixon has the Horned Frogs sitting at 12-2 and 2-1 in conference play. They have victories over Oklahoma and Kansas State and we're up on Baylor the majority of a game they ending up losing.
My Pick: Kansas +170
---
College Basketball Futures: PAC 12
| | | | | |
| --- | --- | --- | --- | --- |
| Arizona +110 | UCLA +160 | USC+550 | Oregon +2000 | Wash St +3000 |
| Colorado +3500 | Stanford +4000 | Utah +8000 | Az State +10000 | Ore State +15000 |
Watch out for Oregon in the PAC12. The Ducks got off to a slow start but just took down UCLA and USC on the road last week. They've now won five straight including four conference games. Dana Altman is one of the best coaches in the conference and a team with three transfers who play big minutes is starting to come together. At +2000, Oregon is a longshot I really like.
Although both LA schools just lost to the Ducks, don't write them off just yet either. USC was one of the last undefeated teams left in the country before dropping two of their last three games. The slide started with a tough loss at Stanford and then they took the L at home vs Oregon. Andy Enfield has done a great job with the Trojans but it doesn't make sense to bet on them at +550 when I see Oregon at +2000.
As for last year's Final Four participant, UCLA is currently 11-2 and destined to battle Arizona for the conference title. If you watched basketball last March you know the cast of characters – Johnny Juzang, Jaime Jaquez and Tyger Campbell. Arizona has been outstanding this season but the fact they're favored over UCLA is kind of a slap in the face.
"Winning early in the season and winning in conference play are two different things … you know, conference games are bloodbaths. I thought we fought a lot harder as the game went on, defensively."

Coach Cronin, speaking to reporters after UCLA's win on Saturday pic.twitter.com/SCa2tQJBxi

— UCLA Men's Basketball (@UCLAMBB) January 16, 2022
Obviously UCLA is playing excellent basketball but one could argue they haven't been dominant this season. With the exception of the one loss at Tennessee, Arizona might be the most impressive team in the country. The Wildcats are 4-0 in league play with all victories by double digits. Their players may not be as well known nationally as UCLA's but the trio of Bennedict Mathurin, Azuolas Tubelis, and Christian Koloko is fantastic. The team is deep, balanced, and well-coached. The two upcoming games vs UCLA are must-watch battles but for now I'll go with the chalk.
My Pick: Arizona +110
---
College Basketball Futures: SEC
| | | | | |
| --- | --- | --- | --- | --- |
| Auburn +100 | Kentucky +330 | LSU+800 | Tenn +12000 | Alabama +1400 |
| Miss St +1400 | Florida +2200 | Ark +2500 | Ole Miss +3000 | TX A&M +4500 |
Regularly the best college football conference in the country, the SEC might have something to say about basketball now too. While it's a deep and loaded league, I would only be looking at the top three teams above to place a future on. Tennessee and Alabama are both ranked but each squad is only 2-3 in conference play. Bama has been a disappointment this year and are currently in the midst of a three game losing streak. The Vols have also lost three of their last five and have dug themselves too deep a hole.
That leaves Auburn, Kentucky and LSU in a three-horse race to take down the SEC. LSU has exceeded expectations even if they just dropped a game to Arkansas at home. Already sporting victories over Kentucky, Tennessee and Florida, the Tigers have a top 10 defense in the country. However, most conference winners have more of a balanced team that can ride out the ebbs and flows of a season with more consistency. LSU's 104th offensive ranking is concerning and while +800 odds is attractive, I'll bet elsewhere.
We knew Auburn was going to be better this year (after a 13-14 season a year ago) but who had Bruce Pearl's crew starting the season 16-1? The Tigers dropped a game in double O.T to UConn on 11/24 but have won 13 in a row since. The frontcourt with future lottery pick Jabari Smith and UNC-transfer Walker Kessler might be the best in the conference. However, it's just a matter of time before Auburn faces some adversity and it will be interesting to see how they respond. I'm not placing a bet with just +100 odds on a team that may be peaking too early.
I suppose that just leaves John Calipari and Kentucky. For anyone that watched Kentucky's 107-79 dismantling of Tennessee this past Saturday, +330 odds sounds pretty attractive. With PG Sahvir Wheeler back at full health, get ready for the Wildcats to make a big run. Wheeler is an excellent floor general, Oscar Tshiebwe is the best rebounder in the country, and star Freshman TyTy Washington is improving every game. Throw in a bunch of solid role players and a proven head coach and Kentucky is my pick to win the league.
My Pick: Kentucky +330
---
All odds via DraftKings Sportsbook as of January 16th
RELATED CONTENT