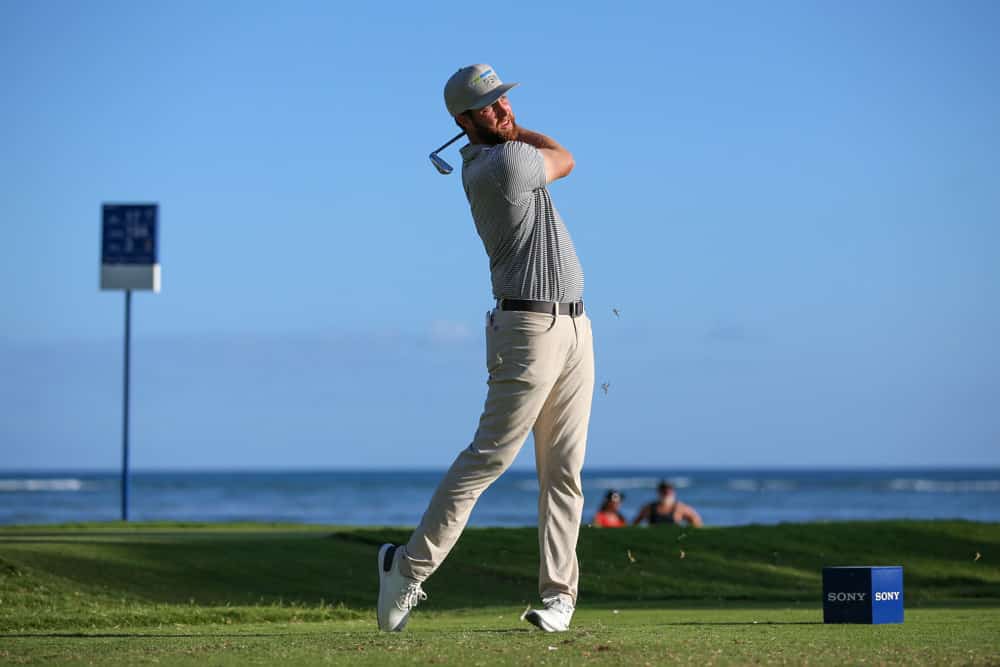 Part II of the Hawaiian Swing kicks off this week in Honolulu! The first full field of the year takes on historic Waialae Country Club for the 2022 Sony Open.  As always, here is your early deep-dive of the 2022 Sony Open and a preview of how to bet.

Sony Open Preview – The Field
When one thinks of Waialae Country Club, they think about how shorter and more accurate golfers stand a great chance of winning. So it'll be interesting to see how Bryson DeChambeau attacks the golf course. The last time Bryson played the Sony Open was 2019. He finished T10. But that was pre-body transformation. Now he steps back onto the property of a place where driving distance doesn't matter a lot. Nevertheless, there's still plenty of opportunities for Bryson to cut corners and access parts of the golf course others can't. He might be a sneaky selection to use in one-and-done formats this week.
Other notables in the field include Abraham Ancer, Sungjae Im, Jason Kokrak, Marc Leishman, Hideki Matsuyama, Webb Simpson, and Cameron Smith.
For the full field, click here.
Sony Open Preview – The Golf Course
The golf course was designed by Seth Raynor and opened shortly after his death in 1926. Seth Raynor is responsible for some of the most iconic and classic golf courses in the United States. His legendary design portfolio includes the Old White TPC at the Greenbrier, Chicago Golf Club, Fishers Island Golf Club, the Country Club of Charleston, and the Dunes Course at Monterrey Peninsula.
The course was originally 6,600 yards from the championship tees and was heavily influenced by other notable golf courses around the world. Since it's opening, the course has undergone a lengthening to just over 7,000 yards and a few minor tweaks. Overall, it still has retained most of its charm as a time capsule into golf's past.
Below is a digital flyover of Waialae Country Club. It's a great video to help preview this year's Sony Open:
The routing of the golf course is exceptional. There is a great variety of tee-to-green direction hole to hole that keeps a player on their toes. A wide variety of tee-to-green routing makes it a challenge in windy conditions. It forces a player to think their way around the golf course hole to hole. The creative layout of Waialae Country Club is similar to that of the Old White TPC (a fellow Seth Raynor golf course) and Sedgefield Country Club. Both golf courses also mix it up directionally tee-to-green.
Waialae is a second shot golf course where the angle of approach is more important than distance. The Bermuda greens at Waialae are some of the purest on tour. The greens also have some creative sloping to create some interesting pin positions. It becomes vital to make sure they're on the correct side of doglegs to go at them. Wind could also be a factor, especially on the second half of the Back Nine that plays closer to the beach.
As mentioned earlier, Seth Raynor borrowed from other classic golf courses when designing Waialae Country Club. One of the more noted design copies is that of the 1st hole, which borrowed from features of the famous 17th at St. Andrews, otherwise known as the Road Hole:
1st Hole – Waialae

17th hole – St. Andrews

There are similar concepts for both holes. Each are long slightly doglegged Par 4's (at least for the professionals) with the slope of the greens from front-to-back running almost opposite to the direction the fairway, feeding towards a deep green-side bunker on the lower left-handed quadrant of the green. Both holes also encourage players to take aggressive lines down the right side of the fairway. There is plenty of room to bail out left on both holes, but that provides a less than optimal angle to the pin. Tee shots down the right are more risky, but provide beautiful angles to the green. The 1st at Waialae gives the pros a true test right out of the gate on a very popular template hole.
The other infamous hole at Waialae is the Par 3 17th, a hole that not only provides a picturesque view of the Pacific Ocean but also features its trademark Redan green.


If you really want a deep dive on why Par 3's that feature a Redan green are so popular with golf nerds, may I suggest this post written by Andy Johnson of The Fried Egg. Simply put, redan templates are Par 3's with right to left sloped greens, guarded with a back right bunker. As far as the 17th at Waialae, it's the most exposed hole on the golf course to the wind. Given the combination of both a small green and its sloping from right to left, a par is a very good score on this hole. Any tee shot that finds its way into one of the three bunkers off the right side of the green is pretty much dead.
The 17th green was restored before the 2018 Sony Open by Tom Doak. He added quite a bit of movement to the green to restore it to its true "Redan" nature. This was met with some criticism from the players. They complained that the green was a bit too firm and difficult to stop the ball. Given that the players cry wolf about the slightest of adversity, it's not surprising that they demanded they speak to a manager. Over time, greens get softer and softer as it sees more foot traffic. That's made the hole not as severe as in years past. But it still gives players fits due to its nature.
Sony Open Preview – Betting Strategies
Handicapping how Waialae Country Club will play isn't an easy task. According to DataGolf's relative skillset plot chart, it's one of the least correlated golf courses on the PGA Tour: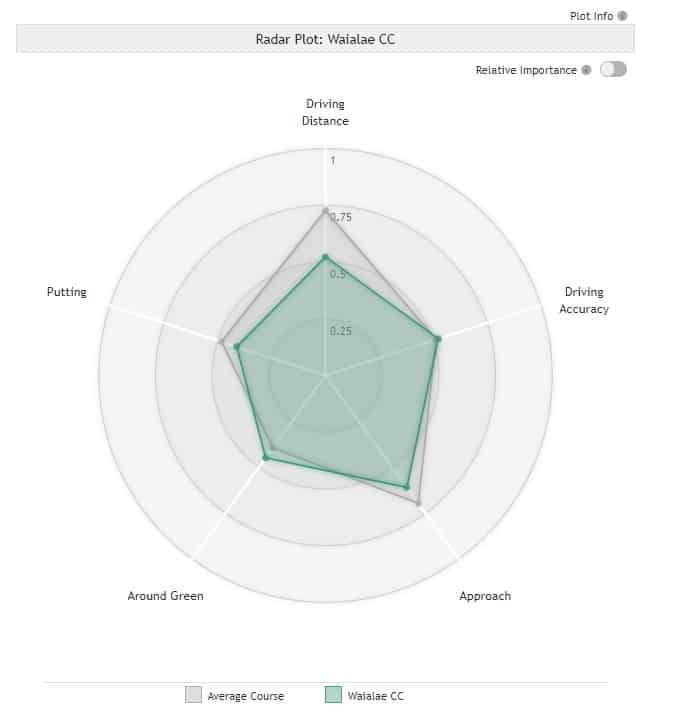 The leaderboards at Waialae are often very diverse in terms of skillsets. I chalk it up to the layout of the golf course and what the players face off the tee. The golf course has many dog legs protected by tall palm trees and inconveniently placed bunkers. While some holes do give players the option to pull driver, the smarter approach sometimes is to sacrifice distance for accuracy to navigate around the trouble spots off the tee. There's also not many opportunities for a longer hitter to cut off a dog leg to access landing zones inaccessible to a shorter hitter. As such, Waialae Country Club does a great job leveling the playing field.
While driving accuracy appears to be the one of the most correlated skill, it's not a prerequisite as much as other golf courses either. As long as a player avoids the bunkers and hits their tee shot on the correct side of the fairway, there's not much penalty to being in the rough or the fairway. The greens are receptive enough to allow a player to keep the ball on the green from both the short and long grass. While bettors should skew slightly towards a more accurate player off the tee, an inaccurate one can have success as well.
There are, however a few notable trends and key stats that bettors can use to identify plays and fades. In terms of outrights, eight of the last ten winners played the week before at Kapalua. As mentioned earlier, 22 players in the field this week played the Sentry Tournament of Champions. This group includes many of the top players in the field. The odds are very good one of them will walk out of Waialae Country Club as the winner.
Second, the golf course tests a players performance in their mid to long irons. There's a heavy concentration of approach shots between 125-200 yards on the golf course:

Players will be hitting their mid irons at a much higher rate than the average PGA Tour stop. This is in stark contrast to last week at Kapalua, where wedge play and longer approach shots were tested the most. Consulting proximity and strokes gained performance from this range will provide clarity into those likely to succeed this week.
Next, from a layout perspective Waialae is a classic design. It reminds me of other PGA Tour golf courses like Colonial Country Club, Sedgefield Country Club, Harbour Town and Sea Island. These places are a favorite for those who don't rely as much on distance to gain an edge. Their strengths are with their approach game and scrambling. All of them also feature Bermuda grass tee-to-green, similar to Waialae (however Colonial Country Club greens are Bentgrass)
Lastly, here are the Top 10 players in the field in career strokes gained per round at Waialae Country Club:
Charles Howell III: +1.83, 68 rounds
Corey Conners: +1.73, 12 rounds
Nick Hardy: +1.67, 4 rounds
Patton Kizzire: +1.54, 15 rounds
Marc Leishman: +1.53, 48 rounds
Webb Simpson: +1.42, 43 rounds
Bryson DeChambeau: +1.28, 8 rounds
Brendan Steele: +1.26, 10 rounds
Brian Stuard: +1.25, 34 rounds
Chris Kirk: +1.20, 36 rounds
It's a pretty diverse list of players. A mix of short and accurate players, great ball strikers and excellent putters and scramblers. Waialae offers up a little bit of everything to everyone. A lot of players are live this week. This parity might be a preview of things to come for the 2022 Sony Open.

Related Content