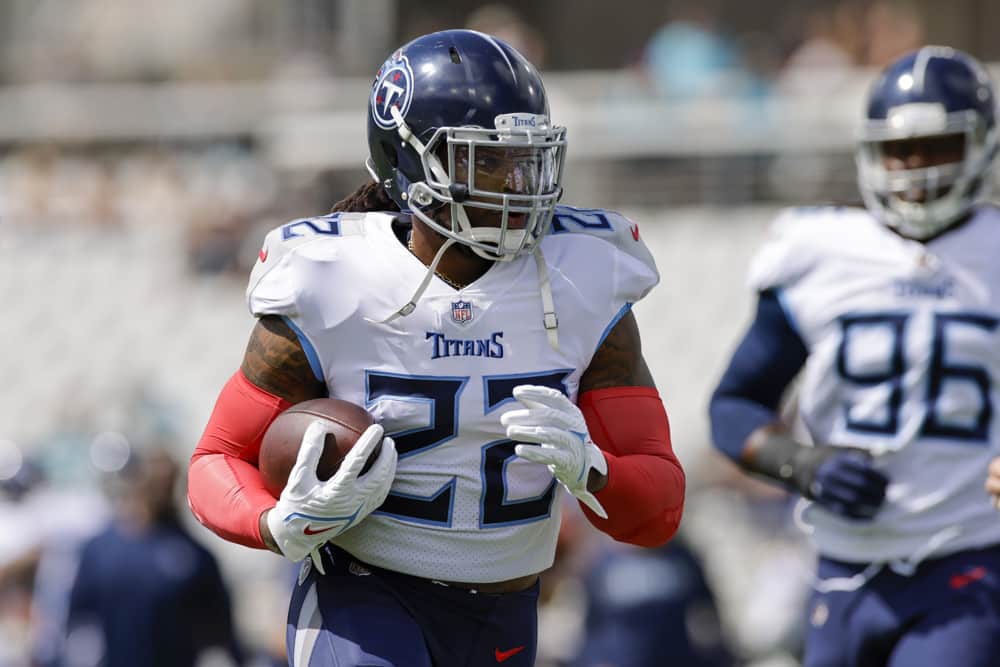 Well, my friends, all good things must come to an end. We have reached the final week of the NFL regular season and the final week of a full slate of games. Let's do our best to not only enjoy it, but go out with some WINNERS. For those still competing in a fantasy football league, looking to get in on some DFS action, or trying to find a gambling edge, welcome. You've come to the right place as I break down all fantasy football injuries and COVID-19 news. Without further ado, the Week 18 fantasy football injury report.
Week 18 1PM Inactives
Lamar Jackson (QB) Baltimore Ravens
Justin Fields (QB) Chicago Bears
Joe Burrow (QB) Cincinnati Bengals
Tee Higgins (WR) Cincinnati Bengals
Joe Mixon (RB) Cincinnati Bengals
Evan McPherson (K) Cincinnati Bengals
Baker Mayfield (QB) Cleveland Browns
Kareem Hunt (RB) Cleveland Browns
James O'Shaughnessy (TE) Jacksonville Jaguars
Mike Glennon (QB) New York Giants
Kadarius Toney (WR) New York Giants
John Ross (WR) New York Giants
Aaron Jones (RB) Green Bay Packers
Curtis Samuel (WR) Washington Football Team
Ricky Seals-Jones (TE) Washington Football Team
Week 18 Late Inactives
Chase Edmonds (RB) Arizona Cardinals
Rondale Moore (WR) Arizona Cardinals
Ronald Jones II (RB) Tampa Bay Buccaneers
Braxton Berrios (WR) New York Jets
Emmanuel Sanders (WR) Buffalo Bills
Week 18 Fantasy Football Injury Report
Kyle Pitts (TE) Atlanta Falcons
Hamstring Strain, Initial Injury: 1/2/22
Atlanta's young tight end Kyle Pitts has been a bright spot on this offense all season. As the lone rookie on this Week 18 injury report, the first-year player has enjoyed a relatively healthy season. However, Pitts is currently dealing with a hamstring strain he picked up last week against the Buffalo Bills. The Falcons' tight end injured his hamstring late in the first half and finished the game on the sidelines after trying to return to the game. A hamstring strain refers to damage to the muscle located on the back of your upper leg. The hamstring muscle is responsible for providing much of the power produced by our lower body. This muscle is especially important in allowing a player to sprint and jump, which is vital to the tight end position.
Hamstring strains also come with a high reinjury rate which makes them one of the more difficult injuries to deal with. The Falcons don't have much to play for this week despite trying to ruin their divisional rivals' playoff hopes. Pitts is only 59 receiving yards away from breaking Mike Ditka's single-season rookie TE receiving record. It appears this may motivate him to play as he returned to practice in a limited fashion Thursday after not practicing Wednesday. The rookie TE reportedly states his hamstring is feeling "good" and he expects to be able to play this week. Pitts will likely be motivated to break the record but is at a high reinjury risk for returning from his hamstring injury so soon.
Pitts is trending towards playing this week but caution should be used due to a high reinjury risk. – MONITOR/SIT
Tony Pollard (RB) Dallas Cowboys
Plantar Fascia Tear, Initial Injury: 12/2/21
The Dallas Cowboys have enjoyed a dynamic 1-2 punch in their backfield for most of the year. However, this was disrupted when RB Tony Pollard injured his foot weeks ago against the Saints. Recently, reports surfaced that Pollard tore the plantar fascia of his one foot and he was unable to play in Week 14. Your plantar fascia refers to a thick band of tissue that runs from the heel of your foot to the base of your toes. This band works to support the arch of your foot and aids in running and jumping activities. This injury typically will take around two months to fully heal but Pollard is trying to play through the injury.
The young Cowboys RB has been doing well to manage the pain and still produce despite his injury. This injury is not going away however and will be something he has to deal with for the rest of the season. Heading into Week 18, Pollard is officially listed as questionable on the injury report. After three limited practices this week and the Cowboys are choosing to rest Pollard to prepare for the playoffs. He is officially out for Saturday's game.
Pollard is out Saturday with his foot injury. – SIT
Teddy Bridgewater (QB) Denver Broncos
Concussion, Initial Injury: 12/19/21
Teddy Bridgewater gave us the biggest scare on this Week 18 injury report. The Denver QB was scrambling for a first down last week when he dove forward and fell hard on his head. Bridgewater laid on the ground for an extended period of time and had to be carted off the field on a stretcher. He was taken to the hospital and diagnosed with a concussion.
A concussion refers to a mild traumatic brain injury that causes disruption to the functions of the brain. Concussions are still largely a mystery and can affect players differently. There is no clear timetable for a player's return although typically NFL players are able to return in about a week. However, this will not be the case for Bridgewater. He was officially ruled out for Week 16 and Week 17, meaning backup QB Drew Lock got the start.
It appears the last memory we will have of Teddy Bridgewater this season will be him being carted off after a scary hit in Week 15. He has been officially placed on the injured reserve, thus ending his season. Concussions come with varying levels of severity and duration of symptoms. Recovery has clearly been taking longer than average, and this is the correct move by the Broncos. Denver will get one more look at QB Drew Lock this week against Kansas City.
Bridgewater is on the IR and expected to miss another game this week. – SIT
Cam Akers (RB) Los Angeles Rams
Achilles Tear, Initial Injury: July 2021
Now, this is some of the craziest news on the Week 18 injury report. Cam Akers was set to be the lead RB for the Rams coming into the 2021 season. Unfortunately, Akers tore his Achilles late in the offseason and was expected by everyone to be out for the entire season. However, to everyone's surprise, the Rams activated him off the IR last week. Now, this is partially due to the team being good people and helping Akers gain a year towards his pension.
On the other hand, there are reports that Akers is practicing and looks close to being able to play. With only five months of recovery, this seems almost unthinkable. An Achilles tear is one of the worst injuries because it's a grueling rehab process that takes around a year to return from. I am still not expecting Akers to play a major role in this offense in the regular season but it is worth monitoring. Akers was quite the electric player last year and could help propel LA in the postseason.
It appears the borderline magical return of RB Cam Akers will take place this week! Akers was a full participant in practice Wednesday, a great sign for his availability. Head coach Sean McVay states that he's "ready to go" for Week 18 and has been looking great at full speed in practice. Now, I don't expect Akers to get major touches in his first week back, but this is a great sign for his postseason expectations.
Stay tuned for an in-depth look at Cam Aker's injury and miraculous recovery. I will be diving into it later this week on Twitter @SGPNFootballDoc!
Cam Akers is likely to play this week but is unlikely to have a full workload. – SIT/MONITOR
Miles Sanders (RB) Philadelphia Eagles
Broken Hand, Initial Injury: 12/26/21
The Philadelphia Eagles are currently sitting in a playoff spot after turning their season around. A major reason for this has been their running game. This running game suffered a major blow last week. Lead RB Miles Sanders is currently dealing with a broken hand after taking a hit last week against the Giants. Head coach Nick Sirianni confirms that Sanders is out this week due to a broken bone in his hand. Sanders is not being placed on the IR as there is still hope he can return at some point this season. His exact recovery timeline will depend on the specific bone injured and the severity of the fracture which is currently unknown.
Eagles RB Sanders is again ruled out according to the Week 18 injury report. He has been unable to practice since suffering his injury in Week 16. There is still some optimism that he will be able to return to the playoffs but he will need to return to practice first. Back up RBs Jordan Howard and Boston Scott currently sit on the COVID list, leaving rookie RB Kenneth Gainwell as the only healthy option
Sanders is out this week dealing with a broken hand. – SIT 
Jared Goff (QB) Detroit Lions
Knee Injury, Initial Injury: 12/19/21
Detroit's starting QB Jared Goff is having quite the up and down season. After pulling off a stunning defeat of the Arizona Cardinals in Week 15, he went on to miss Week 16 on the COVID list. Additionally, he has been dealing with an undisclosed knee injury since the Cardinals game. He is currently not practicing and is officially "doubtful" to play this week according to head coach Dan Campbell.
After missing Week 17, Goff is currently practicing in a limited capacity after returning to the field Wednesday. Reports are that he is still limited in his mobility but that he is moving around "fine." If the Lions starter is able to record a full practice Friday this will be a positive sign for him suiting up Sunday. However, Lions backup QB Tim Boyle has started the past two weeks for Detroit and would be in line again if Goff is unavailable. While he has no fantasy relevance, it is a good sign for WR Amon-Ra St. Brown. The two connected often last week even hooking up for a TD.
Goff is trending towards playing this week but his mobility will likely be limited. – MONITOR/SIT
Baker Mayfield (QB) Cleveland Browns
Shoulder Injury, Initial Injury: 9/19/21 Re-injured: 10/17/21
Cleveland QB Baker Mayfield is a player who was on the injury report much more than Week 18. After throwing an interception earlier in the year, Mayfield injured his non-throwing shoulder trying to make a tackle. He was diagnosed with a partial labral tear in his shoulder and made the decision to continue to play through the injury. Last week, Baker was taken down to the ground hard on this same shoulder and further injured his shoulder. He reportedly dislocated his shoulder for a second time which would lead to more labral damage.
The labrum on your shoulder acts to provide stability to your shoulder and keep it in place. The shoulder is already a very mobile joint that is the most likely to dislocate on your body. Without this added protection from your labrum, this is going to increase the likelihood of further shoulder dislocations. This is a very painful injury that is going to make the Cleveland QB think twice about taking any hits. Props to Baker for the warrior mentality, but this will negatively affect his play.
After playing through this painful injury all season, Baker has decided to shut it down for the season. The Browns starting QB is officially out for Week 18 as he will have surgery on his torn labrum as soon as possible. This will set him up for a full recovery for the 2022 season. Back-up QB Case Keenum is likely in line to start against Cincinnati in a game that will likely feature a lot of backups.
Baker is out Week 18 as he decided to have surgery to repair his shoulder. – SIT
Derrick Henry (RB) Tennessee Titans
Foot surgery, Initial Injury: 10/31/21
Derrick Henry has been shattering opposing defenses, rushing records, and the stat sheet. Unfortunately, it has been announced that he suffered an injury that will shatter fantasy managers' hearts. This is by far the biggest injury on this Week 9 report, and it can be league-altering in my opinion. The Titans running back is the heart and soul of this Tennessee offense and many fantasy teams across the globe.
Henry reportedly suffered a Jones fracture and will undergo surgery this week. A Jones fracture refers to breaking the base of your pinky toe and is a fairly common injury in the NFL. Wide recovery timelines have been reported ranging from six to twelve weeks but eight is likely a realistic goal. The bone needs proper healing time and this is an injury that can reinjure if Henry is rushed back to the field. The Titans RB should not be limited once the bone is healed, but whether that happens before the fantasy season is over is another story.
The King is returning! Titans star RB Derrick Henry officially returned to practice this week. His surgery was on 11/1/21 which puts at around nine weeks of recovery time. I would expect Tennessee to exercise caution here and just be ramping Henry up for the postseason at this point. If the Titans are able to secure the #1 seed with a win over Houston, the extra bye week is a huge boost for Henry's recovery. Things seem to be falling into place well down in Nashville.
Henry returned to practice this week and is likely ramping up for a postseason return. – MONITOR/SIT
Jimmy Garoppolo (QB) San Francisco 49ers
Thumb Injury, Initial Injury: 12/23/21
The San Francisco 49ers are another team on this Week 18 injury report that is in need of a win. Unfortunately, they might have to do this without their starting QB. 49ers QB Jimmy Garoppolo is currently dealing with a torn UCL ligament in his thumb after being sacked last week. He did not come out of the game but Garoppolo's play definitely took a hit. The starting QB appears adamant about trying to play this week despite the injury but this will be a tall task.
The UCL refers to ligaments in the thumb that help to stabilize the joint. It also allows for grip and pinching to occur with your thumb. Reports are that Garoppolo has a grade three strain, meaning this ligament is completely torn. Not only is the injury going to be painful, but it's going to be difficult for Jimmy G to grip or accurately throw the ball. Additionally, he has not practiced this week as of Thursday (12/30/21).
49ers starter Garoppolo is currently practicing in a limited fashion after returning to practice on Wednesday (1/5/22). The QB is being eased into practice after the time off and he notes that this has been a painful injury to fight through. Despite the pain, he is reportedly determined to try and play this week. There are also reports that he has been able to deliver some accurate balls on a consistent basis at practice this week. The situation will need to be monitored to see if Jimmy G can truly play at full speed in a must-win game for the Niners this week.
Jimmy G is dealing with a thumb injury and is questionable to play this week. – MONITOR 
Lamar Jackson (QB) Baltimore Ravens
Ankle Injury, Initial Injury: 12/12/21
Injuries may be finally catching up to the Baltimore Ravens this year. Heading into Week 18, their star QB Lamar Jackson is on the injury report. Last week, he injured his ankle early in the game and was unable to return. Not being able to play through the injury is a worrisome sign but reports state that the injury is not believed to be a high ankle sprain. This is positive news for the Ravens and fantasy managers as high ankle sprains cause more damage and take longer to rehab.
Lamar is now in danger of missing his fourth straight game this week. His ankle injury has been quite the mystery as it was not expected to cause him to miss substantial time initially. However, Jackson finally returned to practice today (12/29/21) but was very clearly limited. Reports were of him noticeably favoring his left side and still not looking comfortable. After a single limited practice, it appears Jackson's recovery hit as a setback as he was unable to practice the rest of last week. Additionally, Jackson has been unable to practice in any capacity in preparation for Week 18. Lamar's mobility is what makes him special and without it, the Ravens may be better of going with capable backup QB Tyler Huntley.
Lamar is dealing with an ankle injury and is out for Sunday. – SIT
Clyde Edwards-Helaire (RB) Kansas City Chiefs
Collarbone Injury, Initial Injury: 12/26/21
The holidays have treated Kansas City quite well. After a dominating victory over the Pittsburgh Steelers, they will also receive good news via the Week 17 injury report. Chiefs RB Clyde Edwards-Helaire landed hard on his shoulder suffering a collarbone injury last week. Initially, the fear was a broken collarbone which would have been a lengthy absence. However, X-ray and MRI imaging showed that there is no structural damage to his collarbone.
There is some swelling in the area but no fracture or ligament sprain is huge here. With the Chiefs already locked into the playoffs as AFC West champs, they seem to be choosing caution with CEH. The RB is now officially ruled out for Week 18 after not suiting up for Week 17. At the start of the week, head coach Andy Reid said there was a chance he plays, which is a good sign that his return will be soon. For Week 18 however, the Chiefs will be without their top RB. Back-up RB Darrel Williams is worth the waiver wire pickup if available as this offense always has solid RB production.
CEH is questionable this week with a collarbone injury but it's not long-term. – MONITOR 
Joe Burrow (QB) Cincinnati Bengals
Knee Injury/Rest, Initial Injury:1/2/21
Joe Burrow making his first appearance on the Week 18 injury report this season, is a bit of a miracle in itself. After tearing his ACL last year, he has been tearing up NFL defenses this year, despite still getting sacked way too often. Burrow suffered a minor knee injury at the end of the Kansas City game last week. Regardless, he would still likely be sitting out this week. With the Bengals locked into the playoffs, they are choosing to rest most of their starters in preparation for the playoffs. In Burrow's case, this is likely a great idea in an effort to rest up his knee and improve the QB's mobility for the postseason. The nature of the injury is undisclosed but Burrow notes although he is sore, he would be able to play on it this week if needed.
Burrow is out this week, due to rest and a minor knee injury. – SIT
Current COVID-19 List
The NFL is currently dealing with a COVID-19 outbreak amongst numerous teams. With so many players affected, it will be easier to simply keep an updated list of all the Fantasy Football relevant names. The list will be updated daily to remain current. Here is a reminder of the NFL's COVID-19 rules:
– Vaccinated players who test positive can return to play after producing 2 negative tests, at least 24 hours apart
– Vaccinated players don't have to quarantine as a "high-risk" close contact with an infected person
– Unvaccinated players who test positive will miss a minimum of *5 days before returning to play
– Unvaccinated players have a 5-day quarantine if they are a "high-risk" close contact with an infected person
Justin Fields (QB) Chicago Bears
Joe Mixon (RB) Cincinnati Bengals
Nick Boyle (TE) Baltimore Ravens
Brandon McManus (K) Denver Broncos
D'Ernest Johnson (RB) Cleveland Browns
Dallas Goedert (TE) Philadelphia Eagles
Jordan Howard (RB) Philadelphia Eagles
Boston Scott (RB) Philadelphia Eagles
This injury report updates until Week 18 ends. Make sure to stay up to date on all the latest injuries this season over on Twitter @SGPNFootballDoc!
RELATED CONTENT