2022 NFL Team Betting Previews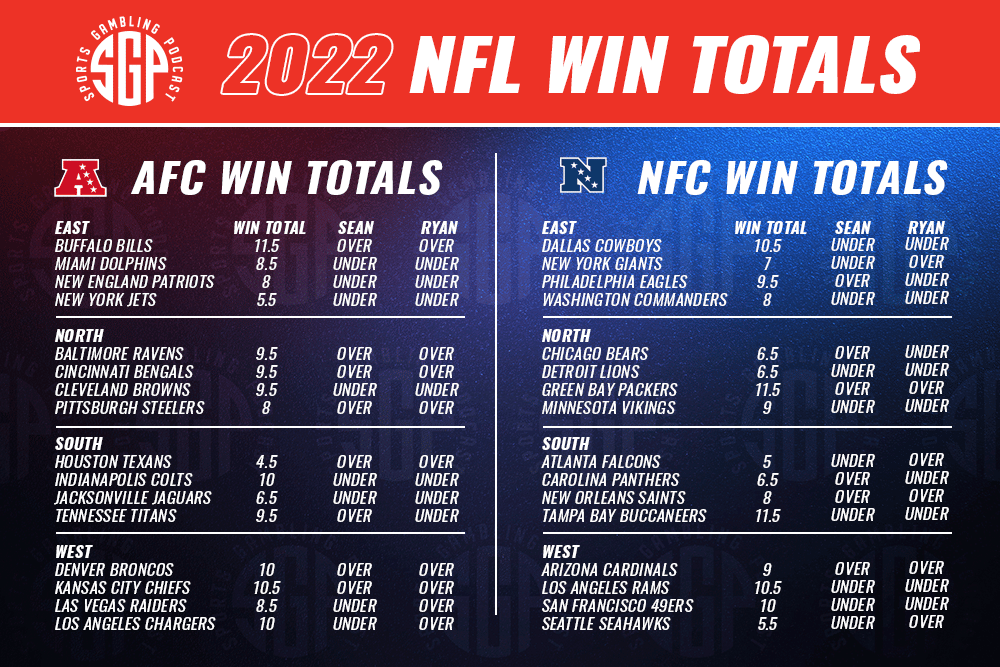 The 2022 NFL Season is nearly here, and the SGPN crew is excited to bring you NFL team betting previews from around the entire league. This is the best place to get the inside scoop on your favorite team or scout the rest of the NFL.
Rookies are beginning to arrive at their perspective training camps as fans anxiously await the return of NFL action. We're just days away from live action at training camps and only weeks away from preseason football!
Our previews will take you inside each NFL rosters framework, schedule, coaching schemes, over/under props, and everything in between. Be sure to let us know what you thought of your favorite team's preview on Twitter @GamblingPodcast.
Exclusive SGPN Content
2022 Dynasty Startup Mock Draft
---
2022 NFL Team Betting Previews Podcast
2022 Jacksonville Jaguars Betting Preview
The Jaguars only won 3 games last year. Can they surpass that total in 2022? Trevor Lawrence now has a year of NFL experience under his belt and Urban Meyer is gone. Say what you want about Doug Pederson but the infusion of professionalism should only help the Jags.  The Jaguars threw big money at mid-tier free agents to add Zay Jones, Evan Engram, and Christian Kirk but the offense should be improved. The return of Travis Etienne from injury and an easier schedule could lead to a better 2022 season than the last place finish they endured in 2021.
Jaguars' 2021 Record: 3-14
Sean's 2021 Prediction: 3-13
Ryan's 2021 Prediction: 2-15
---
2022 Detroit Lions Betting Preview
The Lions finished last in the NFC North in 2021. That being said, it was a fun last-place finish. They played teams close and took numerous games down to the wire. The Lions added Aidan Hutchinson with the second pick of the 2022 NFL Draft. Can the infusion of a young pass rusher help a defense that ranked near the bottom of the league in 2021 and mask a subpar secondary?
The Lions are still hampered by subpar QB play and Jared Goff is likely not the future unless he can recapture some of the magic he found with McVay in LA. Goff is 3-17-1 as a starting quarterback without Sean McVay and the Lions are hoping that 2021 breakout wide receiver Amon-Ra St. Brown can continue to lead the receiving group and take another step in 2022. The Lions also drafted standout Alabama wide receiver, Jameson Williams, in the first round. Williams likely would have been the first receiver off of the board if not for injury. Can Williams, St. Brown, and a healthy D'Andre Swift mask Goff's deficiencies and push the Lions over 6.5 wins?
Lions' 2021 Record: 3-13-1
Sean's 2021 Prediction: 4-13
Ryan's 2021 Prediction: 5-12
---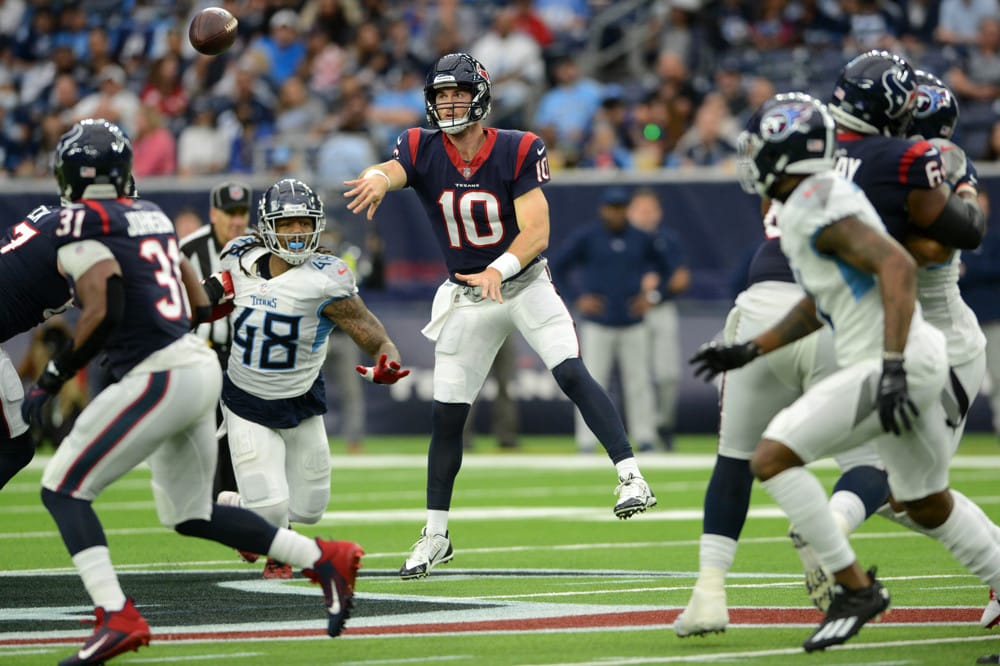 2022 Houston Texans Betting Preview
The Houston Texans were one of the numerous teams that started a rookie quarterback for the majority of the 2021 season. While Trevor Lawrence, Zach Wilson, Justin Fields, and Mac Jones got all of the fanfare, Davis Mills quietly had a solid rookie season. In 13 games started in 2021, Mills completed 66.8% of his passes for over 2,600 yards, with 16 touchdowns and 10 interceptions. An argument could be made that Davis Mills and Mac Jones performed the best out of all the rookie quarterbacks in 2021.
The Texans thought so much of Mills' 2021 season that opted to continue building around him in 2022. The Texans then drafted highly regarded cornerback Derek Stingley in the first round of the 2022 NFL draft and signed defensive end Jerry Hughes in free agency. Can Lovie Smith right this defensive ship?
Texans' 2021 Record: 4-13
Sean's 2021 Prediction: 4-13
Ryan's 2021 Prediction: 6-11
---
2022 New York Jets Betting Preview
The Jets have been universally praised for their work in the 2021 NFL draft. Yes, you read that right. The Jets finally have adults in the room and are operating like a competent franchise. The Jets left the first round of the NFL draft with cornerback Ahmad "Sauce" Gardner, wide receiver Garrett Wilson, and edge rusher Jermaine Johnson. Many had all three players in the top 10 of their 2021 draft class rankings.
Even with Joe Douglas' masterclass offseason, any hope the Jets have for a big season rests on the development of Zach Wilson. If they have any chance to improve and not finish in last place in 2022, Zach Wilson has to make a huge leap in 2022. He showed flashes in 2021 but has not been able to put it all together quite yet. The Jets also added RB Breece Hall in the second round to pair with Michael Carter in the backfield, and they improved the offensive line with the addition of Laken Tomlinson. They also have Elijah Moore and Corey Davis returning from injury. The pieces have been put in place for Zach Wilson to make the sophomore leap.
Jets' 2021 Record: 4-13
Sean's 2021 Prediction: 7-10
Ryan's 2021 Prediction: 6-11
NEW YORK JETS PLAYOFF BOUND 2022 HYPE VIDEO #TAKEFLIGHT pic.twitter.com/bvSgNgsAM3

— 00 (@00Jets) July 21, 2022
---

2022 New York Giants Betting Preview
The Giants have a new head coach, but they also still have Daniel Jones. How much do we believe in Brian Daboll? He is given a lot of credit for the development of Josh Allen and the Buffalo Bills offense in the past few seasons. However, how much of that was Daboll and how much of the was Josh Allen being a freak of nature? Can Daboll do the same for Daniel Jones?
There are more questions than answers with the 2022 New York Giants. They spent two first-round picks on players to bolster the trenches on both sides of the ball by taking defensive end Kayvon Thibodeaux and offensive tackle Evan Neal. It will be interesting to see if Thibodeaux and mainstay Leonard Williams can generate enough of a pass rush to mask a subpar secondary. On the offensive side of the ball, 2022 feels like the final "put up or shut up" year for Daniel Jones.
Giants' 2021 Record: 4-13
Sean's 2021 Prediction: 4-13
Ryan's 2021 Prediction: 9-8
I'm saying Daniel Jones isn't a bad player and has great tools. People forget his rookie year he was 24 TDs to 12 INTs with a 62% completion percentage and averaged 6.2 YPC. He has been bad the past two years, but didn't just go away.pic.twitter.com/IMpuyD9w1I

— Commissioner Cheah (@StevenCheah) July 19, 2022
---

2022 Carolina Panthers Betting Preview
The Panthers are going to be an interesting watch in 2022. Recently acquired Baker Mayfield seems to be in the driver's seat to be under center for the Panthers in 2022. Is that good news for Panthers fans? Matt Rhule has seemingly taken a "dart throw" approach to his quarterback room hoping to strike gold or find a diamond in the rough.
The QB room is now an overcrowded mess with former first-round picks Baker Mayfield and Sam Darnold, 2022 third-round pick Marr Corral, and career backup P.J. Walker. Whoever ends up under center will be thrilled to have Christian McCaffrey back from injury. CMC is so valuable he made Sam Darnold look like an MVP candidate through 5 weeks of the 2021 season. D.J. Moore was recently extended and will be the best friend of whatever quarterback ends up taking the majority of the snaps in 2022.
Panthers' 2021 Record: 5-12
Sean's 2021 Prediction: 9-8
Ryan's 2021 Prediction: 9-8
Bahamas ➡️ Carolina ➡️ Training Camp prep

It's been a crazy week for @bakermayfield@KristenBalboni | #KeepPounding pic.twitter.com/SY7mwI4Hd8

— Carolina Panthers (@Panthers) July 12, 2022
---
2022 Chicago Bears Betting Preview
The Bears are in the midst of a rebuild and they are hoping Justin Fields can be their answer at quarterback for years to come. But before he can make the leap, we have to know if the Bears did enough to surround Fields with enough talent to flourish.
They made some questionable decisions in the offseason. Namely, they only drafted one receiver in the 2022 NFL draft and that was 25-year-old rookie, Velus Jones, Jr. This offense is going to be depending heavily on David Montgomery and Darnell Mooney. The Bears are still anxiously awaiting for tight end Cole Kmet to finally take the next step and become an above-average option at the position. Fields could use a solid security blanket from the tight end position. Did the bears do enough to hit the over on their win total?
Bears' 2021 Record: 6-11
Sean's 2021 Prediction: 9-8
Ryan's 2021 Prediction: 7-10
I cannot wait to see an unlocked Darnell Mooney in 2022. #Bears #DaBears #BearsTalk pic.twitter.com/CxynaWsLRj

— Bryan Perez (@BryanPerezNFL) July 21, 2022
---

2022 Atlanta Falcons Betting Preview
No more Matt Ryan in Atlanta. That was strange to type. The NFL MVP was traded to the Colts in the offseason and Marcus Mariota gets his last shot to be an NFL starting quarterback again. Mariota will have a tough hill to climb as the Falcons are pretty devoid of talent on the offensive side of the ball.
Atlanta will be hoping first-round selection Drake London can hit the ground running and be a true number 1 NFL wide receiver during his rookie campaign. The Falcons will be without Calvin Ridley for the year and his production is seemingly impossible to replicate. It is going to be interesting to see what direction Arthur Smith takes the Falcons in 2022.
Falcons' 2021 Record: 7-10
Sean's 2021 Prediction: 7-10
Ryan's 2021 Prediction: 8-9
y'all @kylepitts__ was just getting started last year @AtlantaFalcons

via @NFL pic.twitter.com/JLZYHH0sW2

— NFL on CBS (@NFLonCBS) July 21, 2022
---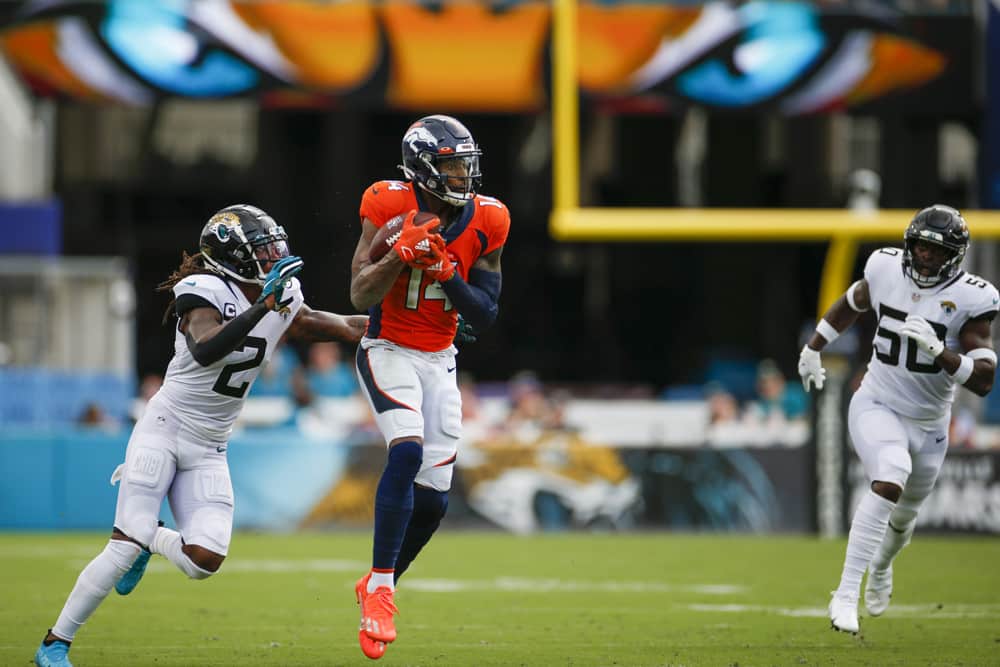 2022 Denver Broncos Betting Preview
Let Russ Cook. First, Denver landed Peyton Manning, and after a brief hiatus, they now have Russell Wilson. Denver has a habit of whiffing on rookie quarterbacks so often, that they find themselves needing to trade the farm for future Hall of Fame quarterbacks when they become available. Wilson will be a breath of fresh air for Denver fans after years of Drew Lock under center.
Denver is loaded on the offensive side of the ball with wide receivers Jerry Jeudy, Courtland Sutton, and Tim Patrick all in their prime. Let's not forget, that they also re-signed running back Melvin Gordon to pair in the backfield with up-and-comer Javonte Williams. The AFC West might be the most competitive division in all of football in 2022 and it is hard to predict how all the chips will fall.
Broncos' 2021 Record: 7-10
Sean's 2021 Prediction: 10-7
Ryan's 2021 Prediction: 10-7
I'm used to the doubt.
I'm used the work too… pic.twitter.com/mYeZ2HvT4b

— Russell Wilson (@DangeRussWilson) July 13, 2022
---
2022 Seattle Seahawks Betting Preview
D.K. Metcalf got his extension and he is here to stay. But who will be throwing him the ball in Seattle? Pete Carroll has heaped praise on Drew Lock like he is Russell Wilson 2.0 but the rest of the league doubts Lock is the guy. To make things more confusing, Carroll has recently stated that Geno Smith is currently in the lead for the starting quarterback job. Do we seriously think Smith or Lock are going to be a suitable replacement for Russell Wilson?
Seattle also lost Chris Carson to retirement, but still has Rashaad Penny and drafted Ken Walker in the 2022 NFL draft. Can a solid running game and the combination of Metcalf and Lockett stretching the field in the passing game elevate the play of Geno Smith or Drew Lock?
Seahawks' 2021 Record: 7-10
Sean's 2021 Prediction: 13-4
Ryan's 2021 Prediction: 12-5
Just having fun pic.twitter.com/8OWxGUihqi

— Geno (@GenoSmith3) July 22, 2022
---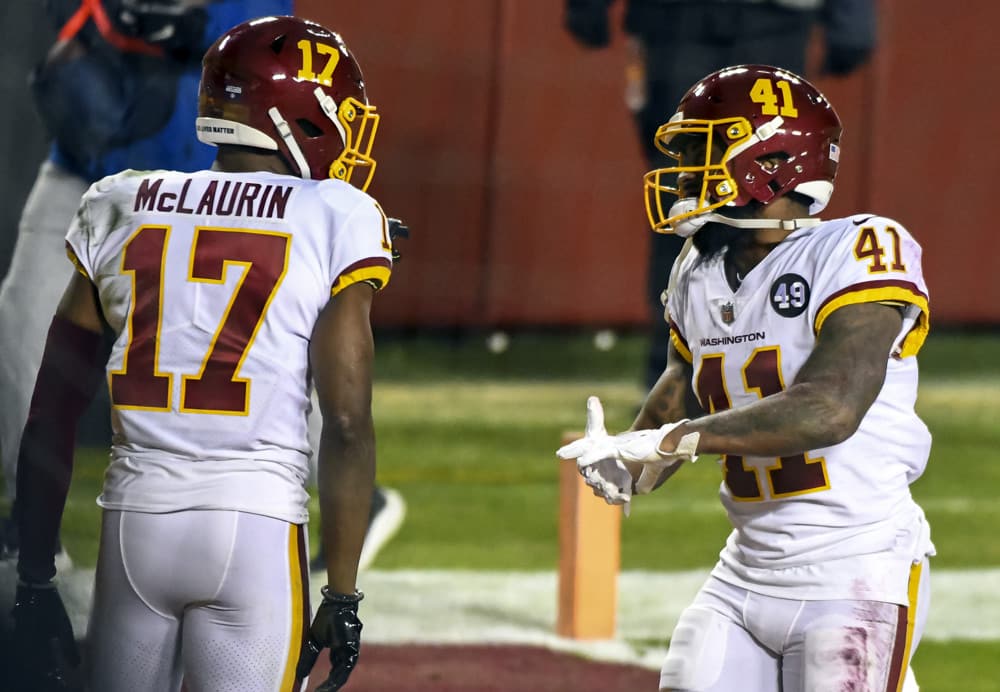 2022 Washington Commanders Betting Preview
New name. New quarterback. The Washington Football Team will now be known as the Washington Commanders for the foreseeable future. They also traded two third-round picks to acquire quarterback Carson Wentz from the Colts in the offseason. This was just one year later after the colts traded to acquire Wentz themselves. Indianapolis gave up on Wentz after one year, will he fare better in Washington?
The Commanders have a similar supporting cast to what Wentz had in Indy. Antonio Gibson is no Jonathon Taylor, but he is a well-rounded three-down back with above-average receiving ability. The Commanders also signed Terry Mclaurin to a monster contract extension in the offseason. Curtis Samuel is due back from injury and the commanders invested a first-round pick in standout wide receiver Johan Dotson. The pieces are there for Wentz to put it all together and look like he did when he was an MVP candidate for the Eagles. Can riverboat Ron get the most out of Wentz in 2022?
Commanders' 2021 Record: 7-10
Sean's 2021 Prediction: 8-9
Ryan's 2021 Prediction: 7-10
Terry McLaurin ranked 1st among NFL wide receivers for contested catches 20+ yards downfield. pic.twitter.com/ket2RmUz0r

— Cole Topham (@HamAnalysis) July 19, 2022
---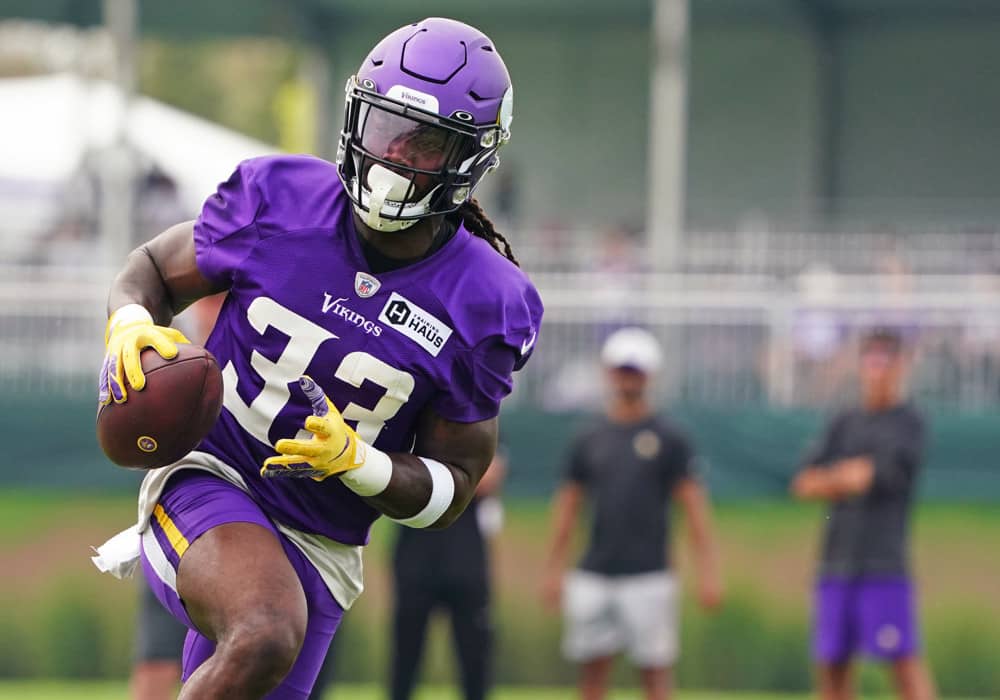 2022 Minnesota Vikings Betting Preview
Mike Zimmer is out, and Kevin O'Connell is in. The Vikings ousted their old-school defensive-minded beach coach in favor of a young, up-and-coming, offensive mind, following a trend in the NFL in recent years. Will it be enough to take the offense and the likes of Kirk Cousins, Dalvin Cook, and Justin Jefferson to the next level? Will the defense take a step back?
Vikings' 2021 Record: 8-9
Sean's 2021 Prediction: 7-10
Ryan's 2021 Prediction: 8-9
Justin Jefferson is a freak of nature. #Vikings pic.twitter.com/pYF14RaI90

— The NFL Lead (@NFL_Lead) July 17, 2022
---

2022 Cleveland Browns Betting Preview
The Browns are one of the hardest teams to predict heading into 2022. Most of that is due to the uncertainty surrounding Deshaun Watson and his impending suspension. The Browns will go as far as Deshaun Watson can take them. They have a very talented roster but it is all about the quarterback.
Browns' 2021 Record: 8-9
Sean's 2021 Prediction: 9-8
Ryan's 2021 Prediction: 10-7
Just a reminder that Kareem Hunt will be healthy for the #Browns in 2022.pic.twitter.com/WFae16wUUc

— Tyler Johnson (@T_johnson_TJ) July 21, 2022
---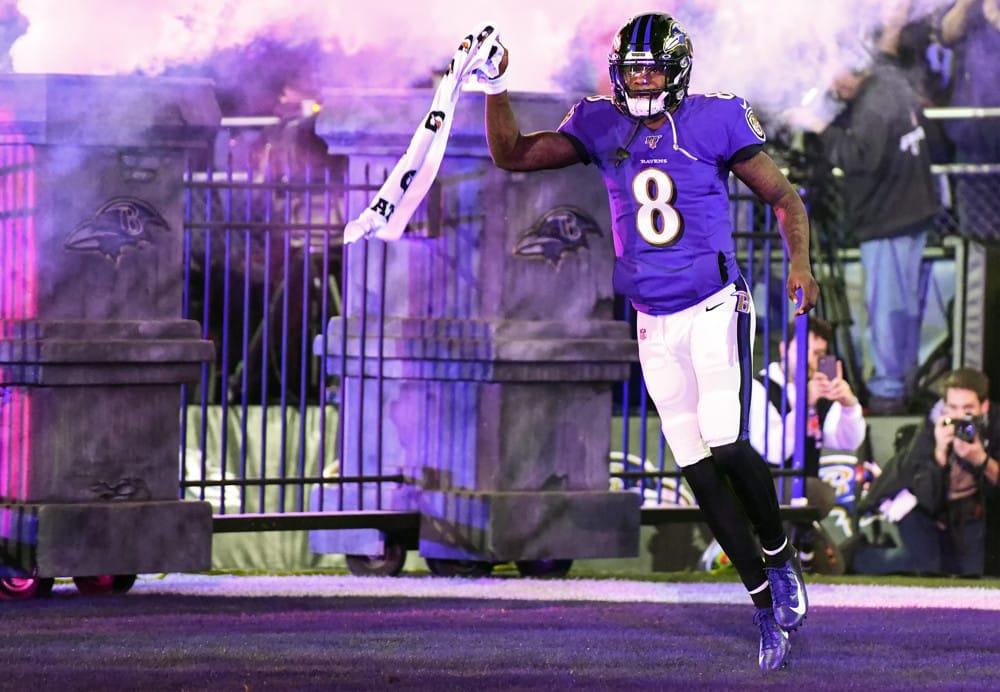 2022 Baltimore Ravens Betting Preview
The Ravens were devastated by injuries in 2021 and were plucking running backs off the couch to fill out their running back room. The Ravens' number one goal for 2022 is the health of cornerstone players like Lamar Jackson and Ronnie Stanley. If healthy, can they challenge the elite of a loaded AFC?
Ravens' 2021 Record: 8-9
Sean's 2021 Prediction: 10-7
Ryan's 2021 Prediction: 13-4
Lamar Jackson. Rashod Bateman.

All season longpic.twitter.com/dARu8PIByT

— Sarah Ellison (@sgellison) June 15, 2022
---
2022 Miami Dolphins Betting Preview
The Dolphins did absolutely everything in their power to help Tua take the next step. They paired Tyreek Hill with Jaylen Waddle and loaded their backfield with fast running backs. It is easy to see what new head coach Mike McDaniel envisions for this offense but will Tua be able to execute?
Dolphins' 2021 Record: 9-8
Sean's 2021 Prediction: 8-9
Ryan's 2021 Prediction: 9-8
Just thinking about this ridiculous @MikeGesicki catch, hbu?

(via @NFL) | @MiamiDolphins pic.twitter.com/Qh4PJBjrX9

— NFL On Prime Video (@NFLonPrime) July 14, 2022
---
2022 Indianapolis Colts Betting Preview
Another year, and another Quarterback. The Colts pulled the plug on the Carson Wentz experiment before it could gain any traction. Enter, Matt Ryan. The Colts are likely to go as far as Jonathan Taylor takes them. However, the Frank Reich–Matt Ryan relationship will be a fun one to watch blossom and take this team on a successful playoff run.
Colts' 2021 Record: 9-8
Sean's 2021 Prediction: 8-9
Ryan's 2021 Prediction: 9-8
Year III from 11 pic.twitter.com/Dq67lOmHwQ

— Indianapolis Colts (@Colts) July 22, 2022
---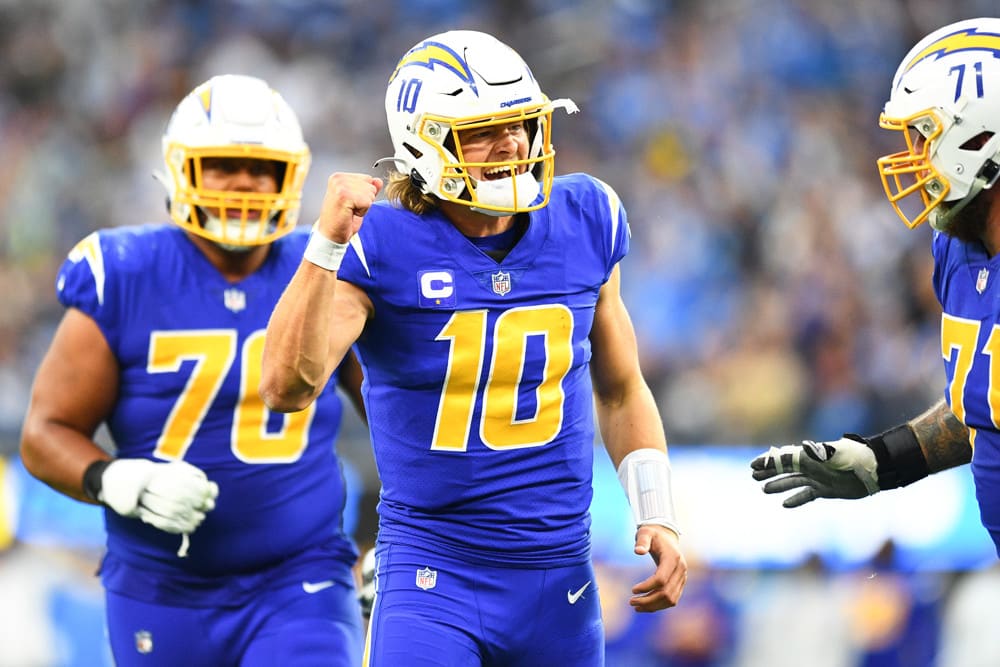 2022 Los Angeles Chargers Betting Preview
The Chargers have one of the most talented rosters in the NFL, especially with Justin Herbert continuing to rise up everyone's quarterback rankings. The Chargers invested heavily in their defense in the offseason to pair with any already-loaded offense. Will it be enough to carry them to the playoffs in the most competitive division in the NFL?
Chargers' 2021 Record: 9-8
Sean's 2021 Prediction: 9-8
Ryan's 2021 Prediction: 11-6
The #Chargers made some HUGE upgrades to their roster this offseason. How far can they go next year? #BoltUp #NFL pic.twitter.com/nvDB5oFpbu

— OutOfSightSports ™️ (@OOSSports) July 17, 2022
---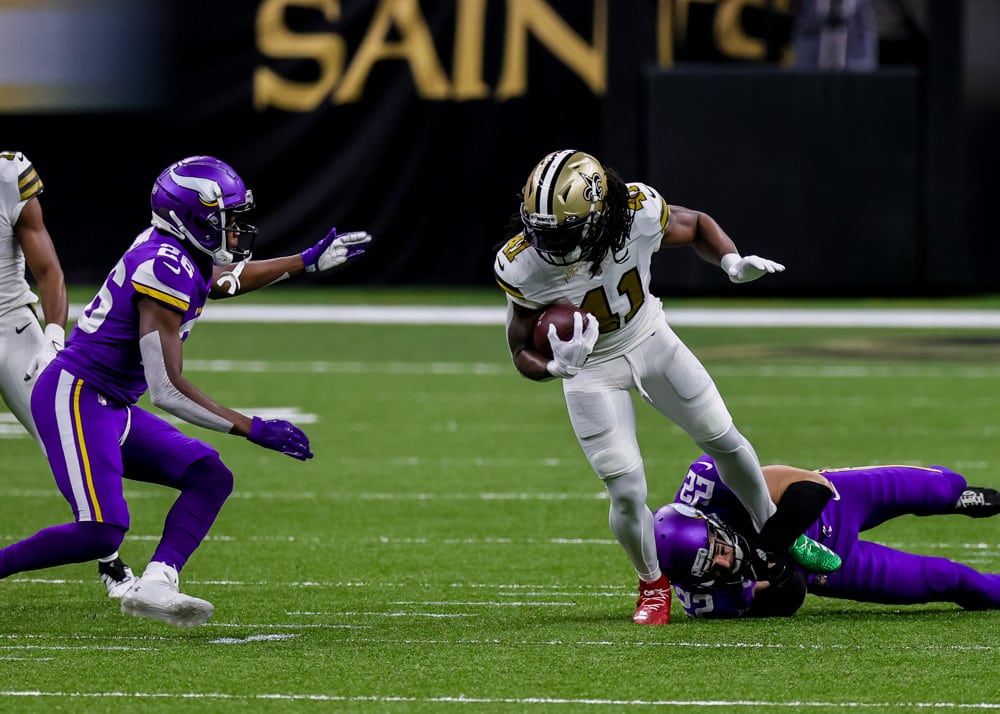 2022 New Orleans Saints Betting Preview
The Saints get to start the season with a healthy Jamies Winston under center. Additionally, a healthy Michel Thomas also returns to a stacked receiver room that also sees new arrivals Jarvis Landry and Chris Olave joining the team. Could this offense resemble the Saints' offense of old?
Saints' 2021 Record: 9-8
Sean's 2021 Prediction: 6-11
Ryan's 2021 Prediction: 5-12
The New Orleans Saint added some STUDS this off-season! Get ready! pic.twitter.com/BPPZauShai

— Boot Krewe Media (@BootKreweMedia) July 15, 2022
---
2022 Philadelphia Eagles Betting Preview
Jalen Hurts gets another year and another shot to prove he is the quarterback of the future in Philadelphia. The addition of AJ Brown in the offseason could surely help Hurts' development, but will it be enough? Can the upgraded receiving options take Hurts to the next level as a quarterback?
Eagles' 2021 Record: 9-8
Sean's 2021 Prediction: 11-6
Ryan's 2021 Prediction: 5-12
51 days until #Eagles football.

Big things coming for @KENNETHGAINWEL this year. pic.twitter.com/pl2ygM5OVV

— Word On The Birds (@WordOnTheBirds) July 22, 2022
---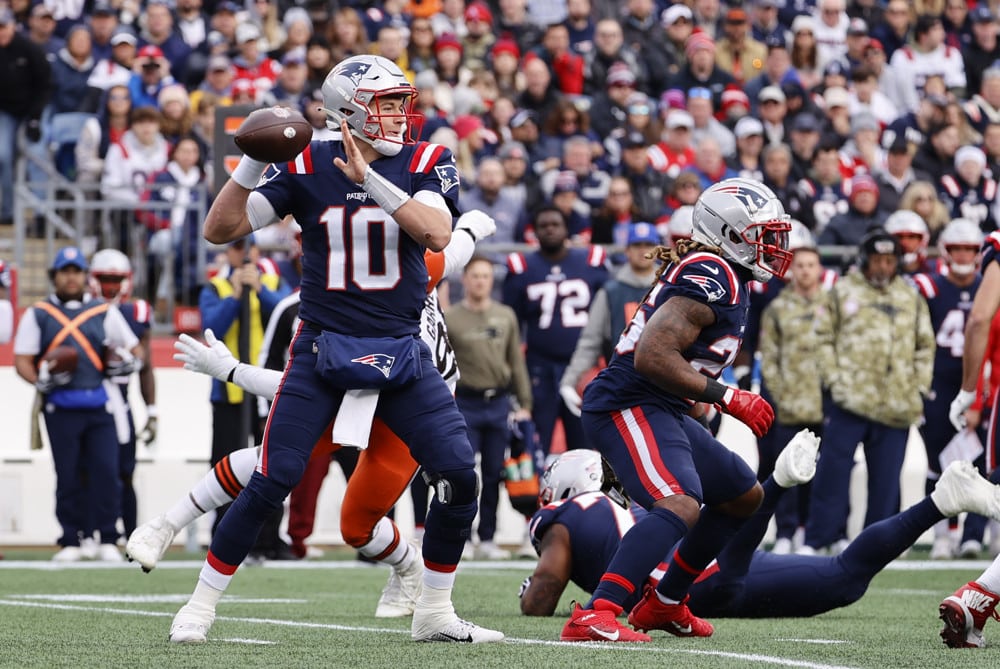 2022 New England Patriots Betting Preview
Mac Jones was largely praised as the most successful rookie quarterback in 2021. Can he build on a strong 2021 in 2022 or will he be a victim of the sophomore slump? Josh McDaniels left to be the head coach of the Raiders and there is no clear replacement in New England. The loss of McDaniels and an arsenal of uninspiring weapons will make the Patriots' offensive output (or lack thereof) a storyline to watch this season.
Patriots' 2021 Record: 10-7
Sean's 2021 Prediction: 8-9
Ryan's 2021 Prediction: 10-7
I can't wait to watch Mac Jones again pic.twitter.com/xUEFIEuzrb

— (Honorary Red Raider) (@grizzzgang) July 21, 2022
---
2022 Pittsburgh Steelers Betting Preview
The Steelers are going to look a lot different without Big Ben, the question is will they be better or worse? There is a lot of uncertainty in the quarterback room with Mitch Trubisky currently slated to start and rookie Kenny Pickett waiting in the wings. Trubisky has shown flashes but there is a reason the Steelers are his third team during his short career. Mike Tomlin is one of the better coaches in the NFL and he has his work cut out for him in 2022.
Steelers' 2021 Record: 9-7-1
Sean's 2021 Prediction: 12-5
Ryan's 2021 Prediction: 11-6
T.J. Watt's last parting gift to Baker Mayfield before leaving the AFC North! #Steelers #NFL pic.twitter.com/wVN0ixE9Ux

— BlitzburghUSAVideos (@sdextrasmedia) July 18, 2022
---

2022 Las Vegas Raiders Betting Preview
The Raiders had quite the offseason. They hired Josh Mcdaniels to coach the team and managed to pry Davante Adams way from the Packers. Derek Carr has already managed to produce with less than desirable weapons, can he elevate with his new weapons? Hunter Renfrow and Davante Adams could be one of the more menacing pairs of receivers in the league. Will it be enough to compete in a stack NFC West?
Raiders' 2021 Record: 10-7
Sean's 2021 Prediction: 5-12
Ryan's 2021 Prediction: 5-12
The slot machine looks ready to roll #Raiders pic.twitter.com/6MvA25l5bn

— Jesse Merrick (@JesseNews3LV) July 21, 2022
---

2022 Arizona Cardinals Betting Preview
The Cardinals got off to a scorching start in 2021 before cooling off down the stretch and getting bounced in the first round of the playoffs. The future in Arizona was a bit murky this offseason when Kyler Murray demanded a new contract, but he eventually got that contract. Can the offense replicate its early success from 2021 and find more consistency for an entire season in 2022?
Cardinals' 2021 Record: 11-6
Sean's 2021 Prediction: 8-9
Ryan's 2021 Prediction: 6-11
More of this for years to come @K1 x @DeAndreHopkins

(via @nfl) | @AZCardinals

— NFL On Prime Video (@NFLonPrime) July 21, 2022
---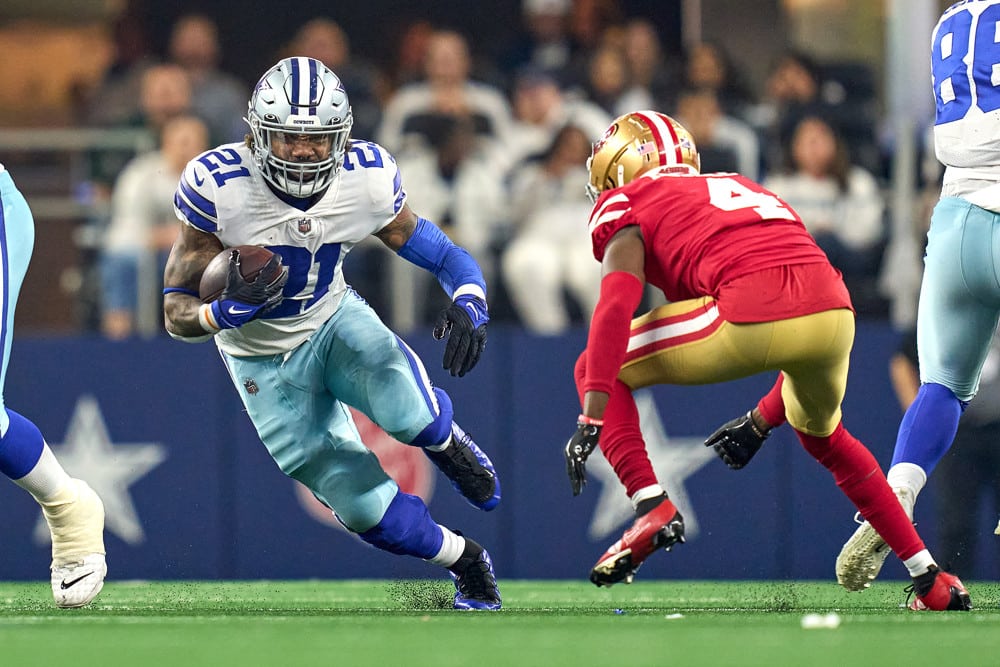 2022 Dallas Cowboys Betting Preview
The Cowboys still have a lot of talent on paper but their offense is going to look a lot different this year. Amari Cooper was traded while Dallas extended Michael Gallup. However, Gallup will miss a chunk of the season as he recovers from injury and CeeDee Lamb will have to step in as the WR1. Additionally, Ezekiel Elliot is another year older and another year slower. Will Tony Pollard eat into Elliot's work and turn the backfield into a timeshare? The Dallas offense, and team as a whole, has a lot of question marks heading into 2022.
Cowboys' 2021 Record: 12-5
Sean's 2021 Prediction: 6-11
Ryan's 2021 Prediction: 6-11
Dak Prescott still has elite ball placement pic.twitter.com/0wEWPOxeLf

— •✭ (@6Blackhawks) June 18, 2022
---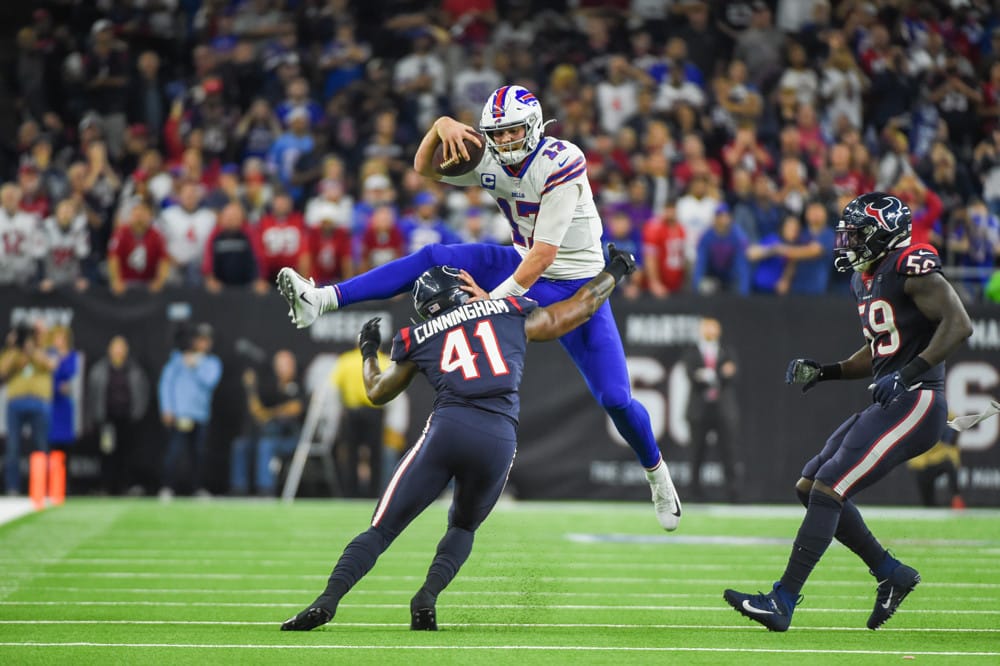 2022 Buffalo Bills Betting Preview
The Buffalo Bills are the current betting favorite to win the Super Bowl. They are led by Josh Allen, who continues to make a case for best quarterback in the NFL. Add in the emergence of Gabriel Davis and this offense gets even more intimidating. The defense has been just as good as the offense in recent years, but they have to deal with the loss of Tre White in the early season. Buffalo added Von Miller to an already vaunted pass rush, but can the aging edge improve the Bills pass rush? Is this the year the Bills finally get over the Super Bowl hump?
Bills' 2021 Record: 11-6
Sean's 2021 Prediction: 13-4
Ryan's 2021 Prediction: 12-5
"God he's a dog, bro."@J_poyer21 is all of us watching @JoshAllenQB last year. pic.twitter.com/EJoTaS8Wny

— NFL Films (@NFLFilms) July 22, 2022
---

2022 Tennesse Titans Betting Preview
The Titans sent AJ Brown packing in the offseason and used the first-round pick they acquired for him to draft Treylon Burks. Can Burks step right into Brown's role? Maybe, but he is a rookie and time will tell. The Titans are a good defensive team but other than Derrick Henry, the offense has a lot of question marks. King Henry showed his mortality last year as he missed time with injury and if he misses time in 2022, Tennessee could be in for a long year.
Titans' 2021 Record: 12-5
Sean's 2021 Prediction: 11-6
Ryan's 2021 Prediction: 11-6
Tennessee Titans 2022-23 Hype Video Out Now What Y'all Think Titan Nation ⚔️ pic.twitter.com/w6psmAbBi6

— GrindHardSportz (@Edward39651708) July 15, 2022
---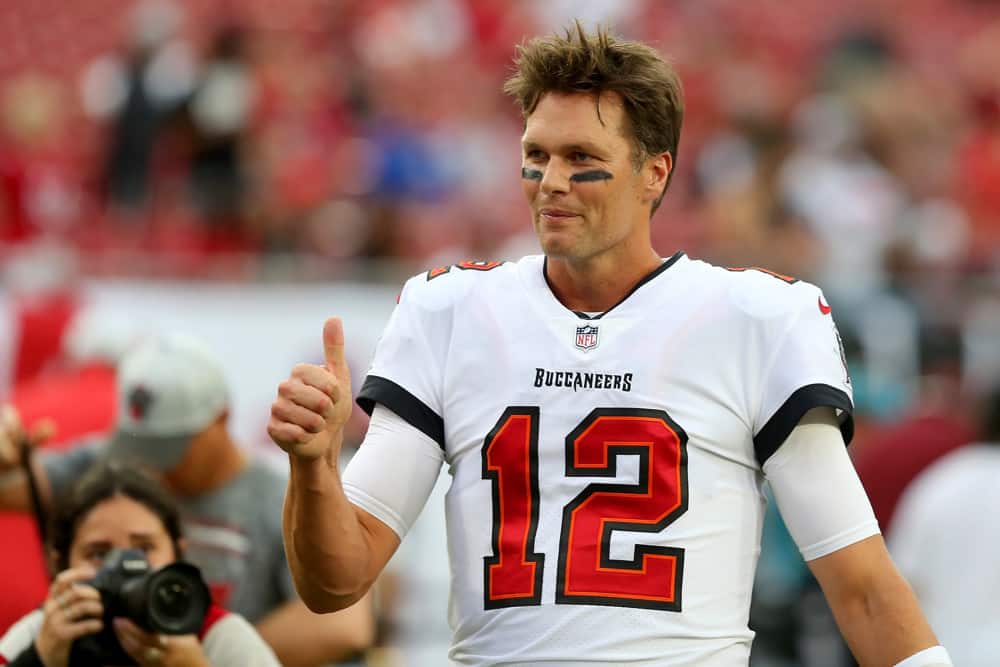 2022 Tampa Bay Buccaneers Betting Preview
Tom Brady retired and then un-retired during the offseason. He looked better than ever last year during his age-44 season. Will this finally be the year that father time catches up to old man Brady? We doubt it. The Buccaneers loaded up at receiver in the offseason to make another push for a Super Bowl title. With the additions Russell Gage and Julio Jones to a wide receiver room that already boasts Mike Evans and Chris Godwin, this offense looks to be prolific as always. We could be watching Brady in February again if Brady and the Bucs can put up points in bunches again.
Buccaneers' 2021 Record: 13-4
Sean's 2021 Prediction: 13-4
Ryan's 2021 Prediction: 12-5
Mike Evans' career resume:
– 4x Pro Bowl
– 2016 All-Pro 2nd Team
– Super Bowl LV Champ
– 2014 PFWA All-Rookie Team
– Most REC YDS (9,301) & REC TD (75) in #Bucs history pic.twitter.com/9VID5I5Bvd

— Best of Pro Sports (@pro_sports_best) July 15, 2022
---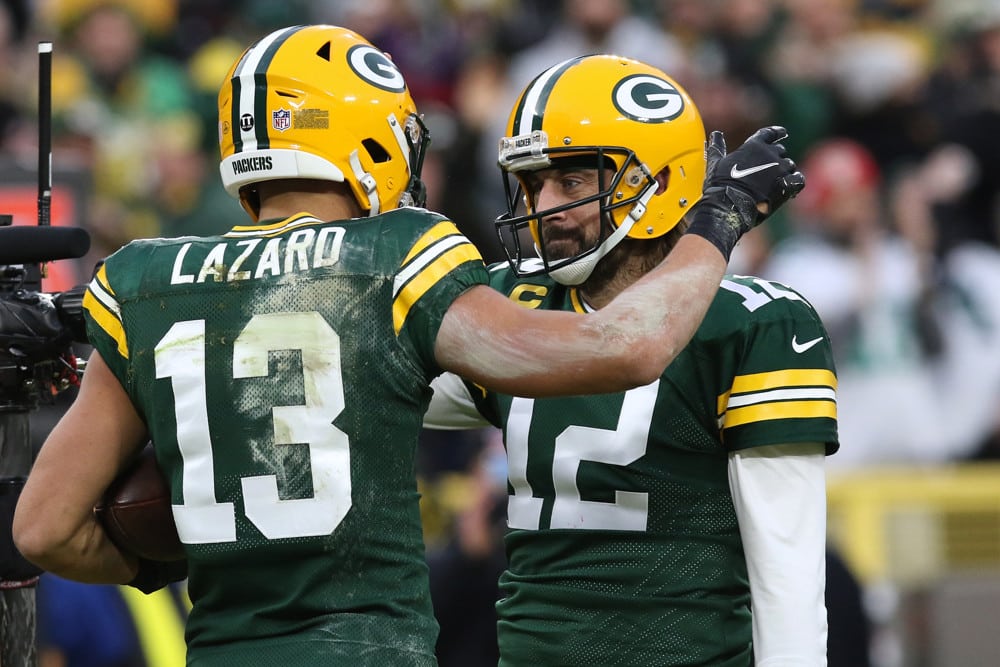 2022 Green Bay Packers Betting Preview
The Packers extended Aaron Rodgers during the offseason but traded superstar Davante Adams away. It has been a while since Rodgers has had to compete without an established WR1 and it remains to be seen how he will respond  The wide receiver room in Green Bay is full of young and unproven talent, but will it matter with Rodgers at the helm? Adams has been his security blanket for years so 2022 should be an interesting experiment.
Packers' 2021 Record: 13-4
Sean's 2021 Prediction: 13-4
Ryan's 2021 Prediction: 14-3
AJ Dillon the mascot

️: @KenoshaKingfish | #NFLpic.twitter.com/35JYvoLFv6

— FanDuel (@FanDuel) July 17, 2022
---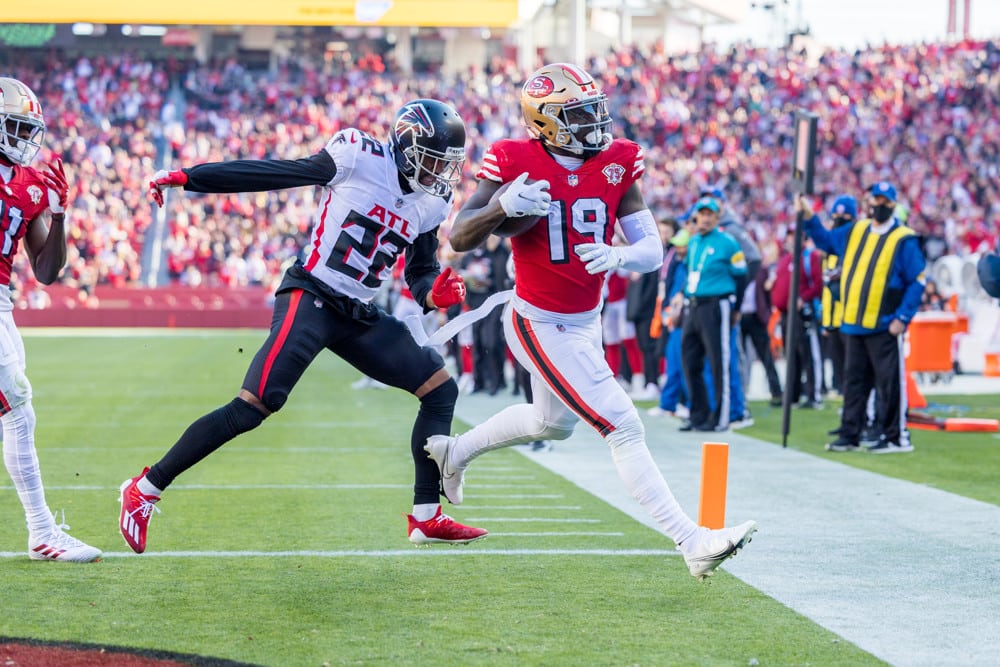 2022 San Francisco 49ers Betting Preview
Is 2022 the year of Trey Lance? Jimmy G is still in the building but Lance was officially handed the reins to the offense for 2022. The Niners have a win-now roster and Lance could be the missing piece they have needed. Will the untested Lance be able to play well enough in his second season to carry them to the promised land?
49ers' 2021 Record: 10-7
Sean's 2021 Prediction: 8-9
Ryan's 2021 Prediction: 10-7
#49ers WR Deebo Samuel has turned his training up a notch with training camp around the corner

: @DelfonteDiamond pic.twitter.com/mAWmID21Vx

— OurSF49ers (@OurSf49ers_) July 22, 2022
---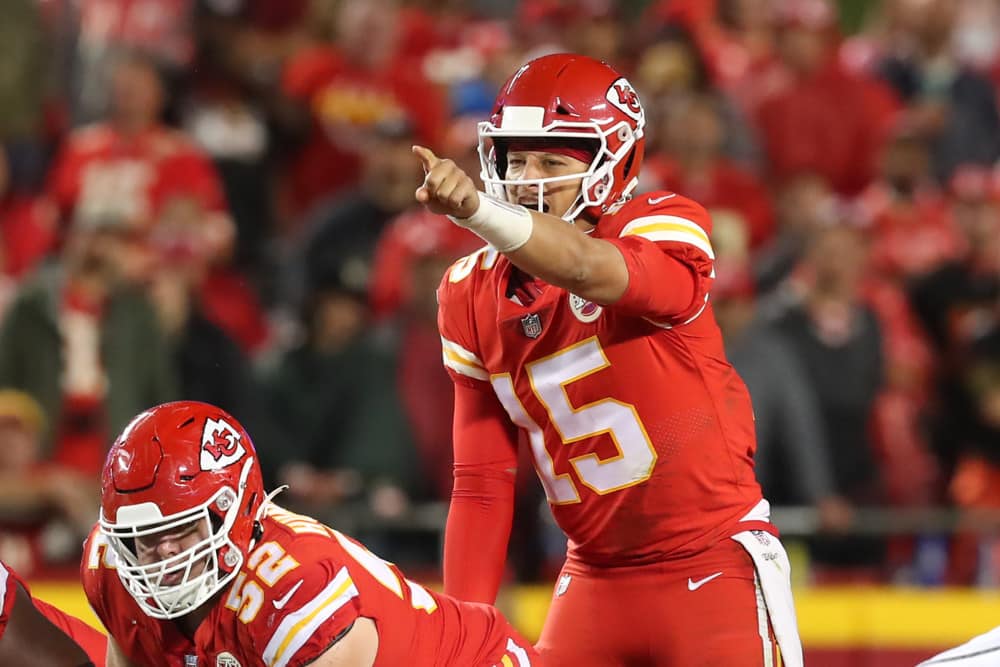 2022 Kansas City Chiefs Betting Preview
Tyreek Hill is another big name receiver that was traded in the offseason and the Chiefs will be hard-pressed to replace him. Hill is now in Miami and the Chiefs signed JuJu Smith-Schuster and drafted Skyy Moore in an attempt to fill the void. Will they be able to replicate Hill's production? Probably not, but the Chiefs still have Patrick Mahomes and Travis Kelce on the roster so they will still be a threat.
Chiefs' 2021 Record: 12-5
Sean's 2021 Prediction: 13-4
Ryan's 2021 Prediction: 12-5
Patrick Mahomes has arrived. pic.twitter.com/LT5LeuUCCg

— Sam McDowell (@SamMcDowell11) July 22, 2022
---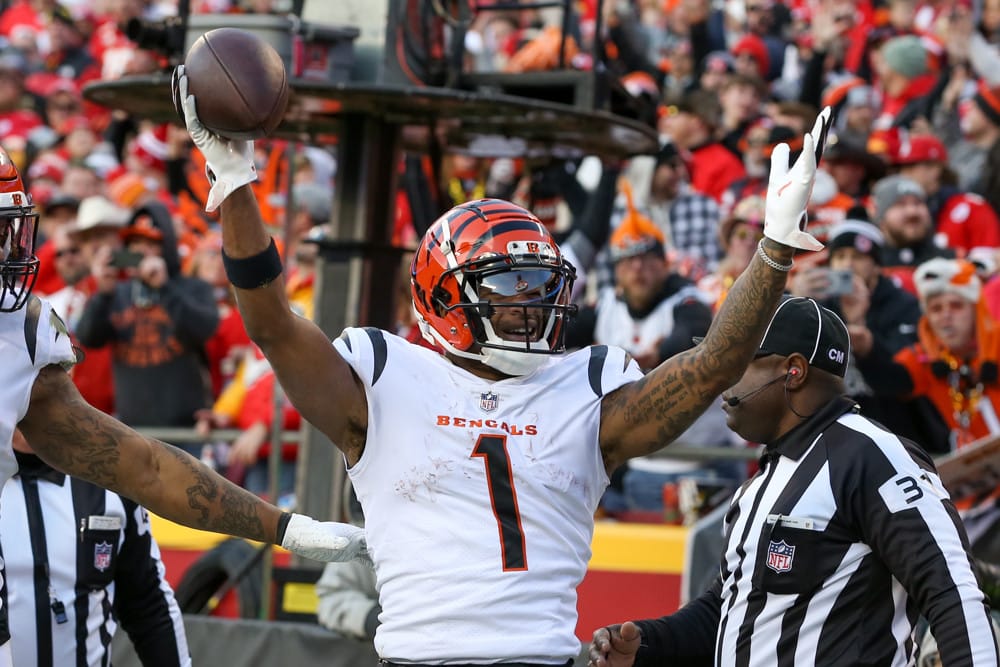 2022 Cincinnati Bengals Betting Preview
The Bengals shocked the world in 2021 and went all the way to the Super Bowl where they fell to the high-powered Rams. They are oozing with potential heading into 2022 and for years to come as well. Joe Burrow and Ja'Marr Chase look to be one of the better quarterback-wide receiver duos in the league and are key to the Bengals' success. The Bengals boast arguably the best receiver room in the NFL and addressed their biggest weakness (the offensive line) in a big way in the offseason. Should they be favored to represent the AFC in the Super Bowl again in 2022?
Bengals' 2021 Record: 10-7
Sean's 2021 Prediction: 2-15
Ryan's 2021 Prediction: 2-15
J'Marr Chase is a BEAST!! #SuperBowl pic.twitter.com/RahhjXiZet

— Enrique E ⚾️ (@ElijahsDadNYY) February 14, 2022
---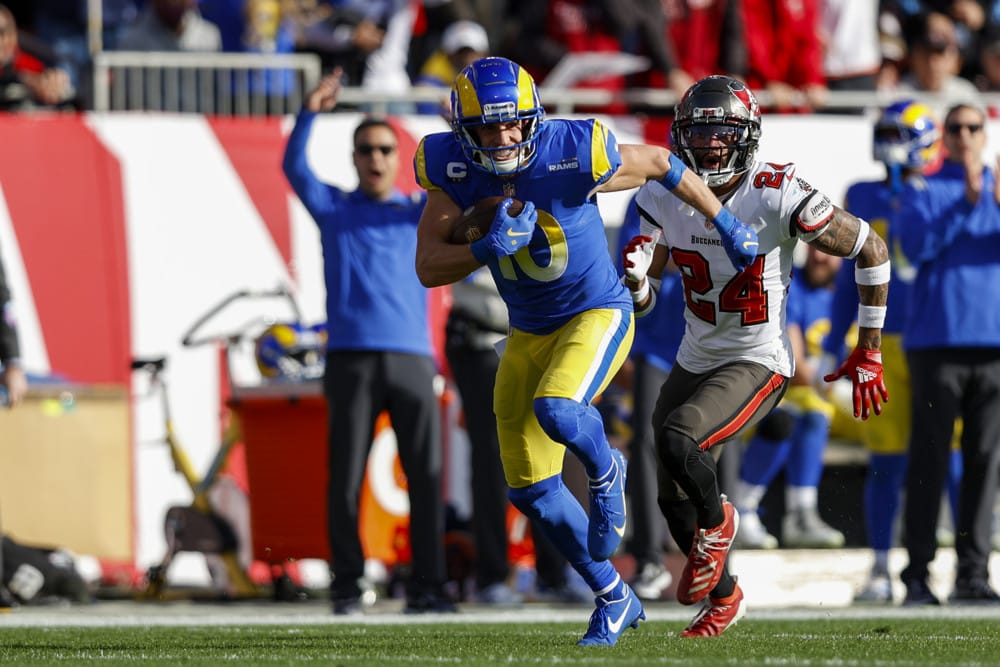 2022 Los Angeles Rams Betting Preview
The Rams traded hefty draft capital last offseason to land Matthew Stafford from Detroit and go all in on a SuperBowl run. Well, it worked last year as the Rams beat the Bengals in Super Bowl LVI and are now looking to repeat. The Rams are loaded with talent and have the roster to compete with anyone. However, there are reports that Matthew Stafford is dealing with elbow issues in his throwing arm. Could that derail their title aspirations?
Rams' 2021 Record: 12-5
Sean's 2021 Prediction: 9-8
Ryan's 2021 Prediction: 9-8
Add the ESPY for best championship performance to @CooperKupp's trophy case. pic.twitter.com/uYN35FdIDc

— NFL (@NFL) July 21, 2022
---