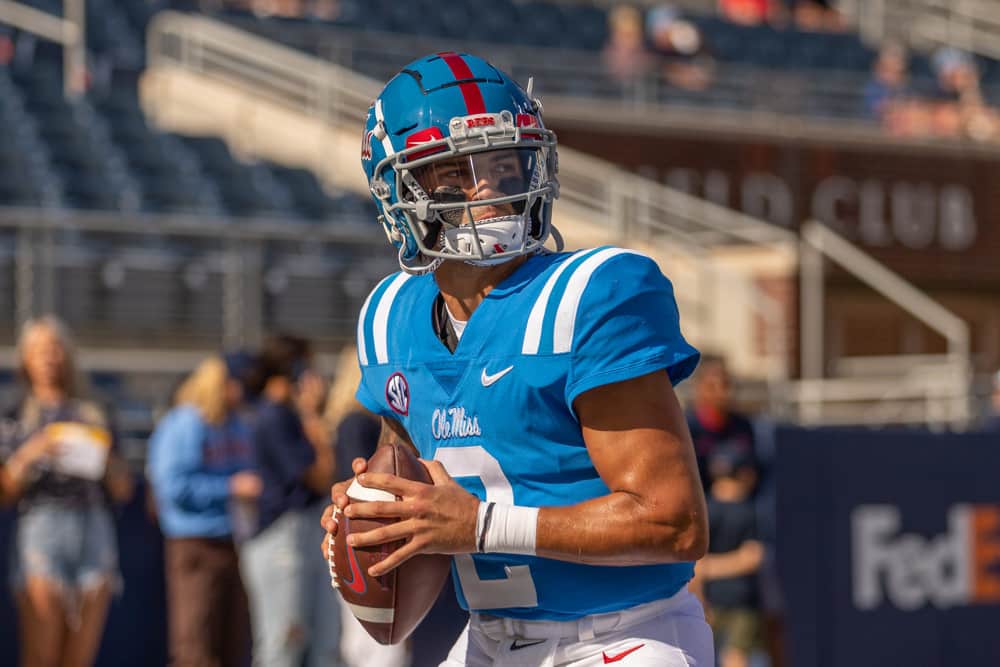 Although the CFB Playoffs start on New Year's Eve, don't forget about the five games going on New Year's Day. Not only do we have premier programs including the likes of Ohio State and Notre Dame taking the field but the spread in each game is less than a TD. Each matchup should be close, competitive, and full of action.  Think you know who is going to win it all, check out the college football national championship odds.
College Football Bowl Game Swag: Ranking New Year's Day Swag Bags
Here's my preview for the New Year's Day contests with the Bowl Game Odds and Predictions!
Bowl Game Odds & Prediction: Penn State vs Arkansas
Outback Bowl (12 Noon ET)
Line: Arkansas -2
Total: 48
The Nittany Lions started this season 5-0 with wins over Wisconsin at Auburn. At that time, there was speculation that Penn State just might win the Big 10 and make the CFB Playoffs. Then, over the 2nd half of the season, PSU went 2-5 dropping every close game. On the other hand, Arkansas finished the season winning 4 of their last 5 games with the lone loss being a 7 point defeat at Alabama.
Arkansas QB KJ Jefferson had a great season, throwing for over 2,500 yards and 21 TDs to just 3 INTs. He's also a dual-threat option who ran for over 500 yards and another 5 TDs while leading the Razorbacks to the 32nd best offense in the nation. Behind a QB in Sean Clifford who struggled too often, Penn State only finished 80th in Total Offense and will be without its best offensive player, WR Jahan Dotson.
Joining Dotson and opting out of the bowl for PSU will at least be three defensive starters and a handful of coaches have also departed. On the other side, Arkansas coaching staff is intact and they've only lost one player, a DL who declared for the draft.
PSU's offense without Dotson will be limited and their defense, without a few starters and missing their DC, may show some cracks. Arkansas came out of nowhere to win eight games this season in the tough SEC West and will be looking to finish their season on a positive note. There won't be a ton of points but expect Arkansas to pull out a close one.
My Pick: Arkansas -2 / Under 48
---
Bowl Game Odds & Prediction: Oklahoma State vs Notre Dame
Fiesta Bowl (1 PM ET)
Line: Notre Dame -2
Total: 45.5
Both Oklahoma State and Notre Dame had terrific seasons and this matchup in Glendale should be a good one. The Cowboys lost a tight one at Iowa State earlier in the year and dropped the heartbreaker to Baylor in the Big 12 Champ Game. A win there and Okla State would have been in the CFB Playoffs.
The Fighting Irish only lost one game themselves – vs the undefeated Cincinnati Bearcats back on 10/2. Of their 11 wins, only two (Toledo and Navy) weren't against Power 5 opponents. Both of these programs were very close to playing on New Year's Eve instead of New Years Day.
It's an even matchup and both schools bring a strong defense to the desert. In terms of Scoring Defense, Oklahoma St ranked 8th and Notre Dame ranked 10th both limiting opponents to less than 20 points per game. As far as Total Defense, the Pokes were 3rd best in the country and the Irish were 27th.
While Okla State has the edge on defense, Notre Dame's offensive statistics are slightly better. Especially in the passing game, Jack Coan threw for over 2,600 yards and 20 TDs with just 6 INTs. On the other side, Spencer Sanders is a veteran signal-caller but has been inconsistent throughout his time in Stillwater. We just saw him throw four picks vs Baylor last time he took the field.
In a close game, it makes sense to go with the team that has their roster and coaching staff intact. HC Brian Kelly has departed for LSU and has taken a couple of assistants with him. Additionally, ND's best offensive player (RB-Kyren Williams) and defensive player (S-Kyle Hamilton) are going pro and have opted out. Okla State should basically have their entire roster at their disposal and even though DC Jim Knowles got hired away by Ohio State, he'll stay to coach this game.
That's enough for me to go with the Cowboys. Plus, motivation has to be on the side of Oklahoma State. They'll get up for a big game vs Notre Dame. For the Irish, it's basically CFB Playoffs or bust and I don't see them too geeked to take on Oklahoma State. Cowboys win 27-20.
My Pick: Oklahoma State +2 / Over 45.5
---
Bowl Game Odds & Prediction: Iowa vs Kentucky
Citrus Bowl (1 PM ET)
Line: Kentucky -3
Total: 44
While Iowa has had some nice seasons in recent years, a New Year's Day bowl is certainly new ground for the Kentucky Wildcats. They had an excellent year going 9-3 behind an improved offense and a stout D. Give the Wildcats credit for the nice record but it should be noted that they have not beaten a team with a winning record. The SEC East was trash this season. The three games vs teams with a winning record (Georgia, Miss State, and Tennessee) were all losses for Mark Stoops and company.
Iowa got off to an excellent 6-0 start before dropping consecutive games vs Purdue and Wisconsin in October and then got beat badly by Michigan in the Big 10 Championship Game. Much like UK, give the Hawkeyes credit for a 10 win regular season but I'm still left wondering just how good they actually are.
Behind PSU-transfer Will Levis at QB and Nebraska-transfer Wan'Dale Robinson at WR, Kentucky had a solid passing game this season which propelled the team to finish 39th in the Total Offense. For a school that has struggled to move the football in recent years, the offense made great strides in 2021. Pairing with the improved offense is the typical stingy defense that ranked 24th best in the country.
For Iowa, it's all about a defense that comes in 15th best in terms of yardage and 13th best in terms of points allowed. A strong defense is needed when your offense only ranks 123rd in the nation. Iowa was pitiful on the offensive side of the ball averaging less than 300 yards per game. They'll have a tough time putting up points on Kentucky.
Both teams come into this game with complete coaching staffs and mostly full rosters. There are a couple of injuries Kentucky is dealing with and Iowa's RB Tyler Goodson has opted out to go pro.
This game might come down to the turnover battle. Iowa is 3rd best in the country at forcing turnovers (29 on the year). Meanwhile, Kentucky has given the ball up 22 times which ranks 108th in the nation. The Hawkeyes don't have the offense to keep up with Kentucky if they continually have to drive the length of the field. They need to create turnovers and rely on their excellent special teams to win the field position battle.
With over a month to prepare, Kentucky will be more careful with the ball and limit its mistakes. I like the Wildcats to take down Iowa and get a much-needed bowl win for the SEC.
My Pick: Kentucky – 3 / Under 44

---
Bowl Game Odds & Prediction: Utah vs Ohio State
Rose Bowl (5 PM ET)
Line: Ohio State -4
Total: 64
The Buckeyes will be without a handful of players including WRs Chris Olave and Garrett Wilson. For most teams, the loss of two future NFL wideouts would be crushing but Ohio State should be just fine. Jaxon Smith-Njigba really emerged in the 2nd half of the season and ended up leading the Buckeyes with 80 catches for 1,259 yards while also scoring 6 times.
Getting him the ball will be freshman QB CJ Stroud who led the top rated offense in the country. Ohio State put up over 550 yards per game and averaged 45.5 points per contest. They can also run the rock with TreVeyon Henderson taking over for Trey Sermon and amassing over 1,100 yards with 15 TDs. As usual, Utah has a strong defense but slowing down the Buckeyes is darn near impossible.
In order to keep pace, the Utes rely on a balanced offensive approach – averaging 212 passing YPG and 216 rushing YPG. The offense took off when QB Cameron Rising was named starter early in the season. He'll distribute the ball to an excellent TE duo of Brant Kuithe and Dalton Kincaid and big play WR Britain Covey.
Utah will have some success on offense but if this turns into a shootout, I fear for the Utes. Ohio State was so good on offense this year while also being very young. They should be even better with a month off to practice and fine-tune things. With the help of bad weather, Michigan was able to slow the Buckeyes down but Utah won't be as lucky in Southern Cali. Ohio State wins 38-24.
My Pick: Ohio State -4 / Under 64
---
Bowl Game Odds & Prediction: Baylor vs Ole Miss
Sugar Bowl (8:45 PM ET)
Line: Ole Miss -1.5
Total: 55.5
In the New Year's Day nightcap, we have the Big 12 Champion Baylor Bears vs Lane Kiffin and Ole Miss. Baylor might be the quietest 11-2 team ever. They lost tight games at Oklahoma State in early October and at TCU in early November. In addition to exacting revenge on the Cowboys, Baylor also knocked off the likes of Oklahoma, BYU, Texas, and Iowa State this season.
Ole Miss and QB Matt Corral also had a terrific year with the only blemishes on their resume being losses at Alabama and at Auburn. Not exactly easy road trips. The potent Rebel offense had another stellar season but did so a bit differently in 2021. With all kinds of injuries to their wide receivers, Ole Miss went to a more balanced approach – averaging 282.4 YPG through the air and 224.3 on the ground. Baylor will have their hands full with the RB trio of Jerrion Ealy, Snoop Conner, and Henry Parrish Jr.
For Baylor, the main question is who will play QB. Blake Shapen has played the majority of the last three games but Gerry Bohannon may be back to full health. RB Abram Smith has quietly registered over 1400 rushing yards and 12 TDs this season and the Bears have a couple nice wideouts in Tyquan Thornton and RJ Sneed.
Nobody gives Baylor any love. Ole Miss has the better offense, the flashy QB, and the infamous Head Coach but the Bears just win football games. You have to love how Matt Corral decided to play in this game but the difference-maker might be the Baylor run game. I'll go out on a limb and take the Bears to pull out a tough victory, 31-30.
My Pick: Baylor +2 / Over 55.5
---
RELATED CONTENT