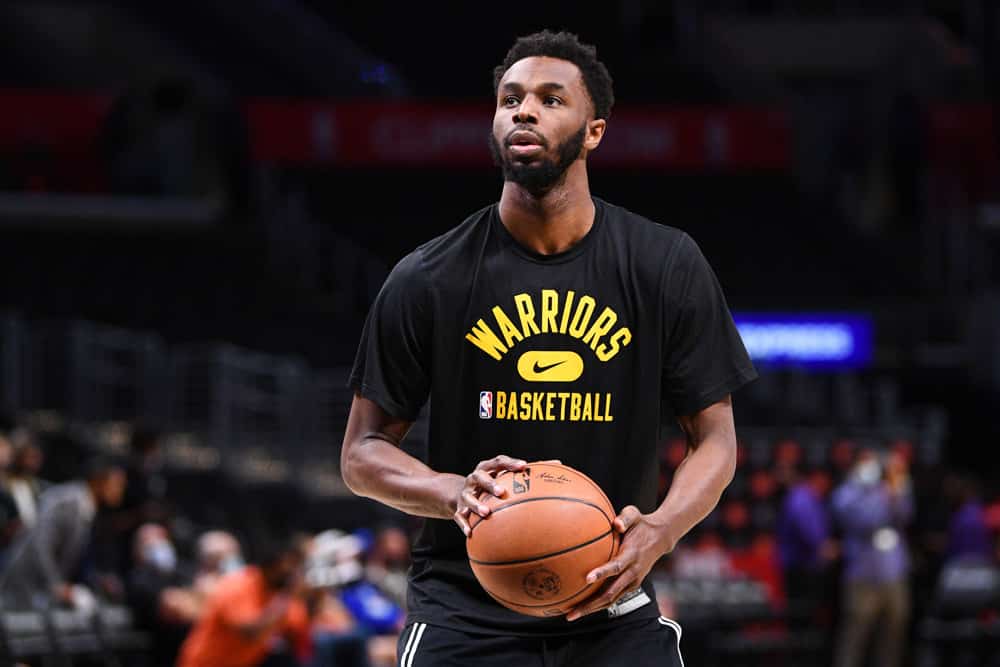 Christmas Day player props best bets ended up going 3-2. I was one Jalen Brunson assist away from going 4-1. But that's how sports betting goes. Tonight, there is a short four game slate in the NBA but there are plenty of player prop opportunities. Let me dive into the NBA Thursday player props!
NBA Thursday Player Props
The Golden State Warriors are in the midst of players in and out of the lineup, whether it's due to being in health and safety protocols or battling injuries. The biggest name that will be out for tonight's game will be Draymond Green for the Warriors. Green missed the last game against the Denver Nuggets and he will also be out when the Warriors travel to take on the Nuggets again tonight.
In the last game for the Warriors, Andrew Wiggins scored 21 points and grabbed eight rebounds. Additionally, Wiggins has gone over this projection in three straight games for the Warriors. Furthermore, Wiggins in the month of December is averaging 19.2 points per game and five rebounds per contest. In the absence of Green, Wiggins will have opportunities to grab more rebounds and continue to use his scoring ability in the matchup against the Nuggets tonight.
I am staying in the same game for this player prop. Nikola Jokic has been a monster on the boards, especially over the last three games. This may be because Aaron Gordon has not been in the lineup for the Denver Nuggets over the last three games as he battles a left hamstring injury. As a result, Jokic in the last three games has grabbed 19, 22, and 21 rebounds. Furthermore, over the course of the season, Jokic is second in the NBA in rebounding, averaging 14 rebounds per game. Over the last seven days of the season, the Warriors are allowing opposing centers to grab 17.5 rebounds.

James Harden returned for the Brooklyn Nets on Christmas Day and looked to be in MVP form. Harden notched a triple double against the Lakers on Christmas and in his last game against the Clippers, Harden dished out 15 assists for the Nets. The Nets get back a few players tonight, including All-NBA superstar Kevin Durant. Furthermore, in the month of December, Harden is averaging 11.3 assists per game. The Brooklyn Nets face the Philadelphia Sixers tonight. James Harden has recorded 10 or more assists in three out of the last four games against the Sixers. I love Harden to get into double digit assists tonight!
NBA Player Props Record YTD: 12-16 (42.8%)
Related Content