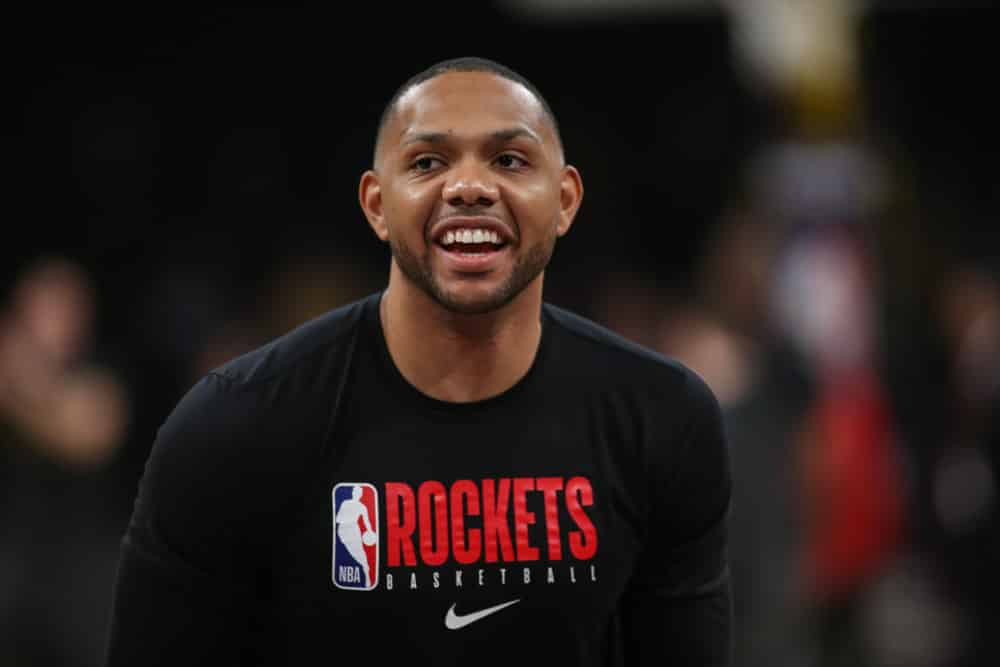 Oh boy – things are still a little squirrely in the NBA (and in life in general, for that matter). But the one good thing about Omicron destroying NBA teams' rosters is that it is affecting everyone, both in real life and in fantasy basketball. However, if you make good use of your fantasy basketball waiver wire, you can get a leg up on the competition and fill some of those holes in your roster.
(only includes players rostered in less than 50% of Yahoo Fantasy leagues)

Fantasy Basketball Waiver Wire: Best Pickups Dec 29th
11.0 ppg, 4.1 rpg, 1.3 apg, 0.8 spg, 0.2 bpg, 2.4 3PT/G, 44.3% FG, 80.4% FT, 0.7 tpg
With Omicron finally hitting the Suns, Cameron Johnson has stepped up in a big way. Over the past week (three games), the third-year forward has averaged 17.0 ppg, 6.0 rpg, 1.7 apg, and 1.3 spg, while hitting 11 three-pointers. In fact, the last time he failed to crack double-digits in scoring in a game was way back on November 27th when he only scored eight. That's 13-straight games of 11 points or more. Grab him while he's hot and his opportunities are there.
Eric Gordon – Houston – SG/SF – 41%
14.6 ppg, 1.7 rpg, 3.4 apg, 0.7 spg, 0.5 bpg, 2.3 3PT/G, 48.9% FG, 73.1% FT, 2.4 tpg
Yes, Eric Gordon is still in Houston, and yes he's still putting numbers on the board. He's a very reliable source for points, assists, and three-pointers – over the past week (three games) he averaged 14.7 ppg, 1.3 rpg, 3.7 apg, 1.0 spg, and hit six three-pointers. He has only dipped under double-digits in scoring in a game once in the past 12 games. A very good pickup from your fantasy basketball waiver wire if he's there.
Terance Mann – Clippers – SG/SF – 41%
10.1 ppg, 5.3 rpg, 2.5 apg, 0.5 spg, 0.1 bpg, 1.0 3PT/G, 47.3% FG, 78.7% FT, 1.1 tpg
Terance Mann has had an up and down season, but with Paul George out for the foreseeable future, the Clippers need him to step it up. The past two games he's done just that – 8.5 ppg, 4.5 rpg, 4.5 apg, and 1.5 three's per game. Not a lot of scoring, but the assists and rebounds he brings are valuable. Plus coach Ty Lue wants him to be more aggressive offensively, so maybe the scoring numbers will tick up.

10.3 ppg, 7.3 rpg, 0.7 apg, 0.3 spg, 0.8 bpg, 0.0 3PT/G, 65.9% FG, 69.7% FT, 1.5 tpg
JaVale McGee has played an invaluable role off the bench for the Suns this season. But with starting center Deandre Ayton out of action now, McGee will be thrust into a bigger role. He won't bring you massive scoring, but he's highly efficient and grabs plenty of boards. Plus he is one of those rare centers sitting on the fantasy basketball waiver wire.
Lonnie Walker IV – San Antonio – SG/SF – 17%
11.2 ppg, 2.9 rpg, 2.4 apg, 0.6 spg, 0.3 bpg, 1.6 3PT/G, 40.2% FG, 86.5% FT, 1.1 tpg
He's maddingly inconsistent, but when Lonnie Walker is on, he's on. He scored 21 points in two games this month, and 19 in two others. But he also had games of three, six, and eight points. But hey – we're in desperate times, and beggars can't be choosy and all that stuff.
Joe Ingles – Utah – SG/SF/PF – 36%
8.1 ppg, 3.1 rpg, 3.6 apg, 0.5 spg, 0.2 bpg, 2.0 3PT/G, 44.1% FG, 75.0% FT, 1.2 tpg
Joe Ingles has shown some life as of late, which helps with star Donovan Mitchell on the shelf. He scored 16 and 17 points in two of the last three games, with a two-point performance sandwiched in between (ouch). He'll at least get you consistent boards and assists, and with Mitchell out hopefully the big scoring nights become more frequent.
Other fantasy basketball waiver wire players worth checking out: Pat Connaughton, Grayson Allen, Luke Kennard, Gabe Vincent
Related Content