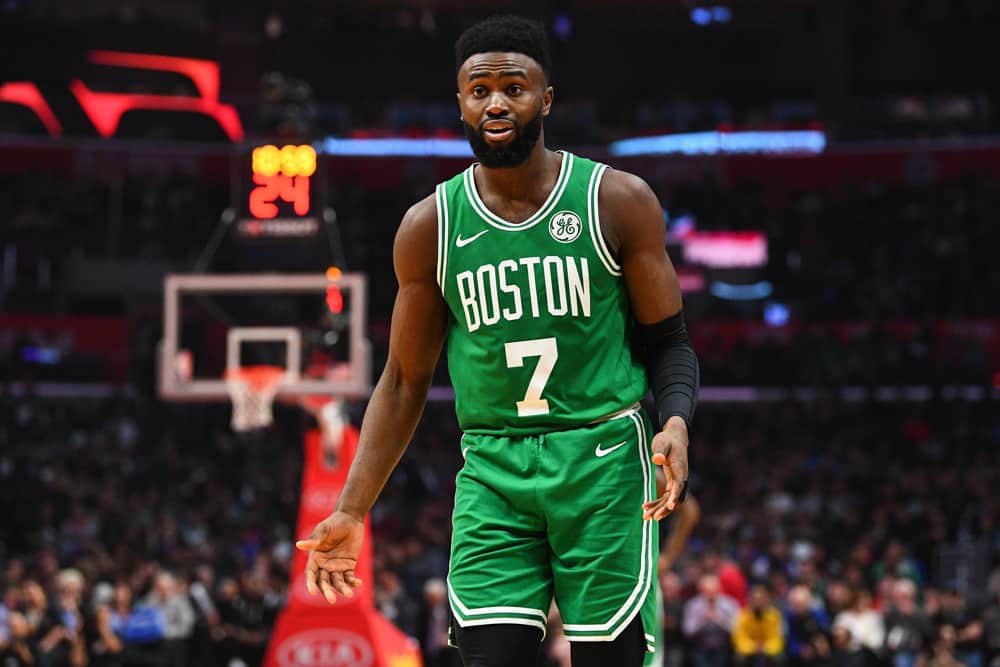 The most exciting time of the NBA season is here – the Christmas Day games! What's better than watching the games all day? Making a few bucks on Christmas with player prop bets! Below are five player prop bets, one for every game on the NBA Christmas Day schedule. I hope to continue the winning ways as I went 2-1 last column. Let me dive right into the player props!
NBA Christmas Day Player Props
Julius Randle has been logging heavy minutes for the New York Knicks over the last couple of games, especially since the Knicks are dealing with a COVID outbreak. As a result, Randle has been a monster on the boards for the Knicks. In fact, Randle has eclipsed this projection in three straight games. Furthermore, Randle has grabbed nine or more rebounds in 10 out of the last 11 career games against the Hawks. Additionally, the Hawks' interior defense is allowing a combined 23.3 rebounds per game to the power forward and center position.
Jaylen Brown has been playing well for the Celtics ever since he returned from injury. In fact, in the month of December, Brown is averaging exactly 22.5 points per game. However, Brown has scored 30 or more points in two straight games, and 23 points the game before that. The Boston Celtics are another team that is dealing with a COVID outbreak and have several players missing. Furthermore, Brown has played 30 or more minutes in each game in the month of December. The Celtics will need all they can get out of Brown in today's matchup versus the Bucks.

One would expect the Steph Curry to have a huge game for a team that is missing key starters. However, Curry has struggled on Christmas Day. Joe Osborne of OddsShark highlighted that Curry has not scored more than 20 points in eight career Christmas Day games. Furthermore, Curry has scored 30 or more points just once over the last 10 games against the Suns. I fully expect the Suns to do whatever they can to limit Curry and make someone else beat them. I will boldly take the Under on Curry points prop in this matchup against the Suns.
Steph Curry has been awful (by his standards) in Christmas Day games. Here's his point totals from the 8 Christmas Day games he's played in:

19, 15, 15, 19, 14, 15, 4, 4

There's no props up yet, but i'll be looking to fade vs the Suns if the number is right.

— Joe Osborne (@JTFOz) December 23, 2021
LeBron James Points + Rebounds + Assists Over 43.5 (-125)
Jalen Brunson has stepped up in a huge way for the Dallas Mavericks in the absence of Luka Doncic. In fact, Brunson is averaging 19.2 points, 4.2 rebounds, and eight assists per game. Brunson has recorded seven or more assists in four of the last five games for the Mavericks. Furthermore, over the last two weeks the Jazz defense is allowing opposing point guards to average nine assists per contest. I expect a big day out of Brunson if he wants the Mavericks to win this game!
NBA Player Props Record YTD: 9-15 (37.5%)
Related Content